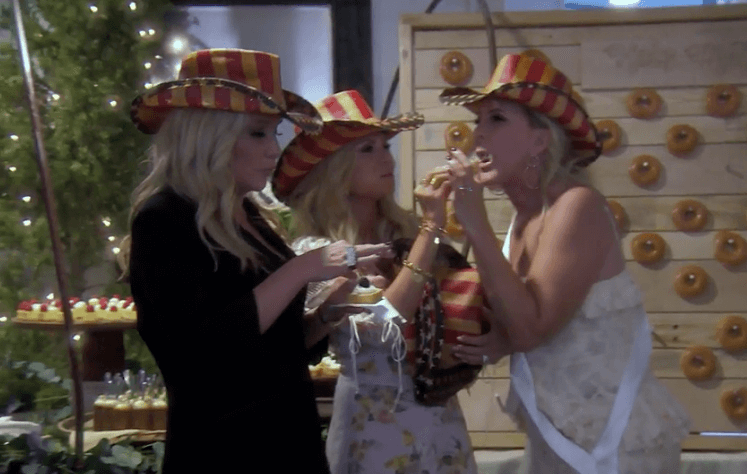 Tamra Judge Says Jim Bellino's Defamation Lawsuit Cost Her $300K!
Can you believe we've reached the final episode of this season of the Real Housewives of Orange County? It seems like only yesterday that Shannon Beador was getting wacked over the head with a mallet. Yet, here we are.
We open this episode with Shannon and Duff, her date, out for a drink. Shannon has been busy planning Vicki Gunvalson's engagement party. Think western/farmhouse chic. And just in case you're wondering if you've seen Duff before, the answer is yes! He used to work with Vicki and had a baby with RHOC alum, Tammy Knickerbocker. He's Slade Smiley 2.0, basically.
Shannon Beador wants to date around and have some fun. She's not looking for a serious relationship. She wants to get married again, but she's taking her time. Duff is a little forward. For instance, he wants to know if she's hot in bed. This is Shannon we're talking about. She probably busts out the hand sanitizer before getting intimate, so what do you think, Duff? Is that hot?
Moving over to Gina Kirschenheiter and her chopped platinum locks, she's still in packing mode. Emily Simpson comes over to help, and when she spies a 2-foot doll of a WWE champ, she takes him by the hand and calls him by her husband's name. Shane shaming! Ouch! But let's face it, Shane doesn't have the abs that doll has. That's just wishful thinking, Emily.
Gina thinks Matt's more committed than ever to their marriage. And she's desperate to hold her family together, so she's giving him another chance. She's willing to forgive his affair and isn't worried that he's in LA, living his best life during the week, while leaving Gina to handle the kids in the OC.
At Braunwyn Windham-Burke's house, she and her mom, Dr. Deb, have a full percussion band in the backyard while they practice Bhakti yoga. Because nothing's more relaxing than listening to some aging hippies moan and yodel while you're stretching. But if it keeps Dr. Deb and her rainbow braids happy, so be it.
EXCLUSIVE: Braunwyn Windham-Burke's Mother, Dr. Deb Caught Stealing In Mexico!
Braunwyn has felt abandoned by her mom. First, she hauled Braunwyn around while she was playing in a band, and then she sent her kids off to boarding school while she went to med school. Abandonment? Where did Braunwyn get that crazy notion? But Braunwyn is more worried about her mother's happiness than her own, so she pretends everything is good.
Emily Simpson and her little girl, Annabelle, head to the doctor's office to get a diagnosis on Emily's arthritic knees. Limping in the office, Emily admits she has been living with the pain for a long while. But she receives some bad news. Her knees aren't the only problem. She needs a hip replacement. Emily isn't taking the news well.
She calls Shane and discusses her diagnosis. He chides her for letting her condition go for too long. Shane starts interrogating her instead of commiserating with her. She just wants him to take care of her, but Shane isn't capable of offering comfort. Little Annabelle, on the other hand, is sobbing as she hugs her mommy.
Tamra Judge is letting her glam squad work on her as she gossips about Kelly Dodd. It seems Kelly has decided to take her therapist's advice and go to Vicki's engagement party. We see a flashback of Emily explaining that Kelly needs immersion therapy, to prove to herself that she can be civil around Vicki. Emily's makeup artist applies eyelashes as Emily wonders if Shane passed the bar exam. He's supposed to find out later that evening. 
Kelly's makeup lady is contouring the hell out of her, as Kelly talks about how she needs to stay calm in the face of Gunvalson. But who can keep their cool when falling into the lion's den?
Vicki Gunvalson and Tamra Judge arrive early to the venue. They're hoping that the third wedding will be the one that sticks for Vicki. Vicki's brother, Billy, makes his yearly appearance. Braunwyn and Sean waltz in, and behind them is Dr. Deb.
Steve and Vicki finally appear. Vicki examines Dr. Deb's braids, and though she acts polite, you can see the WTF? in her eyes. 
Duff shows up, and makes the rounds, saying hello to everyone. Meanwhile, Tamra is bitching about her lawyer bills and Kelly's involvement in her legal drama. Because when Kelly was angry with Tamra, she tagged Jim Bellino and stoked the lawsuit fires. Though Tamra and Kelly made up in Jamaica, Tamra clearly hasn't put this latest incident behind her.
Emily tells Braunwyn about the anger management class she and Kelly attended. And as Kelly makes her way with Dr. Brian to the party, he coaches her about how to give good wishes to the engaged couple.
Vicki has a quick wardrobe change, from a sophisticated white dress into a boho white dress. But as she's happily flitting around the party, her brother, Billy, is questioning whether Steve really wants to marry Vicki. Even Steve's own mother admits they have nothing in common—not even their personalities. Is Vicki the one pushing for this ceremony?
Kelly arrives in a sparkly dress and brown shit kickers. But she's brought a bottle of Dom for the couple, so there's that. She tries to remember the mantra her therapist taught her, but she's not having much luck. She does write a nice note to Vicki. They almost hug and eventually give each other a brief pat on the shoulders.
Tamra Judge's had a few days to stew in her own anger. She and Eddie hug at the table as they sit for dinner, but inside, she's fuming about Kelly wading into the lawsuit waters.
Emily isn't having such a good time. She wants Shane to look and see if he passed the bar, but he refuses and tells her to leave him alone. Things aren't looking good for these two. Gina finds Kelly and congratulates her on her self-control. Emily wants to know when Kelly and Dr. Brian are getting hitched. Um, hold your horses, lady. Brian is in no mood to discuss commitment.
Vicki stands and makes a toast to Steve, claiming he's her soulmate and she's a good woman. Steve just takes it in stride and smiles.
When dinner is over, everyone keeps drinking shots. Vicki , Tamra, and Shannon don American flag hats and keep drinking.
Duff corners Eddie and monologues about seeds. Tamra tries to twerk and then starts talking sh*t about Kelly. After writing another check to her lawyers, she's on a verbal hamster wheel, complaining that it's all Kelly's fault. Vicki begs Tamra to keep her cool, but it's a lost cause. Tamra could have put her kids through college with the money she's paid to her attorneys. Or…gotten a ninth boob job. Either way, it's now money in someone else's pocket. Shannon feels the same way.
As Shannon leans across the table to tell Tamra what a horrible person Kelly is, her weave gets caught in the candle and her hair goes up in flames. Though Vicki quickly put out the fire with tequila (???), the smell of burning hair pervades the room.
Now, a drunk Tamra runs over to the rest of the women to see why they're laughing. Gina and Kelly just stare at Tamra and wonder why she's still angry with Kelly. Emily, an attorney, says Kelly has nothing to do with the lawsuit. When Gina tries to talk sense, Tamra pokes her finger into Gina's arm and complains about being out 300k. 
When Gina tells Tamra she understands, Tamra flips her off, then pushes past Shannon to leave the building in a huff. Eddie looks on, and I think that insipid expression on his face might be concern. Hard to tell. And as usual, Shannon backs up Tamra's bad behavior.
Then Shannon confronts Kelly about the lawsuit. Kelly says that Shannon and Tamra should have kept their mouths shut. That's the best way to keep from getting sued. Next, Shannon storms off.
In the parking lot, Gina is trying to reason with Tamra. But Tamra thinks Gina is picking sides. 
Braunwyn pulls Kelly aside and says that inserting herself into the lawsuit with Jim Bellino wasn't nice. Kelly remains adamant that she did nothing wrong, and questions Braunwyn's intelligence. Finally, Braunwyn understands why everyone is wary of Kelly's wrath. The woman hits hard and goes deep.
Shannon and Vicki go to find Tamra. But she's running from Gina and hiding behind the bushes. Gina, who may be the only sober one there, thinks Tamra is acting crazy. Vicki and Shannon finally find the third amiga with her head shoved into the hedge.
Then Shannon starts telling Gina, "You don't know You don't know!" And Tamra repeats it. Vicki says Gina should support the people who are hurting, not the perpetrator. Pick a side, Gina, and make sure it's the right one!
Kelly is ready to go. She snags Dr. Brian and they head outside. Dr. Deb is more concerned about her tumbler and pink straw. It's a very important cup, people! Priorities!
Finally, we see the wrap up of where the women are now. Kelly is engaged, but not to Dr. Brian. 
Emily had the worst year of her life and she's determined to make her sad marriage work. By the way, Shane failed the bar exam for the third time.
A drunk Tamra Judge stumbles away with Eddie. The lawsuit is still ongoing, but her boys are getting along.
Braunwyn is happy in her marriage. She's also glad her kids are doing well. But her relationship with her mom has been derailed. Braunwyn didn't invite Dr. Deb to her 42nd birthday party.
Gina pats herself on the back for being strong enough to go it alone, even though she was hopeful that her marriage would remain intact. But Matt was arrested for domestic violence against her. So…goodbye, Matt!
Shannon is still worried about her weight. She wants to shed a few more pounds. She and Duff didn't make a connection, but she has a new boyfriend, John.
Vicki and Steve left in a limo. She's looking forward to planning their wedding. 
So, what did you think of this season of Orange County? Was it too short? Do you think Kelly did anything wrong by tagging Jim Bellino?
Stay Connected With All About The Tea: Twitter Ι Instagram Ι YouTube