Married To Medicine
RECAP: 'Married To Medicine' Mariah's Sister & Quad Come Face-To-Face After Cheating Scandal!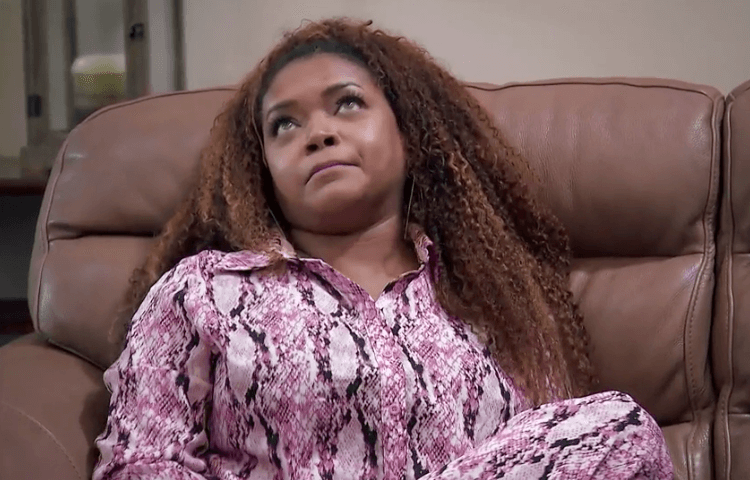 This week's episode of Married To Medicine opens with the crossover we didn't even know we needed. Enter Miss Cynthia Bailey meeting Quad Webb for a kiki at a local bar in Atlanta. The ladies recount their own stories of divorce, relating to one another on an even deeper level.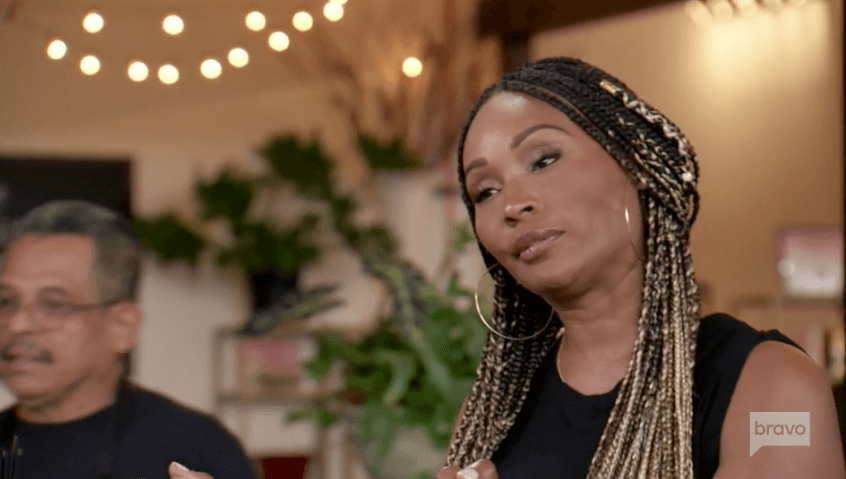 Meanwhile, at the Kimes residence, Dr. Heavenly Kimes hosts her sons back from college with a homecooked meal (or so she claims.) During dinner, Heavenly butt heads with her daughter over her daughter wanting to go to the movies with her friends. Heavenly maintains her mother never allowed to go anywhere. How'd that work out for you, Heavenly??? Daddy Damon acts as the voice of reason stating that he trusts all of his children and they should allow her to go. Heavenly eventually gives in but the older brothers don't seem too thrilled with their parent's newfound trust in their younger sister.
Dr. Eugene arrives home after a hard day of work while Toya Bush-Harris is in the kitchen cooking dinner. Toya reveals her grand plan to throw the housewarming party of the year. Toya vows, however, to stay within her allotted budget of ten grand for party but Eugene's not holding his breath.
Back at the Metcalfe residence, Dr. Contessa Metcalfe's husband, Dr. Scott still seems to be in his feelings about pulling double duty while Contessa set out to chase her dreams of further education. He does admit, however, that he's fearful that her withdrawing from her program may be a tipping point in their marriage. The couple's therapist pays them another housecall with the goal to not only rehash the last session but find a way to move forward and past it. This session proves to be more beneficial for the couple as Scott admits that he was guilty of not choosing to hide his personal feelings about his wife's decision to go back to school in front of the children. He also FINALLY tells her that he's proud of her for making the decision to go back to school AND gives her his blessing to go back and finish what she started. Hallelujah.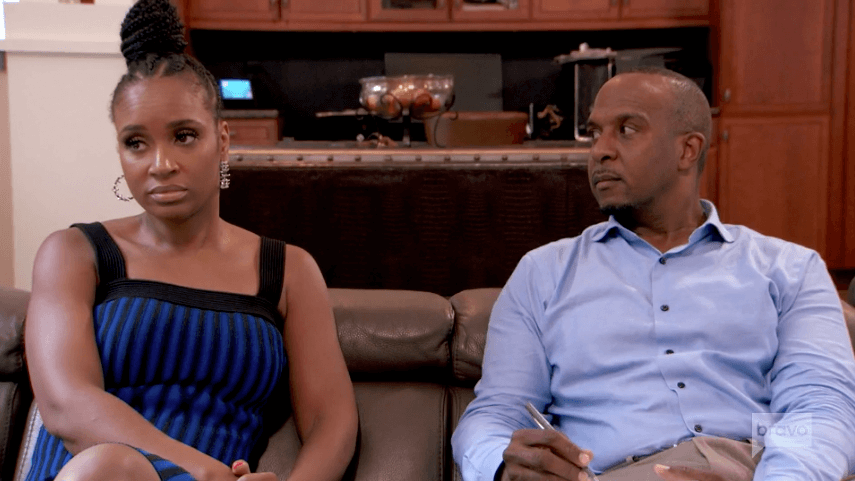 Meanwhile, Buffie Purselle arrives at the lake house she's rented to host the ladies for a spa day complete with eight massage therapists. Buffie has high hopes that the ladies will be able to enjoy themselves and let all of the drama between them go. Here's to hoping, Buffie. Dr. Jackie Walters and Heavenly are the first to arrive at Buffie's home in Atlanta. Mariah Huq hobbles in next with her sister, Lake. Mariah says she broke her toe the last day of the Cabo trip and Lake is strictly here to help her. This could get interesting. Heavenly, however, wastes no time, texting Quad Webb to let her know Lake's there.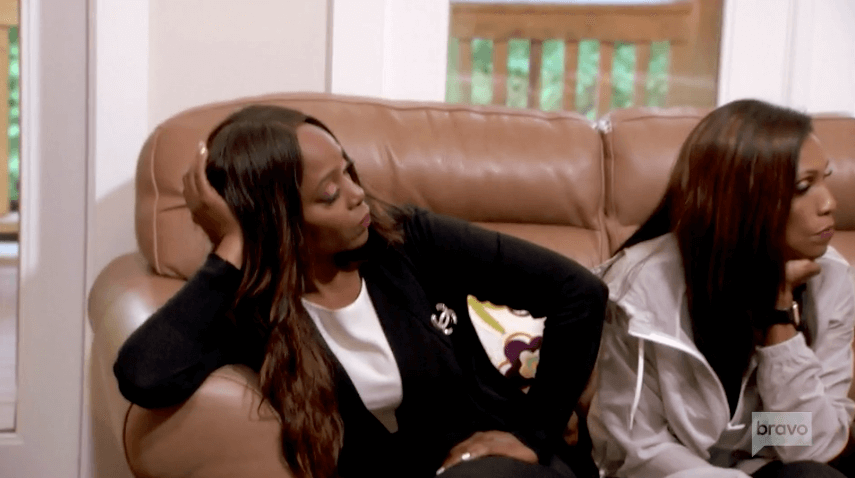 Dr. Simone Whitmore makes her grand entrance immediately pointing out the awkwardness that is Jackie and Buffie's beef with one another. But where is Buffie??? Turns out Buffie had no intention of joining the ladies on the party bus to the lake house and instead leaves them with a video message letting them all know she has a few tricks up her sleeve. The ladies are all left genuinely dumbfounded.
Finally, a visibly irate Quad Webb arrives (thanks Heavenly) and the ladies board the bus. The tension is so thick you could cut it with a knife. The ladies finally arrive at the lake house ready for a day of pampering and Buffie welcomes all of her guests with open arms, even Mariah's sister Lake.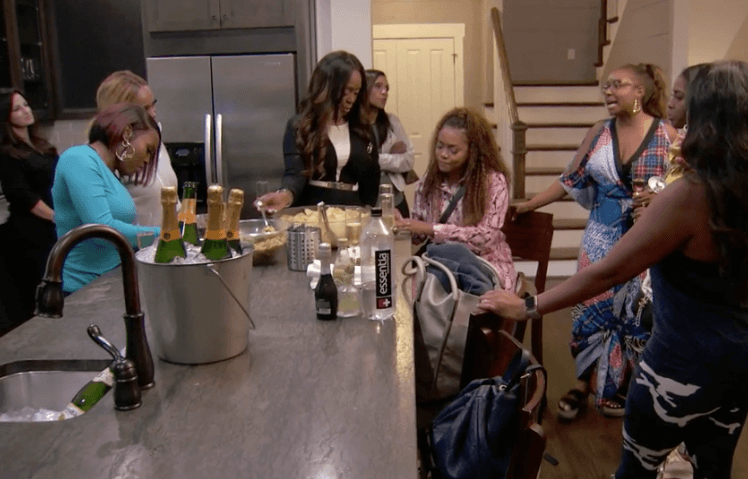 Jackie makes no bones about it that she's not exactly feeling Buffie or her screeches of excitement. So much for Buffie's high hopes of a drama-free weekend. The spa day finally gets going. Let the rubdowns commence! The ladies seem to be enjoying their massages, but none more than Toya, who seems to be having somewhat of an orgasmic experience. Poor Eugene…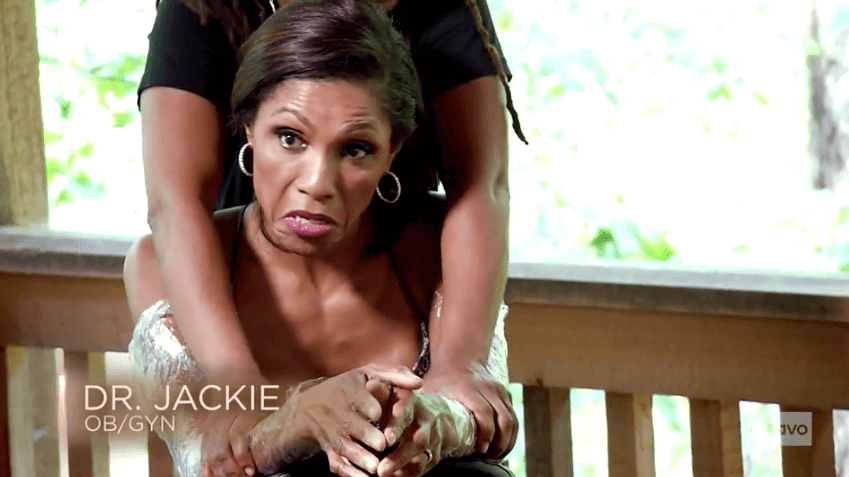 Contessa arrives later by herself, but Simone is quick to catch her up to speed, explaining that Mariah hurt her foot so she brought her sister, Lake, to "help her." Contessa's face says it all… YEAH RIGHT.
Unbeknownst to the ladies, Buffie has planned a special Goat Yoga experience for the ladies. Unfortunately for her, however, the ladies don't seem too pleased by her special surprise, especially Heavenly.
EXCLUSIVE: Quad Webb-Lunceford Cheated on Husband with Mariah Huq's Brother-In-Law & Got Her Ass Kicked!
But the real drama doesn't ensue until the goats make their grand exit. The ladies all sit down to chat about the relaxing spa day. Leave it to Heavenly to address the proverbial elephant in the room that is Mariah's sister Lake. Quad steps in stating that she doesn't want any drama to get started but it appears to be too late. Miss Heavenly is just getting started. Lake seizes the moment to explain that she and Quad were friends way before anyone else came along and they have their own issues that none of the other ladies are privy to.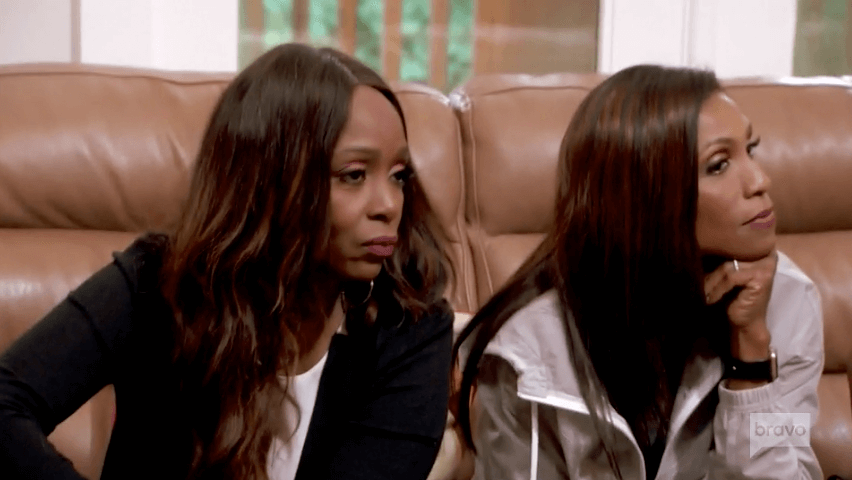 Toya Bush-Harris jumps in and asks Lake what she needs from Quad before an annoyed Contessa demands that Toya stop what she's doing. Toya, however, remains unphased and continues on that she has known both of the ladies for seven years and was around when they were all going through it. Contessa continues with a barrage of annoying questions — confused as to why they even have an issue since Lake's no longer married to the man that Quad Webb slept with.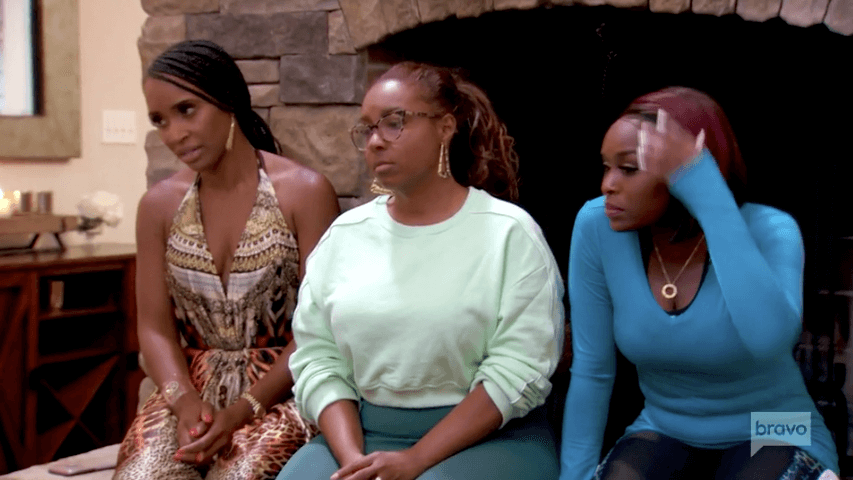 Mariah Huq finally jumps in and demands that Contessa zip it. Some way, somehow, the ladies are able to squash the drama before it escalates. There was no blood drawn and security did not have to step in. We'll save all that for the finale next week.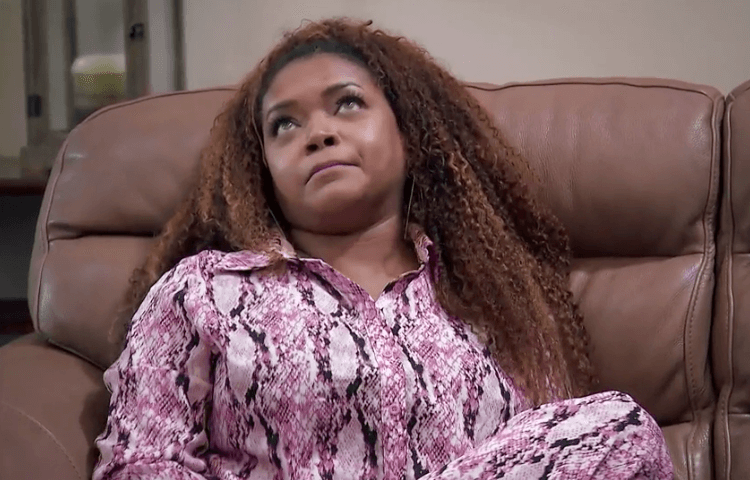 Tune in next week as the drama comes to a head on the Married To Medicine season finale.
Stay Connected With All About The Tea: Twitter Ι Instagram Ι YouTube