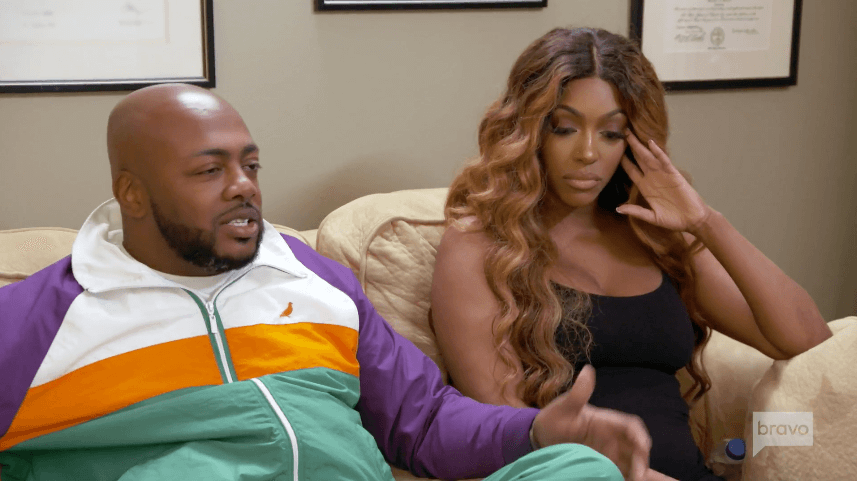 Dennis Explains Why He Cheated On Porsha Williams!
Welcome back to another episode of The Real Housewives of Atlanta.
This week's episode opens with Kenya Moore visiting Cynthia Bailey to assist her in remodeling her closet. Cynthia seems surprised that Kenya didn't have the marching band in tow but wastes no time dragging Kenya up to her closets, both of which appear to be in major disarray. Who knew Cynthia was such a hoarder??? But before she offers up any advice in the closet department, Kenya makes sure to shade Cynthia on her willingness to share a closet with Mike without having a ring first. The conversation eventually turns to Kenya's unwanted presence at Marlo Hampton's wig party and Cynthia mentions that after Kenya left Marlo told everyone that Ms. Twirl pays child support to Marc but the former Miss USA seems to just brush the rumor off. Very interesting…
Cynthia Bailey also explains that she stuck around at Marlo's party much later than she intended in hopes that she could have a talk with Marlo about the recording, but unfortunately was never given the opportunity after all of the drama ensued. Thanks Kenya. Cynthia then asks Kenya how things are with her and Marc. Kenya admits that things have been tough between the two of them, explaining that they are not good at arguing with one another and she has to decode what Marc is really angry about most of the time. Sounds like trouble in paradise to me…
Meanwhile, over in Kandiland, Kandi Burruss, Todd and their son Ace FaceTime with Kandi's daughter Riley who seems to have adjusted just fine to her new penthouse in NYC. What's on today's list of activities, you ask? Shopping for vintage Fendi, of course.
Later, Carmon comes over and she and Kandi discuss Todd's most recent purchase, a tractor-trailer. Kandi's not amused. Kandi goes on to vent her frustrations regarding Todd's plans to lease a new space and start an Old Lady Gang breakfast place. According to Kandi, she loves Todd's ambition but the focus right now needs to be on their daughter who will be arriving before they know it.
Speaking of daughters, Kandi reveals that Todd and his daughter Kaela aren't speaking to one another at the moment. She also confesses that Riley and Todd tend to butt heads quite often, and this makes her a little nervous with yet another girl on the way. Could it be that Todd doesn't know how to handle girls?
Porsha Williams and Marlo Hampton spend the day pedaling around Atlanta while drinking Hennessy and smoking hookah. Porsha's not like a regular mom, she's a cool mom… While pedaling, the ladies discuss Porsha's unwillingness to repair her relationship with Dennis or her friendship with NeNe Leakes. 
NeNe Leakes  spends the afternoon consulting with her life coach, Tamara. Nene catches her up to speed on the drama that occurred at Marlo's wig party, admitting that she abruptly left when the drama went down in an effort to protect herself from going sideways on Kenya. Tamara agrees that Nene did the right thing and that it's imperative that her friends understand that she left because she is truly committed to working on herself. Nene confesses that she really does want to get back to having a sisterhood with all of the ladies but without having to apologize because she doesn't understand what she would be apologizing for. Hmm… something tells me the other ladies could be of assistance in that department. Tamara explains that Nene's healing process may look ugly at times, but that she needs to look inward and really decide for herself if the friendships are something that she wants to continue.
NeNe Leakes  reveals that Tanya reached out and invited her on the girl's trip to Toronto Carnival but she has some major qualms about going. Oftentimes the girl's trips have proven to be volatile and full of drama. Tamara advises Nene that she really needs to sit down and talk with the girls and figure out if they are in a good space and then decide accordingly as to whether or not she should go. It seems like sound advice, but will Nene take it?
As Porsha Williams and Marlo just keep pedaling, just keep pedaling it just so happens that they ride by the hot dog factory. Coincidence? I think not. This stirs up some negative emotions deep within Porsha. Or maybe she just really misses those hot dogs. Somehow Marlo manages to convince Porsha to stop in. Marlo takes it one step further and calls Dennis while they're there and Porsha is adamant that just because she's there eating does not mean she's waving the white flag. Before the call ends, Dennis tells her he loves her but is met with crickets in return.
Back at the Burruss/Tucker residence, Kandi prepares to see Kaela off to New York while Todd is away on business. So extremely awkward and painful to watch! Kandi admits that she's not sure if this move for Kaela will prove to be beneficial or if it will put further strain on their father/daughter relationship. Time will tell, I suppose…
Cynthia and Mike aka CHILL meet Eva Marcille and her husband (also Michael) for a double date at a bowling alley/restaurant/bar. Interesting concept. Very quickly, the conversation turns to the subject of long-distance dating and Eva and her Michael confess that they dated for three years while doing the long-distance thing. Cynthia's Mike quickly points out that they are discussing marriage and getting engaged but that they have a lot to figure out beforehand. The subject eventually moves to the drama surrounding Nene and the recording and Cynthia's Mike gets fired up stating he is very protective over Cynthia. Okay, Mike. We get it. Simmer down.
Eva Marcille is convinced that Marlo is the culprit of the recordings as she's had an infatuation with audio and recordings in the past. The couples play a friendly game of the Models vs the Mikes in an effort to settle where CHILL will eventually reside. Atlanta or LA??? Unfortunately, for Cynthia the Mikes take the W. Cynthia, you better get packing.
In an interesting turn of events, Kenya Moore meets with an attorney who specializes in estate planning. According to Kenya, she is there to discuss her options regarding the protection of her assets and make sure they are ultimately relinquished to her daughter- exclusively. Hey, maybe Marlo wasn't so off base after all when it comes to that child support rumor. The attorney explains that Kenya's best plan of action is to establish a trust, one that she can clearly specify where the assets should go.
While speaking with the attorney, Kenya drops a bomb confessing that she and Marc have no prenuptial agreement whatsoever. Lucky for Kenya, the attorney is confident that by creating the trust she can protect her daughter and make sure she is supported no matter what. Phew!
Now FINALLY. What we've all been waiting for. The showdown between Porsha and Dennis at couples therapy. The session starts out rocky with Dennis admitting he made a "mistake" but Porsha is none too pleased with his word choice, stating that it wasn't a mistake. In Porsha's eyes, the word "mistake" is reserved for small grievances- NOT serious lapses in judgment.
EXCLUSIVE: Porsha Williams and Dennis McKinley Split — Engagement Off After Porsha Discovers Titty & P*ssy Pics In Dennis' Phone; He's Cheating With Strippers!
Dennis reveals that the pregnancy was very rough and that the sex was less than ideal for him. 911. SHOTS FIRED. Did he really just say that on national television??? He further elaborates that the postpartum period was also tough and "that's not a good enough why, but that's why." In the words of Ramona Singer, "Wow Bethenny. Just, WOW!"
Porsha Williams is adamant that she's disappointed and devastated by Dennis' poor decision and that her trust in him needs to be rebuilt. Fortunately for baby Pilar and the sake of their family, the two seem to experience a breakthrough during the therapy session and commit to working through the infidelity together.
Will the two continue to make progress or are they just on another path to implode again? Tune in next week to find out…
Stay Connected With All About The Tea: Twitter Ι Instagram Ι YouTube