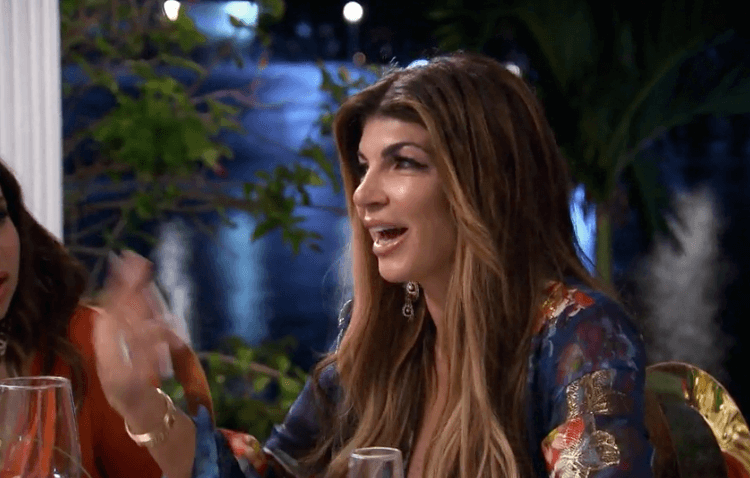 Winter weather is upon us, but we can live vicariously through the Real Housewives of New Jersey as the women continue their trip to Jamaica.
We open with Melissa Gorga grabbing a room service breakfast, Teresa Giudice working out in the gym, and Dolores Catania facetiming her boyfriend, David. She woke up in a bad mood after her fight with Jackie Goldschneider the night before, and David's ratty shirt isn't helping matters. Frustrated, he hangs up on her to focus on driving.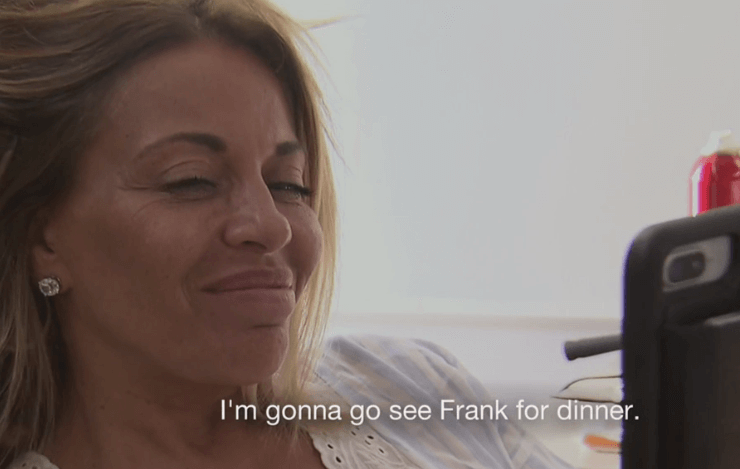 As Jennifer Aydin, Teresa, Melissa, and Dolores gather for breakfast in their ocean-side villa, Dolores begins to complain about Jackie once more. Melissa defends her new friend, saying Jackie felt ganged up on, but Dolores disagrees. 
In the shared suite, Jackie and Margaret Josephs give each other a pep talk so they'll all get along with the other ladies. The plan for the day is a swim with the dolphins, and hopefully no one will try and drown a castmate.
As soon as Melissa Gorga sees the dolphins, she starts freaking out. But Dolores is excited to canoodle with her aquatic friend. As the dolphin kisses Dolores on the cheek, she falls in love. Marge gets humped by her new pal. Then the dolphins push the women through the water. Jen falls face first and gets dragged under by her boogie board. After her horse threw her in the ocean last week, it appears that animals don't like her.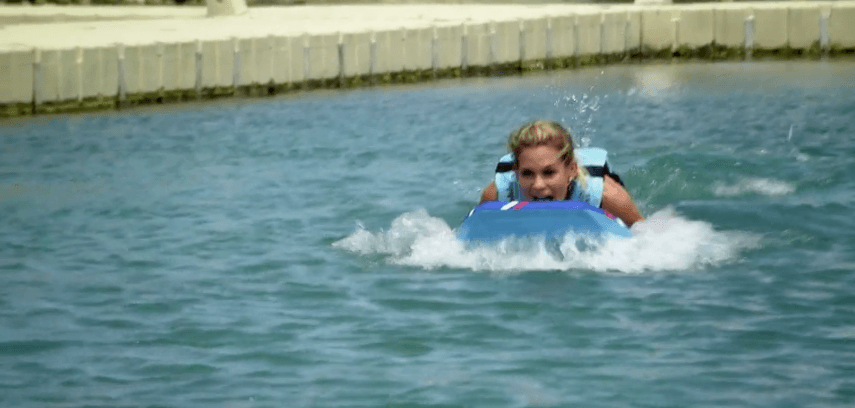 Next up, Melissa, Jackie, and Teresa Giudice get their turn with the dolphins. Jackie takes to it like she's been swimming with them her whole life. Teresa, who is hesitant, lets the dolphin kiss her cheek.
Later, the women split up. Jennifer and Marge head to the gift shop for tchotchkes. They discuss the fact that Jackie hasn't eaten much on the entire trip. Is her anorexia flaring up again? They're also worried that Jackie feels alone after her argument with Dolores. They promise to be there for her. But what to do about her eating disorder?
Jackie and Melissa sit waterside and sip cocktails. Jackie orders a salad — which she probably won't eat. They discuss Marge and her love of being naked. Jackie had an entire convo with Marge in the nude. Awkward? Yes, very.
Talk turns to Dolores and Jackie's differences. Dolores and Teresa were raised to not show their true feelings, whereas Jackie allows herself to be vulnerable. Emotions are so messy, y'all!
Dolores Catania and Teresa Giudice head to the spa and the indoor pool. They nibble on fruit and dip their toes in the water. Dolores gives props to Jackie for taking the plunge with the dolphins. Dolores and Teresa agree about Jackie, but where they don't see eye to eye is on the topic of Danielle Staub. Teresa says she understands why Margaret and Danielle are no longer friends. Margaret makes jokes at the expense of others, and Danielle is so sensitive. However, since Dolores and Teresa keep complaining about Jackie's thin skin, how does Teresa reconcile being tolerant of that trait in Danielle, but not Jackie?
Back in Jersey, Frank Sr. has dinner with Dolores's boyfriend, Dr. David. Frank and Dolores are building a house for David. The doctor expects Dolores to move in, but she wants a ring and a commitment. Frank asks David flat out if he plans on making a formal proposal to Dolores.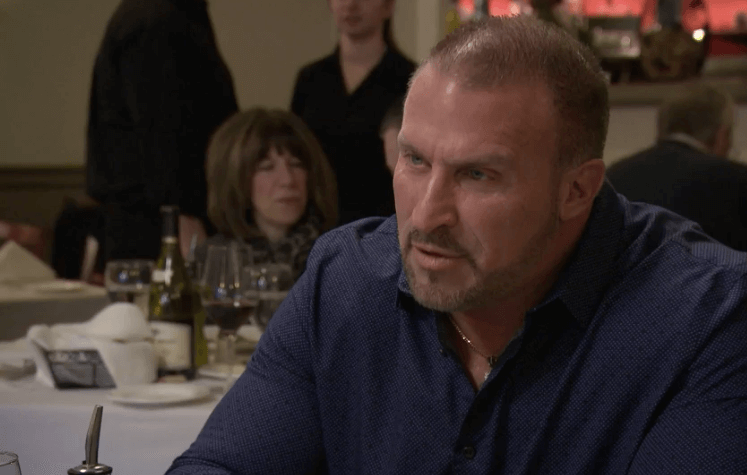 David says his first love is his job, which Dolores understands. So, he plans on taking things one step at a time. What does that even mean, David?! Frank tells David that Dolores will be disappointed if there's not a ring. Frank doesn't think there's going to be a happy ending if Dolores doesn't give David an ultimatum.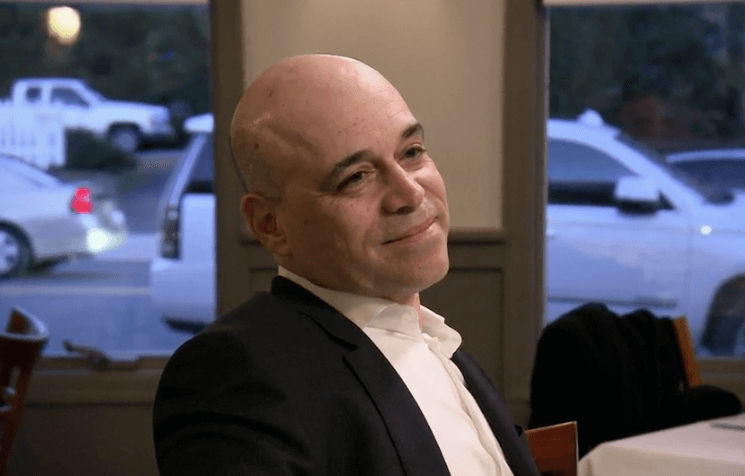 In Jamaica, the women are getting ready for their final meal together on the island. Jennifer is planning a roast of sorts, where she will imitate all the other ladies. Margaret and Jackie schlep over to the villa, then they all head out to dinner. 
The women dine al fresco and order numerous cocktails while two men play steel drums in the background. They discuss their vacation dinner last season with Danielle. Teresa questions why Margaret Josephs would be in Danielle's wedding if she didn't think Danielle and Marty Caffrey would stay together.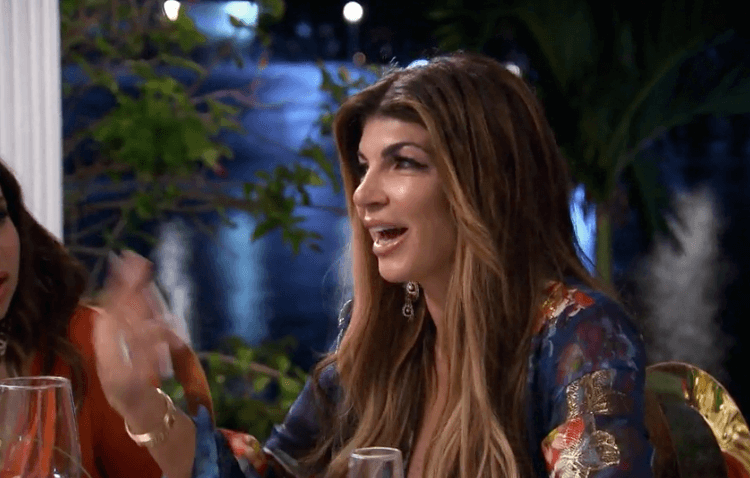 Margaret Josephs says Danielle didn't love Marty, but Teresa disagrees. Then Teresa drops a bomb: Danielle and Marty hooked up. Margaret is a suspicious. Danielle was engaged to a new man. And she didn't sex Marty when they were married, so why now? If she did sleep with him, Margaret thinks it's a last-ditch effort to keep the house.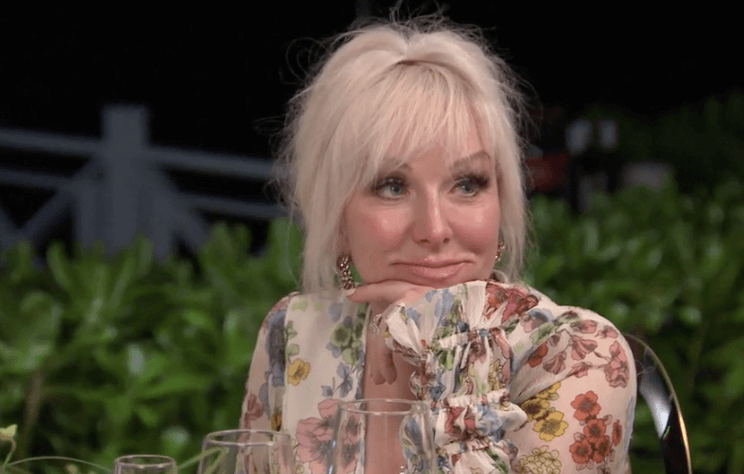 But guess who's now buddies with Marty? Marge's husband, Joe. How that happened is anyone's guess, after the insults Marty hurled toward Margaret last season. Anyway, at the table, Marge calls Joe to see if he's talked to Marty. Joe's not answering, so she calls Marty instead.
Marty denies any carnal involvement with his ex. But the women are divided. Half believe that he and Danielle hooked up, but Margaret doesn't think Marty would be so stupid. Even as the words are leaving her mouth, Danielle calls Teresa. 
Danielle Staub explains that Marty just called. Danielle asks to be taken off speaker and then hangs up on Teresa. Even then, Teresa claims she feels badly for Danielle. Why? We're not sure. But the women are sick and tired of hearing about Danielle, so they demand that Jen roast them.
EXCLUSIVE: Danielle Staub Suffers Meltdown Over Not Being Invited to BravoCon!
Jennifer Aydin gets up and commands everyone's attention. She has Margaret's laugh down pat. She imitates Melissa's love of selfies and Dolores's constant complaints about being alone. She teases Teresa about her obsession with working out. But when she makes fun of Jackie for her two degrees and distrust of food, I wondered how Jackie would take the ribbing. She seemed okay with it. The women laugh and praise Jen for her accurate portrayals.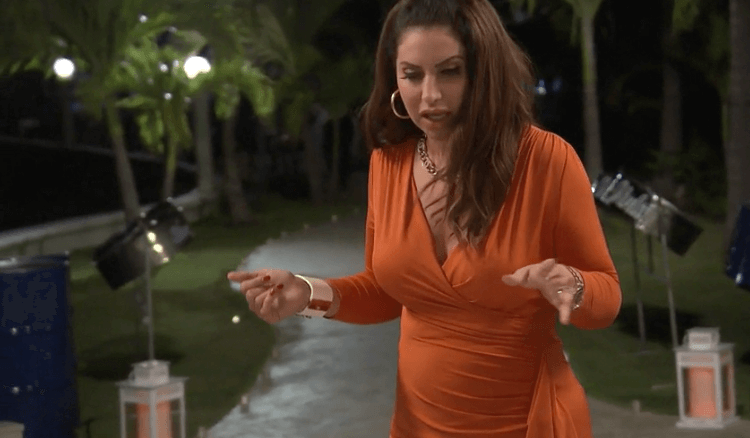 When Dolores sees that Jackie can laugh at herself, she apologizes for the previous night's skewering. There may be hope for their friendship yet, and Jackie agrees to go back to the way they were before the trip.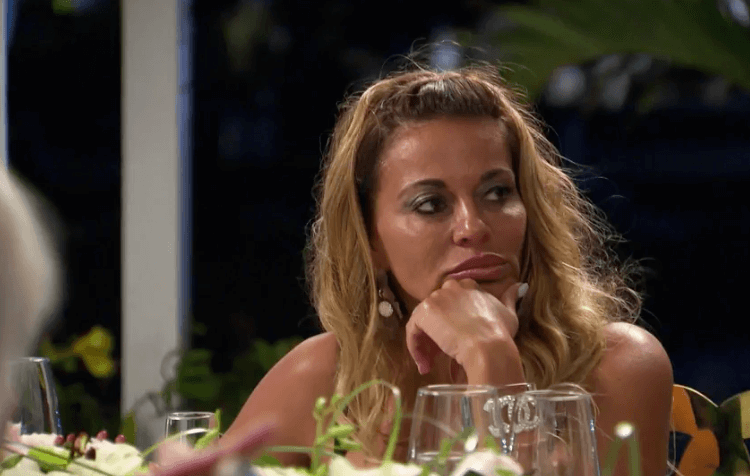 Once the women land in Jersey, Teresa Giudice and her kids gather to look over family photos. She's trying to foster happy memories for her girls. She pulls out pictures of Juicy Joe and the kids. Audriana doesn't remember those family vacations. Gia feels for her youngest sister. Where Gia has tons of memories of her dad, Audriana is only nine. Joe's been away for three years, and her memories of him are distant.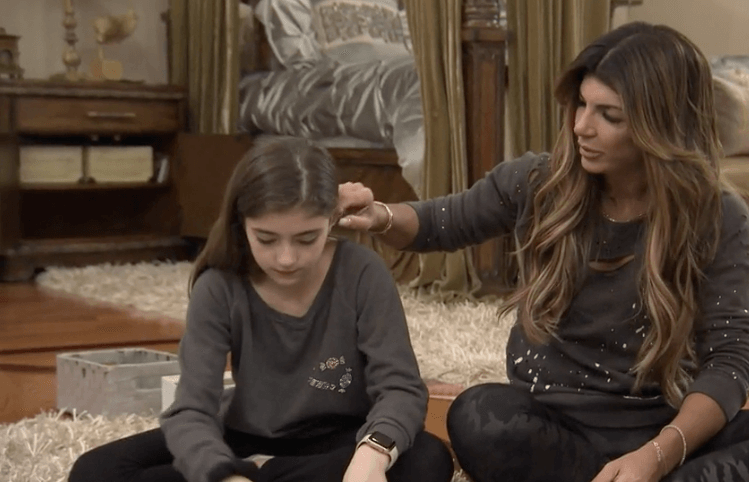 Gia discusses how hard it's been on her and her sisters without her dad at home. She just wants to be a family once again. She says it will never be the same until her dad comes back home to New Jersey, which is heartbreaking for them.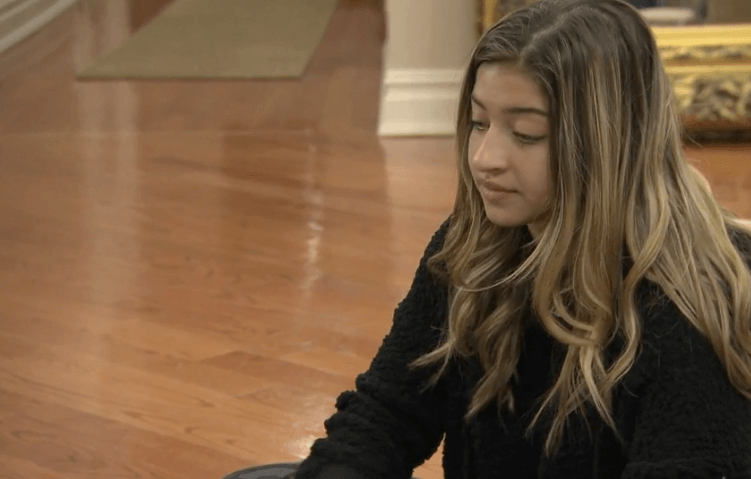 Dolores takes her dogs for a walk and comes home to find Frank tearing down a neighbor's tree. He tells us that as part of the divorce settlement, she got to keep the house, but he's responsible for the upkeep. Dolores has a long honey do list. Frank thinks Dolores will never move in with David. She has too much invested in the house she shares with Frank. He wonders if Dolores will give David an ultimatum. But Dolores says she's content with her part-time relationship with the doctor. Frank knows better. Dolores hides her feelings and doesn't show that things bother her. He thinks she needs to be more open.
Over at Teresa Giudice's, the Giudices' lawyer, James Leonard, makes a house call. Teresa has called brother, Joe Gorga, to come, too. They're meeting to go over the denial of Juicy Joe's immigration appeal. Teresa's told Gia and Gabriella, but she hasn't broken the news to Malania yet. Juicy's immigration lawyers made no headway with the judges. Should Joe appeal to the third district court? They'd have to start the process all over again. It would be his last chance, and the odds aren't good. 
Joe Gorga asks why Teresa continues to fight a losing battle? It's costing her a fortune. Even though the girls want their dad to continue his appeal, the chances are so slim it doesn't make financial sense.
And that ends our episode. So, do you think Dolores will move in with David? Did Danielle seduce Marty to get her hands on the house? Did you enjoy Jen's roast of the other women?
Stay Connected With All About The Tea: Twitter Ι Instagram Ι YouTube