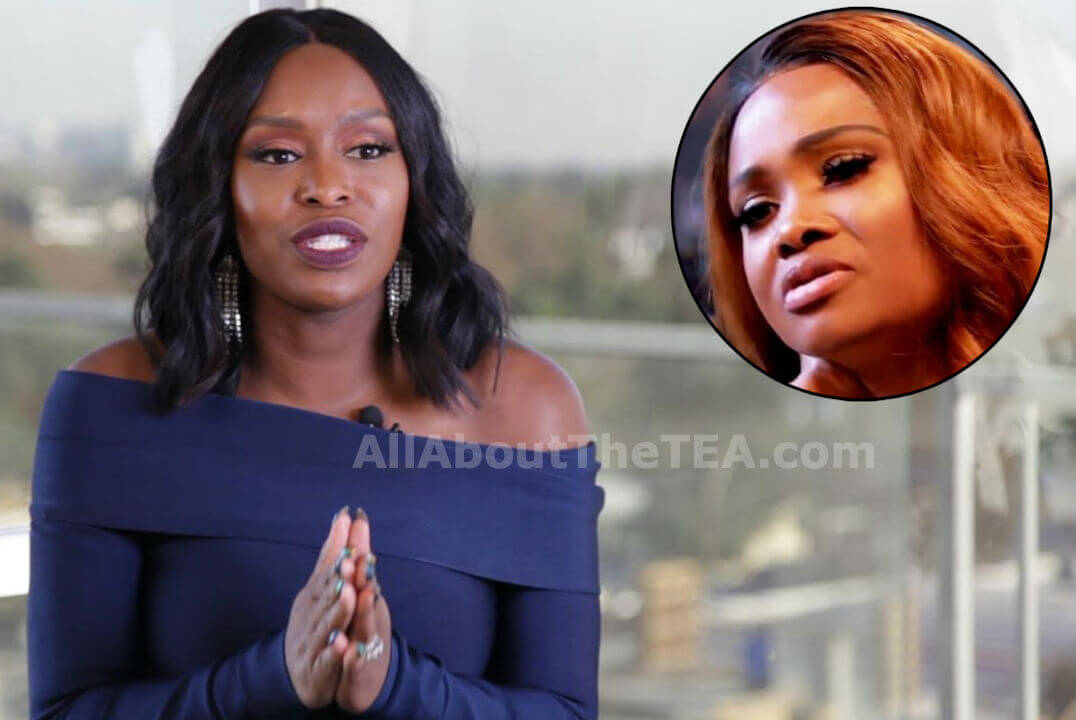 Quad Webb is still pissed with Dr. Heavenly Kimes for exposing her sexual tryst with rapper Common and has issued a stern warning to the dentist.
The Sister Circle host addressed the scandal during the December 10th episode of the talk show, Quad Webb said "So I picked up the phone and I called her and I said, 'Hey now, I see you're taking shots at me. I'ma tell ya something, you're saying we're friends. I can't keep letting it slide.' " She added, "We'll be alright, we'll be just fine. But when I play with a person, I'm not going to hide behind 'I'm playing' or 'I'm joking.' I'm going to let you know this is real. It's a barrage when I shoot at you."
EXCLUSIVE: Quad Webb-Lunceford Cheated on Husband with Mariah Huq's Brother-In-Law & Got Her Ass Kicked!
Dr. Heavenly's revelation created a firestorm because Common is dating the beautiful CNN commentator, Angela Rye, and Quad is well aware of that. Quad Webb claims the allegations could harm to her professional reputation. 
Quad Webb also issued a statement through BET — she blasted Dr. Heavenly for exposing her secret on national TV.
"Rumors get started when a person wants to think more about the ratings and less about loyalty and friendship," Quad told BET. "I don't know why she [Dr. Heavenly] would jeopardize our friendship for entertainment purposes, everything is not a joke."
She went on to deny knowing Common outside of a professional setting.
"I don't know Common, I don't have his phone number, and we have never shared the same space. I met him once during an interview with Sister's Circle," she explained. "This was a very professional setting, and I take my career very seriously. I do not use it as a dating ground."
"I am so very disappointed in Heavenly, and I don't think she realizes the repercussions of making such false statements," she stated. "Her actions are not the actions of a true friend. What is most hurtful is that we were close for the last 2-3 years and what she did was very lowbrow and inconsiderate. Once again, a Black woman trying to tear down Black women."
Dr. Heavenly is now calling the whole thing a misunderstanding and a joke.
"I had no idea that people would take my joke this far and create such a firestorm," Dr. Heavenly told BET. "I thought that it was so far fetched that people wouldn't even take it so seriously."
"I am deeply sorry to my girl Quad. Although it was a joke, it was one that went too far and I should have known better."
So where does their friendship stand today?
"I hope that Quad knows my heart and that we are able to move on from this because we have built a great friendship over the years," Dr. Heavenly shares. "Again, to my friend Quad, I am sorry, and I had no idea that it would blow up like this. I take full responsibility for my words, and I hope that I did not hurt anyone which includes Common and Angela Rye."
Married to Medicine airs Sunday nights, at 9:00 pm ET, on Bravo. 
Stay Connected With All About The Tea: Twitter Ι Instagram Ι YouTube