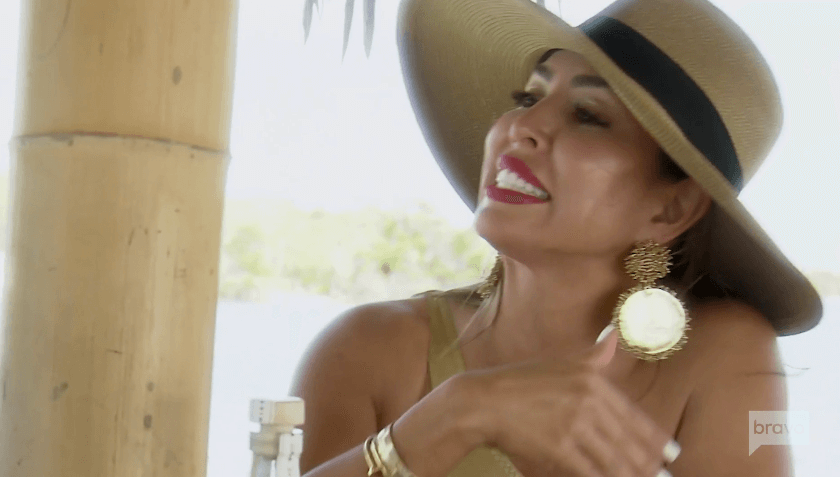 Welcome back to sunny Florida, where the Real Housewives of Orange County are taking a relaxing vacation. Oh wait, this is Housewives we're talking about. There's nothing relaxing about this trip. And that's how we like it, yes?
We left off with Kelly Dodd yelling about lawsuits, and Tamra Judge telling Kelly to go suck d*ck for money. And all of this at the pool bar! Now, Gina Kerschenheiter and Braunwyn Windham-Burke urge Kelly to speak with Tamra one on one in an effort to settle their differences. Oh, these newbies. They're so hopeful.
As soon as Tamra Judge approaches, Kelly makes an immediate apology. The rest of the women scatter to give them time alone. Kelly hugs Tamra, who acts like a victim in this whole fight. (For those of you not up on your OC knowledge, Tamra has been talking shit behind everyone's back, including Kelly's. When Kelly called her out on it, Tamra claimed she'd been defending Kelly.) Shannon Beador looks on with interest, but doesn't interrupt their confab.
As they talk, Tamra declares herself innocent of any wrongdoing. (But she's the one who brought up those train rumors.) Kelly says everything has been a misunderstanding, but Tamra is pissed that Kelly brought Jim Bellino into the mix. Remember he's suing Tamra and Shannon for defamation. (If only he could sue his parents for making him look like Randy Quaid. That might be a legit lawsuit.) Vicki Gunvalson wonders when they're going to Key West already. And while Kelly and Tamra may have declared a truce, Shannon mumbles to Vicki that she's nowhere near ready to forgive Kelly.
Meanwhile, Emily Simpson slips up to her room to facetime daughter, Annabelle. She asks her 6-year-old to read a book to her younger brothers. Annabelle adorably promises to do just that. She's a sweetie, that one.
The ladies have their bags packed, scarves tied around their heads like babushkas, and they're piled into convertibles for the drive to Key West. But as we see storm clouds in the horizon, those thunder clouds are mirrored in the car when Vicki gets a text from the woman Kelly fought with in a bar. The woman shares pictures of her injuries. She originally messaged Vicki on Insta, showing off her war wounds courtesy of Kelly. Tamra wants the ladies to shut this woman down. Enough instigating!
In the convertible carrying Gina, Braunwynn, and Kelly as passengers, Emily must pull over to the side of the road for Kelly Dodd to heave. Gross. The Tres Amigas, on the other hand, are cruising along.
Three hours later, they all arrive to their plantation style water-front villas. They're served key lime pina coladas and shown their accommodations. Emily and Gina are forced to share a room, but they don't seem to mind.
And what's more Key West than a drag show? Nothing, that's what. Braunwynn claims her drag name would be Bosoms Galore and she'd shoot milk across the room. Okay, then. 
Shannon, Tamra, and Vicki get settled in their villa while the other women are getting ready for a hot night out. Gina confides to Emily that she's unhappy Vicki has been talking to Kelly's bar fight victim. Gina thinks they need to talk to Vicki and tell her to lay off. Either that, or they'll have to go to Kelly, and no one wants to do that. Kelly's anger is too unpredictable. 
In the other villa, Vicki tries to talk Shannon into staying in with booze and face masks instead of going to the drag show. Shannon isn't looking forward to spending more time with Kelly, but she wants to join the others. Vicki hates being the oldest one in the group. Her late nights aren't as plentiful as they used to be. 
EXCLUSIVE: New Shocking Details of Kelly Dodd's Violent Bar Fight Exposed — Threatening Voicemails, Photos and Assault Victim Pressing Charges!
Since Shannon, Vicki, and Tamra are running late and not answering their phones, Gina, Braunwynn, Kelly, and Emily hit the drag show alone. Shown to a stage-side table, the women settle in. Shannon, Vicki, and Tamra soon arrive and squeeze in next to the other ladies and enjoy the show. Poor Vicki is confused by all the gender bending, but the others have a great time.
The women head to a bar afterward and drink shots. Gina approaches Tamra and asks why Vicki is contacting Kelly's victim. Tamra claims she's staying out of it. At the other end of the bar, Kelly Dodd asks Vicki about long-term insuran…zzzz. But there's a method to Kelly's boring questions. She insists that Vicki is evil and instead of coming at her in an aggressive manner, she's plying her with insurance queries mixed with love. Aww!
Gina finally confronts Vicki. Vicki wants to know why Gina is sticking up for Kelly, damn it! The other women try to pressure Vicki into telling Kelly what she's doing. In an effort to keep Kelly in the loop and stop all the gossip, Shannon breaks the news to Kelly. Vicki doesn't want to say anything. She's scared of Kelly physically harming her. 
When Vicki says that Kelly hurts people, Kelly accuses Vicki of a cancer scam. Kelly calls her a conwoman and promises a lawsuit if Vicki keeps flapping her gums. Vicki calls Kelly a bully, then holds out her arm, demanding that Kelly hit her, too. Kelly laughs and keeps her hands to herself. They hurl nasty names at each other, then Vicki heads out of the bar. Tamra and Shannon follow.
Inside, Kelly Dodd cries and wonders why she's being attacked. Gina, who started this whole shit show, can't figure out why Kelly and Vicki couldn't hold to their truce. Um! Outside, Tamra wonders why Gina needed to insert herself into the drama. Vicki paces back and forth, screaming that she needs to stay away from Kelly. Vicki yells to the heavens that she isn't a conwoman and she's not a liar. 
The next day, the women are lounging and getting ready for a tiki booze cruise. Braunwyn thinks the previous night was a blast. Not so much for Kelly Dodd. Vicki called her a slut, and Kelly doesn't know why. 
Soon, the women hop into Jeeps and head to the water. Tamra splits off from her other amigas and sits next to Kelly and Emily. The women make their own drinks as they putt toward the sandbar. Kelly asks Tamra about Vicki engaging in trash talk with her victim. Tamra has no answers.
When the tikis stop, the ladies slip into the waist-high water. Braunwyn immediately gets bitten on the ass. Kelly spies a jellyfish and the ladies clamber back onboard. Tamra tells Vicki that she should apologize to Kelly.
But before Vicki can say anything, Kelly gets a text from her ex, Michael, who says he has enough dirt on Vicki to destroy her life. Vicki screams from the other boat that Kelly should be happy for her. Happy, damn it! Kelly screeches that Vicki is a pig. Yikes! Emily and Gina hide their head behind their hands in embarrassment, while Kelly and Vicki continue to yell back and forth at each other as the tikis head to the dock.
At the villa, Shannon finds a cake courtesy of the hotel and they nom nom nom. After snacking, Tamra suggests that Vicki let things die down between her and Kelly in order to have a peaceful dinner. Meanwhile, Bruanwyn lectures Kelly about not losing her cool with Vicki. Will any of these pep talks bring a soothing evening? Meh.
In order to have an uninterrupted dinner, Braunwyn, Emily, and Kelly dine together. Braunwyn has had enough of the bullshit and indulges in cheese fries to soothe herself. Kelly admits she has an anger problem. She feels the need to be vindictive and win any fight. Kelly says her mom's temper was short, and she learned everything from Mama. Crying, Kelly feels stupid for taking the bait the night before. 
Across town, Shannon, Vicki, Tamra, and Gina have dinner together. Gina isn't too bummed that she's stuck with the Amigas because they're fun girls. Gina talks about her ex, Matt. Tamra thinks Gina should give him a second (or third, really) chance. Shannon is doubtful they can make it work after his cheating. Gina knows if she recommits to Matt, he'd never cheat again. Shannon, after her own miserable marriage, disagrees. Vicki declares that men don't check out if they're happy at home. Shannon is offended by that statement. She did whatever it took to make her marriage work, but David wouldn't meet her halfway. 
Gina speaks directly to Shannon. Is Matt just laying it on because he wants his marriage to work, but will go back to his neglectful behavior once they're back together? A real possibility, according to Shannon. Vicki says Gina should date around and make Matt prove himself.
Shannon admits she shouldn't have fought in front of her kids. And even when she and David fought privately, her daughters knew what was going on and it still bothers them. She feels guilty for letting her relationship deteriorate to that extent. 
Back at the villa, Emily, Braunwyn, and Kelly wash and put on face masks. But the other four are out in a bar whooping it up. Shots and dancing and yelling and taking drinks out of the beer tap kind of whooping!
Later, the Amigas go swimming at the hotel. Tamra takes her clothes off and goes topless, natch. Shannon wears her bra and Spanx. Vicki doesn't want to get wet. Too bad, because they pull her in, fully clothed. 
When they hear security coming, they make a quick run for their villa. Unfortunately, Vicki takes a tumble and hurts her leg. We're treated to all the falls Vicki has taken over the years. But this one is serious. They call an ambulance and carry her off to the hospital.
And that ends this episode. So, do you think Kelly should have apologized to Tamra? Will Vicki have to play in Key West with an injury? Thoughts on Gina's divorce? 
Stay Connected With All About The Tea: Twitter Ι Instagram Ι YouTube