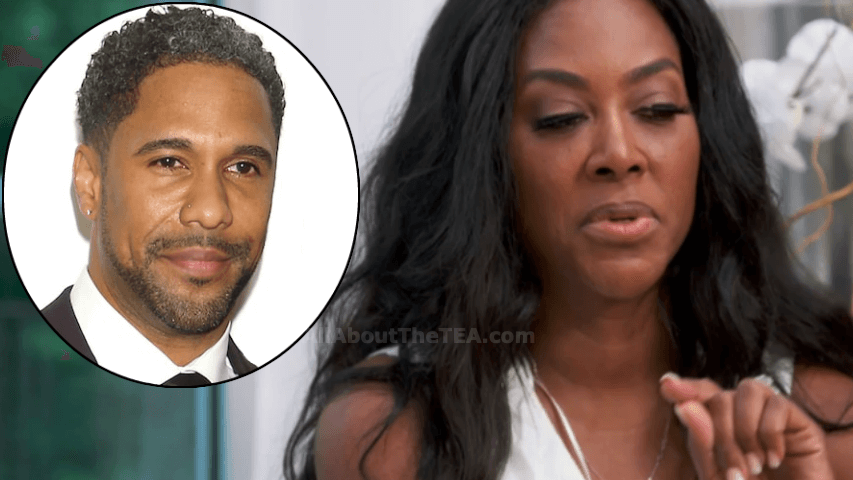 This week's episode of Real Housewives of Atlanta picks back up where it left off with NeNe Leakes running right into Cynthia Bailey on the float for the NYC Pride March. In a surprising turn of events, the two ladies have a seemingly pleasant exchange, each speaking to one another. Nene even takes the time to make small talk with Cynthia's daughter, Noelle. I'm sure somewhere on that float, Andy Cohen is breathing a huge sigh of relief. PHEW.
Meanwhile back in Atlanta, Porsha Williams is attending a therapy session, this time solo. Porsha admits to her therapist that she should have taken Dennis' previous dating history into better consideration before jumping into a relationship so fast. She also confesses that she's just now coming to the terms with the severity of her situation as a single mother. She laments her new reality of being faced with the task of getting back to work to support her daughter while also being severely depressed.
Across town, Kenya Moore turns to fellow newlywed Kandi Burruss for marriage advice. She expresses her frustrations with Marc Daly's lack of willingness to compromise. Kandi seems to brush it off as normal marriage woes and admits that marriage can be hard and that she and Todd also butt heads from time to time. In this conversation, Kenya reveals to Kandi that her baby's birth date is actually November 3, despite Kenya previously announcing Brooklyn's birth date on November 4, to trump the  Real Housewives of Atlanta season 11 premiere.
Read Also: Kenya Moore Caught Red-Handed Lying About Her Daughter's Birth Date on Watch What Happens Live!
Back in New York City, Cynthia Bailey and a very pregnant (and hungry) Eva Marcille arrive at a dinner table set for three, much to Eva's surprise. Cynthia breaks the news that Marlo Hampton will also be meeting them and Eva is none too pleased. She lets Cynthia know that if Marlo is coming she will not be staying. Cynthia agrees and says that if there's any BS she won't be staying either.
Marlo arrives and Eva promptly asks for all $178 worth of her food to be boxed up but not before Marlo requests that she leave a few pieces of Duck on the table for her.
Cynthia Bailey and Marlo make a little small talk before Marlo cuts to the chase and demands to know what's going on between Cynthia and Nene. Cynthia tells her she knows good and well what's going and references Nene's most recent interview calling her "desperate."  Marlo is quick to remind Cynthia of her referring to Nene as "toxic" and says that both ladies are guilty of hitting below the belt. Marlo makes it clear that she feels the ladies need to come back together as they have a friendship that is indeed worth saving.
Cut back to #singlemom life, Porsha is rushing around trying to get both her and her daughter out of the door on time for her very first day back at work. Luckily for her, Dish Nation has allowed her to bring baby PJ along with her for the first day.
While still in NYC, a head to toe sequin-clad Marlo meets Nene for a casual day-time lunch. Marlo has the same mission still on her mind of bringing Nene and Cynthia back together but NeNe Leakes appears as uninterested as Cynthia Bailey. According to NeNe, her biggest issue with Cynthia is that she did so many interviews speaking out against her. The conversation comes to a head when Marlo says she thinks that both of the ladies are wrong and that they've both played a part in the wrongdoings.
NeNe Leakes bucks up at Marlo and says that in regards to an apology to Cynthia, it's simply not gonna happen. She also says that the issues she has with Cynthia are personal and that Marlo needs to stay out of it. Then, in true housewife fashion, Nene storms off from the table and leaves Marlo in a pile of dust as she peels out in a pedicab for one.
Back in Atlanta, Kandi Burruss and Todd take son Ace along for an appointment with their surrogate. Kandi confesses that she's getting a taste of what it's like to be the man in the pregnancy and while it used to make her feel somewhat guilty, now she's really starting to appreciate it. The appointment runs smoothly until Kandi gets a troubling text from Kenya asking her to please come over.
Porsha Williams relishes in completing her first day back at Dish Nation and happily admits that while working, she didn't think about Dennis one time. But now the hard work starts as she must set off to find the perfect nanny for baby PJ. Porsha admits she has already gone through a slew of bad ones. She says her biggest concern is finding a nanny that can be super flexible and help facilitate her on her new journey of co-parenting with Dennis.
Once Kandi's appointment with her surrogate wraps up, she heads straight to Kenya Moore's house. Initially, Kenya seems fine, but once the conversation gets going, it is apparent that Kenya is emotionally distraught over her fake relationship with Marc Daly. Kenya Moore confesses that there is an extreme lack of intimacy in the relationship and when she tries to talk to him about it, it escalates into an argument and certain lines are often crossed.
She also divulges that Marc's most recent refusal to compromise eventually ended in Kenya and baby Brooklyn going on their anniversary trip alone. She also reveals that Marc has an ugly side, almost like an "alter ego from the depths of hell." The conversation leaves Kenya in tears and Kandi realizing that the relationship is in way more trouble than she initially thought.
Next week on The Real Housewives of Atlanta, the drama continues to unfold.
Stay Connected With All About The Tea: Twitter Ι Instagram Ι YouTube