Basketball Wives
'Basketball Wives' Update: OG Returning For Season 9 & Evelyn Lozada Gets Baptized!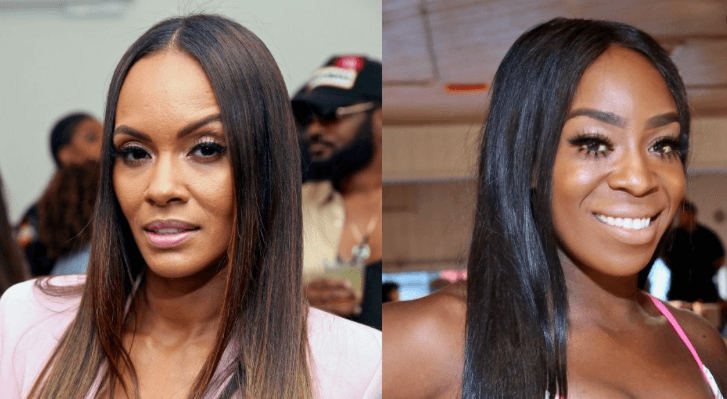 Season 8 of Basketball Wives will go down on record as one of the most explosive and controversial seasons to date.
The feud between Ogom "OG" Chijindu and Evelyn Lozada turned ugly with accusations of racism, colorism and nasty social media fights. And an overwhelming amount of fans sided with #TeamOG!
Things exploded between the ladies during a cast trip to Costa Rica in season 8. OG  dropped a bombshell — exposing Evelyn Lozada's ex-husband, Chad Ochocinco, had romantically pursued her — this revelation set Evelyn on fire and she exploded with rage. A blowout fight ensued and the cast was split down the middle.
Their onscreen drama escalated on social media when Evelyn Lozada posted a cryptic message to her 4 million Instagram followers on September 11. The shady message included a picture of an orangutan, which triggered a response from OG. Evelyn wrote, "Nobody watches you harder than the people that can't stand you," with a picture of a laughing orangutan next to the statement. OG quickly responded on Twitter by calling Evelyn a racist, "AND THERE iT iS.. SHOW YOUR TRUE COLORS YOU RACiST BiGOT.. YOU CALLED CECE "LiNG LiNG" JACKiE A "COCKROACH" & NOW ME A "MONKEY" MAY GOD TAKE CARE OF YOU WELL WELL..EVELYN LOZADA," OG captioned the re-shared post.
Adding fuel to the fire, the season 8 reunion aired and OG was isolated from the other ladies — she was not allowed to participate from the main stage. Evelyn and her cohorts claimed they feared for their safety around OG. The Nigerian beauty accused the cast of colorism — many fans agreed and responded with threats to boycott the show.
Soon after, Evelyn filed a lawsuit against OG for defamation and emotional distress — citing she lost endorsement deals after OG called her a "racist bigot" on social media.
Read Also: Evelyn Lozada Sues 'Basketball Wives' Costar Ogom "OG" Chijindu For Defamation!
After all the drama, rumors circulated that OG was fired however, it appears the Nigerian fan favorite seemingly confirmed her return in a tweet posted on November 18, "..MAYBE THiRD TiME'S A CHARM.." OG wrote with the hashtags "#iHEARTOG #NiGERiANknockout #GODisGREAT #ALLtheTiME."
In other Basketball Wives news, Evelyn Lozada is turning her life over to God and made it official.
After harsh backlash over her cruel treatment of fellow co-star Ogom "OG" Chijindu, the reality star got baptized at the Freedom Church on November 18. "This journey though personal is also about staying true to who I am, who HE is and what truly feeds my soul ❤️??." She posted on Instagram along with the following photo from her baptism.
As part of her new spiritual transformation, Evelyn Lozada, is refraining from premarital sex. 
"I'm done with premarital sex," Lozada said. "I felt like… [in] those relationships I lost a piece of me, every time I had sex [out of wedlock]," she said, adding that it's not hard to do, since she abstained from sex for a year post-breakup from Carl Crawford.
Do you want OG back for season 9? Share your thoughts on OG's possible return to Basketball Wives and Evelyn Lozada getting baptized. Sound off below!
Stay Connected With All About The Tea: Twitter Ι Instagram Ι YouTube