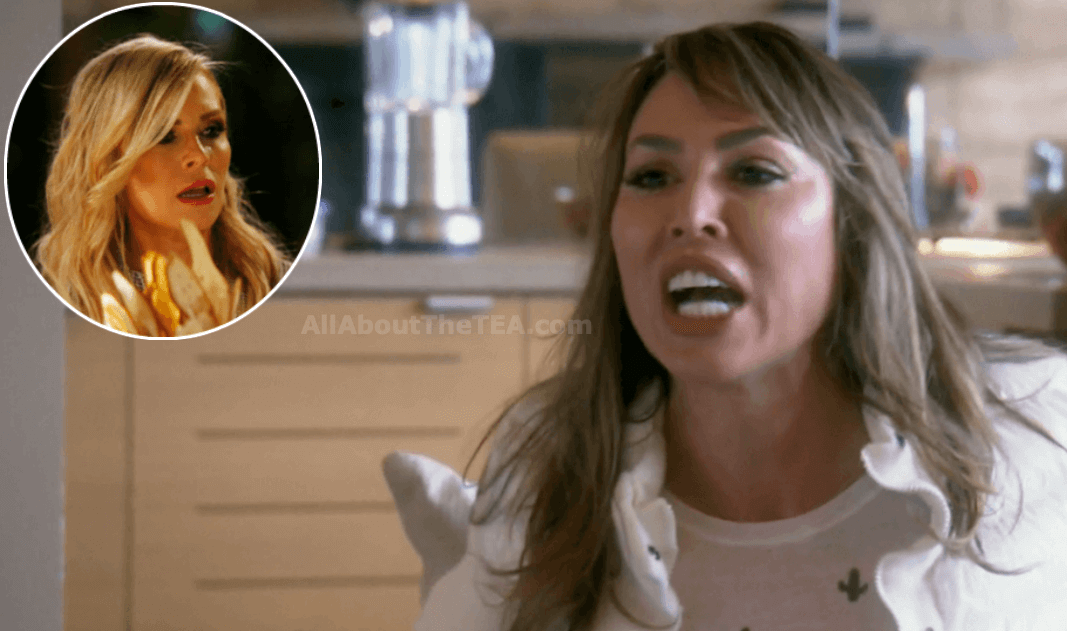 On the Real Housewives of Orange County, we open this week's episode with Tamra Judge and Shannon Beador speeding toward a meeting with Kelly Dodd to discuss her behavior. Last week, Kelly joked about not attending Vicki Gunvalson's birthday, but would be glad to go to her funeral. Tamra spilled the tea, and now all Shannon and Tamra are upset with Kelly for her thoughtless words.
But Tamra points out that Vicki herself has spread a few rumors that affected Tamra and Shannon both. They know what it's like to have to defend their families from nasty gossip. Now that the news is out about Kelly's allegedly pulling a train and using coke, Tamra can't help but have some sympathy for Kelly. But Shannon thinks Tamra is too wishy-washy. Pick a lane, girl!
And speaking of Kelly, she's at her condo, looking for dog food and winds up giving her fur babies vegetable soup. Um… Kelly complains that taking care of an aging dog is a real struggle. But old dogs aren't the only thing on Kelly's mind. She's upset that the girls were talking about her at Vicki's birthday party last week, so she tells her daughter, Jolie, all about it. Jolie, who may be the single voice of reason on this show, tells her mother that not attending Vicki's party was within the realm of acceptable behavior. 
Gina Kirschenheiter takes her new platinum hair to her therapist's office. When she and Matt met up for dinner last week, Gina was surprised to see glimpses of the old Matt she used to know. (Which I guess explains why she slept with him that night.) But now Gina regrets her slip. She thinks Matt feels guilty and is trying to get back with her for the kids' sake, which leaves Gina confused. Gina is getting ready to go to Palm Springs for a date. But what will she tell Matt? She doesn't want to piss him off, but she doesn't want to lie, either. Still, she's afraid of Matt's hot temper.
Back to Shannon and Tamra, they arrive at the Driftwood Kitchen for their sit down with Kelly. Before they can broach Kelly's behavior, Kelly calls out Tamra for talking shit about her at Vicki's party. Kelly says that Braynwyn Windham-Burke already filled her in on what the girls were saying behind Kelly's back. 
Tamra says Braunwynn was the one who spilled all the tea on Kelly. It was from Braunwynn that we learned Kelly and Dr. Brian argued and broke up at a party they all attended. Tamra says Braunwynn made it sound like they were hashing it out in front of Brian's son. But we see a flashback, and that's not what Braunwynn said. 
Kelly Dodd calls Braunwynn to get to the truth of the matter. Braunwynn insists she wasn't the one who brought up Kelly and Brian. Tamra calls her a liar. True, Braunwynn explained what happened, but Emily was the one who introduced Kelly's breakup to the group. Though Braunwynn insists she has Kelly's back, Kelly is angry that Braunwynn was talking about her relationship at all. As Braunwynn tries to defend herself, Tamra urges Kelly to hang up the phone.
Tamra says she walked away from the table instead of piling on Kelly in front of the group. Nice spin, but it was Tamra that told Vicki about the funeral comment. Her hands aren't clean in any of this.
Tamra goes on to explain that while she adores Kelly, she's disappointed in Kelly's delivery. Kelly defends her funeral comment, saying it was a joke. Shannon insists it was upsetting. Kelly thinks the women are too stupid to understand her complicated humor.
Shannon brings up Kelly's recent bar fight, where Kelly supposedly broke a woman's hand. Kelly tells Shannon to shut it or she may sue her for defamation. Now, Kelly is furious. Shannon throws Tamra under the bus by saying Tamra was the source of the story. But Tamra reminds Shannon that she brought it up in front of the other women. Kelly is angry at Tamra alone. She told Tamra about the fight, assuming Tamra would keep it to herself. (Has she met Tamra?!) 
Kelly Dodd now says the bar fight wasn't a big deal, and she didn't start it. She was simply defending herself from this woman, who happens to be friends with Dr. Brian. Then she starts tearing up, claiming the women are always attacking her. Shannon tells Kelly that she has a lot of great qualities and they're worried about how she's perceived in front of the group. Kelly questions their motives, though.
EXCLUSIVE: Dr. Brian Reagan Broke Up With Kelly Dodd Because She Beat Him Up & Cheated With Fox News Reporter Rick Leventhal!
Braunwynn meets up with Emily Simpson for a little paddleboard fun. Emily keeps running into the boats. And the buoys. And the docks. But at least she didn't fall in, so props for that. Braunwynn tells Emily all about the phone call she received from Kelly, accusing her of airing Kelly's dirty laundry in front of the group. Emily agrees that Braunwynn was trying to stick up for Kelly, and encourages her not to fold in the face of their crazy claims. Braunwynn can't avoid conflict with this group. She has to stand up for herself.
Braunwynn wants to meet with Emily and Kelly for dinner to go over what really happened. Emily was sober, so she actually remembers who said what, and will back Braunwynn with the girls.
Over at Shannon's house, she's making cauliflower/broccoli rice. Her daughters don't even want to try it, and I don't blame them. Shannon says that when David has visitation next week, she wants to go meet her new man, Babe. Her oldest, Sophie, wants to stay at the house on her own, but Shannon is too smart to allow that. Oh, and she wants to drug test her kids. For their own protection, of course. If they're ever tempted to toke up or take a pill, they can blame their overprotective mother and her drug-testing ways and just say no.
Read Also: Shane Simpson's Dark Past of Sexual Abuse and Domestic Violence Plus Drug Use Exposed By His Ex-Wife!
The split with David has been difficult on Shannon. She misses seeing her girls every day, and though she claims she's a tougher parent than he is, she's not sorry for being strict. She even brought a breathalyzer to use on the girls. There will be no substances abused in the Beador house. Well, unless you count Shannon's love of Grey Goose.
Gina Kirschenheiter takes her kids to get haircuts. Nicholas, aged 6, is very vocal about what he wants. Buzz cut on the back, please! The children complain about missing their old house, while Gina complains about being a single parent. She even struggles to get Nicholas to thank the barber. The kids like it when Gina and Matt spend time together. It's clear they miss their dad. Nicholas seems to be acting out a bit, but Gina isn't the pushover she was last season. She's becoming a sterner mom, and I'm glad to see it.
At a quiet restaurant, Emily and Shane have dinner. When she asks Shane if he's excited to be out on date night, he has to think before answering. They're marriage is in serious trouble. And the fact that he keeps tempting her with the bread basket is only pissing her off. She's tired of him treating everything like a joke. Emily is working hard to lose the weight she gained in the past year, and having bread and French fries shoved in her face isn't helping. 
Emily Simpson wants to spend time with Shane and the kids. They spend too much time apart. She also wants to fight less in front of the children. Maybe marriage counseling would work. Shane isn't onboard with the plan. He attended by himself for a while, but now he wants her to go on her own. If he sees her commitment, he'll eventually join her.
Emily admits she has a lot of anger. But she's tired of Shane's condescending attitude. In tears, Emily says she's tired of the way Shane talks to her on a daily basis. She's got small kids. Should she leave Shane or stay together for the sake of her family?
EXCLUSIVE: Emily Simpson's Nightmare Marriage Exposed & The Real Reason She's Stuck With Shane!
At the Sealegs restaurant, Kelly meets up with Braunwynn. They jump right back into their disagreement. Braunwynn's upset that Kelly didn't believe her side of the story—that she defended Kelly to the other ladies. Kelly says Tamra made it seem like Braunwynn was bringing up Kelly's personal business out of the blue. Braunwynn refuses to explain further until the other women arrive.
Emily and Shannon soon join Kelly and Bruanwynn. When Kelly brings up Tamra's gossip about Kelly fighting in front of Dr. Brian's son, Emily butts in and says that never happened. Shannon says that was the impression she had, but Emily disagrees. Emily admits she's the one who brought up the couple's Insta breakup. Emily cosigns Braunwynn's version of events, that she had Kelly's back and didn't say anything nasty about her new friend.
Kelly Dodd claims that Tamra is the one behind most of their disagreements. Braunwynn points out that Tamra is the one who brought up the train allegation. Kelly has been blaming Vicki all this time but says she should have been pointing the finger in Tamra's direction. Emily reminds them that when Gina's date with Shane's cousin was canceled, Gina talked to Tamra about it. The next thing Emily knew, Gina accused Emily of setting her up with a guy who already had a girlfriend. Their huge fight came about because of Tamra's meddling. 
As she listens to the other women talk, Shannon remains quiet and sips on her cocktail. Braunwynn believes Tamra is the one who's creating a wedge between everyone. She stirs it all up, then acts like she had no part in the drama. 
Shannon finally speaks up and defends Tamra. She insists that Tamra didn't talk smack about Kelly. 
Kelly adds that Tamra talks mad shit about Shannon, as well. Hours and hours of conversation dissing Shannon, who can't believe her bestie, Tamra, would do such a thing.
We see a flashback of the meeting between Tamra, Shannon and Kelly from the day before. After Shannon left for her daughters' play, Tamra says that Shannon is the one who wanted a sit down. In fact, Shannon urged Tamra to attack Kelly, but Tamra, being the good friend she is, couldn't say anything mean to Kelly, no matter how much Shannon insisted. Tamra says with a wicked little smile, "She wants to get you."
Now, Kelly Dodd holds nothing back as she tells a shocked Shannon that Tamra doesn't want to room with her on their next trip. And we get to see the private texts between Tamra and Kelly, where Tamra makes fun of Kelly bonking Shannon on the head in Arizona. And when Shannon finds out Tamra has been talking about her weight gain behind her back, it really hits the fan. 
Shannon finally realizes Tamra has been saying ugly things about her. Shannon has defended Tamra for years, but as Kelly points it out, Tamra's two-faced. Shannon's near tears to find her besite betrayed her. Kelly doesn't think talking about it will change Tamra's behavior, but what else can Shannon do?
And that ends our episode. So, do you think Tamra will ever stop her shit stirring ways? Will Emily and Shane find happiness together? What did you think about this latest episode?
"Follow" us on Twitter and on Instagram