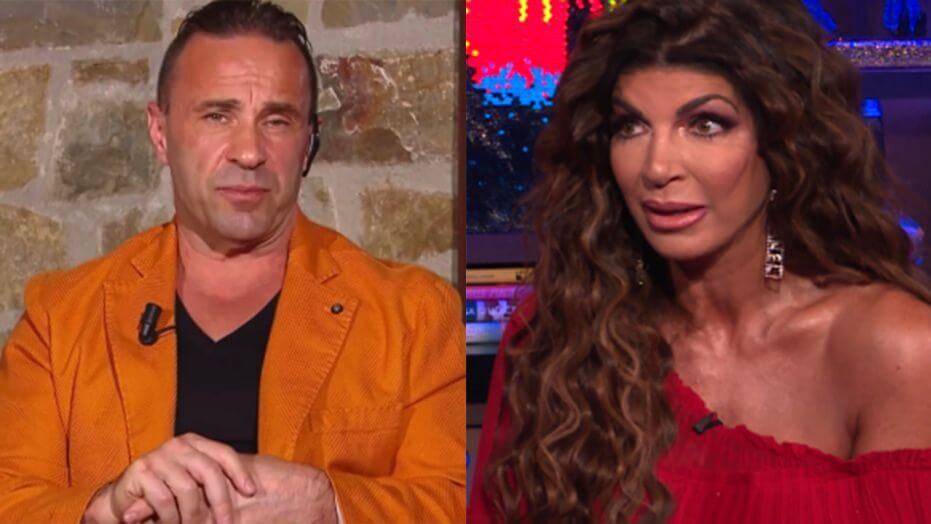 Teresa Giudice and her husband,  Joe Giudice's one-one-on sit-down with Andy Cohen on Sunday, October 27 was hard-hitting and candid.
Bravo's The Real Housewives of New Jersey Special Event: Joe and Teresa Unlocked covered everything from cheating allegations, their marriage issues and whether or not they plan to stay together.
1. Cheating Allegations
A moment that stood out most is when Andy Cohen asked Joe if he is still "in love" with his wife of 20 years, with whom he shares four daughters, Gia, 18, Gabriella, 15, Milania, 13, and Audriana, 10.
Andy Cohen hammered Teresa Giudice and Joe Giudice with cheating rumors. He mainly focused on Teresa being photographed holding hands with a man 20 years her junior. She denied the allegations and explained the suspicious sitings as she has many male friends.
Telling Joe, "You were photographed with women also." and he responded, "That's why it made it okay for you?" responded Joe sarcastically.
Joe Giudice also denied cheating allegations, when asked by Andy Cohen if he believed Teresa had also been faithful, he said, "no, I don't think so." But Teresa still said she doubted he'd been faithful and said Joe would have a mistress in Italy if they stayed married. "It's been three and a half years. If I wanted to be with somebody, I could be with somebody this week," Joe responded. "That's not what I'm looking to do."
Read Also: Teresa Giudice On The Hunt For Sugar Daddy Amid Joe's Deportation!
2. Immigration Officers Took Selfies with Joe 
Joe Giudice revealed that ICE officers took photos with him as they escorted him to Italy. 
"I had two immigration officers, one on each side, taking selfies with me the whole time," Joe told Cohen, adding that they left from an airport in Washington, D.C. "One guy in front, and I think there was someone else who carried a gun on a plane. You know, I'm a very dangerous guy."
"They stood on the plane all the way until we got to Rome. I told them where to go and have a good time, because they were staying there 'til Monday, so they were heading out to a few islands in Naples and then they were heading back home," Joe adds. "So told them where to go. I gave them recommendations to go and have a good time."
"They wanted to handcuff me. I was like, 'Listen, I'm not getting in no handcuffs,' " Joe says to Cohen. "They're like, 'Will you behave?' It's like, 'What the hell am I going to do? If I wanted to leave, I would like just kick your butts and leave. I ain't going to do that. I go, 'I want to go on the plane. I want to get the hell out of here.'"
3. Teresa Compliments Joe's Weight Loss
"He's very fit," she said of her husband's new phsique. She joked that Joe was more "fluffy" before giving up alcohol and working out in prison, but he objected to the word, so she settled on "bloated." "I was very, very, hard," Joe said in his defense. "I might have been big, but I was never fluffy."
4. ICE Detention Was A Nightmare
The reason Joe Giudice requested to await a final decision on his deportation appeal from Italy was due to inhumane conditions in the ICE facility.
"Sitting in immigration was a waste of time. You're doing a whole other sentence in there. There was no way I was going to do another year in that county prison. Being in there is like having your head in a panini press," he said.
In federal prison he completed his high school diploma and started working on a sport picking business, Joe said. But he called ICE "a terrible facility," saying he was locked in a small cell with eight people for five months and was once put in solitary confinement for opening a window in the gym. "It's ridiculous. That place should be shut down," he said. "My wife and kids came a few times to see me, and it's terrible. You're literally behind the glass and then I have to be in an orange jumpsuit."
5. Joe Regrets Not Becoming A U.S. Citizen
"My mistake was I never became a citizen, that was stupid of me," he admitted. "But when you're raised here as a kid, you go to school here, you do everything here, it's not a big deal. Especially when you're not a criminal. All I did was bust my ass my whole life, and believe me, I was a hard worker. I broke the law. But when you come in illegally and break the law, it's worse. And these people have more rights than the people who come in legally."
He also said he doesn't blame his wife at all: "I don't blame Teresa. When you're in there, your mind is off. I blamed everyone in there."
6. Teresa Blames Joe For Time Lost Before Her Mom's Passing
"There's no one else to blame, so yeah, I still blame him," Teresa said, noting how her mother died shortly after she got out of prison. "I got really angry when I lost my mom. Before that I wasn't really angry, but then after that, it all hit me. and I became more open and more expressive of how I felt. No one should judge me unless they're walking in my shoes. unless they walk the walk, they don't understand it."
"It was very hard," Joe said, thinking back to the time Teresa went to prison. "I drank the most when she was away. I wouldn't drink during the day but I would drink at night when I came home, I would literally drink a couple of bottles of wine — after the kids went to sleep, of course, I would literally drink two bottles of wine. Every night I thought about her. At the time I just lost my dad and it was a tough situation."
"I couldn't stand going there, seeing her there," he said of visiting his wife in prison. "I would lose it. She didn't deserve to be there. And me feeling guilty that she's there, of course."
7. Joe Said He Regrets Doing RHONJ — But Teresa Doesn't
"Teresa always wanted to be on television," Joe said. "She wanted to be a movie star, even when she was a little girl."
But Joe essentially blames the show for getting caught by the feds. "I wish I never would have done it," he said. "I had a great life before. The show just brought a lot of attention to us. Just having a house like that alone just brings a lot of attention. I've never had so many damn lawsuits in my life 'til I got on that show."
"Now there's only one thing to do," he said, "make things better and move on."
8. Joe Saddened By Events He's Missed
"I was very upset I didn't get to see my daughter [Gia] graduate high school," Joe said. "Bringing her to college. At least out here, I can see her play soccer and FaceTime."
"I'm pretty close to my daughters," he added. "We talk all the time. I'm constantly texting and sending pictures and doing video chats with them, which is good.
"Joe also missed out on Teresa's foray into body-building, documented on a previous season of RHONJ. While she had said on the radio that Joe wasn't a fan of her showcasing her body, he disagreed.
"It's something she wanted to do, and I supported her," Joe said. "She did good, I think she got third place or something."
When Cohen asked if Joe thought she looked "hot," though, he said simply. "It's the way she looked when started dating, she was chopped up like that."
On Friday October 11, Joe Giudice was released from Clinton County Correctional Facility in Pennsylvania and flown to Rome, Italy — to await a decision on his deportation appeal. 
The Real Housewives of New Jersey returns on November 6, on Bravo, at 8:00 p.m. ET!
"Like" us on Facebook  "Follow" us on Twitter and on Instagram