Teresa and Joe Giudice One-On-One Sit Down with Andy Cohen To Address Divorce Drama & Cheating Rumors!
Teresa Giudice and  Joe Giudice are scheduled to appear together on The Real Housewives of New Jersey Special Event: Joe and Teresa Unlocked — airing this Sunday, October 27 at 8pm ET, on Bravo.
The Real Housewives of New Jersey couple will speak with Watch What Happens Live host, Andy Cohen — and open up about their marriage drama and pending divorce. Joe Giudice will appear via video from Italy.
WATCH NOW: Joe Giudice Keeping His Hopes Up After Release From ICE Custody Despite Divorce Drama!
On October 21, Teresa Giudice made the announcement via Twitter. "Joe and I will be sitting down with [Andy Cohen] to discuss everything that has been happening with us and our family the past few months. Tune in to a special The Real Housewives of New Jersey Special Event: Joe and Teresa Unlocked airing Sunday at 8PM on [Bravo]. #RHONJ," she tweeted.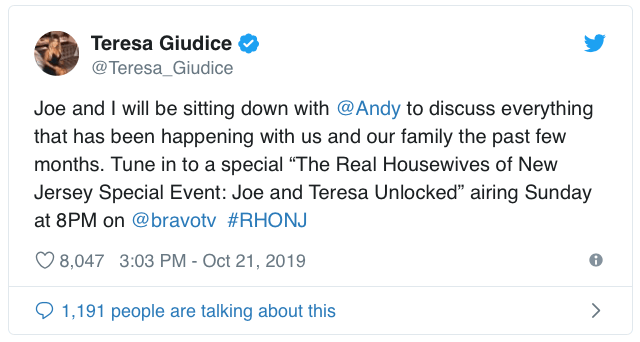 AllAboutTheTEA.com posted the first video of Joe Giudice in Italy since being released from ICE custody earlier this month. "Life, it's always better to look through the windshield and not through the rearview mirror, you know. It's a much bigger picture when you're looking through the windshield," Joe says in the video, above. "But at the end of the day, people make mistakes. Nobody's perfect. I've learned a valuable lesson from all this, and I know my family is the most important thing to me. But it's better that I'm out here than in there. I just want to let you know that I love you, and I'm always here for you. You know that."
Press play to watch below.
On Friday October 11, Joe Giudice was released from Clinton County Correctional Facility in Pennsylvania and flown to Rome, Italy — to await a decision on his deportation appeal. 
When The Real Housewives of New Jersey season 10 returns in November, Joe Giudice is expected to cameo via phone calls with his family. Check out the trailer for the new season, as well as a sneak peek of the season premiere, below.
https://www.youtube.com/watch?v=-GQp3F0wujU
The Real Housewives of New Jersey returns on November 6, on Bravo, at 8:00 p.m. ET!
"Like" us on Facebook  "Follow" us on Twitter and on Instagram