Reza Farahan Sends 'Shahs of Sunset' Costar Mike Shouhed a Cease & Desist For Illegally Peddling Clothes With His Face On It!
Reza Farahan wasn't too happy with Mike Shouhed for using his name and image to peddle merchandise on an apparel website belonging to Mike — so the Shahs of Sunset OG sent his friend a Cease & Desist.
Mike Shouhed took to Instagram on Thursday to share the legal paperwork — and blast his Shahs of Sunset co-star for dragging him into a legal showdown before reaching out personally. He wrote, "Gawdamn! ? GUESS HE'S "NOT MY HOMEBOY"! LOL What's the fxckin World come too??????‍♂️- this what happens when dudes got his panties in a bunch! You got my # bro, you could of just texted me and we handled this like 1.5 men, instead of making ur cousin write this letter ??? #Shahs"
The Cease & Desist letter addressed to Mike Shouhed from Reza Farahan's legal team begins, "This law firm represents Reza Farahan. It has recently come to our attention that through a website we believe to be owned by you, directly or indirectly, truegoldbrand.com ("Website"), you are selling and/or offering for sale articles of clothing misappropriating Mr. Farahan's name, image and other indicia of personality ("Infringing Products") without Mr. Farahan's consent."
According to the Reza Farahan, 46, his intellectual rights are being violated and he demands his Shah's co-star immediately stop selling the "infringing Products via the Website." 
Read the full Cease & Desist letter below.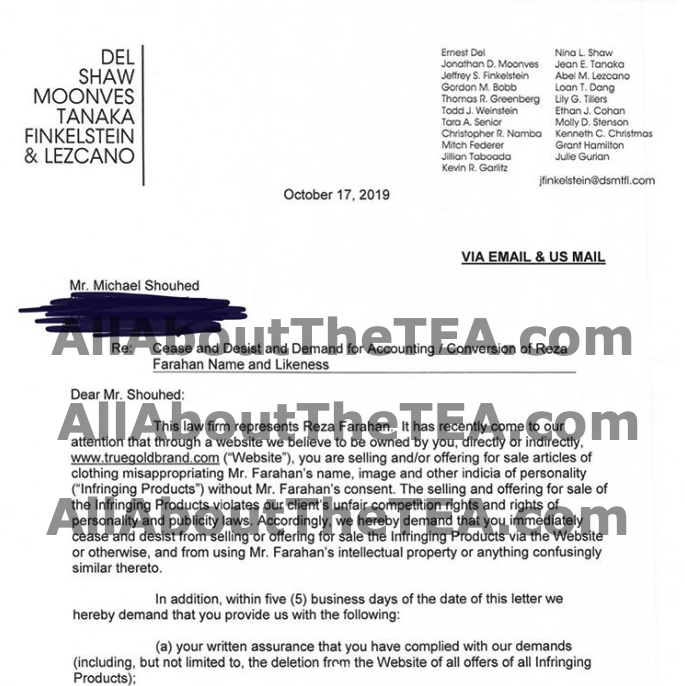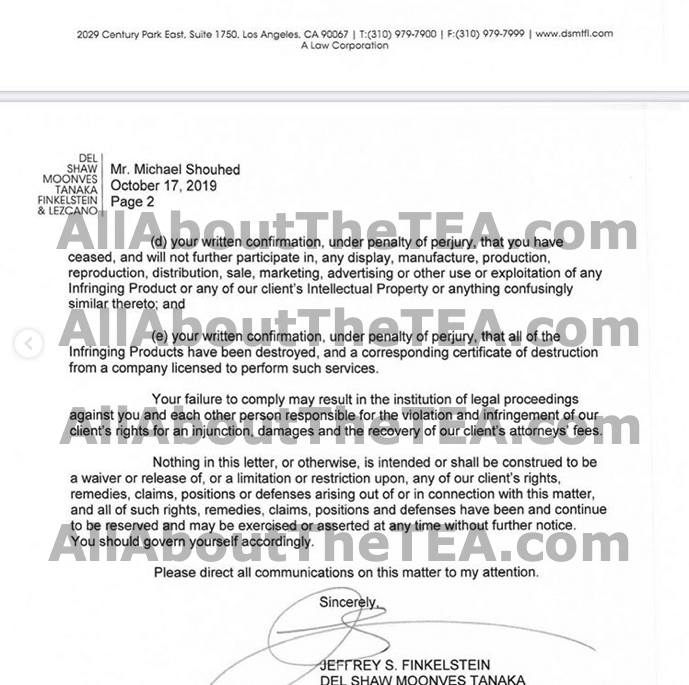 Reza Farahan's grievances appear valid, since Mike Shouhed's website, truegoldbrand.com are selling t-shirts bearing Reza Farahan's face with the slogan, "REZA IS MY HomeBoy" for $25.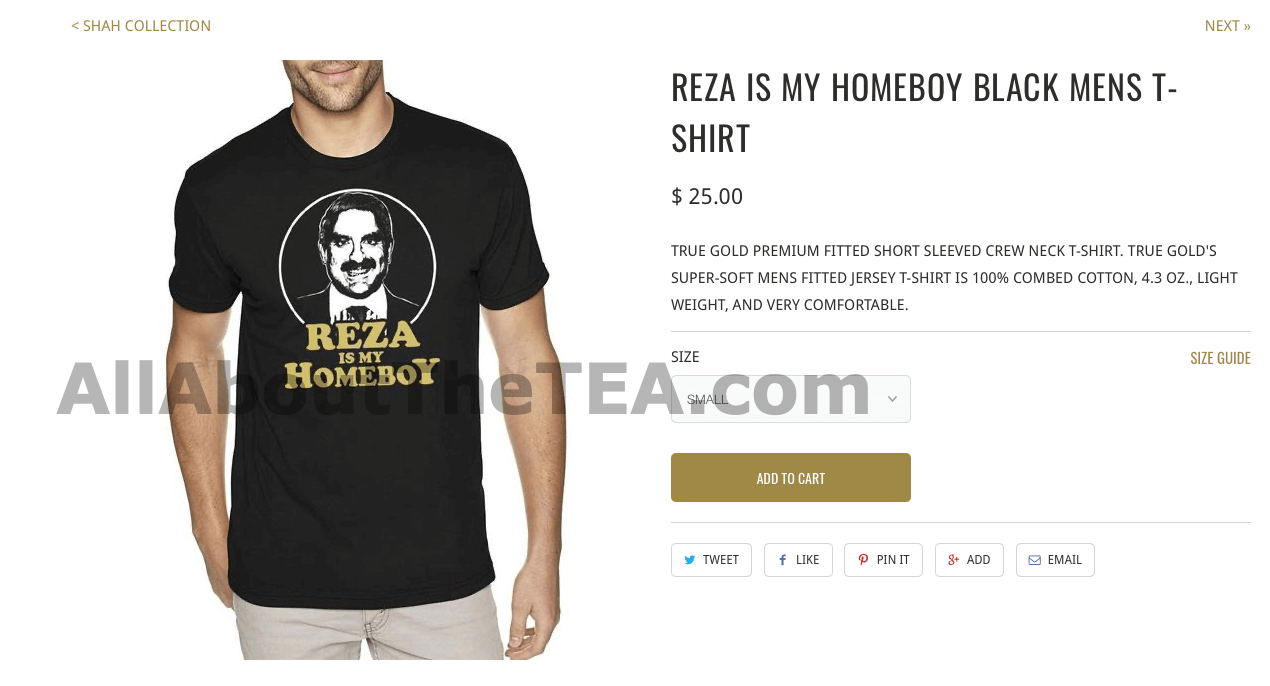 Mike Shouhed is not the only Shahs co-star Reza Farahan is beefing with. Back in May 2019, Reza got into a major blowout with Mercedes Javid and MJ's husband, Tommy Feight after Reza posted private text messages that revealed MJ had a hysterectomy after delivering her baby. Tommy threatened to kill Reza and vandalized his home — prompting Reza to get a restraining order. 
READ ALSO: Reza Farahan & MJ at War: MJ's Husband Threatens to Kill Reza & Vandalizes His Home — Reza Gets Restraining Order!
The Shahs of Sunset star says Tommy vandalized his home, and the incident was captured on home security cameras. Watch below.
According to the restraining order, Tommy Feight, called Reza and "threatened my life by phone and at 2:34 pm he vandalized our home," on Sunday, May 19.
Shahs of Sunset returns to Bravo in April 2020.
"Like" us on Facebook "Follow" us on Twitter and on Instagram 
Avigail is an Entertainment blogger at All About The Tea, who specializes in The Real Housewives of Atlanta and The Real Housewives of Potomac. Avigail has a background in marketing. She's a Brooklynite living in the Bahamas, with a passion for travel, writing, reality TV watching, pop culture and spoken word.