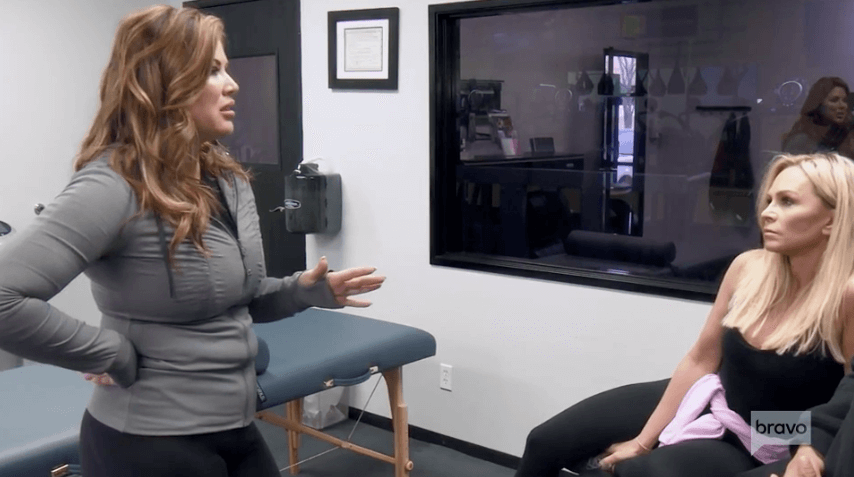 Welcome to the Real Housewives of Orange County. We start this week's show in Arizona. But while the rest of the women are back in California, Kelly Dodd has remained to meet up with her old friends for lunch. Kelly describes her trip with the ladies and the fact that she bonked two people (Shannon Beador and Gina Kirschenheiter) on the head. Her friends think Kelly's brawling days should be over by now. And while Kelly still gets in a rumble every now and then, it's nothing compared how violent she used to be. Kelly describes her younger self as rambunctious and wild, which included an arrest in high school for setting a fire.
Talk turns to Kelly Dodd's more recent fights, include her family. Kelly has been estranged from her mom and brother for a couple of years now, but Eric sent an apology text. Kelly admits her own wrongdoing in the situation, but doesn't get into details.
Back in the OC, Shannon hosts Vicki Gunvalson, who's taking a five-minute break from selling insurance. Emily Simpson and Gina also stop by Chez Beador. Shannon is still complaining about a sore head thanks to Kelly pounding on it with a mallet. But eventually, she stops whining long enough to serve her new food line for QVC. And the women love it.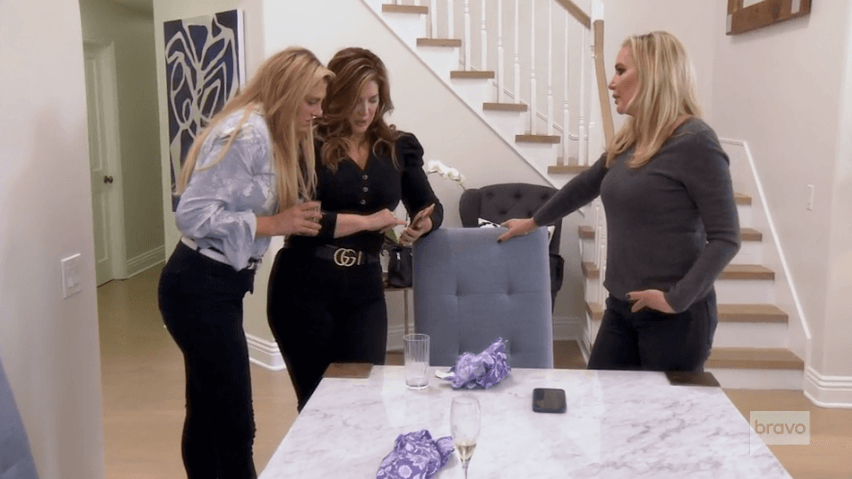 Gina Kirschenheiter tells Vicki she has a date later that night with Shane's cousin. But he texted Emily Simpson earlier in the day and canceled due to a broken toe. Gina went to all that trouble to get a spray tan, too. Shannon has no sympathy for this man, because she went on a blind date last season with a sprained ankle. Injuries are no excuse to back out of a date! Gina can barely take the humiliation. She puts it in perspective, "It's a toe, bro." Truer words have never been said, Gina.
The ladies talk about their trip to Arizona. Emily Simpson is comforted by the fact that she and Gina can fight hard, but still come back together as best pals. Though she's still hurt by Gina's harsh comments, she's getting over it.
Once more, Gina talks about her separation from cheating husband, Matt. She says he's trying to get back into bed with her. But she's not tempted. It might have something to do with the fact that he's been seeing the woman he left her for. Ouch!
Over at Braynwyn Windham-Burke's house, she's trying on sexy lingerie…er, dress. A flimsy dress that bares more than it conceals. And of course, she's wearing this sexy dress for the family photo shoot with her 87 children. The family is all dressed in black, except for the baby.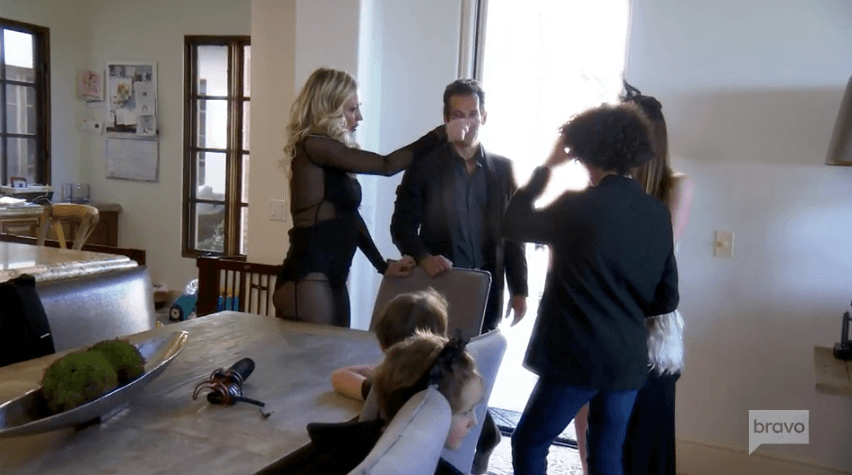 In her bedroom, still wearing her slinky outfit, she cuddles on the bed with her husband to talk about her adventures in Arizona. Braunwyn thought she'd be sipping green juice and tequila. Turns out, things got a little wilder than that. Braunwyn tells Sean that she shared lots of intimate things with the girls (like her love of threesomes) and that she and Tamra Judge went topless in the pool. Together, Braunwyn and Sean talk about Tamra's attractiveness. Braunwyn's already admitted that Tamra would make a nice third. Eek!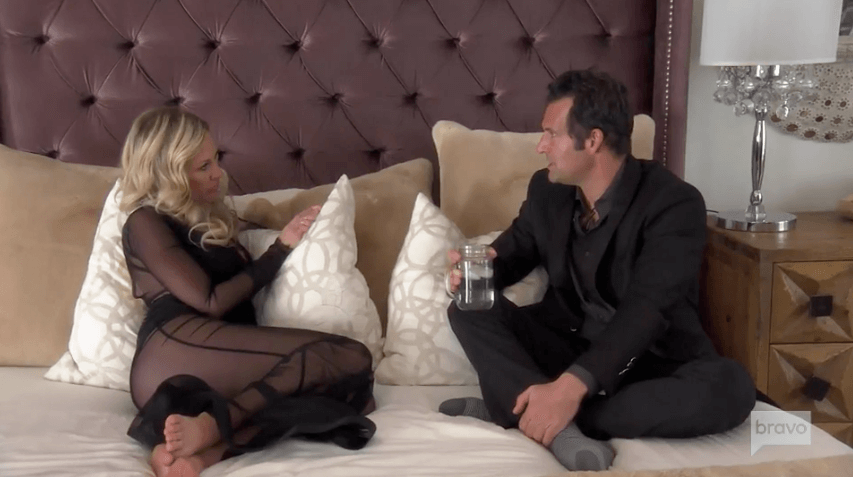 She finally admits that she spilled the threesome tea to her new buddies. Sean looks a little embarrassed and a lot smug. She thinks Sean should call up Eddie and see if the Judges are open for a little swing time. Braunwyn has been preoccupied these past few years by her soccer team of a family to get into swapping, but now might be the best time to try it. Sean makes a stipulation — they're not going to get involved with anyone they're close to. Only strangers need apply.
Can I just take a moment and discuss Sean's love of statement necklaces? He's giving Countess Luann a run for her money. But more importantly, this jewelry of his is straight up fugly. Why does Braunwyn let him dress like that?!
Okay, back to the recap. Shane and Emily meet Gina at a restaurant. She's trying to find the humor in her date backing out at the last second, but it's hard. Gina and Emily order a pig head and a meatball to comfort each other. 
Even as the women order enough for their entire table and then some, they talk about gaining weight. Emily Simpson complains about her arthritis flaring up due to her diet and lack of exercise. Gina turns on Shane and asks why he won't make her go to the doctor. Shane says it's pathetic and not fair to the kids. Emily is expecting bad news, so she refuses to go get a diagnosis. 
The pig head arrives, and it's literally half of a pig's head. Lying there on a slab, ready to consume. As Emily recoils, Shane tells her to calm down. The waitress slices it up into a mound of meat as Emily and Gina look on is disgust. 
Gina whips out her phone to see if the cousin responded to her text. He did, saying she's sweet. But more interesting, Matt, her ex, also texts. He calls her out for not being at her son's baseball game. And for once, Shane says something I agree with: Matt sent the text to make Gina feel guilty for going out to dinner. Not only that, even Matt isn't at the game because he lives in LA! Since Matt failed at seduction, he's now using guilt and manipulation. What a guy, that Matt! Shane tells Gina not to let Matt get under her skin, to be strong. After all, she's the one who's there every day with the children. She helps them with homework and dries their tears. It's easy for Matt to criticize when he's living it up with his girlfriend a few hours away.
At the Cosmetic Care Center, Shannon is ready to get an O shot — which involves a needle to the clitoris. Yes, it's that time of the season for a little vag rejuvenation. And since no Bravoceleb can get her hoo ha updated without documenting it, here we are. Again. But Shannon's going the natural route, by getting her own blood injected into her lady bits. Oh, and she's getting her face done, too. Freckles are a real problem in the OC.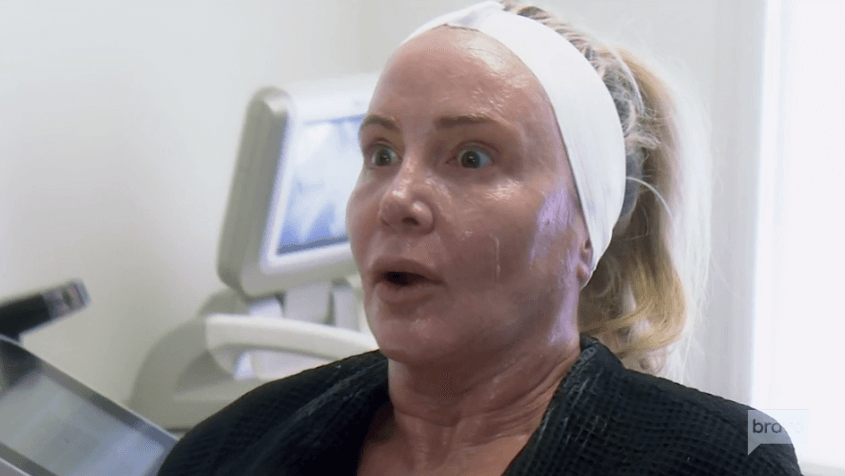 Shannon's ready to turn 55, and she needs to look her best since she's back on the dating scene. Squeezing two silicone breasts implants, she hangs on while taking shots to her nether region. And though she feels sexually inexperienced, she's excited to start changing her ways. (Hey, Shannon. I hear Braunwyn is up for a little adventure.)
And speaking of Braynwyn, Tamra and Shannon join her at the apartment she and Sean keep as a love shack. The ladies will be walking in Braunwyn's daughter, Rowan's, fashion show, which is taking place aboard a three-story yacht. Orange County has a fashion week? Who knew?
Next up Tamra meets Vicki and Steve on the golf course. Tamra talks about celebrating Shannon's birthday separately from Vicki's this year, since Shannon wants to troll bars for men who might appreciate her renewed vagina. But Vicki's over all that singleton business, so the ladies will take a train to Del Mar for Shannon and have a fancy tea in honor of Vicki. Oh, and Meghan Edmonds will be in town and plans to attend Shannon's bar crawl, but fortunately for Vicki, she's leaving the babies at home. (Really, Vicki? Who would take toddlers to a bar?!)
Vicki heads to the golf cart so that Tamra and Steve can talk about whether or not he intends to propose this year. Vicki thinks he's hiding a ring in the golf bag. (He's not.) But Steve admits to Tamra that he wants to ask Vicki to marry him, but he's keeping the details a secret.
Emily Simpson heads over to Cut Fitness to meet with the Judges. Her knees and hips are flaring up with pain. Tamra thinks Emily might be putting on weight because of her unhappy marriage. As she shares her daily diet with Tamra, Emily realizes that she's not making the healthiest choices. Tamra encourages Emily to hop onto the body fat scale. Emily weighs almost two-hundred pounds. In tears, she admits that she doesn't want to acknowledge her weight gain.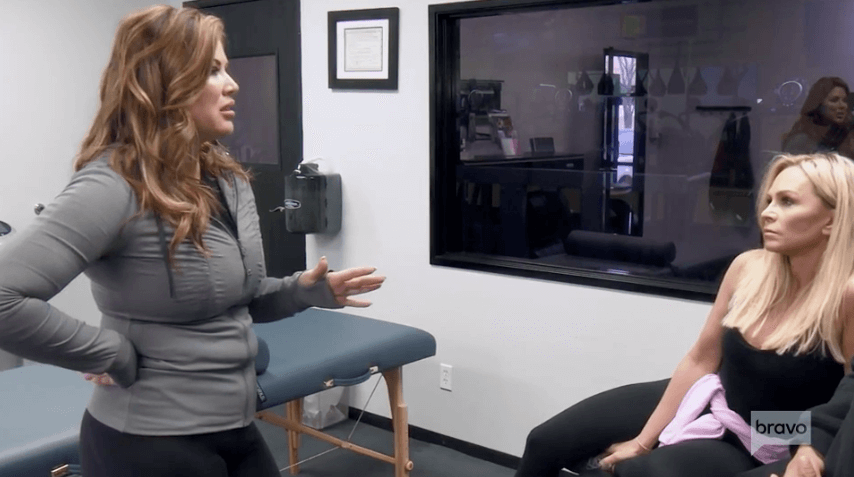 Still in Arizona, Kelly and her brother, J.R., head over to the Coffee and Beer Kitchen. J.R. has a relationship with his whole family, unlike Kelly. Karly, J. R.'s wife, joins them. 
EXCLUSIVE: Kelly Dodd's Raunchy Sex Train During A Coked Up Threesome Exposed!
Kelly hasn't spoken to either her brother or mom for two years. J.R. is ready for the family to reconcile. But first, Kelly has to make things right with her brother, Eric, before she can reach out to her mom. Over lunch, Kelly calls Eric and offers an olive branch. He accepts it, saying that he'll talk to their mom on her behalf. Kelly is optimistic that a family reunion can really happen.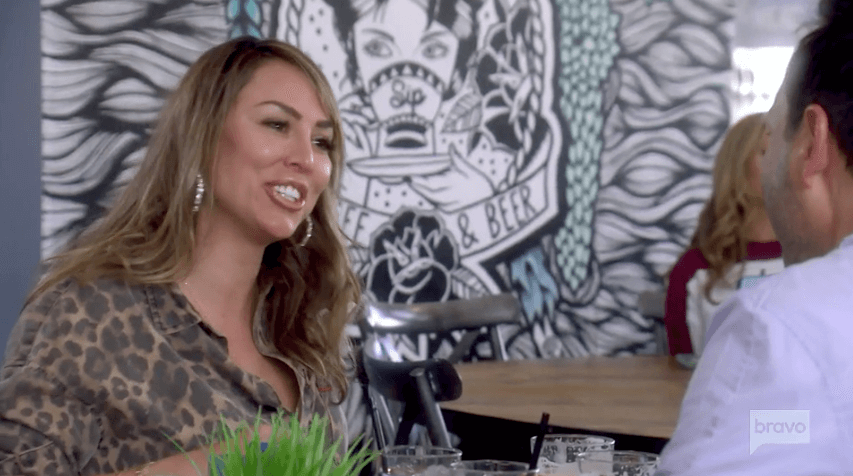 A few days later, Emily meets with old cast member, Alexis Bellino. Emily and Alexis run into each other all the time. They share friends and their children are invited to the same parties. Alexis is suffering from jet lag due to her recent trip from Thailand. She went with her new boyfriend, Drew. Let's just say he's a serious upgrade from ex-husband and Randy Quaid look-alike, Jim. Alexis bleats about her new love and how happy she is.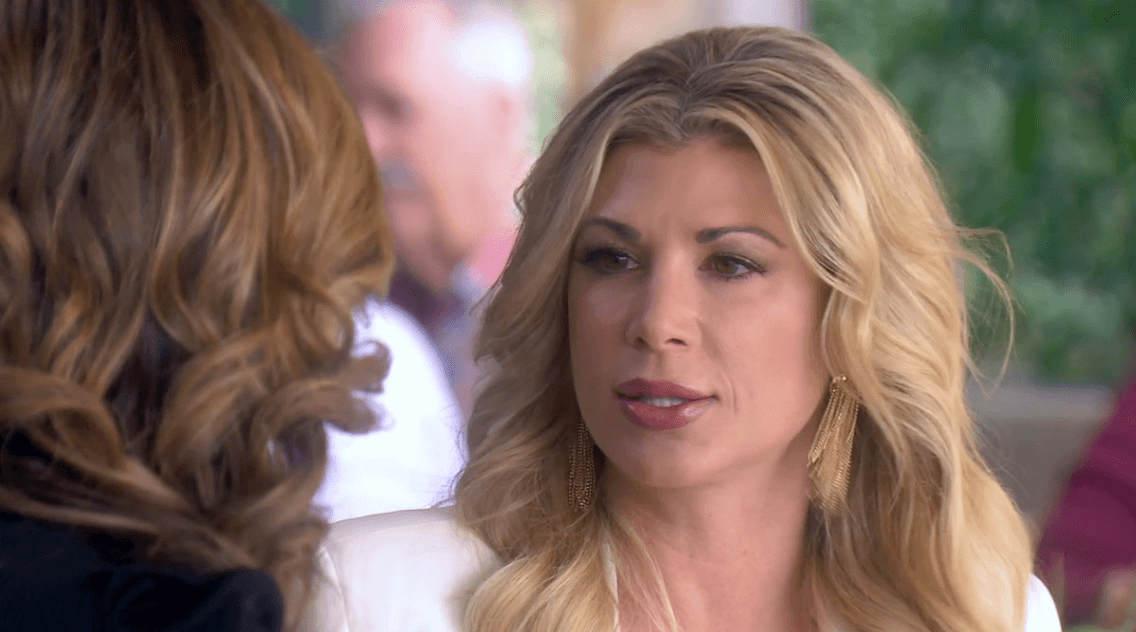 Co-parenting with Jim is going well. Divorce was hell, but now she's in a much better place. Alexis can finally admit that her marriage was broken for many years.
Now, she quizzes Emily about her stint on the show and how she's getting along with the other Housewives. It seems things are back on shaky ground for Gina and Emily because of the blind date that never happened. Emily has called Gina several times to discuss it, but Gina is once more ghosting her BFF.
Gina meets Tamra for a little retail therapy. Gina discusses her non-date with Shane's cousin. But it turns out that the man has a girlfriend. He claims that Emily and Shane knew he was seeing someone, but Emily tells Alexis she had no clue this cousin was attached. Gina thinks Emily set her up for a pity date. Did she do it on purpose to hurt Gina? Gina can't take time away from her children for fake dates!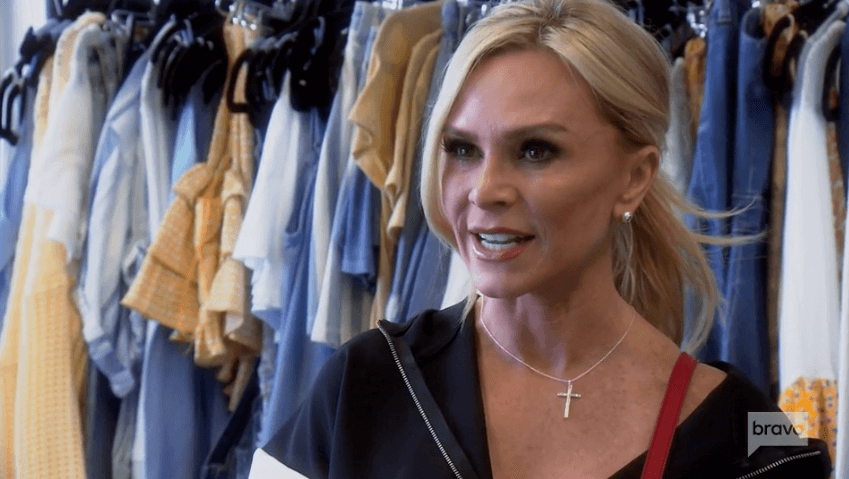 And this ends our episode. So, do you think Emily set up Gina? Are you glad to see Alexis back on the show? And do Braunwyn and her husband squick you out with their talk of swapping?
"Like" us on Facebook  "Follow" us on Twitter and on Instagram