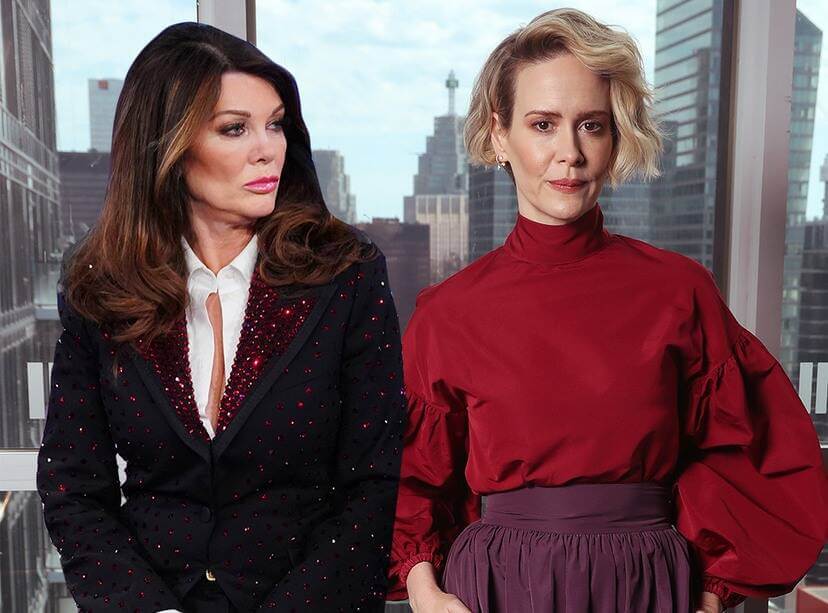 Whew chile!
Real Housewives super fan, Sarah Paulson recently told Vanity Fair that Lisa Vanderpump "wasn't that nice" to her during a brief encounter at a party.
The American Horror Story actress added that she didn't want her [Lisa Vanderpump] "coming after me on Twitter."
The former Real Housewives of Beverly Hills star caught wind of Sarah Paulson's comments on Twitter, and threw some serious shade at "I am sorry, not sure I know her and I don't believe or remember meeting her," Vanderpump, 59, wrote on Twitter on Wednesday in response to a fan reacting to Sarah Paulson's remarks. "I try to be nice to everybody lol," she added.
Read Also: Lisa Rinna Goes OFF On Justin Bieber Following His EPIC Diss of Her Poor Dancing Skills!
Sarah Paulson participated in Vanity Fair's lie detector test interview and shared her opinions on the recent casting shake-ups to both the Real Housewives of Beverly Hills and RHONY.
When asked about Lisa Vanderpump's departure from the show, Sarah Paulson was initially wary of revealing her true thoughts, "You know, I don't want her coming after me on Twitter," Paulson said, before adding, "But I won't miss her."
As fans know, Lisa Vanderpump had one hell of a year — she was bullied and harassed by her Real Housewives of Beverly Hills cast mates after a major fall out over Dorit Kemsley's dog adoption gone wrong — forcing the OG to quit the Bravo reality series at the conclusion of filming season 9 in July. She wrote on Instagram, "the Pump has left the building."
"I'll miss the dynamic she brings to the group, which is, you know the fear of God she instills in everyone, but no, I won't miss her. I met her once at a party, she wasn't that nice to me," Paulson added. "Am I going to get in trouble for that?" she asked, giving the camera a wide-eyed look.
The Emmy-winning actress will miss Bethenny Frankel from The Real Housewives of New York City, however, "I think the star of the Real Housewives is the franchise itself. So I think it will survive without her, yes. Although I, personally, will miss her," she said of the Skinnygirl mogul's exit, which she announced in August.
"Like" us on Facebook  "Follow" us on Twitter and on Instagram