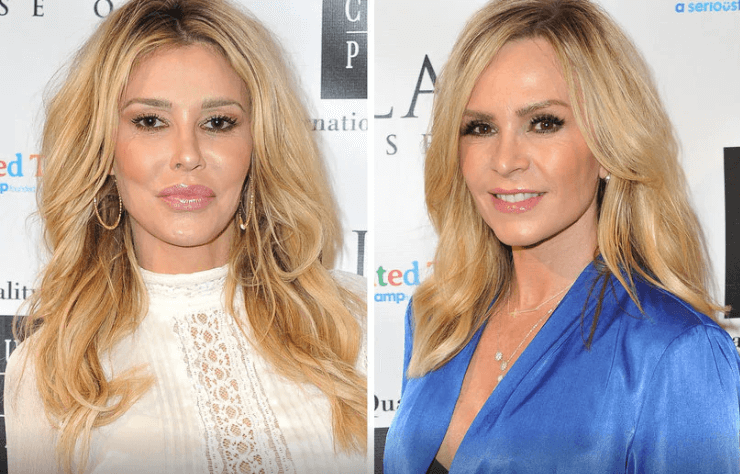 Brandi Glanville and Tamra Judge's social media war should took an ugly turn!
The 'Drinking & Tweeting' author took to Twitter to respond to a new interview where Tamra Judge compared her to Kelly Dodd. Speaking with Hollywood Life, Tamra said she believes Kelly Dodd is "just an angry person." She added, "She's not stable. She's like Brandi Glanville."
On Thursday, Brandi Glanville unloaded on the Real Housewives of Orange County star in a series of tweets. She first attacks Tamra's strained relationship with her children, "Wtf is wrong with you @TamraBarney? Your [sic] now saying I'm unstable?" she tweeted on September 5. "Both of my children love adore & talk to me about everything! I don't think you can say the same about yours can you? I don't know you nor do I want to. I will see you on the 19th tiny f–king dancer SPEAK THEN."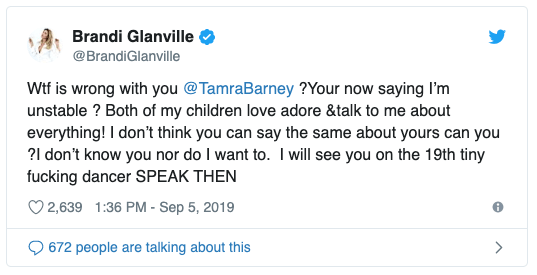 If that wasn't bad enough, she didn't stop there, she followed up with more insults.
"Dear @TamraBarney C–t you're coming for the wrong person," Glanville's Twitter spree continued. "Leave my name out of your f–king mouth I-m not on your show. I do a talk show about reality television shows if me saying your [sic] 'meh' is sending you over the edge maybe your [sic] the unstable one ? get help!! see you soon."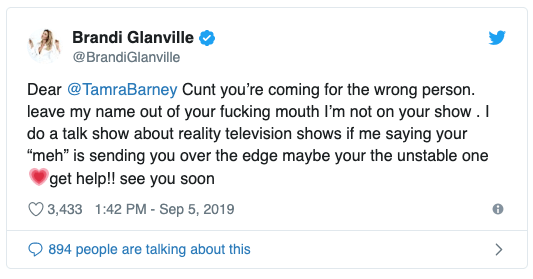 She ended her tirade with one final tweet, "It's funny when @TamraBarney threatens me with a lawyer and then Publicly calls me unstable," she continued, "Poor thing she's just not the sharpest tool in the shed."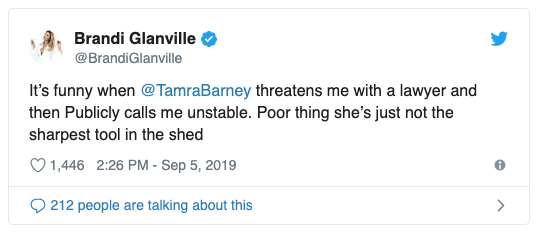 Their beef started after Brandi called Tamra and her Real Housewives of Orange County costars hypocrites for their on-camera discussion about Kelly Dodd's "sex train."
"The moment you swear to not talk about a RUMOR you may have heard within ur group, yet you KNOW 100% your [sic] on f–king camera your [sic] a f–king hypocritical asshole," Brandi tweeted last week.
She continued her attack on Tamra a couple days later, tweeting: "I have much to say on the toxic trick that is Tamara but I'm going to enjoy my holiday wknd first & address it on my next you tube episode. C–T f–king wait!"
"Looks like someone needs a little attention," Tamra replied to the tweet. "Who knew saying 'Kelly is the new Brandi' she'd lose her shit. It's not like I called her a hypothetical asshole. #calmdowngirl #attorneywatching #heresyourattention #takeitallin."
"@TamraBarney you are somebody that I don't know but ur coming at my friends like a missile!" Glanville responded soon after, loosely quoting Taylor Swift. "You need to calm down you're being too loud so STFU."
She then told a fan, "Its a Saturday…just finished some f–king rose…and really wishing Tamra would go away #bitch don't kill my vibe."
Responding directly to Tamra's comment about attention-seeking, the "RHOBH" alum wrote, "So predictable! Cowards throw a stone and then hide behind their bank accounts so you can't actually respond to them!"
"Sweetie you threw the stone," Judge replied.
"Honey, how? Because I think your Meh-ssy??" Brandi barked back. "Babe your loud, predictable and uninteresting. Its just a fact no stones thrown."
Tamra replied, "You're on YouTube and the queen of messy, you can't even keep it interesting on reality TV."
"Lets just agree to have a twitter war!?" Glanville then tweeted. "No lawyers, no haters. I don't want to cancel anyone's life. I don't enjoy hate spewing. Let's agree to f–king disagree."
The Real Housewives of Orange County airs Tuesday nights on Bravo, at 9:00 p.m. ET.
"Like" us on Facebook  "Follow" us on Twitter and on Instagram