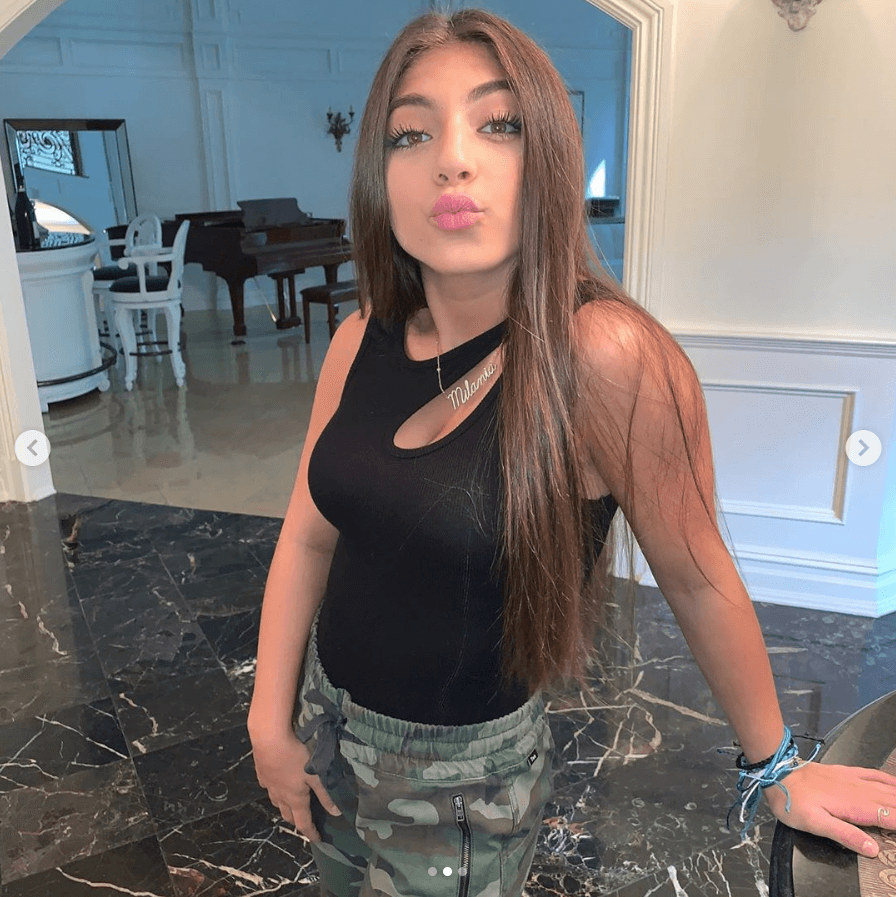 Teresa Giudice is getting blasted for allowing her 13-year-old daughter to wear an open-breast blouse and a full face of make up on her first day of 8th grade.
On September 5, The Real Housewives of New Jersey star Instagrammed back-to-school photos of her daughters — but the one of her 13-year-old, Milania Giudice, got many of her followers riled up. "Happy First Day of School @milania_giudice356 Love you so much ?❤️ #8thgrade" Giudice captioned the photo.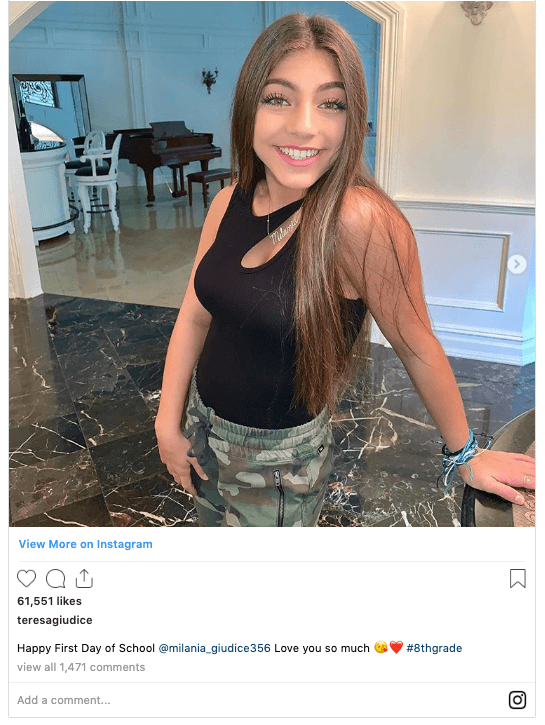 Immediately, the mom of four's followers weighed in — many expressed Milania's blouse was not age-appropriate for school.
"I don't believe she is age appropriate to wear that shirt. She is going into 8th grade not the club. There is no way that shirt is dress code appropriate either."

"Someone get this child a sweater. ?"

"Dear God!! She's allowed to go to school like that???"

"Too young to wear that to school my Grandaughter is 12 no way but no way!!! Don't forget your the Mom!!! Not a friend"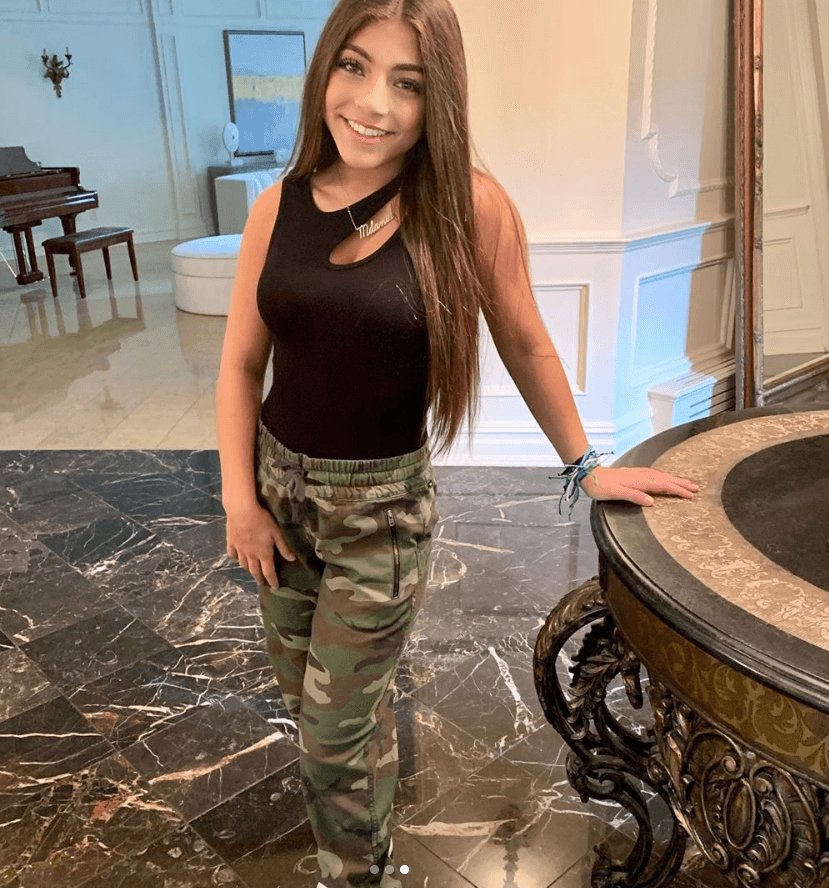 Another person cautioned that grown men are looking at the photo of Milania in a lustful way.
"When you have grown men on here talking, "sexy , beautiful, stunning etc." ENOUGH SAID ?"

"Come on really that top for school?! Eyelash extensions?! Is she going to educate herself or audition for a rap video?? Where is the home guidance? Hopefully, she'll learn something from Gia. She went through this stage also. You learn from example- look how Teresa dresses!!!"
Controversy follows the felon mom, who was convicted of multiple fraud charges in 2014 and served an 11-month prison sentence.
The reality OG also shared a back-to-school snap of her 10-year-old daughter, Audriana Giudice. Check out her first day look below.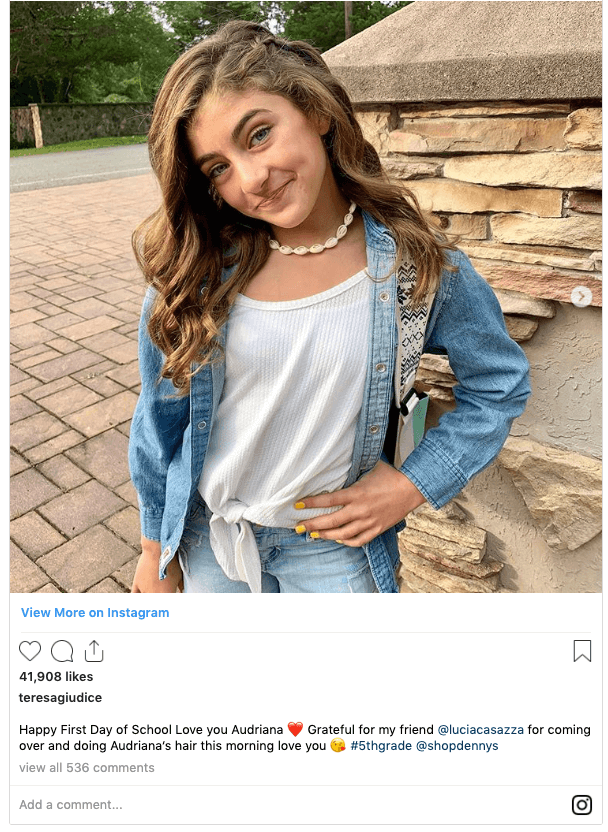 Critics slammed Teresa for allowing the 10-year-old to wear make up to school and getting her hair professionally done.
"She's going to school not a photo shoot. Seriously had someone do her hair?? Geez I guess whatever it takes to be noticed and get attention! How's your husband, remember him?? Obviously not!!!"

"Make up for school??? She too young for that!"

"Why didn't you do her hair ?"

"I feel so bad for your Daughters you always have to put them on display it's pretty sad"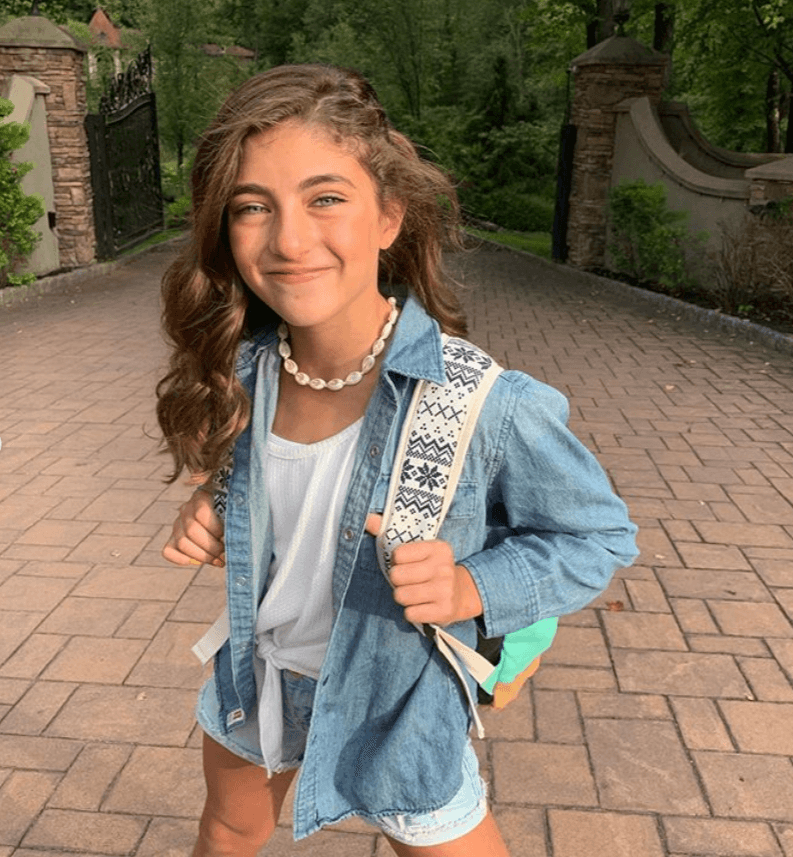 Giudice was previously blasted for permitting her 9-year-old daughter to wear makeup, while vacationing in the Bahamas.
Last year, she took her then 12-year-old daughter Milania, to a 6ix9ine concert and fans reacted harshly. The controversial rapper, 6ix9ine, has been convicted of a horrific sexual crime against a minor.
Share your thoughts on Milania and Audriana Giudice's back-to-school gear. to wear a romper to school. Sound off in the comments!
"Like" us on Facebook "Follow" us on Twitter and on Instagram