Teresa Giudice Mom-Shamed For Allowing Daughters to Wear Makeup & Risqué Clothing!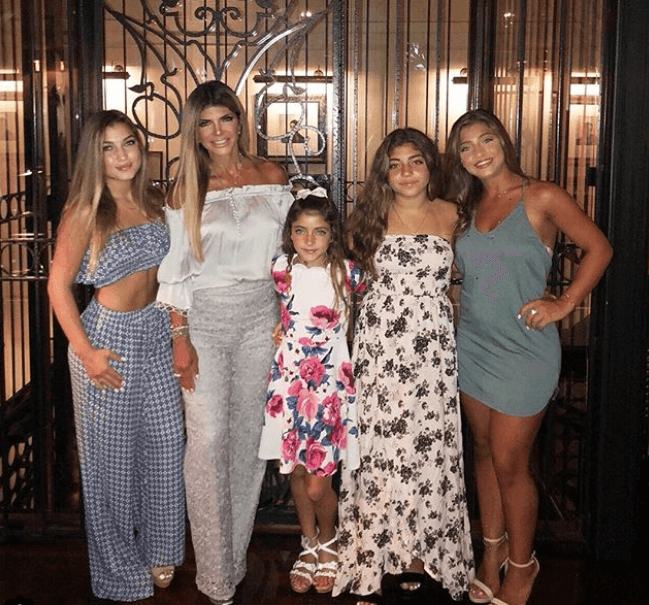 Teresa Giudice's questionable parenting skills are being called into question again!
The Real Housewives of New Jersey star was mom-shamed for permitting her 9-year-old daughter to wear makeup, while vacationing in the Bahamas. On Monday, Giudice posted the following photo of her three daughters Audriana, 9, Gia, 17 and Milania, 13, on Instagram.
https://www.instagram.com/p/Bm_oENWD_tv/?taken-by=teresagiudice
Giudice's photo sparked outrage in the comment section of the IG post — one concerned observer responded with: 'That's not age-appropriate'
"Are you f***ing kidding me with the makeup and clothes these little girls have on!!" another furious commenter wrote.
"Where is the parental control here!!" While another said.
"Scary that these girls are dressed like grown adult women."
"Mom teaching her girls early How to use your body to make $$$$$$$$$"
https://www.instagram.com/p/Bm_NElnD9ur/?taken-by=teresagiudice

Some also pointed out Gia's bra-baring top in the Instagram post.
"Beautiful girls, but no need for makeup or an unbuttoned shirt. That's not age-appropriate." 
"Wow….bra showing…wtf….these girls are going to turn into pure trash if this continues"
Giudice's husband, Joe, is currently serving a 3-year prison sentence for tax evasion, conspiracy and bankruptcy fraud, then will be deported to his native Italy.
https://www.instagram.com/p/BnBbACtDzvN/?taken-by=teresagiudice

Despite the negative backlash, the mother of four continues to flaunt her minor daughter's grown-up looks on social media.
https://www.instagram.com/p/Bm6L-VuDPqR/?taken-by=teresagiudice

This is not Giudice's first time being called out over bad parenting. Back in January, she took her then 12-year-old daughter Milania, to a 6ix9ine concert and fans reacted harshly. The controversial rapper, 6ix9ine, has been accused of a horrific sexual crime against a minor, that he has admitted to in court.
https://www.instagram.com/p/Bm_IfH4jtsR

Do you agree or disagree with spectators mom-shaming Teresa Giudice? Sound off in the comments!
"Like" us on Facebook  "Follow" us on Twitter and on Instagram 
Nancy Zhāng is an Entertainment Blogger for All About The Tea. Nancy covers hot topics, recaps and celeb news. She loves to multi-task as a writer and a private chef. She received a B.S. in Mass Communications from LSU. Nancy's married and the proud mom of 2 German Shepherds.