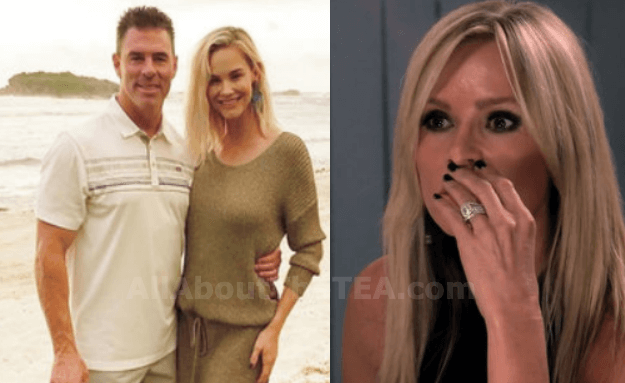 Tamra Judge is sharing how she supported Meghan Edmonds through her marriage crisis.
Back in June, AllAboutTheTEA.com published a blockbuster exclusive exposing Jim Edmonds' affair with the baseball madame a.k.a Jennifer Villegas. 
EXCLUSIVE: Jim Edmonds' Steamy Affair While Meghan Was Pregnant With Twins EXPOSED — D*ck Pics, Threats, Hush Money & More!
Meghan grappled with public humiliation after the release of raunchy text messages between Jim and his mistress. The texts included pictures of her husband's genitals and a video of the former pro-baseball player masturbating on the same day Meghan gave birth to their one-year-old twins, Hart and Hayes.
EXCLUSIVE: Jim Edmonds Mistress EXPOSED — The Baseball Madam Speaks Out!
"That was a little rough," Tamra told Bravo's The Daily Dish. "I felt bad for her. I reached out to her when I read it 'cause I don't believe everything that I read. So much crap is written about people. So I just said, 'I don't know if it's true, but letting you know that I'm here for you.' And she was like, 'Yeah, it's kind of rough right now.'"
A week after the affair was exposed, Meghan's one-year-old son, Hart was diagnosed with irreversible brain damage resulting from a rare disease called Periventricular Leukomalacia.
"It's hard," Tamra Judge said about the toddler's diagnosis and its impact on the former RHOC star. "We wish her well."
The Real Housewives of Orange County alum returns to the reality series for a quick cameo appearance during Season 14 for Shannon Beador's birthday party. 
"It was nice having Meghan on," she said. "She obviously lives in St. Louis now and has her hands full with three toddlers, so she had a chance to get away and come spend some time with us. I kind of felt like it was the same Meghan. She just has three little kids now, so she was excited to get away and have some girl time. But she's still the same Meghan."
As previously reported, Jennifer Villegas explained to AllAboutTheTEA.com that Meghan had been harassing her since September 2018 after finding out about the affair — and on June 17, 2019, Villegas filed a police report against the mom of three. 
EXCLUSIVE: Jennifer Villegas Files Police Report Against Meghan Edmonds' For Harassment Amid Jim Edmonds Cheating Scandal: 'She's Out For Blood and Won't Stop Until I Jump Off A Bridge'
In the following police report obtained by AllAboutTheTEA.com, Villegas details receiving multiple texts and phones calls from the mom of three starting in September 2018. Some names, addresses and phone numbers have been extracted from the report.
"Meghan first reached out to me on September 20, 2018 and bullied me into retracting my story. She had already left me a threatening voicemail, so I did because I was fearful for my safety and the safety of my daughter. I am a single mom and very protective of my child." Villegas told AllAboutTheTEA.com.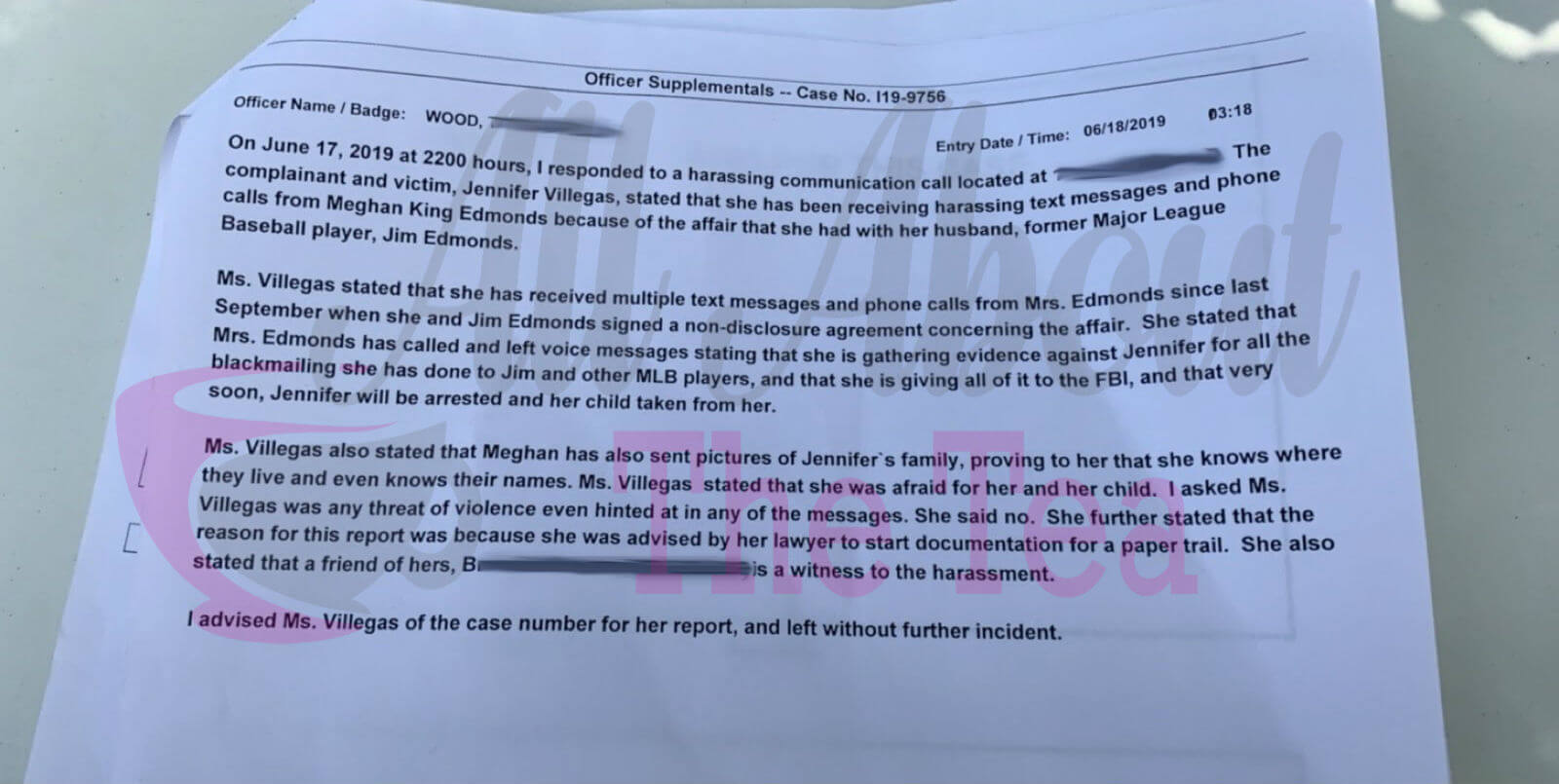 Villegas described how Meghan's alleged harassment had impacted her life.
"The ​past few days have been the hardest of my life. So many things said about me. Some of it true. Most of it ​not​. But what's true is…I am being threatened and harassed by Meghan Edmonds. Meghan told me that she wanted me to be as 'humiliated' as she was.​" Villegas tells AllAboutTheTEA.com exclusively.
The Real Housewives of Orange County airs Tuesday nights on Bravo, at 9:00 p.m. ET.
"Like" us on Facebook  "Follow" us on Twitter and on Instagram