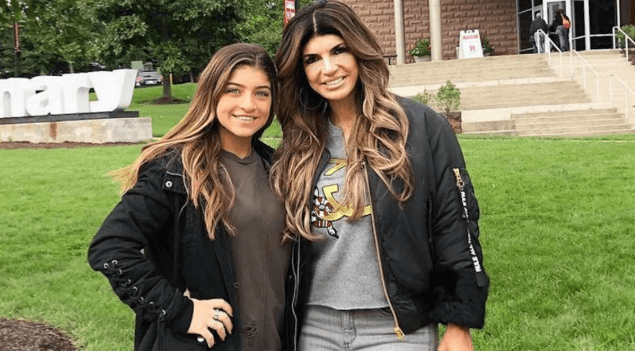 Gia Giudice is off to college today and her mom, Teresa Giudice, is under scrutiny for allowing her underage daughter to drink champagne?
Gia Giudice Launches Change Dot Org Petition To Stop Joe Giudice's Deportation — She Claims Joe Is Voluntarily In ICE Custody!
Thursday, August 29 is move in day for the 18-year-old Rutgers University freshmen and her Real Housewives of New Jersey mom documented the send off by posting videos on Instagram. But one video in particular of Gia and her cousin, Olivia Giudice, popping champagne bottles has critics in an uproar.
"Congratulations to my beautiful daughter and niece on their new chapter in life. I'm so excited for both of you to follow your dreams and take what life has to offer you ❤️❤️ #liveyourbestlife #collegelife #cousins." Teresa's post captioned on August 29. Press play below to watch the disturbing video.
Many of Teresa's followers called out the reality star for posting her underage daughter and niece popping champagne bottles — especially in light of former 'Love Island' contestant, Theo Campbell, recently losing an eye in a champagne cork accident. "underage girls popping bottles as news of a young man losing sight in one eye doing this is all over social media!??‍♀️," one person wrote with another similarly adding, "Hmmm a strange choice of celebratory props. They are only 18. ?."
The fans continued to flood Teresa's comment section blasting the mother of four for being irresponsible.
"Great example letting minors pop bottles of alcohol ??? parent of the year right there."
"WOW really??? How about something more appropriate for 2 little girls?
Attorney General Demanding Joe Giudice Be Deported — Wants 'RHONJ' Star Kicked Out Of America!
Additional fans shared the same sentiment.
"You're a dumb bitch to allow your underage daughter to drink and pop bottles, especially right before she enters college where underage drinking is out of control."
"You never cease to amaze me with your stupidity. Gia and her cousin should not be allowed near alcohol like this. Fine example you're setting."
Gia Giudice Posts Racist Rant Blasting Mexicans After Dad Joe Giudice's Deportation Verdict!
Teresa Giudice's brother, Joe Gorga was on hand to send his niece off to college. Teresa posted a video of Gorga loading a pickup truck filled with Gia's belongs and unloading as they arrived at Rutgers University in New Brunswick, NJ. Press play to watch below.
Share your thoughts on Teresa Giudice's underage drinking college send off for Gia. Sound off below!
"Like" us on Facebook  "Follow" us on Twitter and on Instagram