RECAP: 'Southern Charm' Cast Expose Kathryn Dennis' Failed Sobriety & Calls Out Her Ongoing Drug Abuse On the Reunion!!
Welcome to the Southern Charm reunion. As we watch the charmed ones get ready to go on stage, Chelsea Meissner notes that there's some anger in the group. People aren't making eye contact with each other. Kathryn Dennis tells the makeup artist that Austen Kroll's girlfriend, Madison LeCroy, says she wants to makeup with Danni Baird (after announcing to the world the poor girl caught chlamydia from  Shep Rose) but on the other hand, is sending Danni threatening messages. Austen is wearing hair clips, which is not a good look. And Naomie Olindo is willing to stand up for Danni on stage, since she knows Kathryn won't utter a peep in defense of her friend.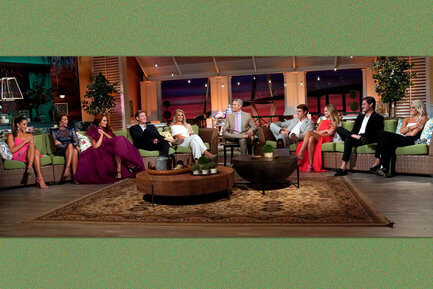 The boys hit the stage first and are excited to see the bar, but  Shep Rose soon realizes the bottles are just props. Sorry, Shep. You'll have to get through this sober. The set also features Pillows by Craig Conover. And he made Andy Cohen's baby a tooth fairy pillow. Awww!
Andy starts off by throwing the men under the bus, saying the women are crushing life while the guys are a bunch of deadbeats. Shep says he hasn't touched his trust fund in a long time. Sure, he lived off it during his twenties. But he points out that everyone is a blip on the screen of life, so what does it matter? Everyone should just smile and be nice. Good advice, Shep. Maybe you should take it. And Austen got slammed for lacking motivation. Just when is Trop Hop going into production again?
Cameran Eubanks talks about the struggle to juggle motherhood and her personal/professional life. They talk about her wild days on The Real World, but now she's a sedate mom. Some viewers clap back, saying Cam has the luxury of staying home or going to work. She admits she looked stuck up and privileged this season. But she points out that she and Jason don't even share a joint bank account. She likes to earn her own money. But Cam did see the error of her ways. She's now glad she didn't hire a nanny, admitting she doesn't want to miss a moment with baby Palmer.
Next, Shep's dog ownership is in the spotlight. One viewer pointed out that he lost a girlfriend on a bike ride. Can he really be trusted with a dog? And then there's his real estate deal. You remember, the one on the marshy land? Also, he harassed the hell out of Craig during the dude's camping trip. But don't think for a minute that Shep will apologize for any of it.
Cam thinks Shep takes things too far and needs to figure out why he pushes people away. He finally admits that he can be snobby and elitist, but he's also jovial and generous. However, the rest of the cast points out how angry Shep has become. He's sticking to his guns, though, saying he doesn't suffer fools gladly. All the ladies have cried over Shep being a jerk, and hearing that just pissed him off even more. He maintains that the others take him to that angry place where he throws low jabs at the group. It's their fault, not his!
Shep can be arrogant. But his grandmother was a snob, and that's where he learned it. And sure, Shep thinks he's the smartest person in the room. Because he is! He may have hurt everyone's feelings this season, but it's all water under the bridge. Is it, Shep? Is it?!
Naomie discusses her new man, Metul. Just like Craig before him, Naomie tracks her boyfriend's whereabouts. But it's okay because he tracks her, too! Cam warns Naomie that doctors are dedicated and solid individuals, but they're also married to the job.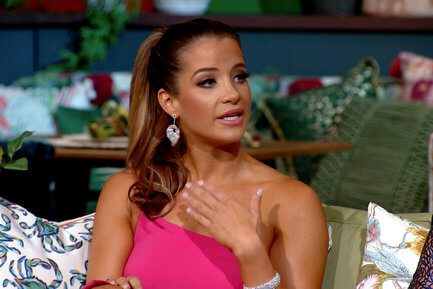 Naomie and Metul have talked about moving in together. But he still has three years of residency and fellowship to put in. Andy touches on Cam's crush on Metul. Her husband wasn't very happy to see that play out, but it's just a joke. Lighten up, Jason.
In response to Metul telling Naomie what she could and couldn't eat, Craig offered her a Rice Crispy treat. See Naomie, if you stayed with Craig, you could still eat sugar. Austen and Craig think Metul is controlling. Shep asks if it's a cultural thing, being from a male-dominated Indian background. Nope. Metul was born in D.C. and Naomie defends him. His sparkling personality didn't shine through on the screen. He was nervous, not controlling.
While the group went to Colorado, Naomie had to meet with Ashley Jacobs. They discuss how Ashley can't read a room. Naomie definitely told Ashley to stay away from Kathryn, but Ashley heard a completely different message. They wonder if she really thought an apology would get her entrée back into the group.
Craig had a new attitude this season. He's over Naomie — sort of. And he has a new assistant to keep him on track. Things like email were too stressful for Craig. He needed someone to help him sort out his life, and now he's cut back his assistant's hours by half because he's finally in a good place. He even has a goal: to be the male Martha Stewart. Cam commends him for turning his life around. He's sold 1000 pillows, people!
Spending time in the Bahamas did Craig's body good. He stopped taking his Adderall so that he could deep sea dive. It was great for law school, but as Naomie points out, Craig would stay up all night, take some more Adderall to finish a project, then after two days, he'd crash and wouldn't be able to get out of bed.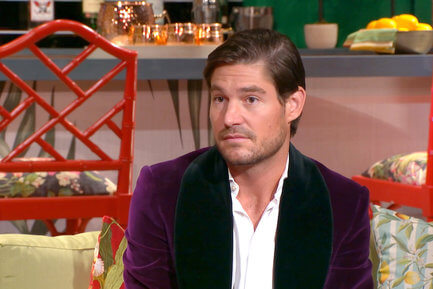 Craig explained that the reason he wore guy liner at the pillow party was because he'd worn it with his Halloween costume the day before. He just never properly washed his face. Okay, then.
Craig came unhinged at Cam's birthday oyster roast this season. He went after Austen like a rabid pit bull. Austen had been trying to get his life in order by going home by eleven or twelve. Craig is still angry that Austen asked him out, then left him behind. But…he was taking Adderall again, so that may be why he got so angry. Cam thinks Craig is addicted to the drug, and when he combines it with booze, it's a recipe for disaster.
But the Adderall wasn't what caused his melt down at the airport in Colorado. Craig was upset at Whitney Sudler-Smith's constant complaining. He was also upset that Naomie didn't go on the trip with them. She didn't want to be around Craig without Metul. The girls think Craig was still in love with his ex during filming. He claims he was just frustrated and needed some closure. The conversation they had helped him move on.
Kathryn, her sobriety and her personal life is up next. She can't comment on her custody battle or say anything negative about Thomas Ravenel, who has a new girlfriend. And no, it's not Ashley. Kathryn's still dating her Nashville beau. She's happy to date someone her own age. He's not established in his career, but she's having fun with him anyway.
EXCLUSIVE: ASHLEY JACOBS BLOWS THE LID OFF WHITNEY SUDLER-SMITH'S SECRET GAY LIFE!
Kathryn defended the faux leather pants she wore this season. Not only are they comfortable, they're a bargain on Amazon. Now…go forth and buy!
Kathryn has also made up with Patricia Altschul. They had so much animosity in the past, but Kathryn has forgiven Pat for her mean comments. Just like Kathryn forgave her castmates for their treatment of her a few years ago. She no longer cares what people think of her.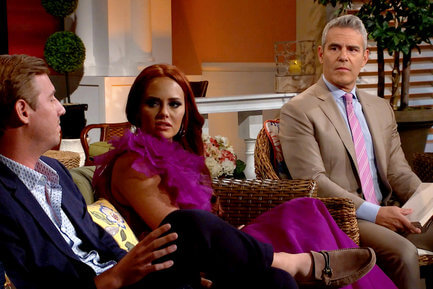 We touched on the hookup between Whitney and Kathryn. He denied it happened. Shep has never denied hooking up with a girl. Is Whitney too worried about what his mom will think? Maybe. Craig maintains that Whitney has a squishy spot in his hard heart for Kathryn. Cam believes Whitney doesn't want to get involved in the legal battle between Kathryn and Thomas. And since Patricia has already been subpoenaed, it's a real possibility.
And speaking of Thomas, he has recently stated that Kathryn is mentally unstable and a sex addict with a continuing drug problem. And she failed a drug test on June 14. They talk about Kathryn's appearance on Watch What Happens Live. Was she on something? She claims that her legal problems and the need to edit herself constantly caused anxiety. Her castmates think something was off. It was uncomfortable to watch. But Kathryn says she doesn't smoke weed, she can — and does sometimes — drink, but she wasn't under the influence at the time. Austen, who tweeted into the show that night, maintains that she was high on something. Kathryn demanded he not question her or her sobriety.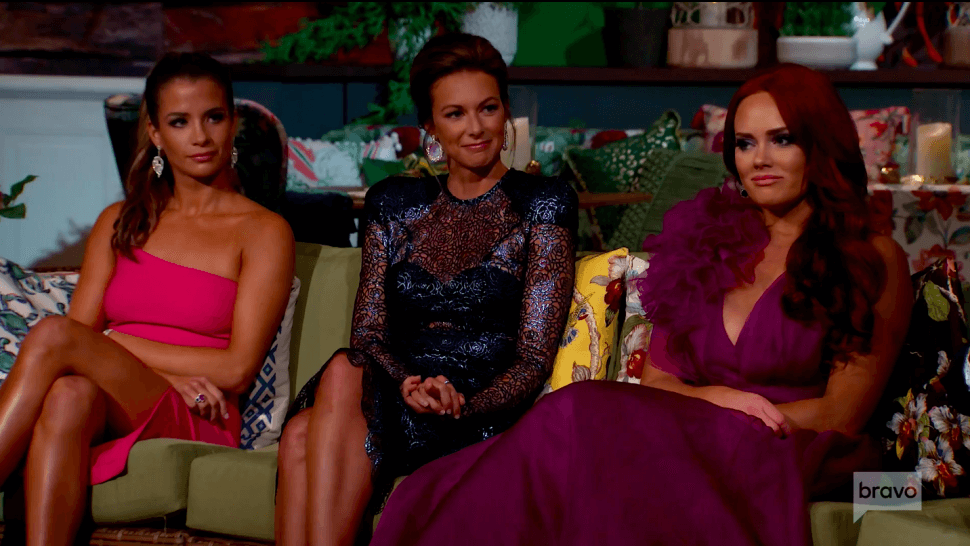 Next week, Madison and Danni turn up. Can't wait to see that blowout.
So, do you think Kathryn Dennis is sober? Does Shep Rose need some serious introspection? And is Craig finally over Naomie?
"Like" us on Facebook  "Follow" us on Twitter and on Instagram 
I'm a fiction writer by day and a reality TV addict by night.