Real Housewives of Beverly Hills
Denise Richards' Husband Threatens To Sue Lisa Vanderpump's Business Partner After He Exposed Vanderpump Dogs Rescued 8 of Denise's Dogs!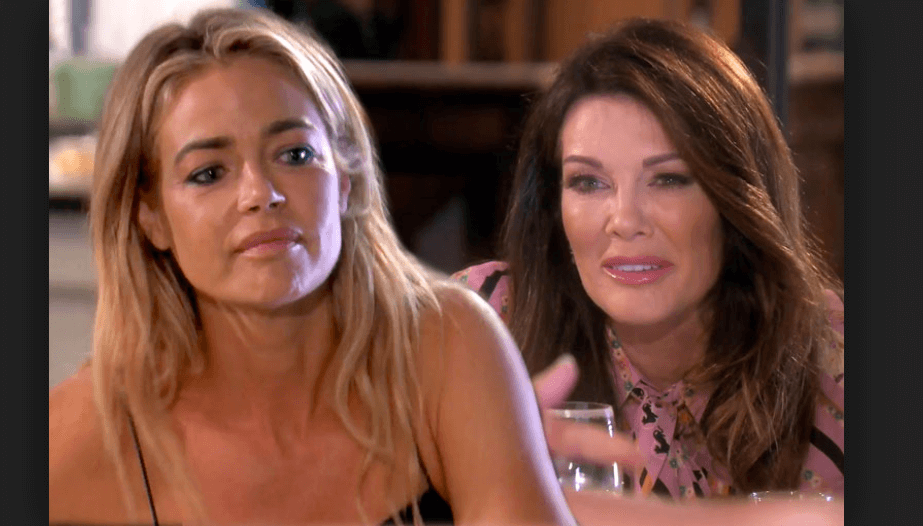 Denise Richards navigated her rookie season on The RealHousewives of Beverly Hills by playing the middle in the #PuppyGate scandal that left Lisa Vanderpump estranged from the group.
During a recent appearance on Watch What Happens Live, Denise weighed in on the drama surrounding Lisa Vanderpump — and revealed that she's not Team Vanderpump. A caller asked, "Denise, all throughout the season Lisa Vanderpump was kind to you then at the end you turned on her," to which Denise hesitantly responded, "No, I didn't turn on her… there was incidences that happened and I'm….you know… it happened." Denise appeared at a lost to effectively verbalize her thoughts. Press play to watch below.
@LisaVanderpump what do you think of @DENISE_RICHARDS being unable to answer my question last night on #WWHL? @Andy #RHOBH #RHOBHMeanGirls #RHOBHCOVEN https://t.co/vXo0Q41shU

— Stacy de Magootville (@outawata) August 1, 2019
RELATED: Lisa Vanderpump Employee John Sessa Exposes Kyle Richards For Lying About PuppyGate Set Up & Blasts Her For Slandering His Boss!
A shocked Lisa Vanderpump responded by explaining that she helped Denise during the California fires by taking care of the actress' dogs free of charge. "Wow? The only "incident" we had outside of production was when you asked us to take 8 of your fostered dogs from the Malibu fires and @vanderpumpdogs rescued them, in this crisis, when we were at capacity.. it wasn't shown.. too positive? Why all the hate?"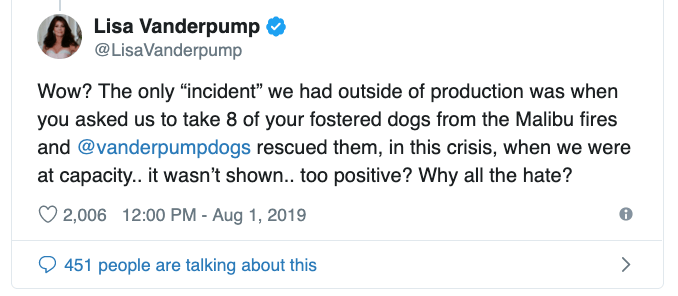 Vanderpump's business partner, John Sessa, backed her up by going into detail about the extent of help, "Yes, it wasn't shown but @vanderpumpdogs took them, got them spayed/neutered, vaccinated, microchipped and found them the best furever homes…no donation was received and no mention of that lovely "incident" at all!"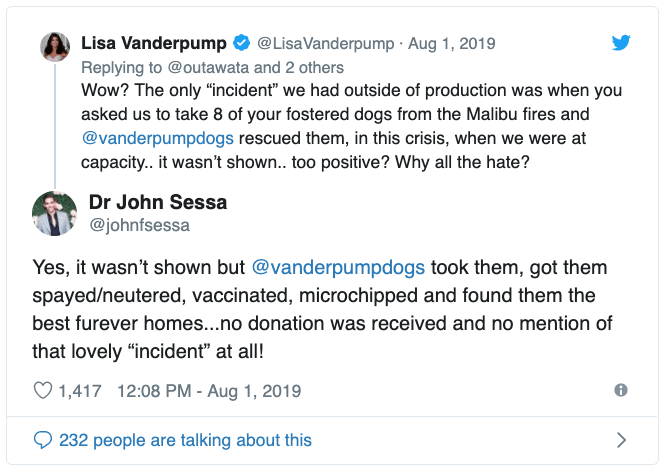 Well apparently, Denise Richards and her husband, Aaron Phypers did not take too kindly to John Sessa sharing how much Vanderpump Dogs helped the RHOBH rookie and sent John  a cease and desist threat — which Lisa Vanderpump posted on Twitter with the caption, "Wow, no good deed goes unpunished huh? John literally stated the truth about a nice act of our foundation, and this is your response? No defamation whatsoever, just the truth. Have a blessed day"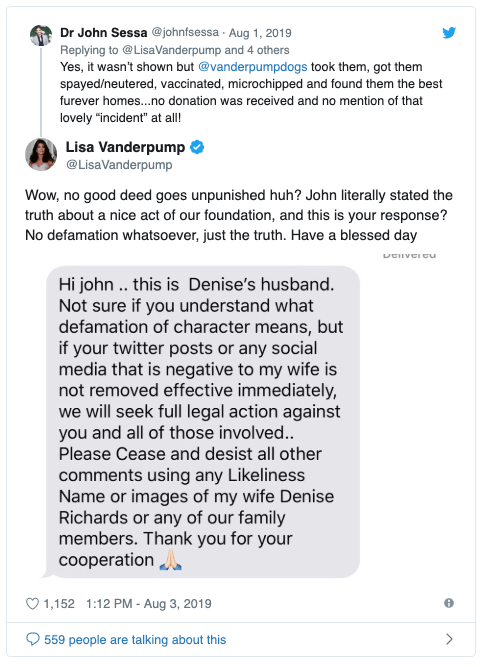 Share your thoughts on the latest developments brewing between Denise Richards, Lisa Vanderpump and John Sessa. Sound off below!
"Like" us on Facebook  "Follow" us on Twitter and on Instagram