VIDEO: Jay Smith Released From ICE Custody & Picked Up By New Girlfriend Who Wrapped Her Legs Around Him!
90 Day Fiancé: Happily Ever After star Jay Smith was released from York County Prison in Pennsylvania on Wednesday — after spending four months in the custody of Immigration and Customs Enforcement. 
Conroy St. Christopher Smith aka Jay Smith was greeted by his new girlfriend, Kayla O'Brien, who wrapped her legs around his body and kissed him. Press play below to watch.
Jay Smith's new girlfriend is a stripper and the two have been dating since January.
Kayla has been by Jay's side throughout his incarceration and led the charge for his Go Fund Me campaign, that raised $4,468 for his legal fees.
'90 Day Fiance' Star Ashley Martson Accuses Estranged Husband Jay Smith of Rape Amid His Deportation to Jamaica!
He is out on $4,500 bail which his boss paid. A date for his deportation trial hasn't been announced yet.
Jay proposed to Ashley Martson six months after meeting her at a resort in Jamaica, and they tied the knot in Las Vegas in April 2018. Ashley then filed for divorce in January, only to withdraw the papers nine days later. She then refiled in April, claiming "adultery" as the reason she ended the marriage.
Jay Smith's Sister Exposes Ashley Martson's Screwing A Sugar Daddy, Faked Barbershop Scene & Scammed Fans With Bogus GoFundMe Used For Tummy Tuck!
After his release, Jay took to Instagram to share thoughts on his experience and current mindset. "This past month had been very eye opening for me?, I've lost & I've gain but most of all I've learnt ALOT!!! This situation had made me realized all who are with me & all who are against me and I've been given a second chance and I will make the best of it to my ability, and I'll start by expressing my deep appreciation for all the help and support I've gotten from my FAMILIES, LOVE ONE, ATTORNEYS, BOSS/COWORKERS, FRIENDS and to all my FOLLOWERS and PERSONS that PRAYED for me and also donated to my GOFUNDME campaign, I am beyond grateful and without your help i would not have been a free man today. One last thanks to the people who walked in my life and made it better and thanks to the ones that walked out and made it AMAZING." He wrote on Instagram.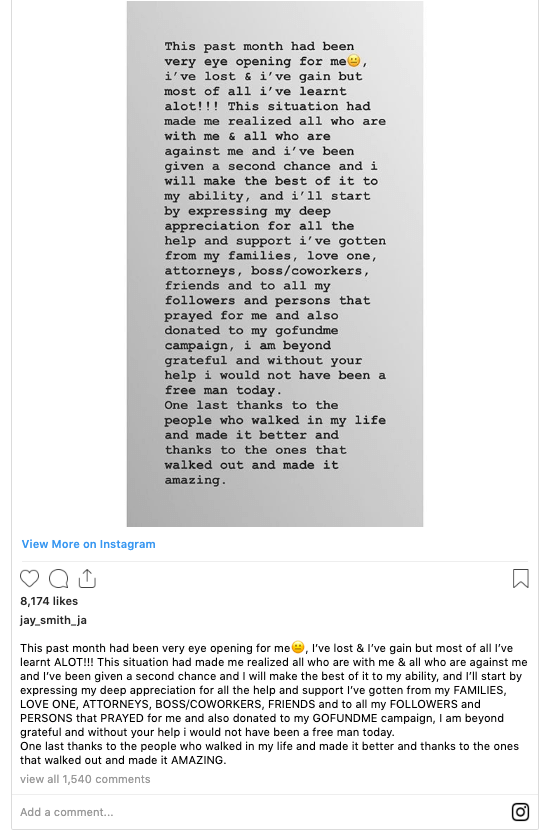 Fans know that Ashley and Jay split after a tawdry cheating episode — but rumors of reality TV fakery have been swirling around the couple, threatening to take down the TLC narrative.
The 90 Day Fiance series airs Sunday nights at 8:00 p.m. ET, on TLC.
"Like" us on Facebook  "Follow" us on Twitter and on Instagram 
Nancy Zhāng is an Entertainment Blogger for All About The Tea. Nancy covers hot topics, recaps and celeb news. She loves to multi-task as a writer and a private chef. She received a B.S. in Mass Communications from LSU. Nancy's married and the proud mom of 2 German Shepherds.