VIDEO: Ramona Singer Refuses To Take Photo with RHOP's Gizelle Bryant At Charity Event!
Ramona Singer attended a charity event over the weekend in the Hamptons, and shunned fellow Bravoleb, Gizelle Bryant!
The Hot in the Hamptons event was hosted by former Real Housewives of New York star, Kristen Taekman, and supermodel Flaviana Matata. In attendance were several Housewives including: the Real Housewives of Potomac star Gizelle Bryant, and Pettifleur Berenger from The Real Housewives of Melbourne.
During the event Ramona Singer, Kristen, Gizelle and supermodel Flaviana Matata were all ready to take the group snap when Ramona asked Gizelle to remove herself from the photo. The embarrassing spectacle was caught on video by The Out In The Wild Podcast — press play below to watch.
Ramona, 62, posted a photo from the event with herself, Kristen Taekman, and supermodel Flaviana Matata sans Gizelle Bryant. Ironically, her caption states: "Women supporting women! A great cause to raise money to educate girls in Africa!"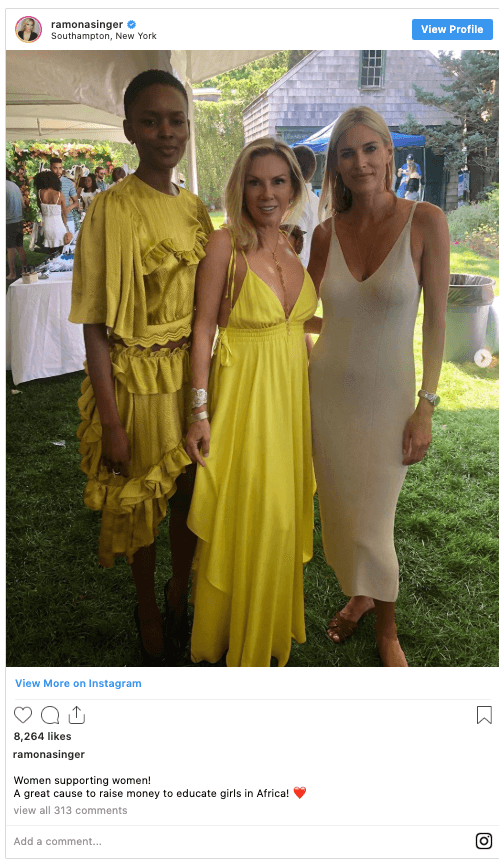 Kristen on the other hand, posted a photo on her Instagram that included all the ladies —  Gizelle Bryant, Flaviana Matata, Ramona Singer and Pettifleur Berenger.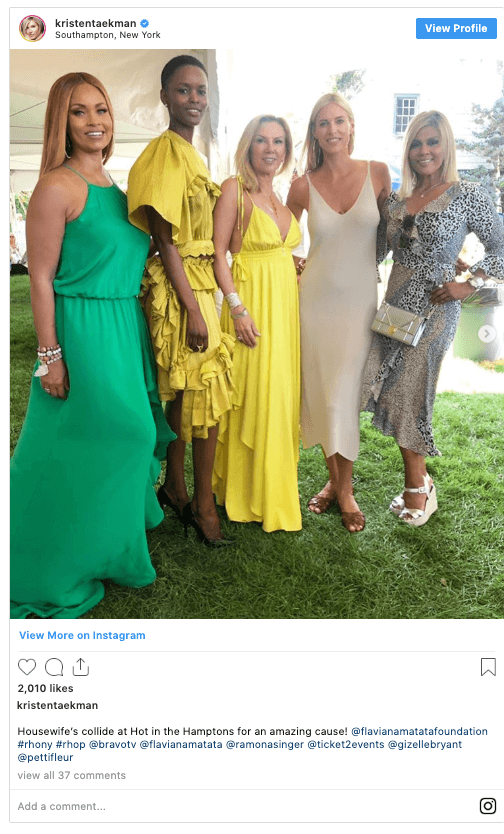 This is not the first time the Real Housewives of New York OG has snubbed a Bravoleb. Back in April, Dolores Catania blasted Ramona for insulting Dolores' ex-husband, Frank Catania's photo request during an appearance on Andy Cohen's Watch What Happens Live. 
"RAMONA? Ramona's mean to people. She's rude. She acts like she doesn't know anyone, even if she knows them. Listen, I meet a lot of people. I don't always remember who I've met when they come up to me, so I'm not rude to them about it." Dolores Catania told Life & Style. "If someone asks me to take a picture, you f*cking take a picture because this is your f*cking job, and without those people, you don't have a job, Ramona. You're nobody, a nothing."
"So next time somebody asks you to take a picture in front of the step-and-repeat at the [Bravo] Clubhouse, when it's Frank Catania standing there, you f*ckin' better do it," she added.
Share your thoughts on Ramona Singer's latest put-down. Sound off below!
"Like" us on Facebook "Follow" us on Twitter and on Instagram
Avigail is an Entertainment blogger at All About The Tea, who specializes in The Real Housewives of Atlanta and The Real Housewives of Potomac. Avigail has a background in marketing. She's a Brooklynite living in the Bahamas, with a passion for travel, writing, reality TV watching, pop culture and spoken word.