Southern Charm
Kathryn Dennis Denies Dangerous Klonopin & Adderall Addiction Claims from Thomas Ravenel Amid Heated Custody Battle!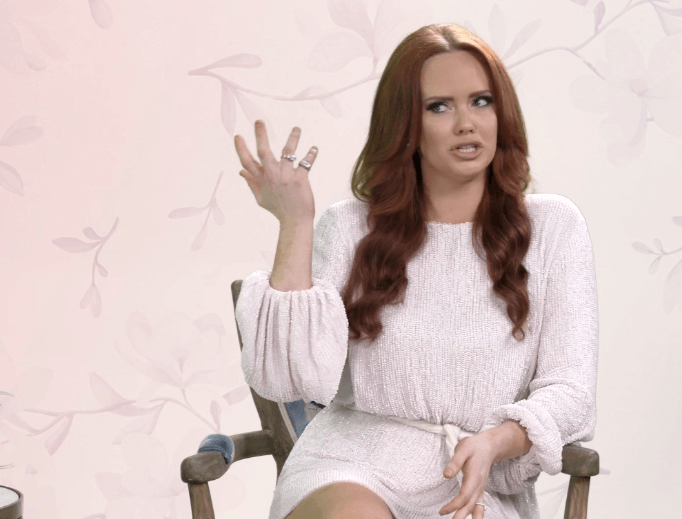 Kathryn Dennis is denying explosive allegations presented in court by her ex, Thomas Ravenel, that exposes a dangerously unfit mother who abuses drugs, alcohol, and suffers from a multitude of mental health disorders.
As reported, jaw dropping court documents blow the lid off the secret reality of Kathryn — revealing a woman deep in the thralls of addiction, sexually promiscuous with multiple men and reckless with her finances.
Thomas Ravenel's new allegations against the 26-year-old state, "addicted to prescription medications, marijuana, alcohol, shopping and sex,"
Also medical records show she had an abortion while in rehab. She's diagnosed with SEVENTEEN mental health disorders including: bipolar disorder, obsessive compulsive disorder, attention deficit disorder, kleptomania, self-mutilation, and cluster B personality traits, including histrionic and borderline personality disorders.
Forensic psychiatrist, Dr. Timothy Brewerton, reports that Kathryn has been diagnosed with 17 mental health disorders including: bi-polar, ADHD and PTSD. And list 17 medications she has been recently and/or is currently being prescribed. The doctor bust the reality starlet for abusing both 'uppers' and 'downers.'
'Multiple medications for similar complaints indicate either that the patient is not taking the medication as prescribed or not suffering from the complaint they are prescribed for. She always returns to Klonopin and Adderall, two drugs that can be characterized as "high risk for drug abuse.'
Court Records Reveal Kathryn Dennis Addicted To Prescription Meds, Marijuana, Alcohol, and Sex — Got An Abortion In Rehab!
The documents included an affidavit from Kathryn's ex-boyfriend Ashley Pillar, whom she dated after she underwent rehab. Pillar said that while they were dating, Kathryn was "addicted to prescription medications, marijuana, alcohol, and sex," according to the Daily Mail. Pillar could not be reached when contacted by PEOPLE.
Press play below to see Kathryn Dennis appear high in bizarre video with her kids.
The scathing documents also showed text messages between Kathryn and a friend, who was seeking to illegally purchase Adderall for the reality star.
The reality diva's lawyer spoke to People Mag and denies the claims. 
"For ethical reasons, I try to avoid making any statements to the press whatsoever," Kathryn's lawyer says in a statement to PEOPLE on Tuesday. "However, Kathryn obviously denies all of this and I believe that the submissions to the Court that we have made discredit such allegations."
A "source" close to the Southern Charm star tells People Mag that Thomas is "doing everything he can to spread lies and drag Kathryn through the mud."
"She's holding it together and staying focused on having her day in court," the source says. "She could have easily remained 50/50 custody and kept her mouth shut. But she is doing what's right for the kids. And that's what matters."
According to the single father of two, both of his children have acquired "developmental and behavioral problems," as a result of Dennis' pre-natal "drug and alcohol" abuse.
"The parties' oldest child, K.C.R., has developmental and behavioral problems that have required intensive therapy. Father is informed and believes these problems are the result of Plaintiff mother's lack of bonding with K.C.R. during infancy," he claimed.
The former share two children, Kensington Calhoun Ravenel, 5, and Saint Julien Rembert, 3. 
"The parties' youngest child has developmental and behavioral problems that require intensive therapy. Father is informed and believes that these problems are the result of mother's drug and alcohol consumption while S.J.R. was in utero." The documents state.
Thomas requested sole custody of Kensie, 5, and Saint, 3, earlier this month, alleging that Kathryn had failed a drug test that was mandated by the court in June.
"While in the possession of the children, Kathryn produced a urine test positive for marijuana, benzodiazepines and amphetamines," Thomas stated in documents. The documents also revealed that Dennis has a prescription for benzodiazepines and amphetamines.
Thomas Ravenel's legal team is still awaiting a ruling by the judge on the issues discussed.
"Like" us on Facebook  "Follow" us on Twitter and on Instagram