Real Housewives of Beverly Hills
Camille Grammer Blasts Her 'RHOBH' Costars For Attacking Her Decision To Not Participate In Their 'Vendetta' Against Lisa Vanderpump!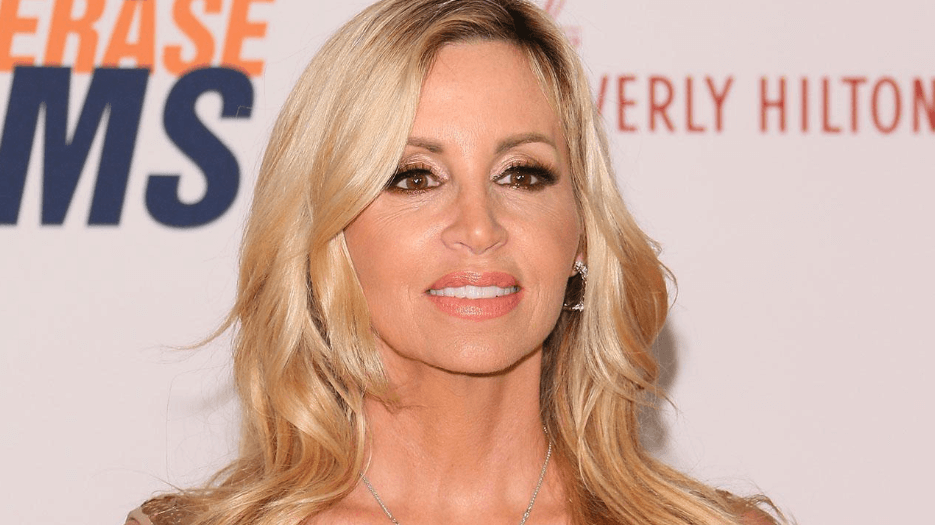 Tension between Camille Grammer and her Real Housewives of Beverly Hills co-stars is heating up after she refused to join their Lisa Vanderpump hate campaign. 
During recent episodes, Teddi Mellencamp, Lisa Rinna, Kyle Richards, and Dorit Kemsley have been pissed with Camille — accusing her of being two-faced for saying flattering things about Vanderpump and calling out Dorit's financial troubles and Teddi for instigating drama. During the most recent episode, Camille held no punches when exposing Dorit and her husband PK as broke frauds. 
'RHOBH' RECAP: Camille Exposes Dorit Kemsley & PK As Broke Frauds That Owe 'A Lot of Money'
Many fans of the Bravo reality series praised Camille for her actions and accused Teddi, Rinna, Kyle, and Dorit of attacking Camille for not going along with their feud against Vanderpump. 
Camille took to Twitter to confirm fan observations about the cast alliance, "They were mad at me for not falling in line with their Vendetta against LVP." She tweeted on July 6.

Camille was on a roll Saturday and continued her tweeting rampage by calling out Dorit for deflecting from her dog adoption gone wrong and the women banding together to blame Lisa Vanderpump for leaking the scandal. "It's a contrived vendetta when Dorit was responsible for the dog. I don't know why she is playing the victim and the coven is going along with it." She tweeted on July 6.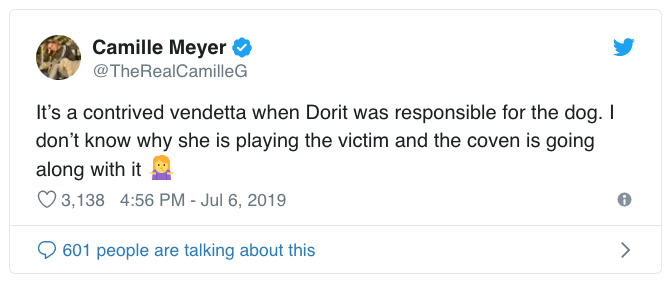 Camille also pointed out fake friendships within the group of ladies. "What's missing in this group #rhobh is the essence of true friendship. You don't kick someone when their down. You don't hold them accountable because there are struggle with their personal turmoil." She tweed.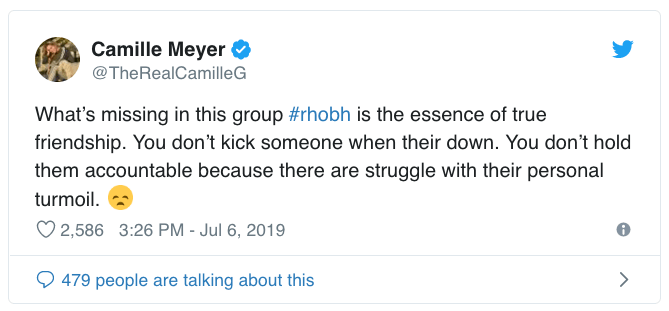 Camille addressed the women for nitpicking about minor matters during a very rough time in her life. As fans know, her house burned to the ground during the California Woolsey fires in November 2018. "They were holding me accountable for petty slights at a time I was going through grave hardships." Camille posted on July 6.

The Real Housewives of Beverly Hills airs Tuesday nights, on Bravo, at 9:00 pm EST.
"Like" us on Facebook  "Follow" us on Twitter and on Instagram