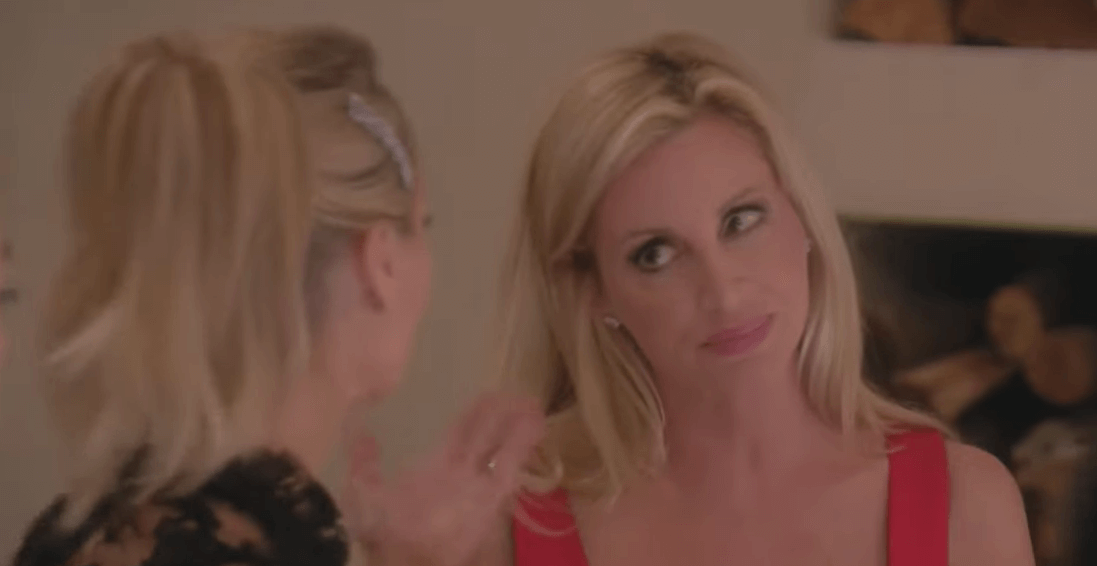 Tuesday night's episode of The Real Housewives of Beverly Hills begins with Kyle Richards, Erika Jayne, Dorit Kemsley, Lisa Rinna and Teddi Mellencamp in France picking up the pieces after Kyle, Teddi and Erika's spat. As the ladies prepare to head back to home, Kyle and Teddi clear the air with Erika and apologize for interrogating her over Rinna's attack on Kim Richards.
Back in the 90210, Denise Richards and Camille Grammer reunite with the ladies after battling the destructive Woolsey Fires. They all meet at Dorit's "Beverly Beach by Dorit" storefront opening at Kitson and the hilarity ensued as the women (except Camille) gushed over the collection.
"Genius!" Rinna shouted. "Genius?" Camille mocked to the camera, "Her reveal was a garbage bag."
The ladies all sat down for dinner after the event and Dorit brings up Lisa Vanderpump distancing herself from the group. Camille said she hadn't spoken to Vanderpump, and asks the ladies, "Is it sad? Is it hurtful?" Dorit responded that she was sad about it, then reminded Camille that Vanderpump didn't attend her bridal shower and wedding. "She should've come," Camille said. "She should've come." Camille responds.
Rinna then brings drama into the mix — "But you let her off the hook. You shouldn't have let her off the hook so easily, but you did let her off the hook."
"Well, I guess I was weak then," Camille replied.
Denise interjected to say that bringing up that topic "wasn't fair" because Camille had just lost her house in the fire, but Camille insisted she was fine and wanted to squash whatever feelings were being felt.
Kyle jumps in the fray and calls Camille out about complaining to the group about Vanderpump missing her events but then praising her in the PEOPLE magazine article — professing her eternal gratefulness to Vanderpump. "It was like bad timing. It was as we were pulling out [of brunch with you in Hawaii, and we're like reading the article. It was kind of like, 'Ah!'" Rinna says.
"I didn't deliberately mean to hurt" anyone's feelings. Camille insisted.
"With Camille, there is no middle ground," Kyle says in a talking head confessional. "She will either say whatever it is to appease you, or she'll come at you with a dagger."
Teddi added her two-cents and jumped on Camille — accusing her of being two-faced but Camille was not having it and clapped back.
"I'm sure you've said stuff about me. Or maybe you haven't. I don't know," Camille told Teddi.
Teddi responds, "Everything I've said, I've said to your face — that you flip-flop and you speak out of both sides of your mouth." 
"Okay, there you go," Camille fired back. "So I'm a flip-flopper, and you're a know-it-all."
Dorit amped the drama when she told Camille that Rinna told her about the negative things Camille said behind her back. Dorit's comment triggered Camille and she unleashed the beast on her.
"It was before my 50th," Camille explained. "I had to get to know you. I didn't trust you, I didn't. Dorit, I didn't. I didn't know where you were getting all this money from."
"What do you mean? Where I was getting all what money from?" Dorit asked sternly. "What are you talking about?"
"Well, I talked to — it's true," Camille replied with a smirk. "Your husband was telling me how he filed for bankruptcy."
RELATED: Dorit Kemsley's Husband PK Owes Over $2 Million In Gambling Debt! 
A flashback is shown of PK and Camille discussing how he grew up "normal" but "ended up a billionaire out of nowhere. And now, I got taken down, because if you get too big for your boots, you get taken down."
"And I was just like, 'Wow, where does she get these fancy cars, these Bentleys she's driving around, all these diamonds, your makeup, your glam, your clothes are outstanding, they're beautiful, I've always said that," Camille says.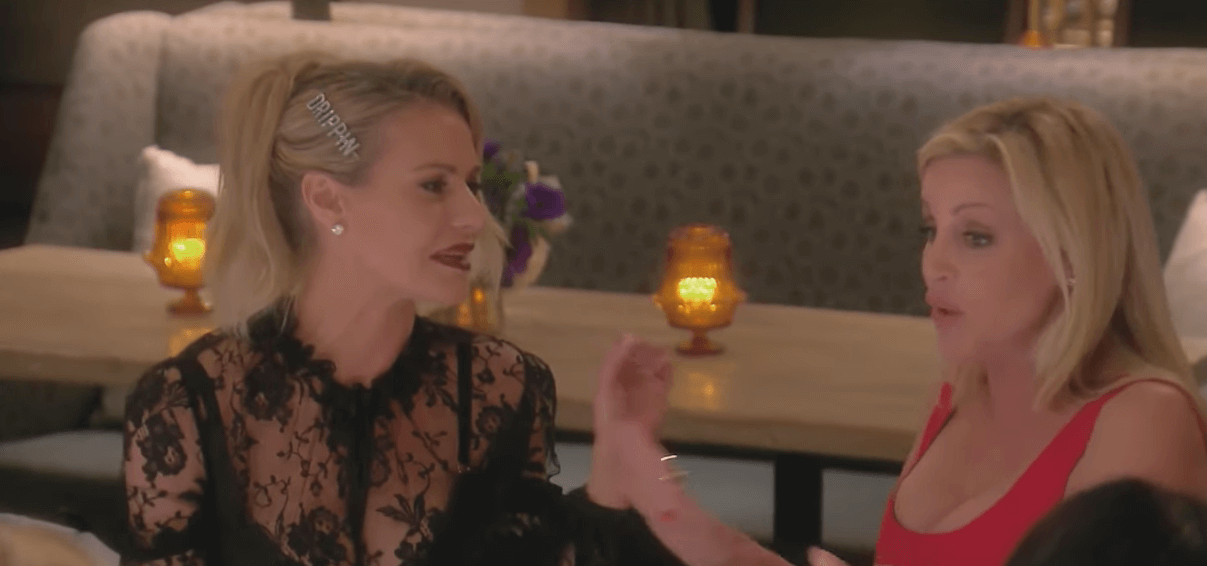 "My husband built a $2 billion business from zero," Dorit barked. "Let me finish. Let me clear it up for you. In 2008, his business went bust. He claimed bankruptcy, much like many, many successful men."
"What does that have to do with today?! This was 10 years ago! What are you talking about?!" A pissed Dorit says.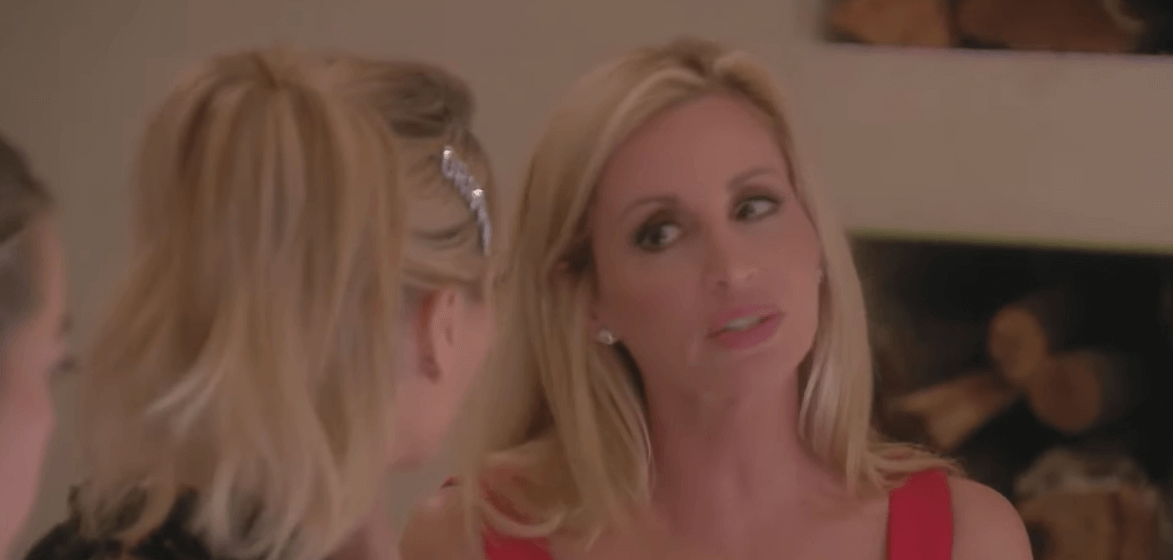 Camille replied, "Your husband owes out a lot of money to somebody very, very closer to me."
Dorit rolled her eyes and says, "Oh, puh-lease," Camille angrily shot back, "No, it's true. No, it's true."
Denise was livid. "This crosses a line," she tried to interject, but Dorit demanded Camille spill whatever tea she claimed to be holding. "I know things for certain," Camille said ominously, "I know for certain."
"You can give me whatever you want, Camille," Dorit says but Camille interrupted, "You don't want me to. You don't want me to."
"Don't you dare threaten me, sweetheart," Dorit shot back, but Camille insisted she was simply "protecting" Dorit.
"You're protecting me?!" Dorit shouted. "You're a little snake! That's what you are. You wanna go low? We'll go low."
RELATED: Thousands Garnished From Dorit Kemsley's Bank Account In Husband's $1.2 Million Lawsuit!
Camille tells her that she was only "trying to protect" her but Dorit was not buying it.
"Oh, f–k off, Camille," she barked.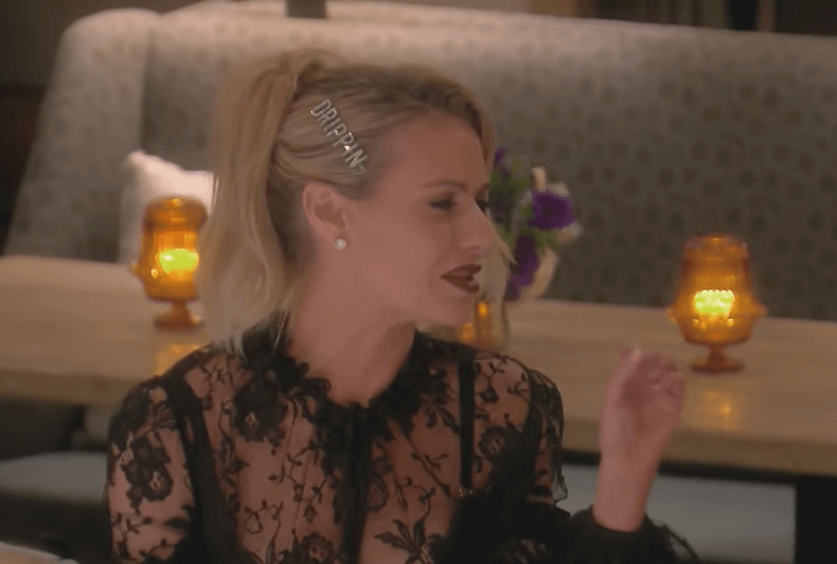 But Camille wasn't done dragging Dorit for filth! 
"I know your husband owes over $1 million to a company," she said. "It's bad. There's lawyers involved, too." 
"Don't say anything else," Teddi told Camille, before Denise ripped her a new one for going "below the f–king belt."
Dorit looked horrified by Camille's exposing her husband's legal troubles, "I've seen Camille talk out of both sides of her mouth, but this Camille? She's downright vicious and mean. After tonight, I'm done." Dorit said in a talking head confessional.
The Real Housewives of Beverly Hills airs Tuesdays at 9:00 p.m. ET, on Bravo.
"Like" us on Facebook  "Follow" us on Twitter and on Instagram