EXCLUSIVE: Jennifer Villegas Files Police Report Against Meghan Edmonds' For Harassment Amid Jim Edmonds Cheating Scandal: 'She's Out For Blood and Won't Stop Until I Jump Off A Bridge'
On Friday, the woman Jim Edmonds admittedly had an "emotional affair" with was exclusively identified by AllAboutTheTEA.com as Jennifer Villegas.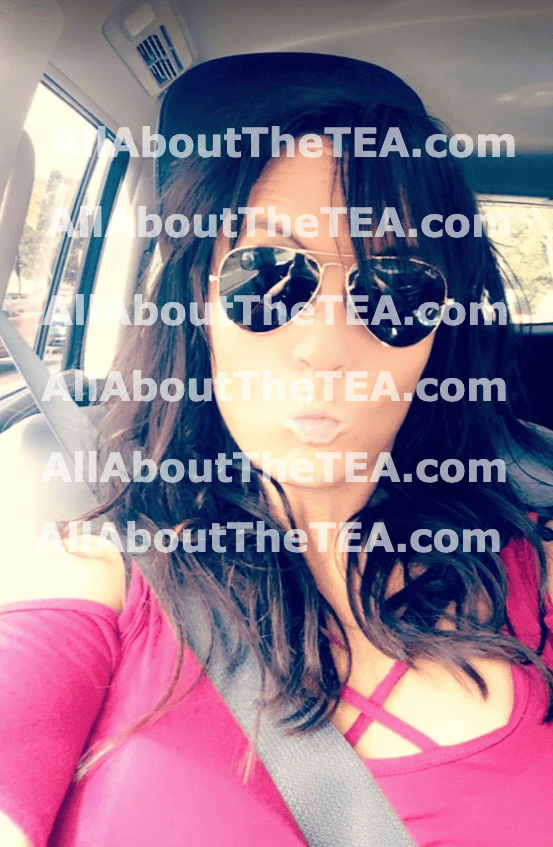 Jennifer Villegas
Jennifer Villegas, 34, has since addressed the affair, telling AllAboutTheTEA.com exclusively that she's willing to take a lie detector test to prove that she and Jim had a sexual relationship. Additionally, Villegas asserts that she never tried to extort the retired STL Cardinals outfielder, as he claims.
"I want to make a few things very clear — I never set anyone up, blackmailed anyone nor have I attempted to ruin anyone's family. All my relationships have involved two consenting adults. I made a poor decision to enter a relationship with a married man, and for that I am sorry." Villegas told AllAboutTheTEA.com.
"Recent allegations labeling me an extortionist are false. Throughout this ordeal, myself and my child have been threatened by his wife." Villegas tells AllAboutTheTEA.com exclusively.
"In recent days I have been contacted by Meghan Edmonds on Facebook and by phone. She informed me that she's researched my entire life and named my family members and their businesses. She threatened to use this information against me, so I decided to file a report with the police for harassment." Villegas previously told AllAboutTheTEA.com.
EXCLUSIVE: Jim Edmonds' Steamy Affair While Meghan Was Pregnant With Twins EXPOSED — D*ck Pics, Threats, Hush Money & More!
On June 17, Villegas filed a police report against Meghan King Edmonds — accusing the Real Housewives of Orange County alum of harassment. In the following police report obtained by AllAboutTheTEA.com, Villegas details receiving multiple texts and phones calls from the mom of three starting in September 2018. Some names, addresses and phone numbers have been extracted from the report.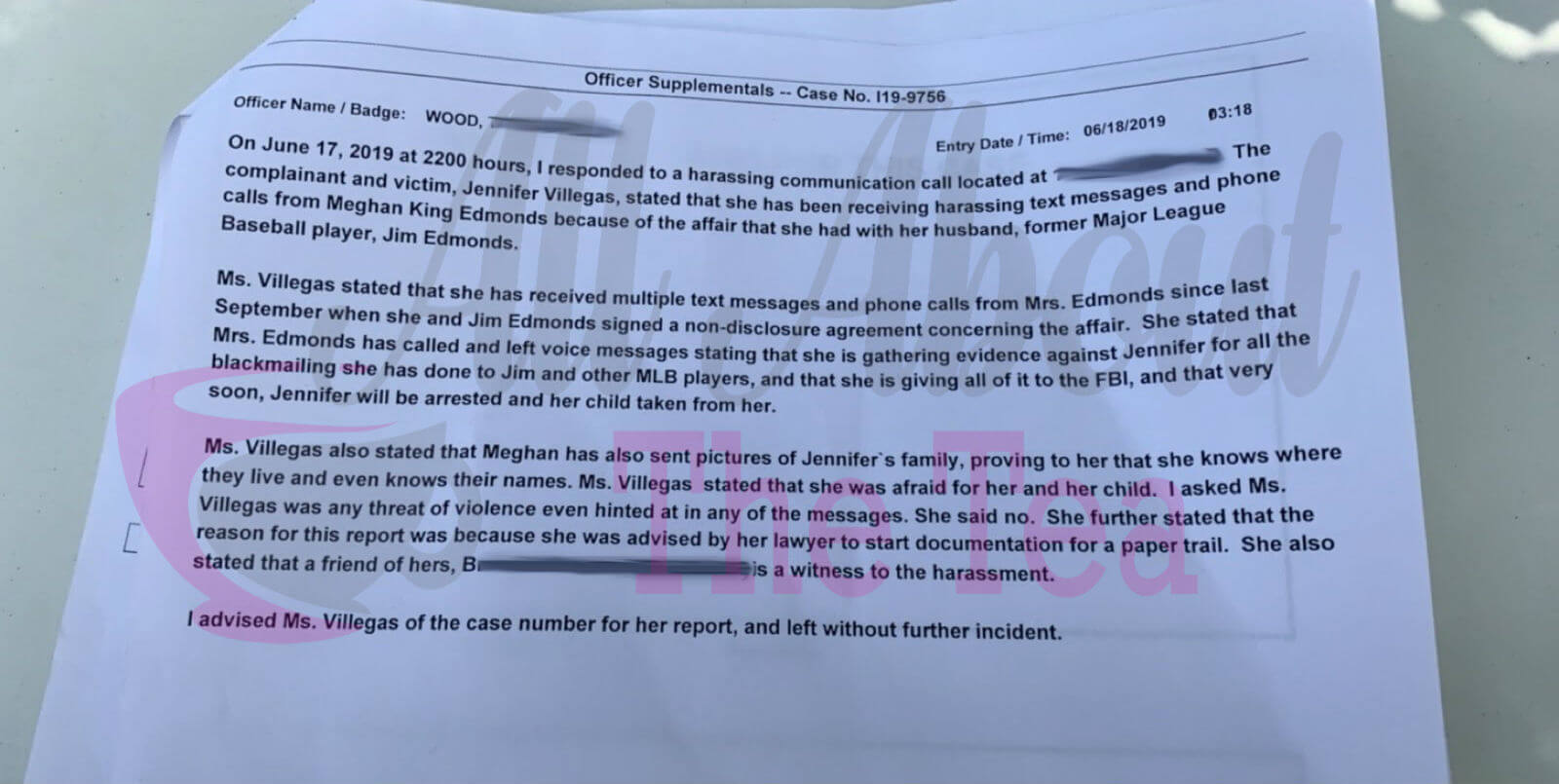 As previously reported, Jennifer Villegas explained to AllAboutTheTEA.com that Meghan was aware of the affair sine last year — despite denying knowledge of the mistress in her lengthy blog post about the infidelity.
"Meghan first reached out to me on September 20, 2018 and bullied me into retracting my story. She had already left me a threatening voicemail, so I did because I was fearful for my safety and the safety of my daughter. I am a single mom and very protective of my child." Villegas told AllAboutTheTEA.com.
Press play to listen to Meghan's threatening voicemail below.
AllAboutTheTEA.com's blockbuster exclusive exposing Jim Edmonds' 2018 relationship with Jennifer Villegas exposed screenshots of raunchy text messages between Jim and his mistress, which included pictures of his genitals and a video of the former pro-baseball player masturbating on the same day Meghan gave birth to their one-year-old twins, Hart and Hayes.
EXCLUSIVE: Jim Edmonds Mistress EXPOSED — The Baseball Madam Speaks Out!
Speaking to AllAboutTheTEA.com exclusively, Jennifer Villegas describes how Meghan's behavior has caused much stress in her life.
"The ​past few days have been the hardest of my life. So many things said about me. Some of it true. Most of it ​not​. But what's true is…I am being threatened and harassed by Meghan Edmonds. Meghan told me that she wanted me to be as 'humiliated' as she was.​" Villegas tells AllAboutTheTEA.com exclusively.
She explains to AllAboutTheTEA.com that Meghan has a close relationship with a tabloid and using her connections to 'destroy' Villegas.
"She told me that she has a personal relationship with US Weekly and that she planning to destroy my life. After multiple phone calls and messages from Meghan, I decided to file a police report. I don't know what she's capable of and I need to protect myself and my family." Villegas tells AllAboutTheTEA.com.
Villegas continued: "US Weekly reached out to me with their story that clearly came from Meghan. She was the only person who knew my identity. She's out for blood and won't stop until I jump off a bridge."
Villegas concluded her statement with some sage advice for the reality starlet, "Instead of focusing on me, she needs to direct her attention on her three precious babies." 
Meghan King Edmonds Responds to Husband Jim Edmonds' 'Disgusting' Affair — Reveals She Feels Humiliated & Abandoned!
Share your thoughts on Meghan King Edmonds' alleged attack on Jennifer Villegas. Sound off in the comments below!      
"Like" us on Facebook "Follow" us on Twitter and on Instagram
Nancy Zhāng is an Entertainment Blogger for All About The Tea. Nancy covers hot topics, recaps and celeb news. She loves to multi-task as a writer and a private chef. She received a B.S. in Mass Communications from LSU. Nancy's married and the proud mom of 2 German Shepherds.