Exclusive
EXCLUSIVE: Jim Edmonds' Steamy Affair While Meghan Was Pregnant With Twins EXPOSED — D*ck Pics, Threats, Hush Money & More!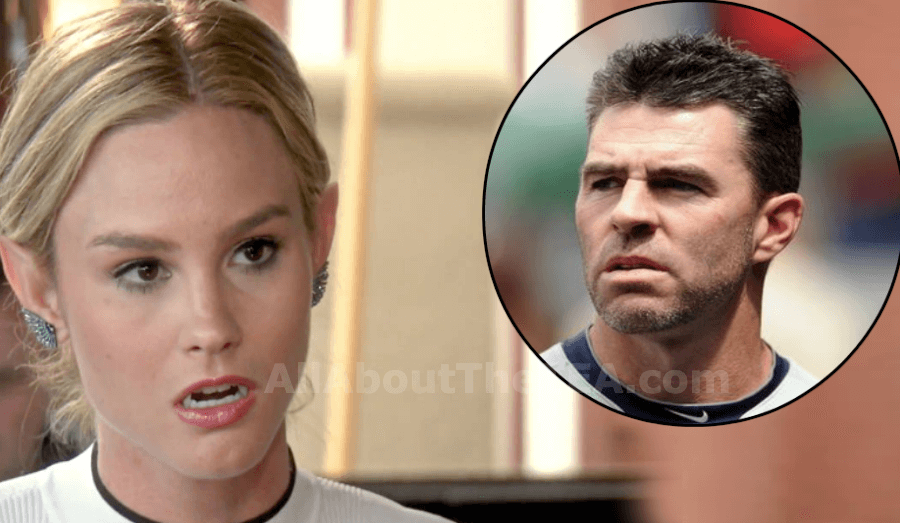 Real Housewives of Orange County alum, Meghan Edmonds' husband, Jim Edmonds is a cheater — and AllAboutTheTEA.com has exclusive details on his tawdry affair with the infamous baseball madame.
The mistress is well-known in the major league baseball community as the "baseball madame." She met the married man nine years ago, when Jim Edmonds' played professional baseball for the Cincinnati Reds.
The Backstory…
The two had a whirlwind romance while Edmonds was married to his second wife, Allison Jayne Raski. Jim and Allison were married from 2008 to 2014 — they share two kids.
RELATED: Bitch Stole My Life! Did Meghan Edmonds Rip Off Her Husband's Second Wife's Dreams?
According to a ROCK SOLID source close to the mistress, the reality husband reconnected with Jenn a.k.a "baseball madame" in March 2018 — while his current wife, Meghan Edmonds, was pregnant with their twins, Hart and Hayes.
"Jim sent Jenn a DM on Instagram in March [2018]. She had not heard from him in years. Their friendship sparked again and they started communicating on a regular basis." A source tells AllAboutTheTEA.com exclusively. "Their communications quickly turned from friendly to dirty texting."
"They went on a couple of dates and started having s*x in May (2018). They would meet up at hotels while he was on the road doing his broadcasting job. Jenn would fly into the city where Jim was working and stay with him." The source continued.
Read some of the couple's steamy DMs and text messages below.
The source claims that Jim is a "freak" and would routinely send "d*ck pics and sexual videos exposing himself," to Jenn.
Allegedly, the Fox Sports broadcaster sent his mistress a video of himself masturbating on the same day his wife gave birth to the couple's twin sons in June 2018. 
"Jim sent Jenn a video of himself masturbating in his basement while his wife was laid up in the hospital. She had just given birth that day." A source tells All About The Tea.
AllAboutTheTEA.com is in possession of video with the father of seven engaged in the act of masturbating.
Jim Edmonds and Meghan O'Toole King wed on October 24, 2014. The couple have three kids together: 1-year-old twins, Hart and Hayes, and two year-old daughter, Aspen.
Jim also has two older daughters with his first wife, Lee Ann Horton, who passed away in 2015 after battling cancer.
In a shocking twist, AllAboutTheTEA.com has learned that Meghan found out about the affair, confronted her husband and went berserk on the mistress. A ROCK solid source tells AllAboutTheTEA.com that the reality starlet called the mistress and left her the following threatening voicemail. Press play below to listen.
Piping Hot Tea…
Jim denied the extra-martial affair and claimed the woman was trying to blackmail him but went behind Meghan's back and hammered out a confidentiality non-disclosure agreement with the mistress — paying the baseball madame a hefty settlement in exchange for her silence. AllAboutTheTEA.com obtained a copy of the agreement — read excerpts below:
Meghan's first pregnancy with her daughter, Aspen, 2, was well documented during season 11 of the Bravo reality series. Jim appeared checked out of the process. In her July 25, 2016 Bravo blog, the mom of three noted that Jim was "removed" from their daughter, she wrote:
"I was really disappointed in Jimmy's lack of sentiment throughout my IVF process. And honestly, there were moments I was questioning if getting pregnant was even the right choice. Now that I am pregnant, he is so happy and excited for our baby girl to come, but at the same time I still think he's removed."
Meghan continued: "He's more excited about decorating the nursery and buying a stroller: things that are needed for a real life baby, not one in utero. He just isn't going through the hormones and emotions like I have been and I know as soon as our baby girl arrives, he'll fall in love and be just as excited as I am. Maybe it's like our new puppy, Girly Girl. He didn't want her at all! Now that we have her though, he dotes on her more than me and even wants to wake up for the middle of the night potty breaks!"
Meghan and Jim Edmonds joined the Bravo reality series full-time in season 10 and departed at the end of season 12.
Share your thoughts on Jim Edmonds' messy extra-martial affair with the infamous baseball madame. Sound off below!
"Like" us on Facebook  "Follow" us on Twitter and on Instagram