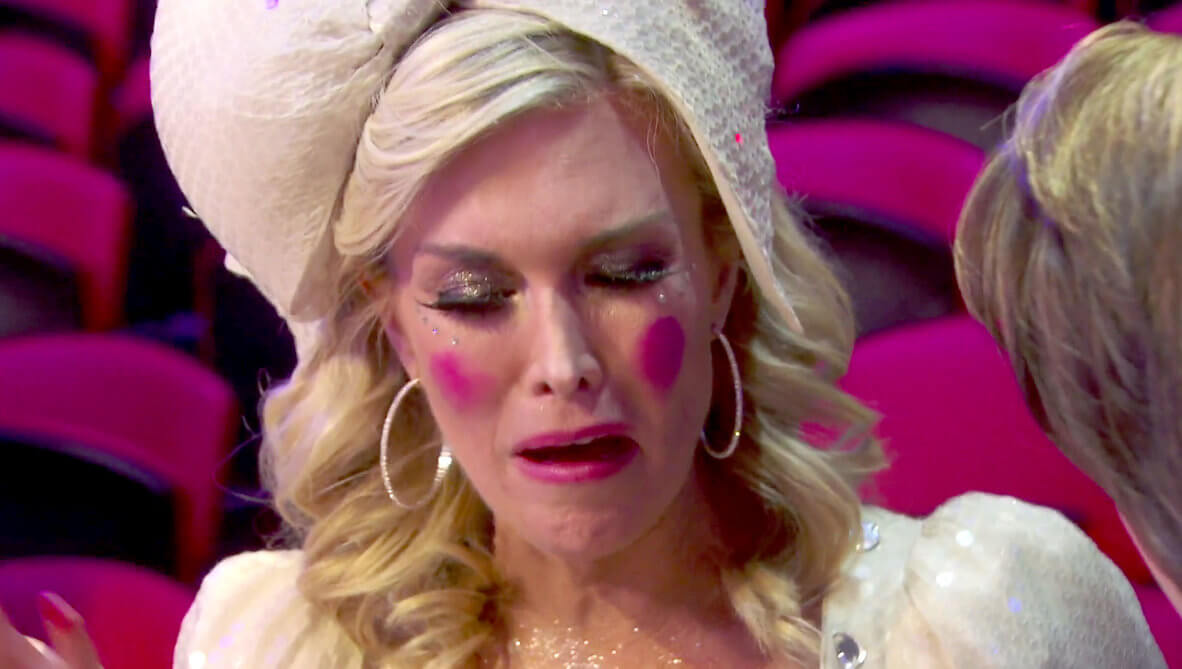 Real Housewives of New York Recap!
The Real Housewives of New York begins with a tale of two courts — the first chapter following Bethenny Frankel, as she heads to face another round in the custody ring. Bethenny's driver drops her at the courthouse, where she's greeted by a thirsty photog who can't wait to capture Bethenny's latest courtroom look.
We thankfully turn the page over to Luann de Lesseps, who's meeting with Bravo original, Jill Zarin, on a tennis court. Jill looks great, but Luann trumps her appearance by announcing that she's hit the big time, and taking her showgirl act on the road. Jill's panties are stuffed with balls, so the ladies swat them back and forth until Jill's dog storms the court, busting up the game. Jill asks Luann how she handles her show biz career while maintaining sobriety, and Luann admits that not drinking like a fish is a real challenge. Luann explains that her alcoholism is quirky, and adds that she was scared straight by her chilling mugshot. Luann is living one day at a time, and Jill is ready to support — especially on camera. Jill dishes a little about her new beau, and knows that her sweet Bobby wouldn't want her to be alone.
We check back in with Bethenny, who has weathered more tabloid worthy courtroom drama, and is ready to crack up under the pressure. Bethenny sets up a meeting to discuss unloading some brand responsibilities, a move she hopes will keep her out of the nuthouse.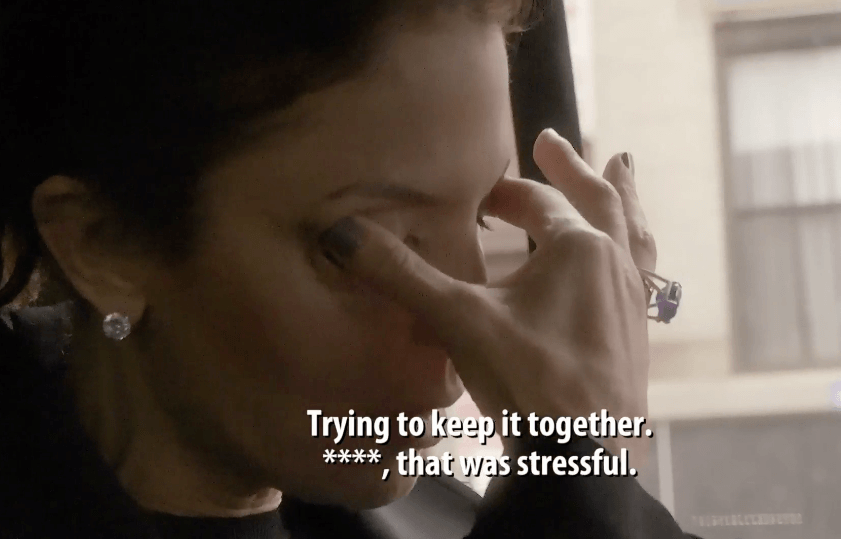 Tinsley Mortimer and Dale are celebrating Tinsley's flailing NYC comeback with a fancy brunch — the mother/daughter duo looking forward to Tinsley's Big Apple Circus debut. Dale offers inside commentary about her daughter's emotional baggage — and believes that she was hit the hardest by her father's abrupt battle with the bottle. They discuss the ongoing Scott factor, and Tinsley is still spinning in circles over the crashed relationship. Scott has straddled the engagement fence, and is keeping Tinsley on a hopeful ledge. Dale wants better for her fabulous daughter, but Tinsley clearly isn't sold. Tinsley babbles about Scott kinda-sorta-maybe shopping for an engagement ring — and her desperation is sad. 
RHONY RECAP: Tinsley Mortimer Has No Sympathy For Luann de Lesseps' Alcoholism!
Bravo inserts a rather déclassé movie promo next, and Sonja Morgan and Dorinda Medley have been recruited to obediently gush over the hawked film. They draw a plugged parallel between the breathtakingly relatable storyline and a  Ramona flashback reel, and debate Tinsley's rocky relationship with dodgy Scott. Tinsley is boinging between ecstasy and heartbreak, and the ladies know that she needs to cut ties, and move on. 
Bravo lightens things up, shifting to Ramona Singer, who's taking Barbara Kavovit on a charity fashion jaunt. Ramona's crazy eyes bleed every time she looks at the newbie, so she wants to fix her style, stat. We meet the enlisted stylist, and Ramona launches her mission with a few pointed insults. Barbara plays along like a good sport, before declaring that she likes rock star cool. Ramona just wants Barbara's gut covered, so the trio decides to go J-Lo classy. Barbara appreciates Ramona's snarky/generous gesture, and has fun revamping her style. Barbara looks great, and she's glad that Ramona cut the bitch act long enough to help her hammer out a look. Ramona agrees that her tongue can be a dangerous weapon, and admits that she needs to work on a softer approach.   
We strut over to Luann, who's busy rehearsing a number for an upcoming Halloween bash. She plans to film a vid to promote the event, so Sonja shows up to pop a dirty nurse pose with the star of the show. Meanwhile, over at Skinnygirl headquarters, Bethenny's face is on the brink of collapse, so she's ready to negotiate a semi-sale of her biz. She meets with a brand pro who's ready to nail down potential deal options. Bethenny has come a long way — but is ready to slow her frenetic life down. 
The bigtop boozing has officially begun, and Tinsley is busily prepping for her circus splash. Dorinda, John, Sonja and Ramona, along with Dale are there to support, and Sonja hopes to bag a cute circus freak before the show's over. They all hope that the gig will be a confidence booster for Tinsley, but her costume doesn't exactly scream big city comeback. Tinsley spins down from the ceiling on a hoop, and manages to pull off a peppy welcome. Dorinda secretly knows that she could have smoked Tinsley's performance, and plots to score the gig next year. Dale drops a tipsy clunker, breathing the word "Scott" in jest, and Tinsley blasts her for it in a confessional spot. Ramona grabs the first chance she gets to bolt, because "the thing with the hoop" is over anyway. Sonja is pulled from the audience, and although the performer shoots down her advances, she's thrilled with the ringside nomination. She performs like a zany pro, and Tinsley and Dale are impressed. Dale throws shade at Tinsley's bit part, and considers adopting Sonja. The ladies continue to slug down wine, and Sonjaand Tinsley make a few inappropriate grabs at a trapeze artist, before the show ends.  
Dale compliments Tinsley on her big night, and assures her that her dad would be proud. Tinsley isn't buying Dale's supportive act, and breaks down, admitting deep sadness and depression. Dale commands her drunk daughter to cheer up, and points out that it's the breakup that's triggering the slurry waterworks. Tinsley sobs that her childhood dream come true  didn't bring happiness, and admits that she's miserable. Tinsley is desperate for love, but Dale orders her to buck up, leave Scott on the fence, and be thankful for her privileged life. Tinsley is broken over her being abandoned by the men in her life, and devastated that a ginormous bow and glittery tights couldn't save the day.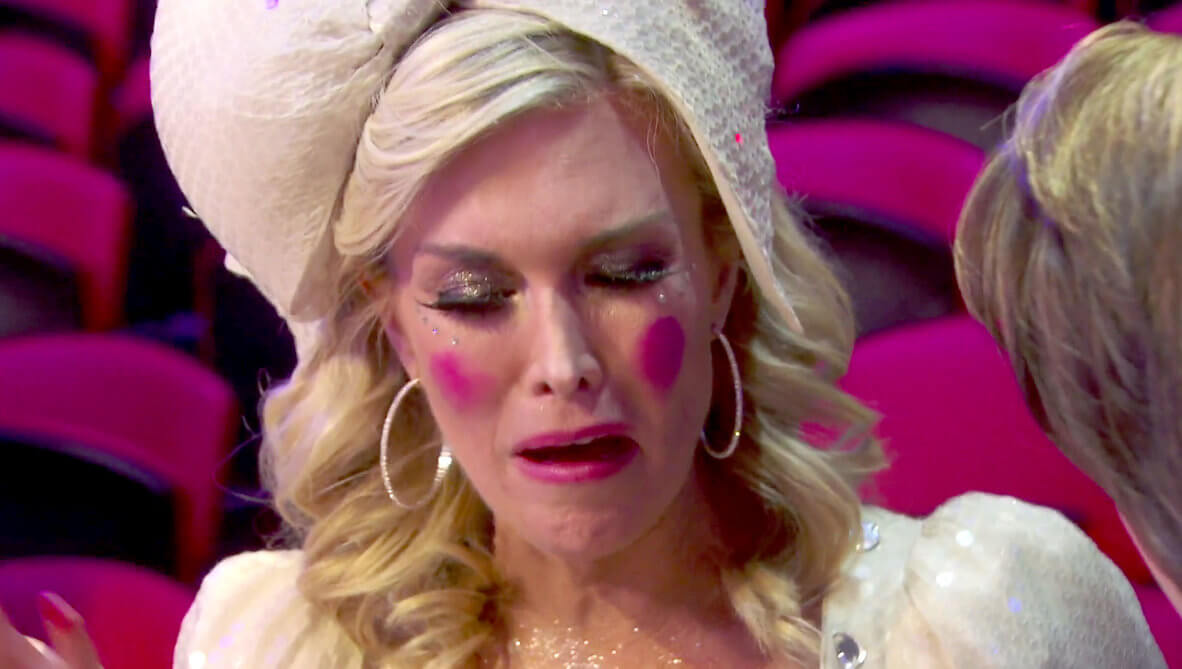 Next week on the Real Housewives of New York, Luann brings down the house, and Sonja CLIPS Dorinda. 
"Like" us on Facebook  "Follow" us on Twitter and on Instagram