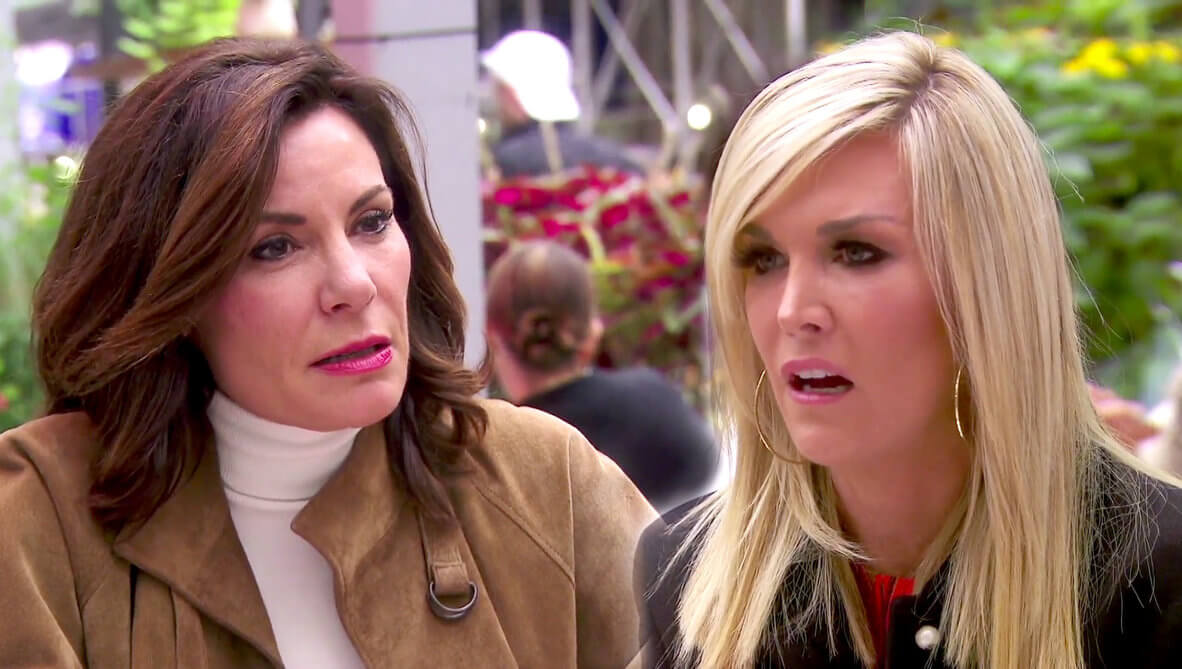 The Real Housewives of New York picks back up in the boozy Berkshires, where Sonja Morgan is flipping her lid at the dinner table. Dorinda Medley manhandled her married past, so Sonja weeps hysterically, while the other ladies try to talk her back into the present. Ramona Singer predicted Sonja's mental collapse, so she orders Barbara Kavovit to shut up, until she gets up to speed on everyone's sordid past.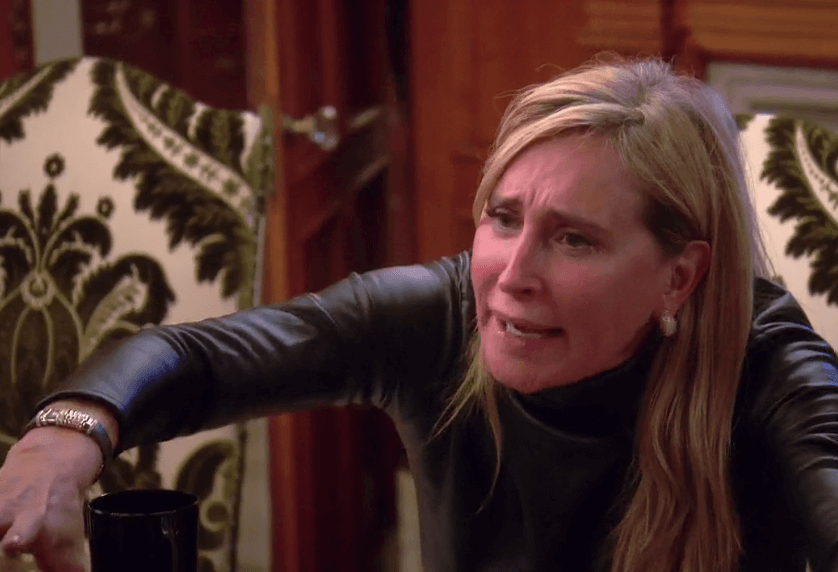 Bethenny Frankel drags Sonja back to reality, and bellows at her to swap booze for water. Ramona struts into the room like an underdressed barfly, and after Bravo yells cut, the party really gets started. Phone footage records a drunken dance party, which successfully scares Barbara into her shark room. The next day, the ladies are in recovery mode, and Barbara can't wait to escape. Dorinda is happy that she reconnected with Luann de Lesseps, but probably even happier about Barbara's exit.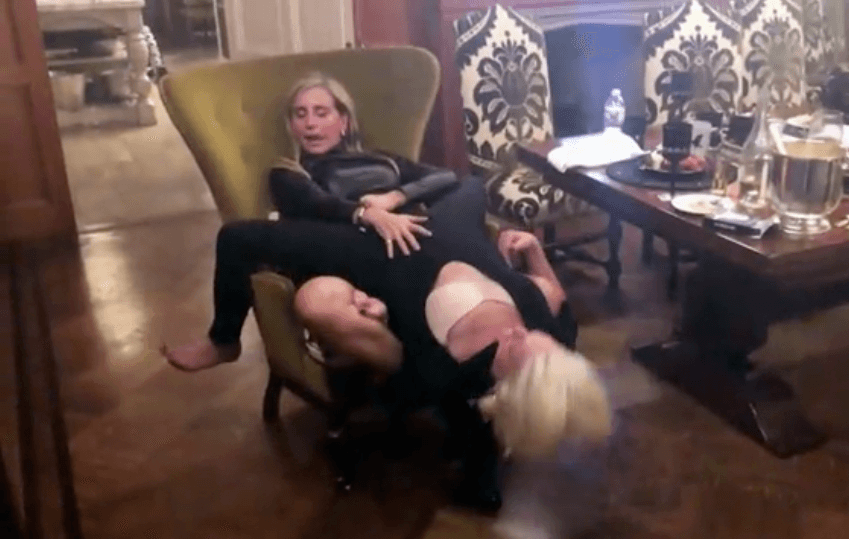 Dorinda and Bethenny go out for a power walk, and Bethenny can't wait to reveal some chilling news. Bethenny explains that she found a random mystery note in her Boston hotel, that she suspects was sent from the hereafter. Bethenny adds that she looked extra hot during her New England rendezvous, and Dennis' ghost noticed. Someone named "D" left a secret admirer note by a random elevator, and Bethenny doesn't know whether to be spooked or flattered. Dorinda is impressed by Bethenny's collision with the supernatural, and assures her friend that "D" just wants her to be happy. Bethenny is becoming a believer in "signs" — especially complimentary ones, addressed to whomever.
The ladies are back in the city, and Bethenny is planning a snuggle day with her daughter. Her latest love story is the real deal, but that doesn't squelch Bethenny's on camera grief story. Bethenny and her housekeeper look over some sentimental photos, as Bethenny continues to bounce between wrecked widow and giddy girlfriend.
We jump over to Ramona, who's meeting Luann and Sonja at a salon for a gossipy blowout. Ramona rewinds Luann's hotel hissy fit, and Luann declares that her bratty routine worked like a charm. Sonja tells Luann that Bethenny was hurt by her Berkshires bitchery, and was shaken that Luann dared to demand her room at Blue Stone Manor. Luann rolls her eyes and taunts Bethenny to wah-wah at someone else. Ramona interjects her opinion via a confessional spot, delivering a signature WOW at Luann's uncool attitude. Sonja reminds Luann that Bethenny saved her drunk pancake ass, and Luann cosigns a vague memory of the recent backside drag into rehab. The ladies giggle and titter over Luann's entitled attitude, and the cabaret star proclaims that she's up for Round 12 with the HBIC. 
Sonja and Ramona take a jaunt to a flower shop, to pick out some gigantic  arrangements for Bethenny's upcoming dinner party. Sonja schools Ramona in texting etiquette, and points out that the bitch is shamelessly stealing her butt-kissing look. Meanwhile, we learn that Tinsley has invited Luann to meet for coffee, to offer insight as a child of an alcoholic.
Tinsley Mortimer shares some painful memories, hoping that Luann will understand her perspective. Tinsley is angry that her father chose alcohol over his family, and resents slipping into old coping patterns around Luann. Luann reminds Tinsley that alcoholism is a disease, but Tinsley has scars and her viewpoint is a sensitive one.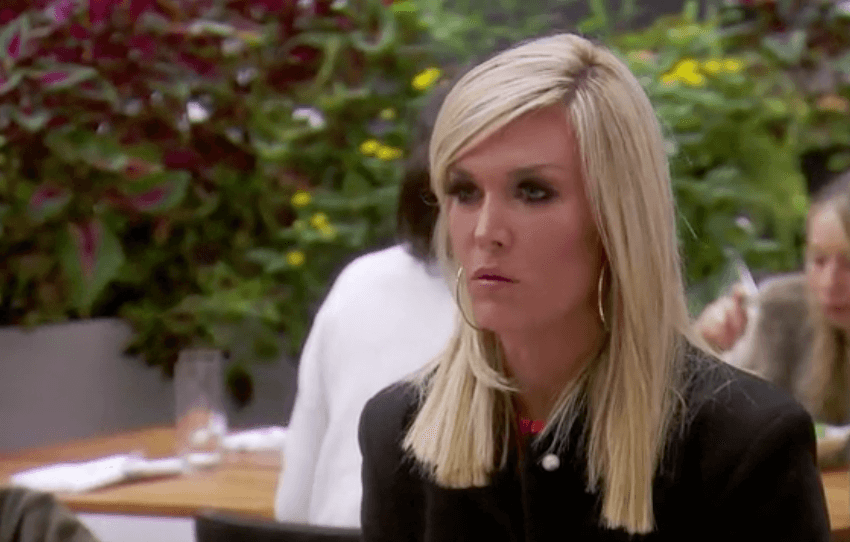 Luann recommends connecting with Al-Anon, and even offers to go with her. The tone abruptly brightens when Tinsley announces that she's been hired to crack a circus ringmaster whip — quite a bump up from a dog shelter runway rep. Tinsley is getting out there — waaaay out there.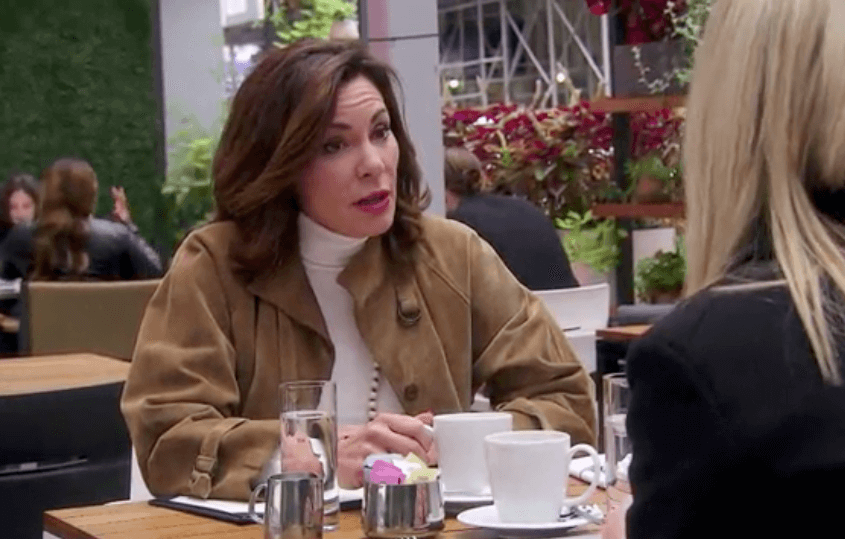 Bethenny is busy prepping for her dinner party by getting shot up with health and wellness — hold the energy bump. Bethenny has a pro on board to give her an IV boost, because she's dehydrated, pimply, and dealing with an alive ex-boyfriend. Bethenny was madly in love with Ross until Dennis butted his diamond ring into their love affair — yet another hurdle in her man-magnet reality. The ladies begin to arrive in their assigned sparkles, and Ramona kicks off the evening by demanding bar favors.
The food looks delish and the ladies look dazzling — but Luann arrives over an hour late. Luann cries traffic problems only suffered by cabaret stars, before Dorinda gets the party started by shading Barbara for dissing her stuffed shark. She delivers a bonus jab before Bethenny kicks off a round of Truth or Dare. Ramona is immediately confused by the game, so Luann jumps in and dares Bethenny to lay a wet one on Barbara. The ladies enjoy the girl smooch — swiping Sonja's exhausted shtick. Dorinda stutters her way through a forced love chat with John, while the others pressure her to embarrass them both on national TV. 
Tinsley declares that she isn't into phone sex, adding that she learned her lesson about spilling sex life secrets on camera. Bethenny dares her to publicly slam Scott with an ultimatum, which she mercifully refuses. Tinsley knows that Scott wouldn't appreciate the Bravo tomfoolery, but the ladies refuse to grasp a normal male perspective. Dorinda shuts down Barbara's pot-stirring cold and after swapping barbs, the ladies decide to rumble after the party. Bethenny continues to nag Tinsley into submission, and Tinsley clarifies that Scott isn't keen on having a reality star for a girlfriend.
The push-pull struggle between career and bagging a baby daddy is real, but the ladies keep pushing Tinsley to cave. Bethenny informs her that no one should dictate her happiness, and informs America that Tinsley is no role model for women. Tinsley cracks and breaks down in tears, distraught over being forced to justify her frustrating love life. Dorinda tries to comfort her friend, and Bethenny astutely points out that Tinsley's gasping sobs don't exactly point to happiness. Tinsley is trapped in a controlling heart shaped box, and is tired of juggling with her future. Tinsley loves Scott, but Bethenny advises her to get the heck out of the passenger seat and let him drive out of her life.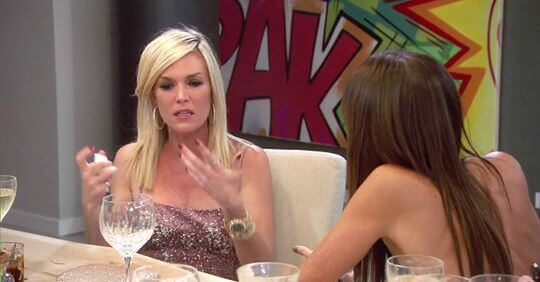 Next week on the Real Housewives of New York, Mario Singer busts back onto the scene, and the circus rolls into town, just in time for the ringmaster's breakup.
"Like" us on Facebook  "Follow" us on Twitter and on Instagram