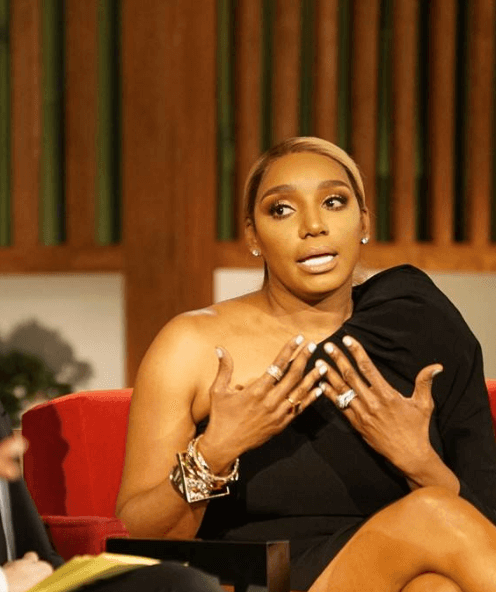 On Part two of The Real Housewives of Atlanta season 11 reunion airing Sunday night — NeNe and Gregg Leakes' marriage problems are front and center.
"Does he get on you for revealing too much about your relationship?" Cohen asked in the clip below of The Real Housewives of Atlanta reunion.
"Oh, yeah," NeNe admitted.
"Oh, he does?" Cohen continued.
"He gets on me about revealing a lot of things," she confessed.
The host, Andy Cohen, then asked Gregg: "You take issue with some of the things she says on the show?"
"I think that there are limits," Gregg replied. "I think spoon-feed them. Don't shovel-feed them."
"There's a lot of things I don't say," NeNe clarified. "Greg knows that."
NeNe Leaks Exposes Cynthia Bailey's FAKE Engagement To Mike Hill — Says Cynthia's Trying To Secure 'RHOA' Job!
Andy continued the narrative — pushing for more details from Gregg: "That was so long ago that that really just didn't have any weight," Gregg somberly replied. "The hurt from that got removed from me a long time ago."
"Maybe it didn't get removed from you?" Cohen asked NeNe.
"Maybe," she agreed.
Press play to watch below.
NeNe and Gregg's marriage took a huge hit after his cancer diagnoses. A few of NeNe's co-stars accused her of mistreating her husband during his cancer fight.
Gregg Leakes was diagnosed with cancer in June 2018 and completed six months of chemotherapy at the end of March 2019.
Real Housewives of Atlanta season 11 reunion part two airs Sunday, April 14, on Bravo, at 8:00 p.m. ET.
"Like" us on Facebook "Follow" us on Twitter and on Instagram