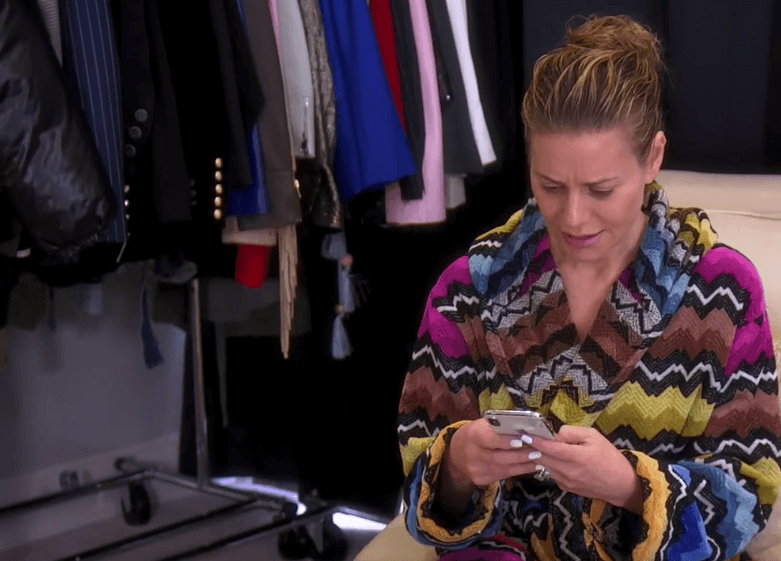 Welcome back to The Real Housewives of Beverly Hills! There's good news and bad news. The good news is we almost make it through an entire episode without #PuppyGate. The bad news is we didn't make it through the entire episode without #PuppyGate. We begin with Erika Girardi and her glam/dance squad as they plan her 15 city tour that will be "moody." Urban girl meets Barbie meets Hello Kitty meets gladiator meets grim reaper. WTF is that, you ask? It's Erika's moody mess tour! 
Next up we join Kyle Richards, Dorit Kemsley and Teddi Mellencamp as they shop for wedding gifts for Denise Richards. They don't know what to get Denise because they don't know Denise. Kyle tells them about dinner with Denise bragging about Aarons' big dick. So no dildo needed as a gift. Kyle says she can't go to Denise's wedding because she's throwing a party for The Agency and she's bummed the cameras won't be at her house to miss it. Kyle wants to see what a wedding planned in two-days looks like. Shade alert!
Cut to Denise Richards, Aaron and assistant Mikey arriving at Cypress Sea Cove. This place and the view is gor-ge-ous. They've secured the place, now all they need is the flowers, the food, the drinks, the cake, the music, the pastor, the artist, and the all-important bathrooms. Denise said her last wedding was more special than the entire marriage. Speaking of Charlie, he's invited to the wedding, too.
'RHOBH' RECAP: Kyle Tries to Cover-up Teddi's Involvement In Puppy Gate After Lisa Vanderpump Produces Receipts!
Back with the ladies still shopping at the small gift store, they talk about their weddings. Dorit's goes like this, Blah, blah, blah, blah, blah, Gatsby theme. Kyle brings up the fact that Teddi will see Lisa Vanderpump at the wedding. Way to stir the pot. Teddi says it will be fine because they can co-exist. Dorit says Vanderpump will either take jabs or ignore her. Kyle has tried to get the ladies together, but it was a no go. For the wedding presents, Kyle and Teddi purchase crystal bar gifts while Dorit gets off cheap by offering to get a bottle of Tequila. 
Meanwhile, Rinna is sooo busy hustling to stay relevant support her family. She calls Denise to tell her she'll be back in time for the wedding, she's in Pennsylvania earning the Benjamins. She thinks Denise has gone through a lot and deserves to marry whomever she wants. Rinna tells her wedding story and it goes like this, Blah, blah, blah, blah, blah, lots of candles. Rinna wishes Denise all the best.
Up next we join Vanderpump and Ken at the fancy kitchen store because she hates her dark kitchen at Villa Rose and wants a new one even if it costs $300K. Ken pays because it's called retail therapy.Vanderpump cackles as she gets her way.
Twas the night before the wedding, Denise and Aaron are chatting with their friend who will be officiating the ceremony. Denise tells him that Charlie may or may not show up and he may or may not bring a prostitute. Also, Denise wants her dad to light a candle in honor of her mom, so that's sweet, too. But get this, Denise only told her girls about the wedding two days ago. She regrets not telling them sooner, but hey, it's Hollywood, they're cool like that. And the word prenup is never mentioned. Aaron gives Denise's daughters necklaces and they love it.
It's the day of the wedding, about an hour before it's supposed to start and Denise is nowhere near ready. She also has no idea if everything at the venue has been set up properly. Most of us would be freaking out, but not Denise. She's at home, getting her hair and make-up done, with her adorable girls and their adorable dog, Luke. He should be in the wedding. He's the Archie of The Real Housewives of Beverly Hills. Did you see how he slept on his back? So cute!
Erika picks up Rinna on the way to the wedding wearing one of Rinna's poly-spandex jumpsuits that probably sells for $39.99 on QVC. Whatdafuck? Erika supposedly has the coolest closet in town and she wears that? The guests begin to arrive at the venue. Camille's dress is stunning. That's how you dress for a wedding. Teddi plans to be cordial to Lisa and jokes that she only ruins birthdays, not weddings.
Denise's dad is at her beach house and he looks great. He reminds Denise that she is officially late for her own wedding. Denise doesn't care. Thirty minutes later, the dress arrives and she tries it on. It's very beachy-sexy and looks nothing like the sketch that was given to her.
Lisa and Ken arrive at the venue and everyone kisses. Teddi doesn't though, until she leaves and it's only an air kiss. Dorit tells Lisa that her boobs are huge and they laugh because that's funny? Rebecca Romijn and housewife super fan Jerry O'Connell show up. Erika points out that Rebecca is also wearing black, so suck it, they're both breaking norms. It's 45 minutes past wedding time and Teddi has noticed that Denise is very late. And poor Erika is melting in her polyester pantsuit. Serves her right.
At last Denise and Aaron and family get into the limo and head to the venue. Rock music blares as Denise's two daughters, and then Denise, Aaron and Eloise walk down the aisle hand in hand. The pink roses behind the couple are a giant figure eight, on its side, because that's Aaron's favorite number. A helicopter is above the couple, snapping pictures, while another guy is in the bushes. The couple exchange their vows and seal it with a kiss. Congratulations they are now husband and wife!
Charlie was a no-show, but Patrick Muldoon is there. Who's he? An actor that shagged both Rinna and Denise at the same time, but not at the same moment. Lisa Vanderpump asks him who was better, but he doesn't answer. It was the 80's. Denise is not bothered at all that the ladies are cutting out early. She's ready to hang with her new family. And Dorit had fun with Lisa and feels they will finally move on from #PuppyGate – without an apology from either side, but hey, whatever, it's over.
Not so fast. Over at Dorit and PK's rented mansion, she asks for an hour of his time. Just then Dorit gets a Google alert. "OMG, OMG," Dorit shouts. She's just received an article from Radar Online about #PuppyGate titled, "Stabbed in the Back." She reads it out loud, and it sounds pretty straightforward, but Dorit calls it a lie.
She's worried people will read this and think she doesn't like animals just because she returned one dog to a kill shelter. Life is so unfair! PK thinks the "friend" quoted in the article is Lisa Vanderpump. Dorit points to the word "nipped" as proof. Only English people use that word, ever. PK thinks the article is below-the-belt. Dorit thinks this is a whole other level of betrayal. How dare Vanderpump try to make this about a dog when this is about her!
Next week on The Real Housewives of Beverly Hills, we go back to the very beginning – the fight between Kyle, Lisa and Ken. Dun, dun, duuuhhhnnn.
"Like" us on Facebook "Follow" us on Twitter and on Instagram