Real Housewives of Beverly Hills Recap!
This week on The Real Housewives of Beverly Hills #PuppyGate continues. I'm sure nobody is shocked, but it's shocking that Bravo thinks we're idiots who will watch this one-dimensional drivel week after week. Some of these housewives need to get real and get their own storylines. Andy Cohen, please get your people back into the editing room!
We begin with Kyle Richards who is losing another bird from the nest. Sophia is going off to college in Washington DC, that she presumably got into on her own and not because of a bribery donation from her parents to attend George Washington University. Kyle is struggling with her emotions, but the entire family is going to DC to send Sophia off. Hopefully they locked up the house better this time.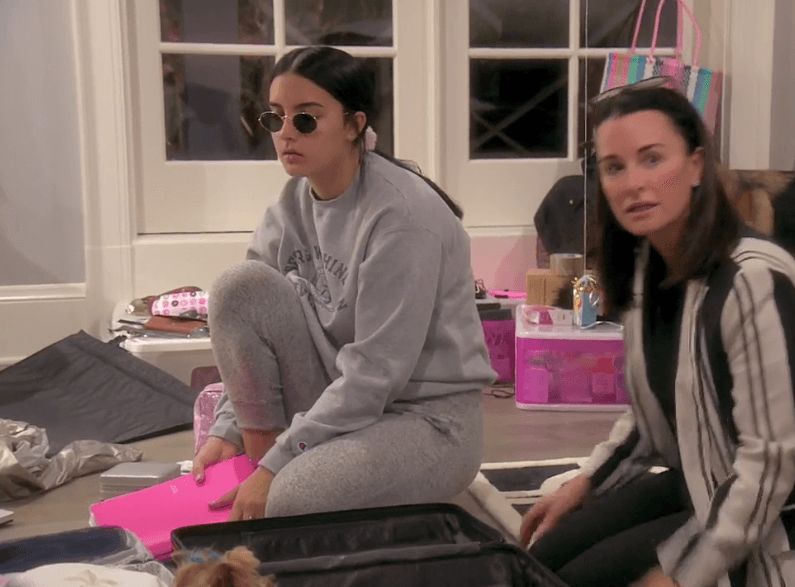 Over in Malibu, Lisa Rinna and Denise Richards meet up to sort-of hike. Rinna is wearing the Erica Jayne "pat the pussy" tank top as the two discuss the Bahamas trip. Denise says she loves Erika and LVP. I'm sure this makes Rinna cringe, but she is mum. Denise announces that Aaron's divorce has finally come through from Nicolette Sheridan and they will be planning a wedding soon. Rinna hops up and down because she is secretly happy that Nicolette is divorcing yet again.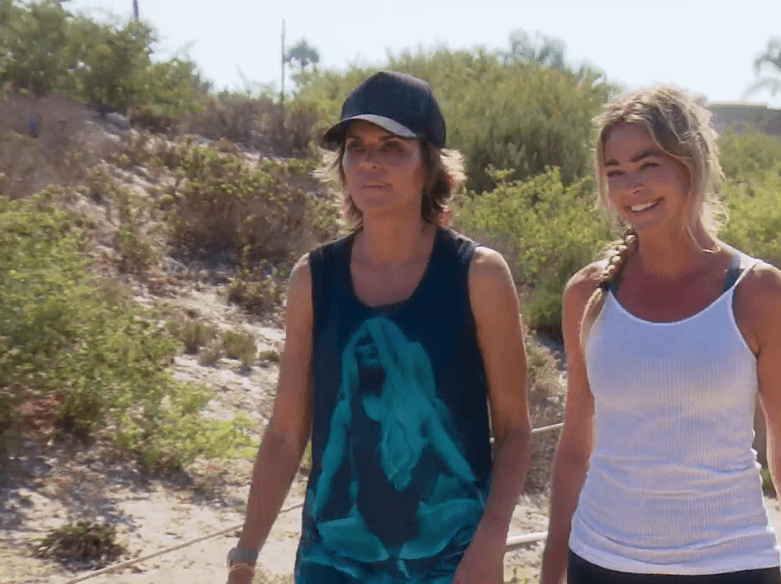 Next, we check on Dorit Kemsley and PK. Dorit is exhausted because she's been "working" all day. PK is worried about LVP because she didn't text him on his birthday and she's a "master manipulator." PK asks Dorit if there's any chance that Teddi is making this shit up about the dog. Dorit says she believes Teddi Mellencamp. PK tells Dorit to only ask Lisa aka "her majesty" for one apology. I guess PK knows Dorit is the kind of woman where one apology isn't enough.
Later that week, Teddi visits Erika at her home for more validation and plugs her workout video while she's there. Erika gives her a tour of her home and brings Teddi to the chapel. It's confession time! Teddi once again tells her saga of how she was contacted by Vanderpump Dogs because Lisa wanted her to know that Dorit returned the dog to a kill shelter. And she won't do Lisa's dirty work. No siree. Don't forget Teddi told us in the very first episode that she and her daughter made weekly visits to Vanderpump Dogs.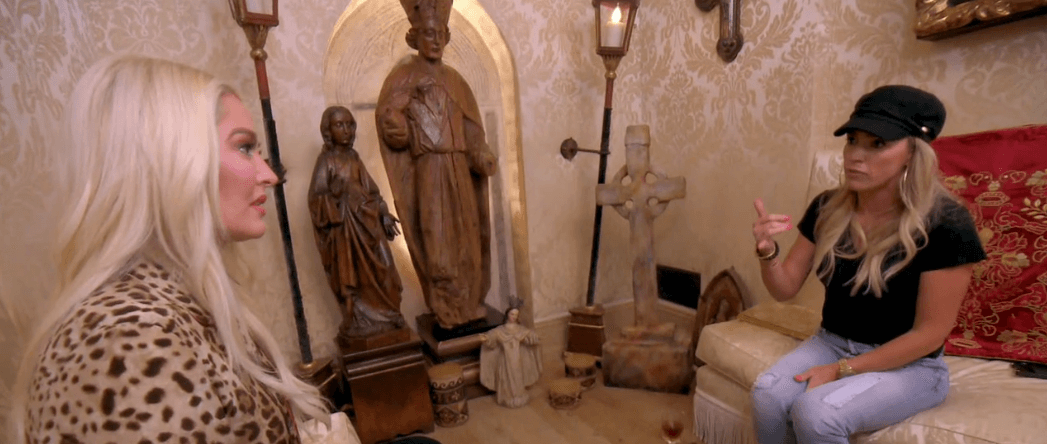 Cut to Lisa at home having a chat with John Blizzard, the VPD event planner who caused all this. He stops by to explain his relationship with Teddi and how this text exchange came about.
We cut back to the chapel, Teddi tells Erika she realized she was being set up when LVP kept insisting she didn't want to talk about Dorit's returned dog. To be clear, Teddi didn't realize she was being set up until Rinna told her she was being set up in the Bahamas. Erika doesn't believe Teddi is as innocent as she claims, but is willing to ride this storyline since she doesn't currently have one of her own.
Once again we cut back to LVP as she explains to Blizzard that apparently Sessa lost his mind over Lucy going to a kill shelter and said, "Lisa said tell whoever." Lisa says this was taken out of context. What she said was she didn't care if they told Donald Trump – which doesn't make much sense either. LVP tells Blizzard he has stepped in giant pile of dog shit and gotten it all over everyone. Blizzard says Teddi is very involved at Vanderpump Dogs and that's why he told her about Lucy.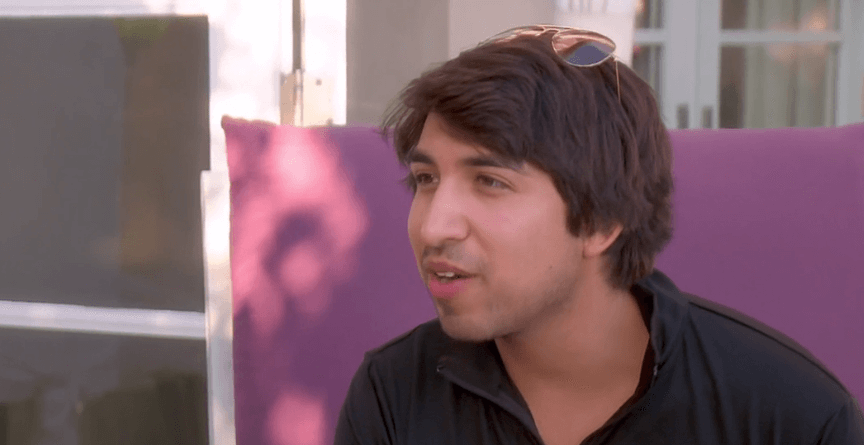 Now we are back at George Washington University and mom and dad are so happy that Sophia got into a prestigious university presumably all by herself. Unfortunately, Sophia is not impressed with her meager dorm room furnishings and her regular window. Oh the horror!
Over at Rinna's place she is getting all dolled up for CVLUX magazine shoot. It's high-fashion in the garden even though Rinna doesn't garden. Rinna thinks the problem with LVP is she takes herself too seriously, and that ages you. Everyone should be more like Rinna. She's killing it in life. Rinna makes several outfit changes and brags about what a hustler she is and how this has made her relevant at the cost of her integrity.
Back in Washington DC, Kyle gets a phone call from Teddi so Mauricio curls her hair – and he's pretty good should he require a career change. Teddi tells Kyle she's just come from Erika's house who told her everyone believes her and not LVP. That's not exactly what Erika said, but Teddi hears what she wants. Kyle tells Teddi to think about LVP's next move because obviously it's like playing chess with Bobby Fisher.
Teddi, Erika and Dorit are riding horses today. This time Dorit doesn't wear high heels, though she is wearing Chanel suspenders. She tells the girls she's ridden horses all over the world and isn't she special. Afterwards, they go to a local eatery and discuss how they manage their men. Dorit is struggling to keep up her night time social life with PK because she's a "working" mom who cherishes her time with her kids. Teddi tells Dorit to call him Superman and all will be well because men are stupid. Erika fully admits she pulled a bait-and-switch on Tom.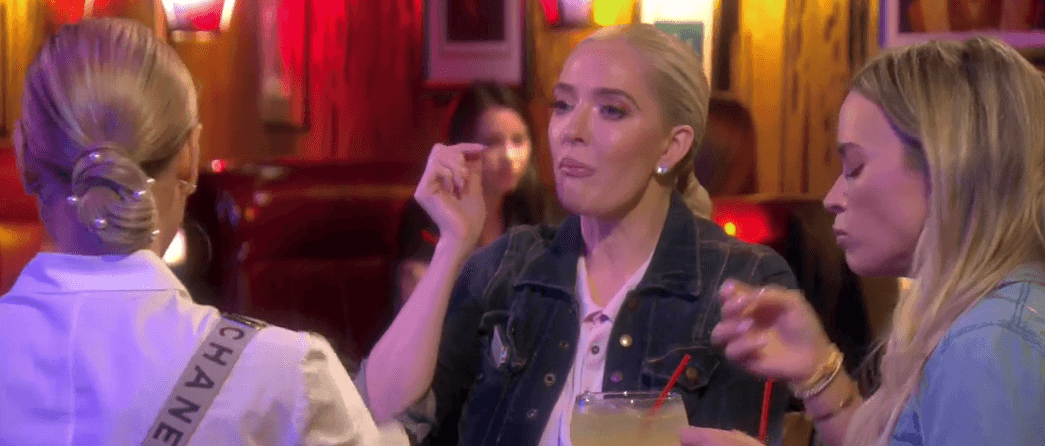 Back in DC again, over dinner, Mauricio tries to lay down the law on how much Sophia can spend while at school. Mauricio says no credit card unless it's an emergency and she will be put on a budget. Sophia is stunned because she has nothing. Absolutely nothing. Kyle toasts Sophia on her amazing school choice, which presumably she got into all by herself, and will miss her every single day.
Next we join Denise and Aaron on a date as they order complicated drinks. Denise shares in her testimonial that things went sideways with Charlie Sheen shortly after she got pregnant, and when she left him, it was as dramatic as a Lifetime movie. Aaron shares that his divorce lasted longer than his marriage and he never wanted to get married again – until he met Denise. Denise feels fortunate to have Aaron because she has a "U-Haul of baggage" including a crazy ex-husband. Aaron explains that if they get married in ten days it works out in numerology as infinity. Denise doesn't give a crap about numbers, she just wants to marry Aaron. So ten days it is.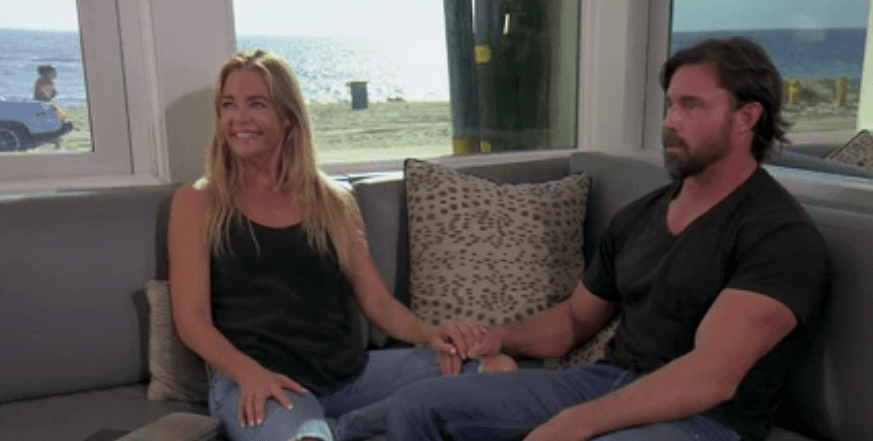 We are back in Washington DC for the last time. Everyone's very sad. Okay, say goodbye already and let this girl get the education she presumably qualified for all by herself. Kyle promises Sophia if she needs her, she will drop everything and get on a plane. Kyle goes to her hotel room and sobs. So does Porsha. Sophia will be missed and will get over her homesickness faster than you can say: emergency retail therapy.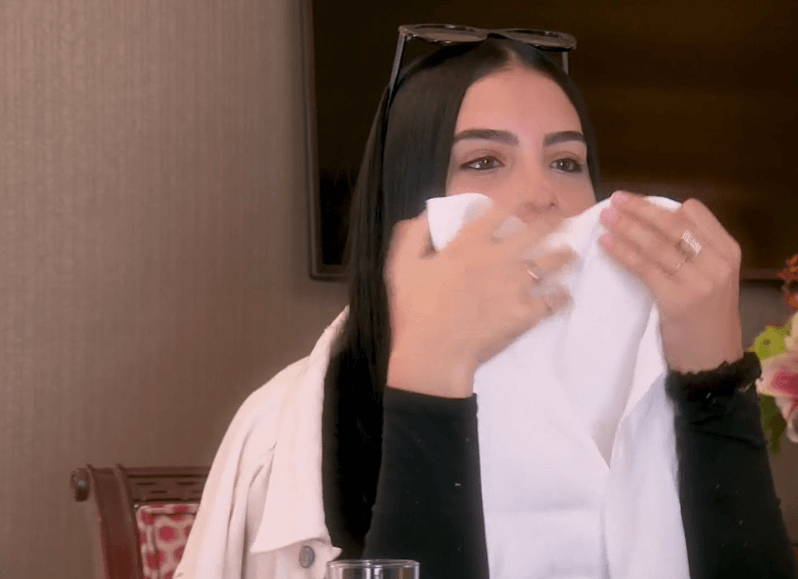 At last! It's confrontation time. Lisa has invited Dorit and Kyle over for rosé and receipts. Kyle shows up in all pink and Dorit is shocked Kyle would do that? And then Dorit is shocked Lisa isn't serving lunch at four o'clock?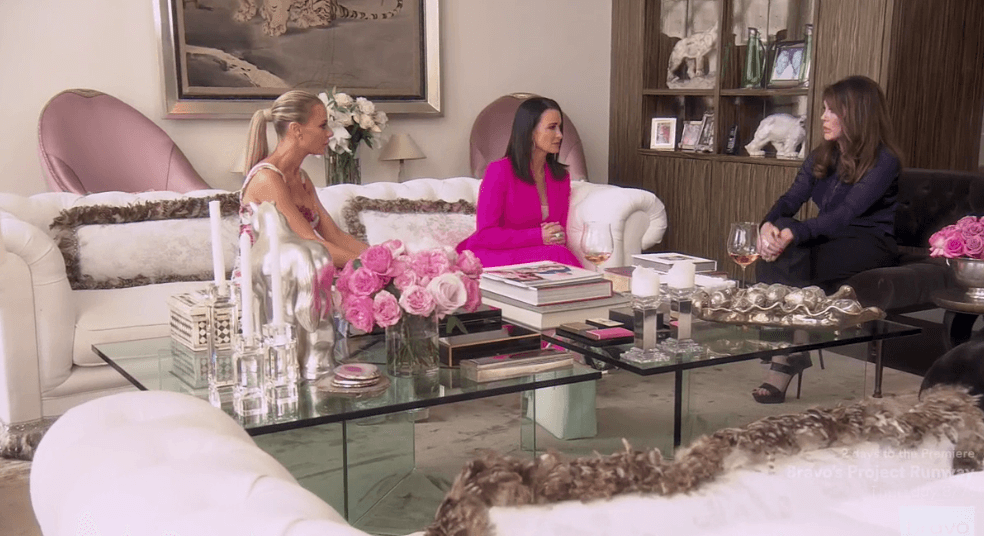 Lisa reads the texts. Kyle agrees that Teddi's hands aren't clean, but feels Teddi didn't initiate the plot to expose Dorit. So how did LVP know that Teddi knew?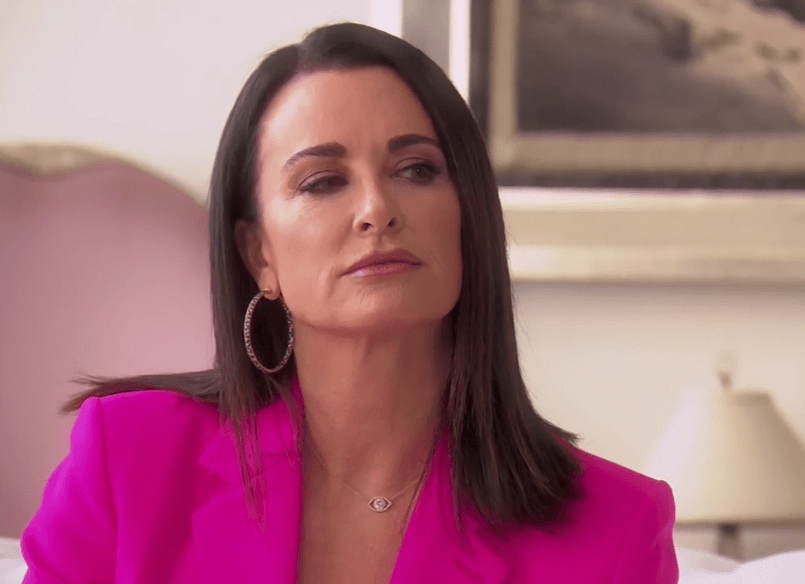 She was at Vanderpump Dogs when Teddi and Kyle discussed/didn't discuss Lucy's journey to the kill shelter and back. Dorit doesn't know who to believe. LVP is mad it isn't an easy choice. Dorit says this whole thing is disgusting. Lisa asks Dorit if she thinks Teddi is guilty by omission and Kyle just wants to sweep the dog under the rug and move on.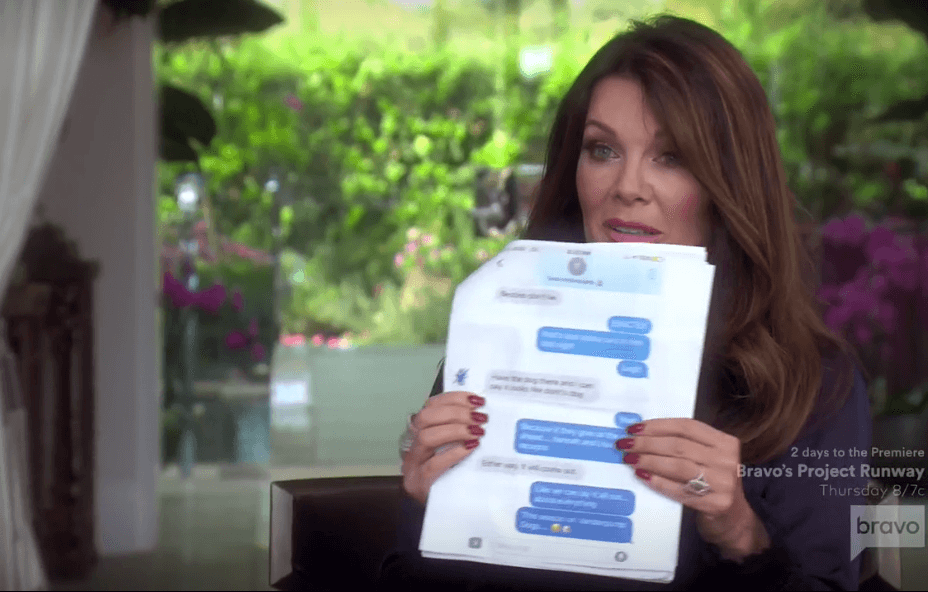 Next week on The Real Housewives of Beverly Hills  — the women confront each other yet again over #PuppyGate. Andy, seriously, recut the remaining episodes. Please!
"Like" us on Facebook  "Follow" us on Twitter and on Instagram