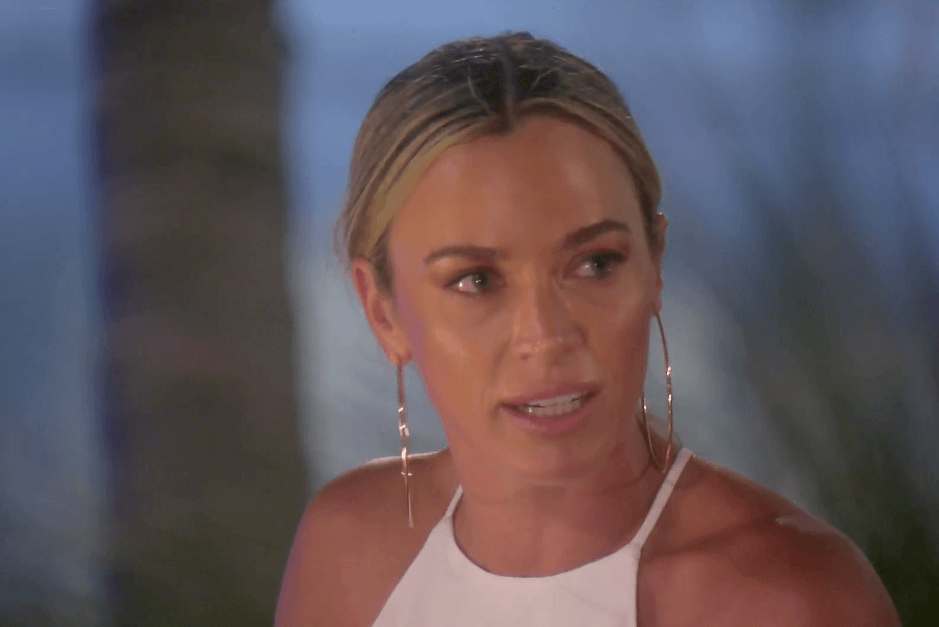 It's a dog-eat-dog world on The Real Housewives of Beverly Hills  — and Teddi Mellencamp Arroyave and Lisa Vanderpump are feeling the heat.
Teddi claimed on Tuesday's episode that Lisa was behind exposing Dorit's dog adoption gone wrong — but Lisa said no way, blaming outspoken Vanderpump Dogs reps for ratting out Dorit on camera.
Ken Todd revealed some damning texts between Teddi and a Vanderpump Dogs rep as Tuesday's episode wrapped — and Teddi used her Bravo blog, to tell her side. 
Teddi admits that she agreed to sell Dorit out on camera — but insists that the plot originated with Lisa.
"John Blizzard called me to tell me the dog story at Lisa Vanderpump's request, knowing that Dorit and I were in a bad place. He tells me that Dorit would not call Lisa Vanderpump back and that Lisa wanted to text her "Teddi knows" in an effort to get her to respond."
Teddi admits that she "originally agreed to be a part of this mess" and that she asked Blizzard to "have the dog" at the rescue center, where the scene would be filmed. Teddi explains more key details — and alleges that Lisa was in cahoots with Blizzard and Vanderpump Dogs executive director, John Sessa.
There were a lot of calls and texts as the Johns (Blizzard and Sessa) figured out the "plan" with LVP and I waited for her instructions.
I knew things were not as they seemed that day at Vanderpump Dogs which explains my hesitation at bringing the dog up. Please rewatch John Sessa's reaction when LVP says "stop." That says it all. LVP was not playing to the scenario she had set forth.
When LVP started with the "Teddi was gossiping" stuff, I knew that this was all being twisted in my direction. We see in the scene with Dorit in the premiere episode that LVP was already laying the groundwork for this.
Teddi writes that she's angry at herself for going along with the alleged plot — and admits that she is not innocent. 
I am now angry at myself for going along with something designed to hurt Dorit, especially when the dog's well-taken care of. I am also angry that LVP would play against my hard feelings with Dorit. That is why this has become about something other than the dog. Had Vanderpump just admitted she was upset with Dorit and wanted the story out there, this would all be put to rest.
As I've said continuously, I am not innocent in this. I fully accept my fault in everything that has taken place so far. I show a cropped version of one of the texts to the group in tonight's show; it was the easiest way to show that specific part. Now you can see the full thing.
This is the text I show at the table tonight. I had cropped it on the show to get to clearly show Blizzard's "YES" to LVP telling him to tell me. This is the full text. Also shows Ken was in contact with Blizzard about this as well. #moretocome #RHOBH pic.twitter.com/jSMK2uClyA

— Teddi Mellencamp (@TeddiMellencamp) March 6, 2019
Teddi also posts a text exchange that supposedly proves that Ken was in contact with Blizzard about exposing Dorit. Lisa denied on the show that she had ever connected with Blizzard, via phone.
Here's another text– shows Lisa told Blizzard to tell me but also that she does indeed have communication with him and that Ken was aware of what was going on as well. I will share more as soon as I'm permitted. Stay tuned & check out my blog for clarity! #RHOBH pic.twitter.com/mCuHsDjMPW

— Teddi Mellencamp (@TeddiMellencamp) March 6, 2019
"Ken can call me a f—ing liar all he wants, but I think he's projecting," Teddi writes.
On Tuesday evening, Blizzard posted his own text clarification on Twitter. 
FYI – the YES was to the previous statement made by Teddi (not shown) that "Either way. It will come out" [the dog situation] & the "idk" was cut out responding to the question "But didn't Lisa tell you to tell me!?" Looks like I'm in a bit of dog shit anyway @lisavanderpump lol

— John Blizzard (@JohnBlizzardxo) March 6, 2019
Do you buy Teddi Mellencamp's explanation? Sound off in the comments, and watch The Real Housewives of Beverly Hills, Tuesday nights at 9 pm, ET, on Bravo.
"Like" us on Facebook "Follow" us on Twitter and on Instagram