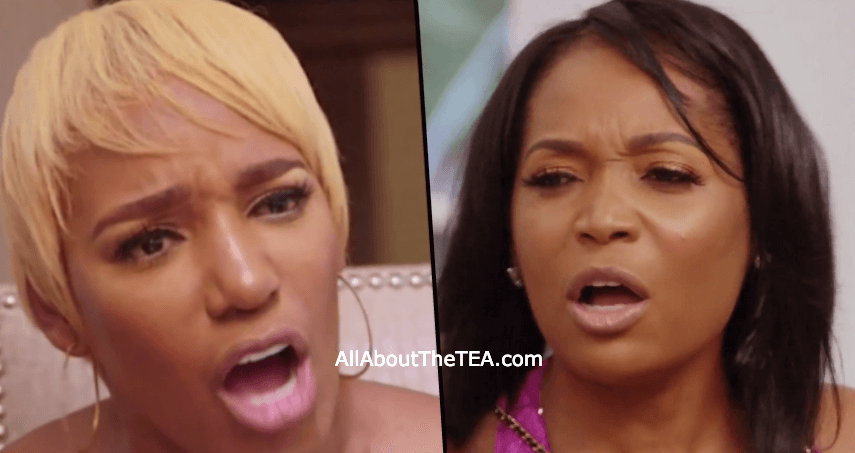 Things explode between Nene Leakes and Marlo Hampton on tonight's all-new episode of The Real Housewives of Atlanta — and NeNe gets physical with a cameraman!
EXCLUSIVE: NeNe Leakes Nobu DC Restaurant Diva Meltdown That Led to Her Social Media Blast Exposed!
On tonight's episode, NeNe Leakes hosts a "Bye Wig" party and invites Porsha Williams, Kandi Burruss, Eva Marcille, Marlo Hampton, Shamari DeVoe, Tanya Sam and Yovanna Love.
NeNe is not happy that Porsha and Marlo both arrive late but when Marlo strolls in — NeNe has a bone to pick and goes off on Marlo.
"Marlo, support me b*tch…don't be f*cking fighting with me. Marlo you argue with on the issue." NeNe screams at Marlo then all hell breaks loose!
It's no secret that NeNe has been going through a difficult time acting as her husband Gregg Leakes' caretaker as he battles cancer, and she lets her friends know that.
"I need my friends to be here for me," she says. Marlo Hampton tells her, "You're not the only person hurting."
It's not clear how the situation escalates from there but NeNe breaks down in tears, putting her hand over her eyes. Marlo is seen heading towards the door but turning back to yell at NeNe, who gets out of her chair and comes at her. NeNe then runs straight into a cameraman, tearing off his shirt, fighting to get past him.
"Let's be clear, bitch, I'm going to f*ck you up," NeNe says.
The tension in NeNe and Gregg's marriage was made public in late November after the Real Housewives of Atlanta star blasted her husband on Instagram, after he posted an inspirational message about life lessons, including loving those who practice kindness, forgiving quickly and always thinking before acting out in anger. NeNe replied, "Well u need to do everything you posted! Practice what you preach," before adding, "You need to pray for yourself! This mean, grouchy, evil stuff u pulling these days are NOT cool."
The Real Housewives of Atlanta airs Sundays, 8:00 p.m. ET, on Bravo.
"Like" us on Facebook  "Follow" us on Twitter and on Instagram