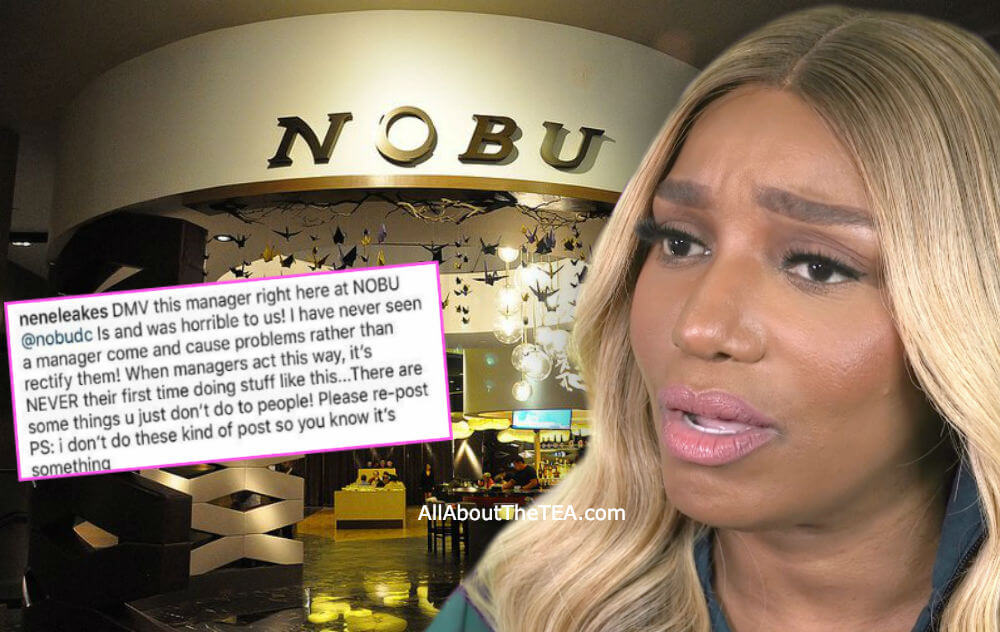 NeNe Leakes is putting a popular DC eatery on blast for poor service and AllAboutTheTEA.com has the inside scoop!
The Real Housewives of Atlanta star is currently on tour with "Girls Nite Out Comedy Show" and during their stop in the DMV area, NeNe paid Nobu in Washington D.C. on Saturday night, a visit but her dining experience was not satisfactory and the comedian took to social media to blast the establishment. "DMV this manager right here at NOBU @nobudc Is and was horrible to us!" NeNe started her post.
She then explained that the manager exacerbated the issue instead of fixing the problem and shared a photo of the man.
"I have never seen a manager come and cause problems rather than rectify them! When managers act this way, it's NEVER their first time doing stuff like this…There are some things u just don't do to people! Please re-post PS: i don't do these kind of post so you know it's something." 
Cancer-Stricken Gregg Leakes Apologizes to NeNe Leakes For Being Mean Amid His Medical Crisis!
Many of NeNe's followers responded to her post with support but a Nobu DC employee reached out to AllAboutTheTEA.com to share inside details on the incident — claiming NeNe and her girls threw a diva fit because they did not get their way.
"We had just closed when Nene called and asked if we could remain open and accept her party of 6 people." The Nobu DC employee explained. "We agreed to stay open for her but explained that we were sold out on many food items, and our menu would be limited. But when they started ordering, the waiter explained that we couldn't make the salmon because the kitchen was closed but offered appetizers instead."
The source continued: "NeNe went off, demanding a manager. The manager came over and explained that the kitchen was closed but NeNe was not having it. She yelled at the manager, demanding they open the kitchen and make the salmon she wanted. The manager was tired of being berated and told her that he could not accommodate her request. Shortly after that NeNe made her Instagram post."
Nobu is the worlds most recognized Japanese restaurant, known for its innovative new style cuisine paired with a hip crowd and celebrity following.
DMV local and Real Housewives of Potomac star, Gizelle Bryant, offered her support and said she will no longer patronage the restaurant. But NeNe has since deleted her post slamming the famous restaurant. 
Who do you believe? NeNe Leakes or Nobu DC's version of events? Sound off in the comments!
"Like" us on Facebook  "Follow" us on Twitter and on Instagram