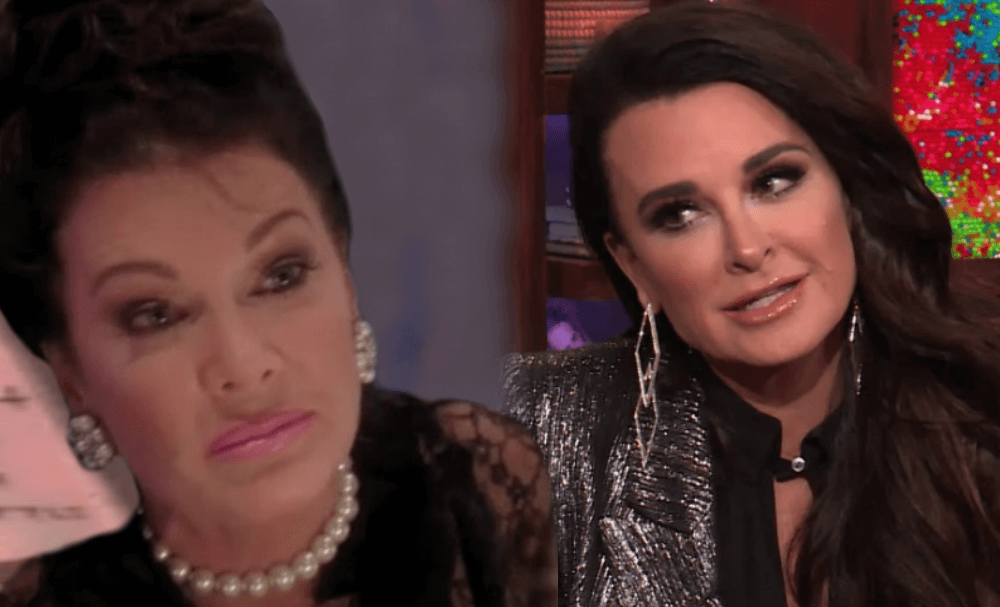 Kyle Richards is taking aim at Lisa Vanderpump, after the Real Housewives of Beverly Hills premiere revealed a brewing frenemy feud.
Kyle's decision to pass on a Daily Mail sponsored launch party for Lisa's new restaurant, TomTom, was hotly debated on Tuesday's episode — and Kyle is explaining the backstory.
VIDEO: Lisa Rinna Cuss-filled Table Dance At Andy Cohen's Star-Studded Baby Shower; Plus Phaedra Parks Attends!
Kyle accuses Lisa of intentionally spreading the news about Dorit Kemsley's dog adoption gaffe, before telling her side of the story, on her Bravo blog.
"When John Sessa from Vanderpump Dogs asked me if I recognized the dog, I had no clue whose dog that was. It was clear to me they wanted me to know the story about Dorit and the dog. Lisa was saying, "We aren't going to talk about it," but they brought the dog out for a reason. I watched as they did this song and dance about the dog and "not wanting to talk about it." Meanwhile, I was told the entire story. It seemed odd that both Teddi and I had been given this information knowing full well that it should be a private matter. Obviously having this story put out there would only hurt Dorit. But why? Dorit and Lisa are such close friends. It didn't sit well with me, and I felt I wasn't getting an accurate story."
Kyle Richards & Dorit Kemsley Betray Lisa Vanderpump In Explosive 'RHOBH' Season 9 Trailer!
Kyle explains that she checked in with Lisa about the Daily Mail party, to  clarify attendance details.
"To err on the side of caution, I called Lisa and asked her about the party. I explained to her that I just landed and it was 4 a.m. for me and I could barely hold my eyes open and looked like a mess. She told me that it wasn't her party and that she hadn't even invited anyone. It was The Daily Mail's party and their guest list. She also confirmed that Tom Tom was not actually open yet."
Kyle reveals that she later reached out to Lisa about visiting her new eatery — only to be snarkily shot down.
"Soon after the Daily Mail party, I texted Lisa asking if she was at Tom Tom, because I wanted to come to visit her. She replied that she was not there but was out to dinner with Ken. I said maybe I would come by to where they were having dinner and say hello to both of them, to which she replied, "NO! Go away. I'm with Ken on a date," so I teased I was on my way over, to which she protested. I told her I was just kidding and explained I was with Teddi and just thought I would stop by Tom Tom to say hello on my way home. She replied, "Oh, you're with the friend who showed up to support me," referring to the Daily Mail party."
Kyle Richards accuses Lisa of falling into a manipulative pattern — and adds that she felt "set up" while cameras rolled at Vanderpump Dogs.
"I was very taken aback and thought to myself, "This is exactly why I called Lisa regarding the party to clarify, because I knew she would do this." So I reminded her that she told me she didn't invite anyone (Daily Mail invited Teddi) and it wasn't her party. Then I told her not to look for problems with me. To which she replied, "I don't have to look. I didn't invite anyone, but some just show up and I love them for it…Teddy Bear." I didn't know if Lisa made that jab because she doesn't like that Teddi and I are so close or she was simply looking for a problem with me."
"So when I told Lisa at Vanderpump Dogs that she was being a bitch to me about the Daily Mail party, I was referring to that text and the fact that I KNEW she would turn nothing into something. I felt set up. I love Lisa, but she loves to jump at a chance to make me look like a bad friend, which I am NOT. I pride myself on being a good friend, and all my friends can attest to that. So why does Lisa do that? If she actually wanted me there, I would have done my best to get there. I know she's going through a hard time, but this isn't anything new. It's a pattern and I was quickly defensive because I have been down this road before."
Fans watched Lisa Vanderpump apologize and the gal pals hug it out — but how long will the love last?
Watch The Real Housewives of Beverly Hills, Tuesday nights at 9 pm, ET, on Bravo.
"Like" us on Facebook "Follow" us on Twitter and on Instagram