Vanderpump Rules
RECAP: 'Vanderpump Rules' Lala Kent and Billie Lee Get Into Nasty Screaming Match!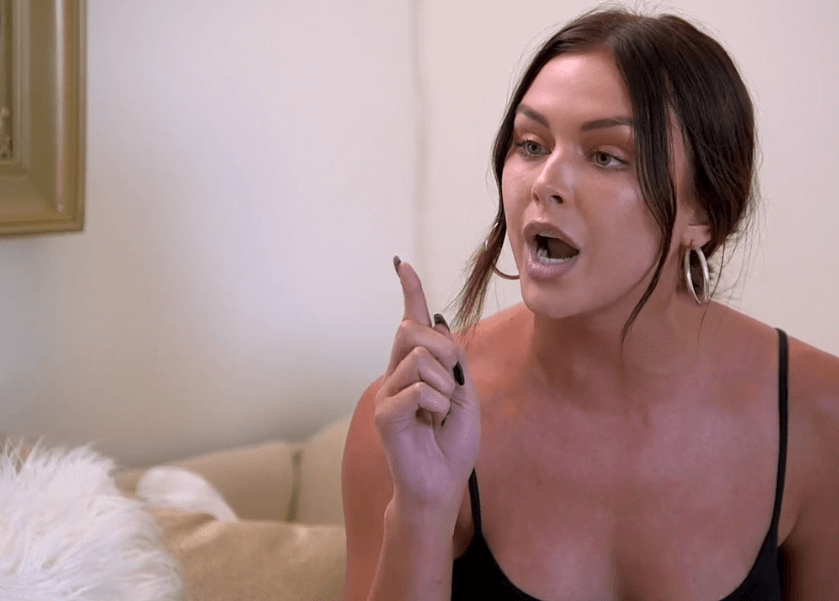 Welcome to the recap of Vanderpump Rules! As per usual, this week's sh*t-show is filled with self-serving drama. We begin with Lisa Vanderpump at club TomTom and she's not happy with the progress. They are behind schedule and the last thing Lisa wants is for the Tom's to stop by and slow things down even more.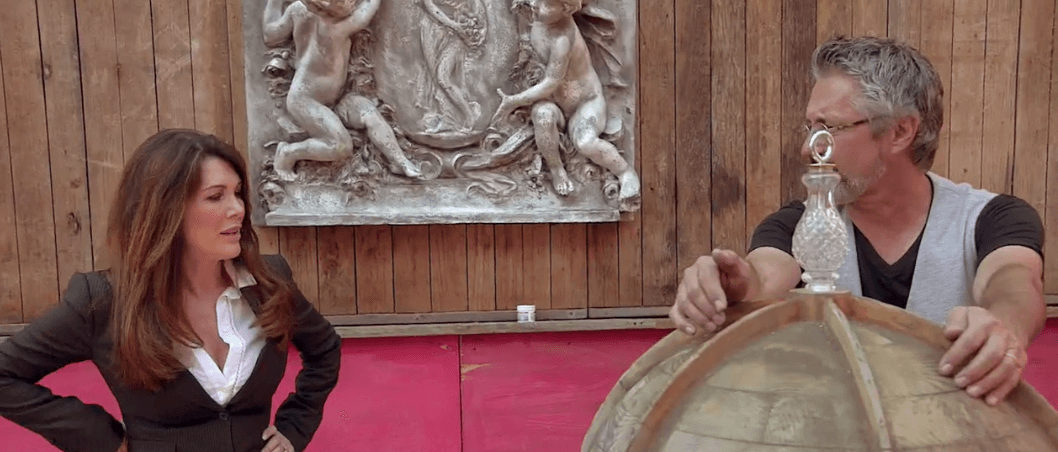 Over at Katie Maloney and Tom's place, Sandoval stops by just in time for the phone call from Ken cancelling today's big reveal. It's only bumped by one day, but the guys are super bummed because they've already picked out their spiffy outfits. Oh well, guess they'll just have to trudge over to Scheana's housewarming party that no one cares about because it's in Marina Del Ray – which might as well be Jersey, Vegas or Mars.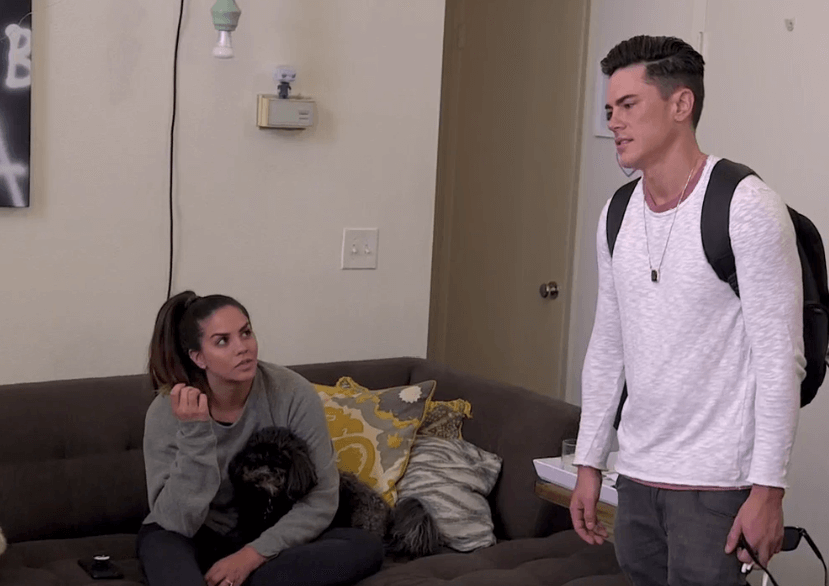 Blonde Brittany Cartwright , Jax Taylor and Lala Kent hop in the car to go to Scheana Marie party. On the way, Lala bitches about Billie Lee complaining she was left out of girls' night in. Lala calls this a "slap in the face" and insists she's not transphobic.
Scheana Marie Breaks Her Silence On Excluding Billie Lee From 'Girls' Night In' Because She's Transgender!
Elsewhere Katie,Stassi Schroeder and Kristen are toasting their girls' night event and the fact that they don't have to attend Scheana's party. They laugh about Scheana's stupid decision to move to Marina Del Ray. I mean, OMG, y'all, it's like totally insane. Like, you have to take the 10 to the 405 to the 90. Katie pulls out her big girl dictionary and calls Scheana's place "geographically undesirable."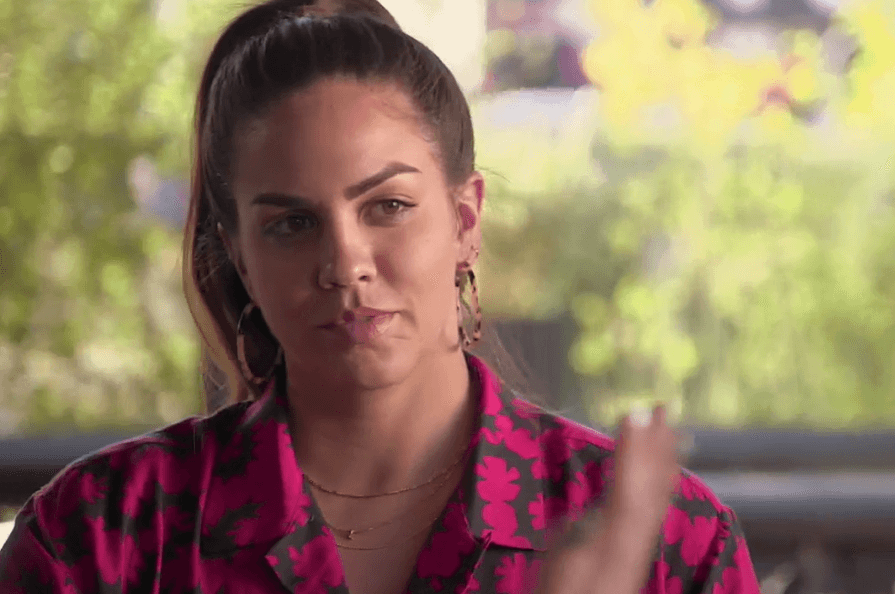 First to arrive at Scheana's apartment are Billie, Raquel, and James. The apartment is fine, it has an outdoor patio with a view of the marina, but her friends will never visit because of the traffic. At last, everyone arrives and Jax and Tom discuss their joint birthday party at the roller-skating rink. I feel like this has already been done. Jax doesn't want James to be there, but Tom does, so suck it Jax. Brittany tells Scheana and Ariana that she and Jax will soon begin couples' therapy, hopefully not with a reiki master. And Scheana confesses that she and Adam are FWB's because they showered together.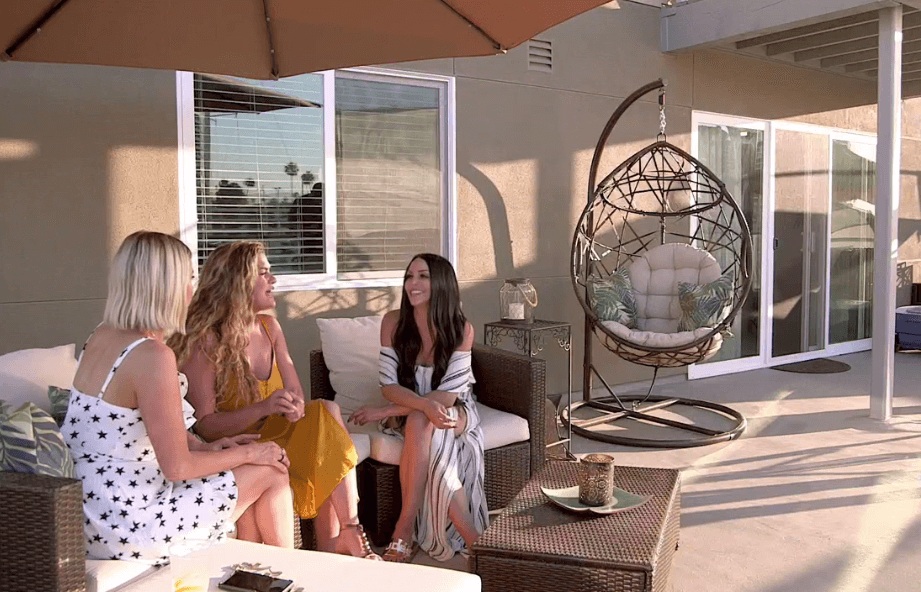 It's time for Billie and Lala to have a talk which turns into a yell. Billie tries to explain why her feelings were hurt from being left out of girls' night, but Lala cuts her off to say how dare she accuse her of being transphobic. Billie says she never said that. Lala calls a spade and spade and storms out of the room.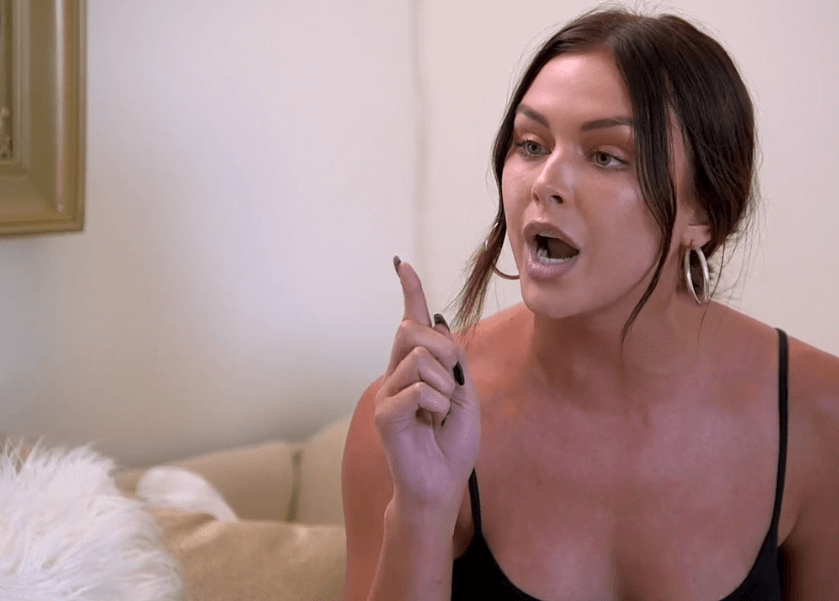 Billie follows her and announces that Lala's not better than everyone else just because she has a rich boyfriend. Lala calls her a fucking psychopath and walks out again. Ariana asks who wants Jell-O shots because there's always room for Jell-O.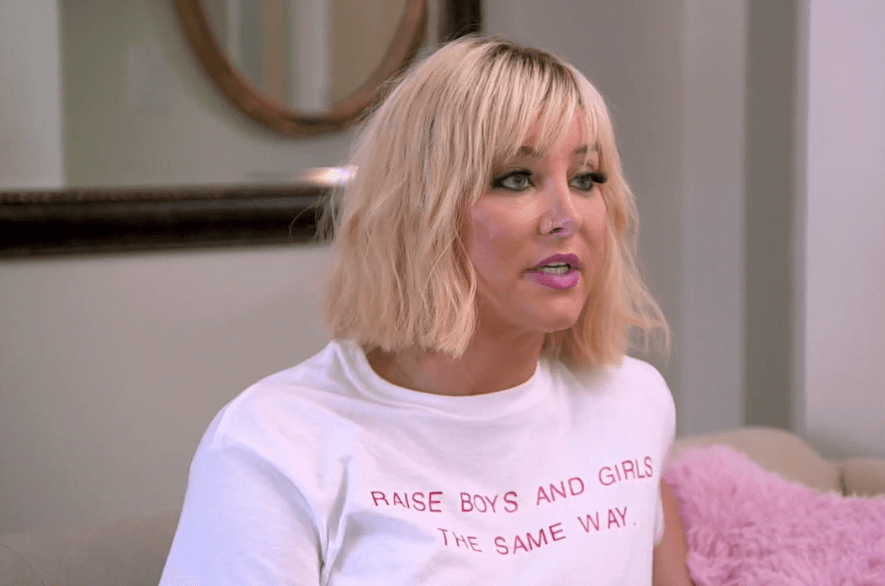 Next up we join Scheana as she goes to take headshots for her "acting" career. She loves comedy, but is also open to being chased and murdered. Sounds like a plan. Before the photoshoot, Scheana tells her photographer that she and Adam are now having sex. And in walks Adam. A clip is then shown of Scheana faking an orgasm as an "acting" prompt and I think we all know she's been practicing that for a very long time. After the photo session, Scheana asks Adam if he'll be lost without her tonight. His response is, "I think we can definitely use a night apart." Boom! The chase is on for Scheana to get this guy to propose.
It's time for the Tom's to see TomTom. They are so excited. Lisa meets them outside and makes them do the Bird Box challenge to see the interior. When they remove their blindfolds, they love the sexy bar and the giant photo of the Tom's kissing. They thank Lisa for giving them a life. I can't tell if Sandoval is crying or if it's the sweat rolling down his face, but the guys are very happy.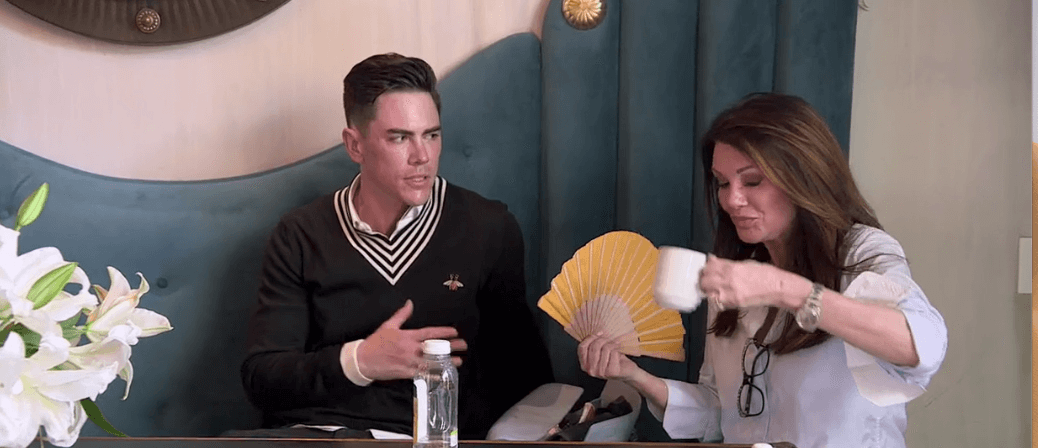 The next day, the guys are out celebrating Sandoval's birthday and begin with blowjob shots. Schwartz chokes on his. Brittany and Arianna go to Hooters to talk about her wedding and the possibility of kids. Jax tells the guys he wants them asap. Ariana tells Brittany she may want kids someday, after she's traveled to every place on the planet. The thing is, not having kids is a deal-breaker for Sandoval, however, he's not ready to have this talk yet with Ariana. Jax encourages Tom to have this conversation soon because Ariana isn't getting any younger.
The guys then go to a free lunch courtesy of Lisa, which includes drinking and smoking cigars, or in James' case, choking on cigars. Sandoval regales a story to the guys about how Lala went downtown on Ariana in the backseat of his car. The guys are eating it up – the story that is – and James says Lala is a freak in the bedroom which leads to an argument with Jax.
Over at Sur, Lisa sits down to ask Billie how she's doing since being left out of girls' night. Billie tells Lisa about the fight with Lala. Speaking of Lala, she arrives at Brittany and Jax's place and Jax spills the tea about what Sandoval said. Lala denies this even though it's true. Jax then tells Lala that James said she likes sex handstand style.
Sandoval goes to Sur and receives death daggers from Ariana. He tries to tell her it's no big deal, big Ariana doesn't agree. She pissed. Ariana tells Tom he's annoying and so is his hat and kicks him out of the bar. Guess there won't be any birthday sex tonight.
Their conversation continues at home and Ariana admits she's bi-sexual, but insists this is her business, not Tom's. Seriously? He can't be mad because she cheated? Tom explains that he was really annoyed by Lala and Ariana because they didn't include him were really trashed that night. Ariana decides she's not mad anymore and still loves Tom.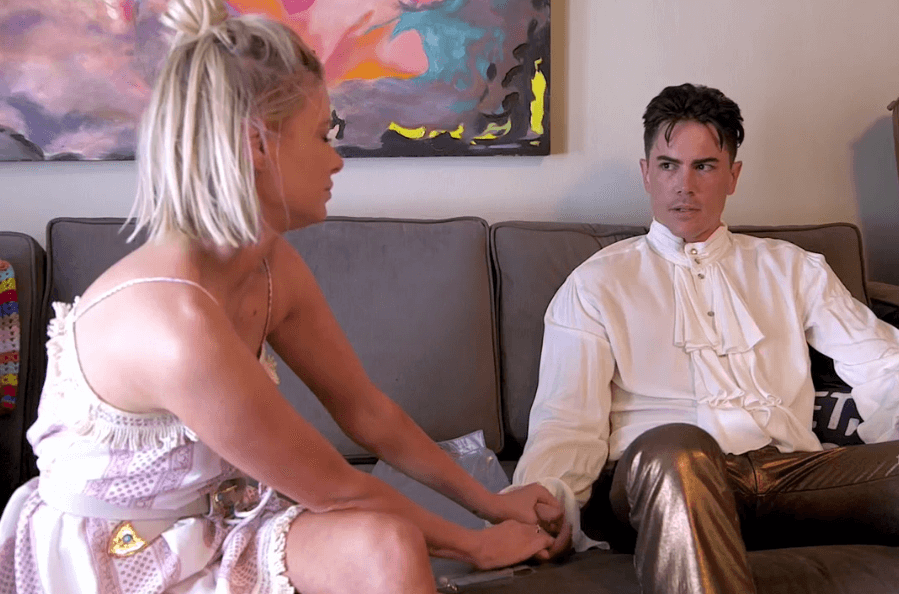 Let's roller skate! At the start of the party, everything is cool and everyone is dressed like it's the 70's. Lala and Ariana talk and say they aren't embarrassed they like swimming in the lady pond. Billie apologizes to Katie, but Katie isn't feeling it. Lala tells James what he said about her wasn't cool and wants him to promise to respect her. Then Lala apologizes to Raquel for calling her a twat, begging the question, does Lala know what respect is?
Tune in next week to party at club TomTom!
"Like" us on Facebook  "Follow" us on Twitter and on Instagram