Exclusive
EXCLUSIVE: Danielle Staub's Ex Marty Caffrey Issues Cease & Desist After She Threatened To 'Destroy' Him & His Kids!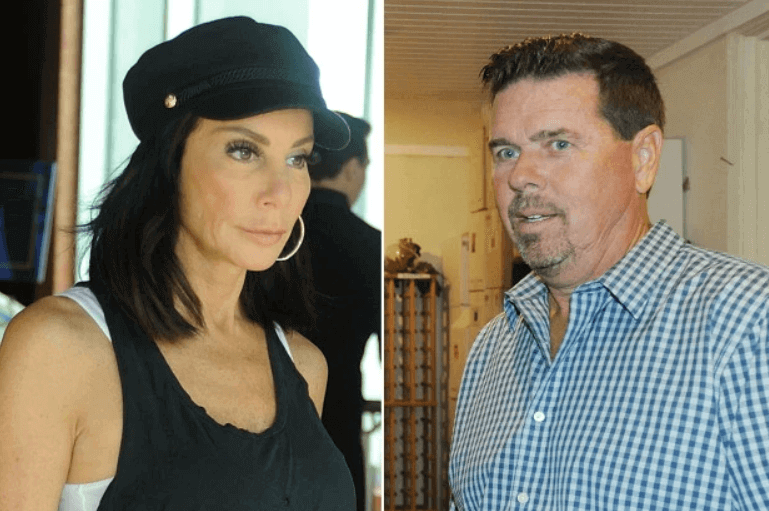 The battle continues between Danielle Staub and her estranged husband, Marty Caffrey!
Marty Caffrey, 66, just served the Real Housewives of New Jersey star with a cease and desist — threatening legal action if the reality TV star doesn't shut her trap, AllAboutTheTEA.com can exclusively confirm.
Marty Caffrey's attorney, Anne M. Fox of Meyerson, Fox, Mancinelli, Conte & Bern, PA law firm issued the legal letter on Friday, Dec 28 — in an effort to stop Danielle from making "threats to destroy" him and "go after his kids" if he doesn't call off their divorce.
"Finally, your client's threats to 'destroy' my client and to 'go after' his kids if he does not withdraw the Complaint for Divorce will not be tolerated. Your client must cease and desist from such actions. Be advised in the event Court intervention is required, we will be seeking counsel fees and costs. Please be guided accordingly." Marty's attorney wrote.
Danielle, 56, has made several defamatory statements about her estranged husband via social media and various media outlets. 
RELATED: Danielle Staub Plays Victim In Scathing Post Trashing Marty Caffrey!
The feud and correspondence between Marty and Danielle has turned ugly and can be described as vitriolic.
"Danielle [Staub] begged me as late as Dec 19, to drop everything and reconcile or she would 'destroy me' and 'go after my kids.'" Marty Caffrey shared with AllAboutTheTEA.com. "I wouldn't and so her Answer (court documents filed in the divorce) on Dec 21, had all those horrible, defamatory claims."
The Real Housewives of New Jersey alum alleged in her Answer (court documents) that her husband "repeatedly mocked and harassed [her] for being sexually abused by [her] father as a child," as well as referencing Danielle and her daughters' relationship as a 'lesbian affair,' purposefully to hurt Defendant [Danielle] by referencing incest and embarrass her about her childhood abuse," the filing stated.
She also claims that Marty has subjected her to "acts of extreme cruelty" since May 9, just five days after they tied the knot. She accused him of repeatedly recording her during sex without her knowledge and then threatening to expose the tapes.
Additionally, the reality starlet blames the demise of their marriage on Marty's alleged drinking habits — but he denied to AllAboutTheTEA.com that he had a problem and says Danielle's abuse claims are false.
"If I was guilty of any of that why would you [Danielle Staub] marry me." Marty Caffrey, 66, told AllAboutTheTEA.com. "And why would you want to reconcile."
During Wednesday night's episode of The Real Housewives of New Jersey, Danielle reveled that she doesn't get along with Marty's three children. "I command respect," Danielle shared during the episode. "If you're not going to respect me, stay out of my space." She also made claims that Marty's children hate him and moved to get away from their father, but Marty's son, David Caffrey, denies such allegations in an exclusive statement to AllAboutTheTEA.com.
Danielle and Marty tied the knot on May 5, and two months later, reports surfaced of trouble in the couple's marriage. It was then reported that the couple had filed temporary restraining orders against one another following an incident at their New Jersey home in August, which were eventually dropped.
Danielle spoke out about her split on The Wendy Williams Show in October.
"It's funny how I saw certain things happening, but you just believe, especially with the perception around us, getting engaged would make it better … getting married would make it better," she shared. "It doesn't get better, ladies. If it's falling apart, it's broken. You can't fix that."
Marty Caffrey filed for divorce from Danielle Staub in August.
Share your thoughts on Danielle Staub's latest threats and Marty Caffrey's cease & desist response. Sound off in the comments!
"Like" us on Facebook  "Follow" us on Twitter and on Instagram