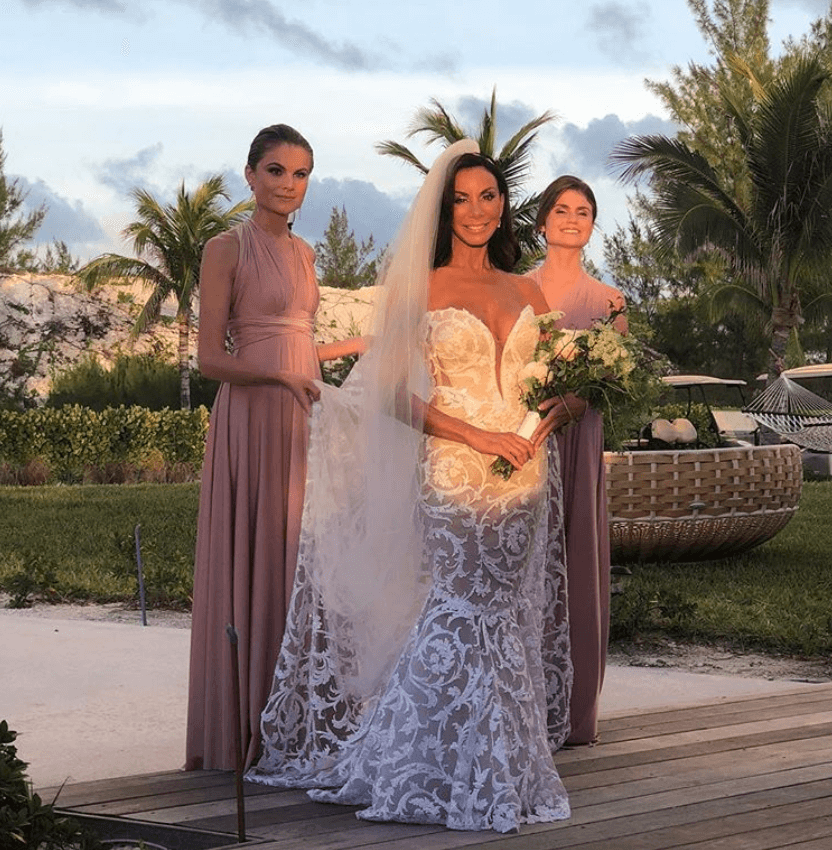 Danielle Staub heads down the aisle on tonight's all-new episode of The Real Housewives of New Jersey!
As fans know, Danielle Staub and Marty Caffrey bickered during the last episode over Danielle forcing Marty to choose between his kids and her. Marty chose her and the wedding went on but quickly fell apart in four months — culminating in Marty filing for divorce in August.
Both have kids from previous relationships, Danielle, 56, a mom to daughters Christine, 24 and Jillian, 20 and Marty, a dad to three grown children. But only two of Marty's kids made it to the Bahamas.
On Sunday, Danielle took to Instagram to get ahead of any fan backlash by trashing her estranged husband. "This was real to me. If he was the one for me, we would still be together you can all pass judgment you can all say what you need to say and I'm certain the opinions will be strong but I urge you all to take a minute and realize I'm sharing my life with you the ups and downs The good the bad the pretty the ugly all the parts of me and it's an honor to do so!" She began her post. 
Danielle continued: "I do realize I leave myself open for scrutiny but the things that my husband has done to my family and I weeks following our wedding breaking his vows he promised to protect keep me safe love me and honor me …so take a moment to realize no one would know his name if it weren't for me trusting him to want to be a part of my family and my life."
She goes on to accuse Marty of using her platform and abusing her name. 
"He used my platform abused my name, me, and by supporting him you are doing the same by supporting a man who is abusive in every facet and continues to threaten the very core of my existence so if you still feel good about your decision to stand with him on his rampage then that's on you. I would like to take a more positive moment at this time to thank all of you who support me and my family! I look forward to your continued support in the next chapter of my life!"
During last week's episode,  Marty opened up about how hurt he was by what had happened, admitting, "It's hard for me," and accusing Danielle of not necessarily understanding how "torn apart" he is.
"I chose. I chose you! I chose you at the detriment of them and my relationship with them," he said. "Therefore, we have to move on. Life is short. That's all I have to say."
Just four months later, in August, he filed for divorce. Both are currently estranged.
Marty, 66, has been very vocal about the disastrous state of his two-month marriage to the Real Housewives of New Jersey starlet. The NYC businessman accuses Staub, 56, of being "arrogant, disrespectful, presumptuous and entitled" and her allegedly "disturbing" behavior prevented him from attending her recent 56th birthday party on July 29.
"Marty hired a divorce attorney from a reputable law firm and his attorney sent Danielle a 'letter of representation' asking her to retain counsel." A source very close to Caffrey tells AllAboutTheTea.com.
The couple married on May 5, 2018, in the Bahamian Island of Bimini, as Bravo cameras captured the ceremony, attended byDanielle Staub's fellow Real Housewives of New Jersey co-stars.
Tune into The Real Housewives of New Jersey tonight on Bravo for a special airing.
"Like" us on Facebook  "Follow" us on Twitter and on Instagram