VIDEO: Larissa Dos Santos Lima Blasts Colt Johnson For Cheating & Sending D*ck Pics to Numerous Women!
Colt Johnson has landed in hot water — his wife, Larissa Dos Santos Lima, busting her 90 Day Fiance hubby in an alleged affair.
Larissa dished the dirt on Thursday, sharing several screenshots of an Instagram message exchange between Colt and his supposed side-piece.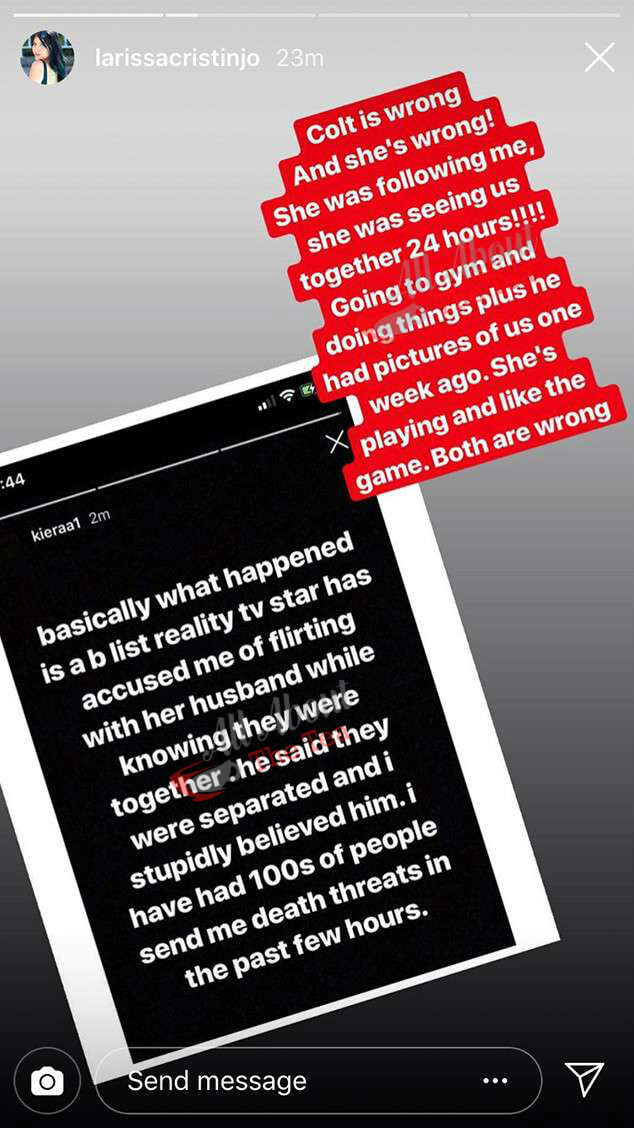 The woman told Larissa Dos Santos Lima that Colt was sending "d*ck picks to other women" and supposedly shared some her own received messages from the TLC personality.
"Colt is cheating [on] me with this girl!" Larissa captioned a snap, adding that he "plans to use me" until he wraps TLC spinoff series "Happily Ever After."
RELATED: '90 Day Fiance' Star Larissa Dos Santos Lima Arrested & Charged with Domestic Battery
Colt allegedly told the woman that they needed to cut off communication, due to his Brazilian wife's fiery temper.
"We need to stop talking for a bit," Colt said, explaining, "because she's violent… I just need to deal with her. Can you just not talk to her?" 
"You are gorgeous" and "I like what I see," Colt gushed, in other alleged messages sent to his supposed mistress.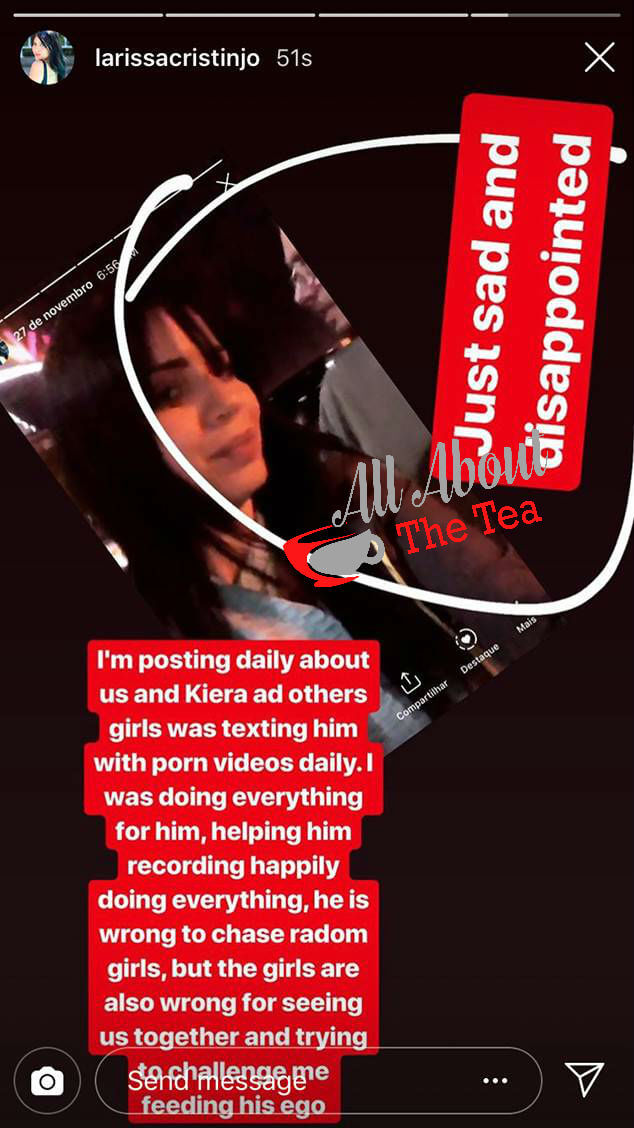 Larissa Dos Santos Lima scrubbed her account clean, but not before sharing one last emotional video. "She's been texting him and I am going to my friend's house," she said. "I am devastated. I am devastated. How dirty. And she was so dirty!" Press play below to watch. 
On Friday, the other woman spoke out, via her Instagram story.
"Basically what happened is a b list reality tv star has accused me of flirting with her husband while knowing they were together," the other woman alleged. "He said they were separated and I stupidly believed him."
Larissa cried foul on the woman's story, writing — "She was following me all the TIME!! She's texting him since 06 of December! She watched us on TV. Both I meant both are wrong!! But she's not saint [sic] because she followed me and saw we [were] together 24 hours."
Larissa continued: "I'm posting daily about us and Kiera [and] others girls [were] texting him with porn videos daily. I was doing everything for him, helping him recording happily doing everything, he is wrong to chase [random] girls, but the girls are also wrong for seeing us together and trying to challenge me feeding his ego."
VIDEO: Colt Johnson's Cousin EXPLODES On 'Gold Digger' Larissa: 'That Bitch Is For His Money!'
The 90 Day Fiance bride has since deleted all couple pics from her Instagram account — and erased several photos from her IG story.
However,Colt Instagrammed a cryptic message on Thursday — seemingly addressing the state of his fractured marriage. "It's never too late to find happiness. You never have to give up the hope of something better. Be strong and brave, it's always darkest before the dawn," his post captioned.
https://www.instagram.com/p/BrVZm05A01Q/

Larissa was arrested in November on domestic battery charges—but the charges were later dropped. Fans know that insecurity issues plague the couple's relationship—the duo's messy spats featured during their televised K1 Visa ride.     
Catch up with Colt Johnson and Larissa Dos Santos Lima on 90 Day Fiance, Sunday night at 8 pm, ET, on TLC.
"Like" us on Facebook  "Follow" us on Twitter and on Instagram 
Becca is a Senior Editor for All About The Tea. She's a coastal girl who loves the outdoors, and writing about the sneaky and silly side of reality TV. Her bio is short, but her snark is endless. She loves writing for the sharpest posters in the world.