RECAP: Quad Steals All The Furniture From Her Marital Home On 'Married to Medicine'
We're back in Atlanta with Married to Medicine after the ladies put the funk in dysfunction in Antigua! We begin with Dr. Simone Whitmore and her husband Cecil — they discuss moving the family back under one roof after a nine-month sabbatical in a different house. Cecil agrees to move his clothes into the basement closet to not disrupt Simone's closet space. With this gesture, Simone falls in love all over again with her husband.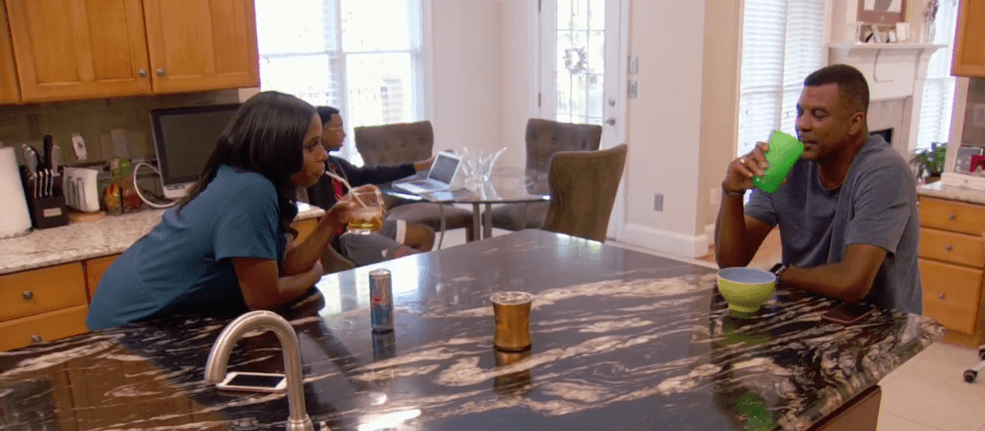 Next, we check in with Quad Webb-Lunceford at her bachelorette pad. Dr. Heavenly Kimes drops by and wants to know where the food is. Quad is serving a liquid dinner tonight and pours Heavenly a glass of vino. She shares how much Heavenly's diamond bracelet friendship has meant to her during such a very difficult time.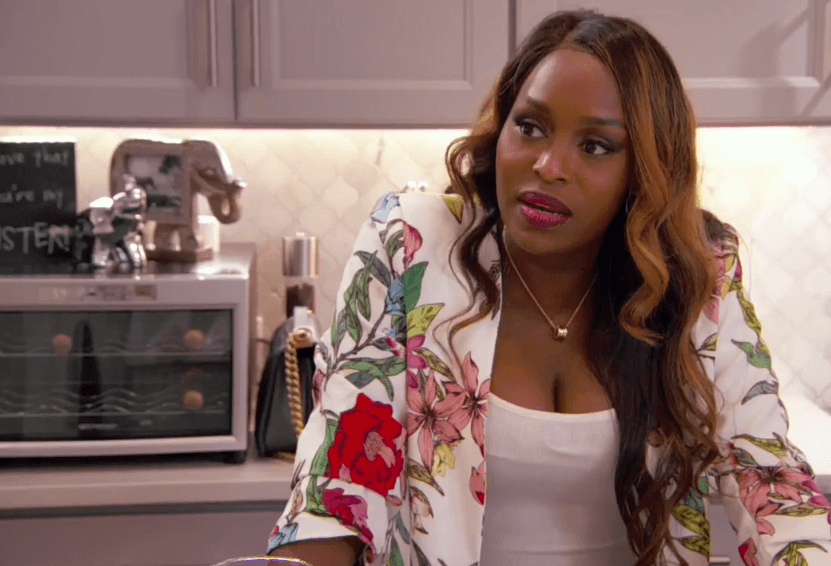 Quad is surprised that the friends she thought would be "10 toes down" for her, haven't been. Heavenly, the self-proclaimed relationship expert, tells Quad all it takes to make a marriage work is sex in the morning and dinner in the evening. Recipe for success!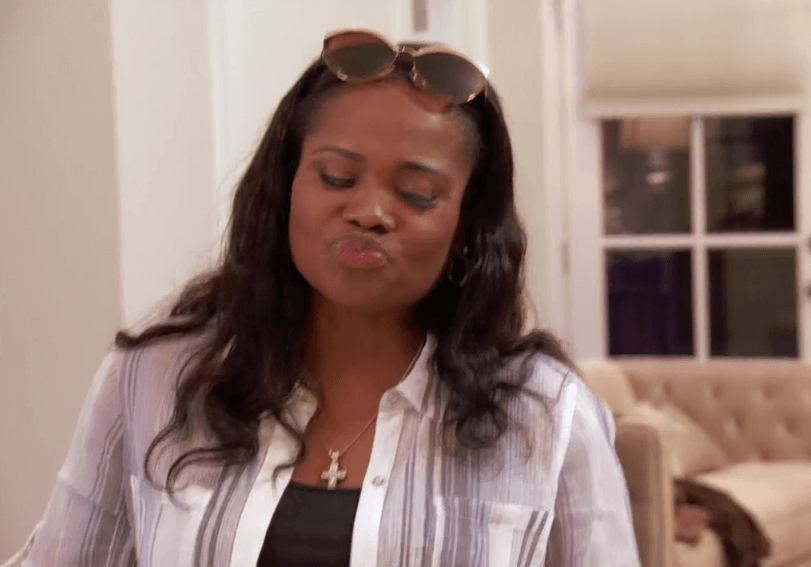 Onto Dr. Jackie Walters who is trying to cook dinner, but can't even work her oven. Thank the good lawd that Simone stops by to show her how. Jackie explains that Dr. Ken has given her the task of making Curtis king for a day. Jackie says that she will be cooking for Curtis in the nude. Hopefully she's not cooking with fish grease. Ouch!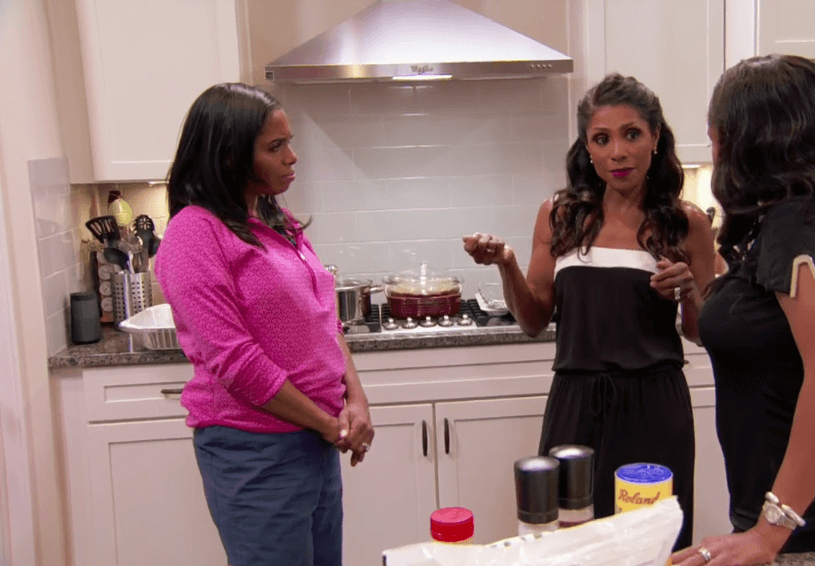 The doorbell rings again and it's Heavenly who announces that "Daddy be eating steak and coochie every night." The jury is still out on whose coochie! Jackie has purchased Curtis a king's robe, a crown, and a bell. Heavenly says that Curtis should be king every day, not just one day, said the woman who's a workaholic and doesn't cook. The women start making the food and thankfully everyone's clothes stay on.
EXCLUSIVE: Heavenly Kimes Fakes Truce With Mariah Huq to Keep Damon's Mistress Secret!
Next, we head over to Toya Bush-Harris and Dr. Eugene's construction site to check out the progress on their custom mansion. If all goes well — and it seldom does —they will be moving in by next Spring. Toya ain't happy because her closet square footage has been slashed for the laundry room. Dr. Eugene offers up other suggestions like downgrading the wine cellar. Toya still ain't happy. Who wants to bet the square-footage will be coming from Eugene's man cave?
Back at Dr. Jackie's house, Curtis comes home and is pleasantly surprised to see his wife in an apron with a flesh-colored unitard. Smart choice! Jackie puts Curtis' robe and crown on him and hands him his bell. Ring-a-ling-a-ling. Curtis wants a cold glass of wine. Ring-a-ling-a-ling. Curtis dropped something on the floor. Ring-a-ling-a-ling. Curtis wants to go upstairs for dessert.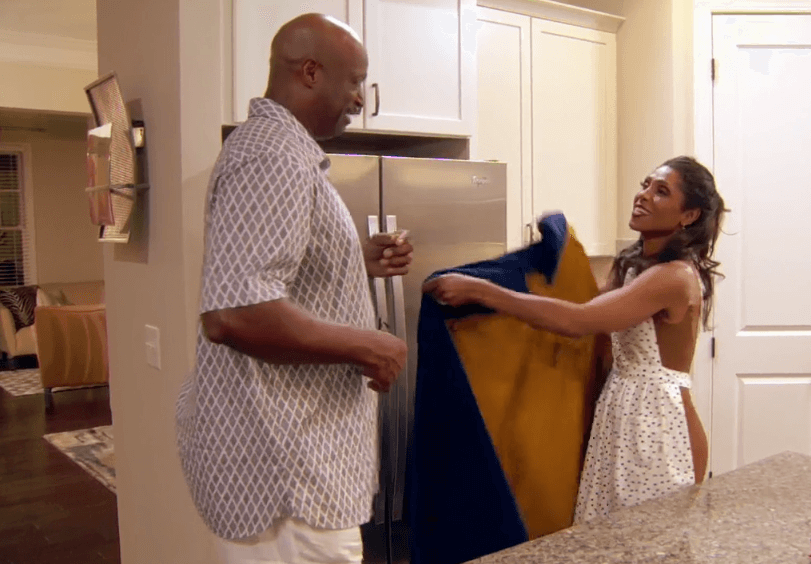 It's hypnotherapy time with Dr. K and Heavenly. She tells the doctor about her trip to Antigua and how it only had one bad moment. Dr. K has Heavenly do some magic breathing and sends her back to that moment in Antigua. He asks about "Little Kim" and what she's doing. Heavenly says Little Kim's angry because she doesn't like to be disrespected. He asks her when she first felt disrespected. Heavenly says when she was eight years-old by her sister.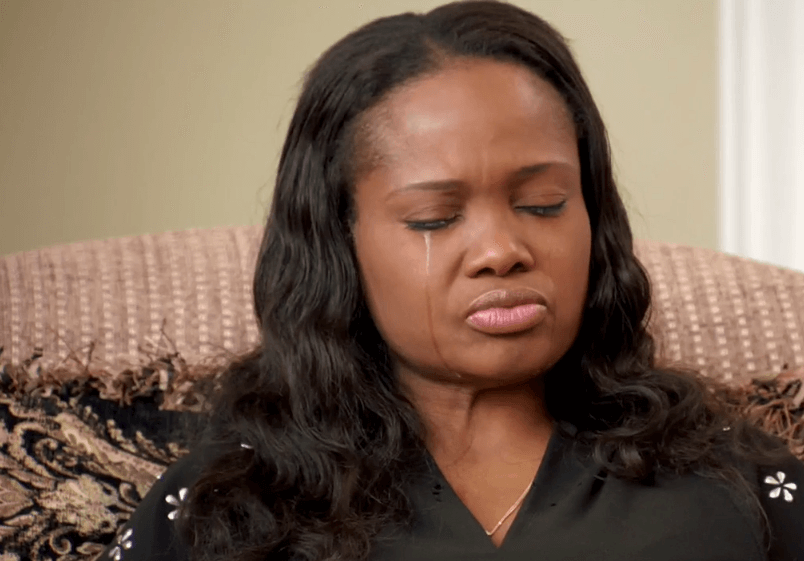 He tells Heavenly to tell Little Kim that everything will be okay. On the count of three, wake up. Heavenly wipes her eyes and has the epiphany that the anger toward Mariah Huq has nothing to do with Mariah and everything to do with her sister. Heavenly thinks it's time to have a heart-to-heart with Mariah and forgive her. Dr. K tells Heavenly she is prepared.
Later that week, Dr. Simone is throwing a 'Mi Casa Es Su Casa' party to reveal to their friends that Cecil and son, Michael, are moving back into the same home as Simone. The guests start to arrive. Contessa Metcalfe arrives in a stunning blue dress showing off her new B cups. Dr. Simone and Cecil make the announcement they are reunited and it feels so good. Everyone cheers. Heavenly says that if their shit don't work, there is no hope for marriage at all.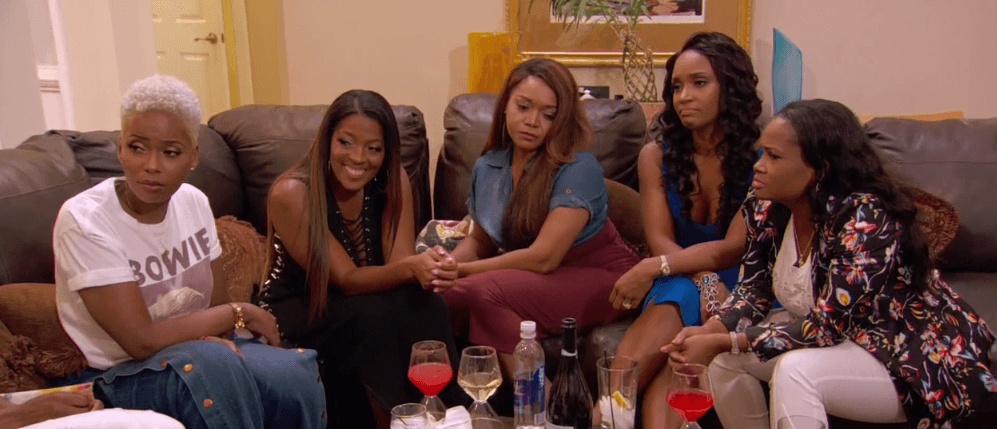 The men retreat to the basement boom-boom room where two female bartenders in sparkly, see-through shirts are waiting to serve them. This isn't going to go over well with the ladies upstairs, especially when things get too quiet. They send Heavenly and Contessa downstairs to do recon. Dr. Heavenly is shocked. She tells Damon, Daddy, you ain't supposed to be with no hoe's. They go back upstairs and let the other ladies know what's going on.
Back upstairs, Toya tells the ladies that going forward, she thinks the couple's trips should be for couples only. Quad is like, Girl, you must be crazy. An argument ensues and the men can hear it downstairs. They rightfully get nervous and Curtis and Eugene come back upstairs. Eventually the rest of the men trickle back up because it's not as fun hanging with partially naked women when their wives are right upstairs.
Later that week, then men meet up at Top Golf. In walks Dr. Greg and the men cheer because they've missed him in a manly way. Forget golf, they want to talk. Dr. G explains that when he got home from work one day, his furniture, including his Sleep Number bed, was gone along with Quad. 
Dr. G says that Quad never said she wanted a divorce, she only said there's a document in the mailbox that needs his signature. Dr. G says there's not a "rat shit chance of hope" that he and Quad will get back together. Brr. That's cold.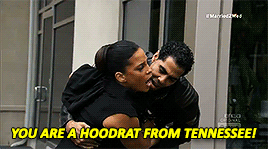 Next week on Married to Medicine — Mariah and Dr. Aydin have a scary health scare. Also, Mariah Huq and Heavenly Kimes have a come-to-Jesus moment.
"Like" us on Facebook  "Follow" us on Twitter and on Instagram 
I am so lucky to combine blogging with my guilty pleasure of watching reality TV. I read all the comments and respond to most. Feel free to reach out to me. If you like fiction, I have two published novels: Three Days in Purgatory and A Reason to Run.