Exclusive
'Married to Medicine' EXCLUSIVE: Heavenly Kimes Fakes Truce With Mariah Huq to Keep Damon's Mistress Secret!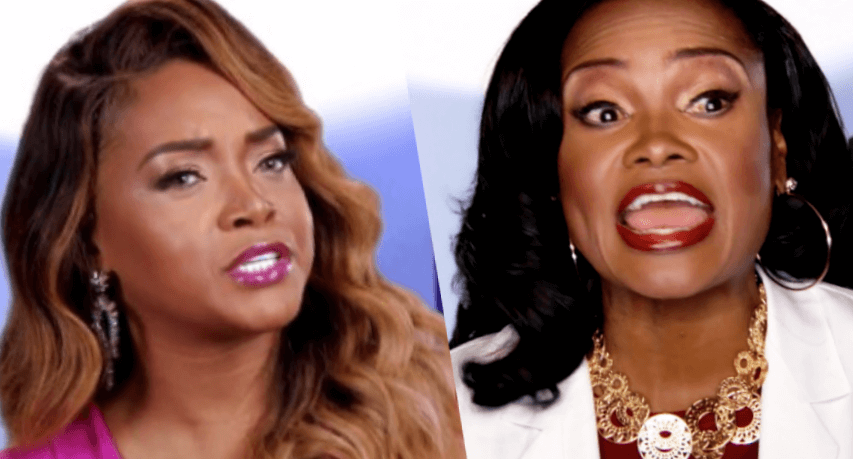 Dr. Heavenly Kimes is waving the white flag after her Married to Medicine co-star, Mariah Huq, exposed a scandalous secret about the Kimes' marriage!
During Sunday night's episode of Married to Medicine, Mariah dropped a nuclear bomb on Heavenly by revealing the dentist's husband, Dr. Damon Kimes a.k.a 'Daddy,' has been cheating on his wife. 
"I can tell you a lot of people that have slept with Damon!" Mariah said as she sashayed out the door of Dr. Simone's 'Leather & Lace' party. "Do you want me to bring the receipts? Do I need to bring the receipts, baby girl? Because I got receipts!" 
The bombshell accusation left the typically loquacious Heavenly dazed and oddly quiet.
Since the episode aired, reality TV fans can't stop commenting on Mariah's colorful disclosure, "Do you want me to bring the receipts? Do I need to bring the receipts, baby girl!" and questioning has 'Daddy' cheated?
On Tuesday, Heavenly took to Instagram, to quell the chatter and speculation about her husband's cheating, by issuing a truce to her arch-nemesis, Mariah.
"Say what you want about this young lady…you have to admit she is great TV! #Creator  #Producer and Star of #Married2Med ( not to mention great wife and mother) @iluvmariah is breaking barriers! #FaceTheTruth  #marriedtomedicine  #married2medicine #shematters  #IAintMadNoMore  #JesusFixedIt" Heavenly posted on Tuesday, September 4, and tagged Mariah in the post to ensure she sees it.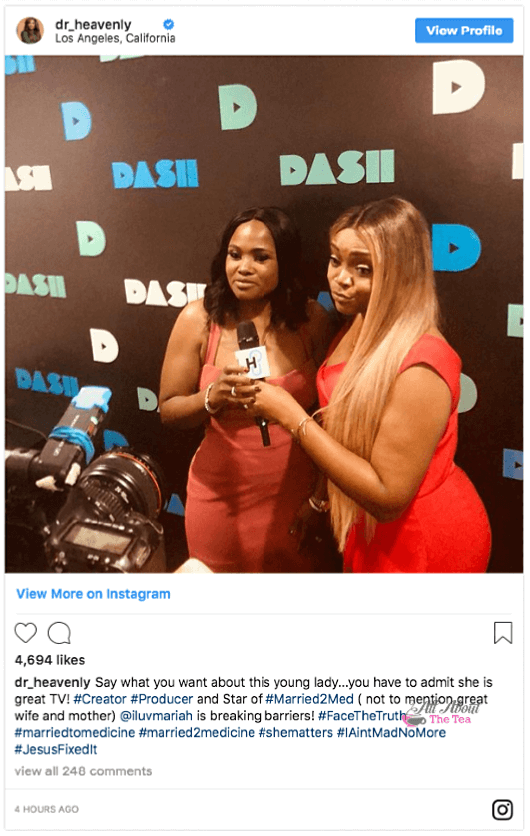 However, the real tea behind Heavenly's social media ceasefire has nothing to do with making amends with Mariah — it was driven out of fear!
"Heavenly pretends to have a perfect husband and perfect marriage. She looks down on the other couples falling apart on her show. But behind closed doors, she's lonely because Damon pays her little attention and they're distant." A source very close the reality star tells AllAboutTheTea.com.
The source adds, "Heavenly and Mariah are not friends. They have not put their current drama behind them. Bravo made them do press together in L.A. last week and that's the extent of their interactions. Heavenly was being shady with her Instagram post today by using an edited photo of Mariah."
AllAboutTheTea.com did some digging and found Heavenly used an edited photo of Mariah. Below is the unedited version.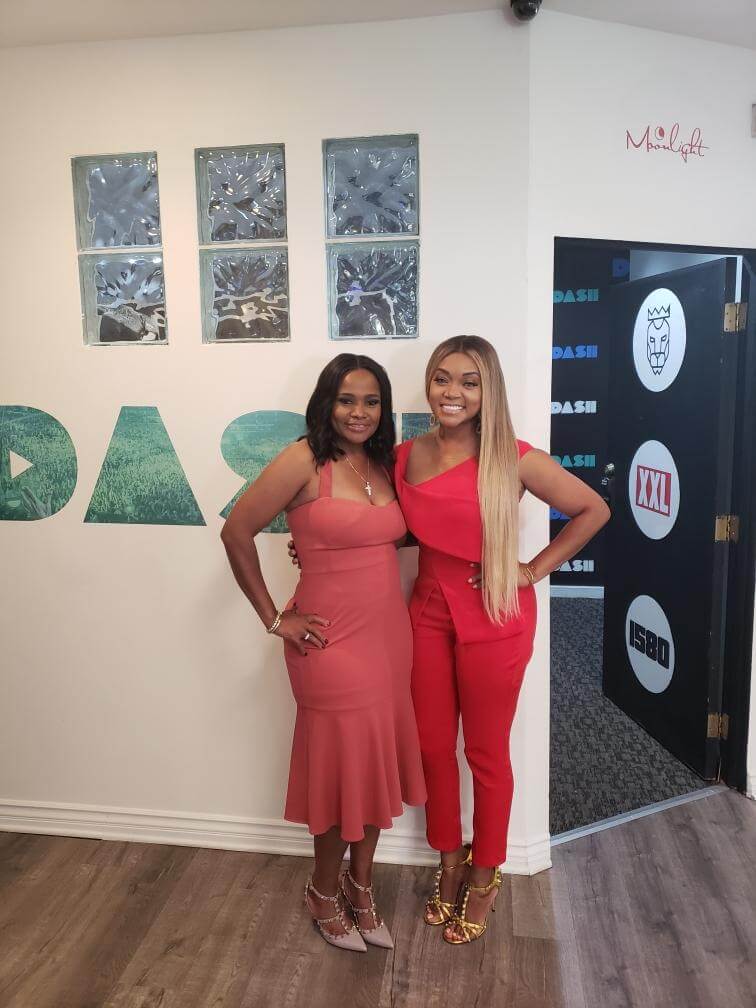 Mariah's tea about Damon's adultery is 100% true — and Mariah is aware of the other woman's identity, AllAboutTheTea.com can exclusively confirm.
"Heavenly is well aware that Mariah knows the truth about Damon. And she's desperate to hide Damon's cheating, so she's keeping her enemy [Mariah] close." another local Atlanta snitch revealed to AllAboutTheTea.com.
"After Mariah spilled the tea about Damon, Heavenly spends a portion of the season calling Mariah a liar. The tension between Mariah and Heavenly turns ugly and boils over to their husbands, who almost come to blows."
AllAboutTheTea.com has learned that Mariah ends up apologizing to Damon this season, as the drama with Heavenly escalates.
"While Mariah was being truthful about Damon stepping out on his wife — she does not want to be the cause of breaking up a marriage." AllAboutTheTea.com can exclusively report.
Nevertheless, the truth about Damon's infinitely will be revealed during this current season. 
"Damon pretty much admits to stepping out on his marriage later in the season." A production source dished to AllAboutTheTea.com.
Share your thoughts on the drama unfolding between Heavenly Kimes, Damon Kimes and Mariah Huq on season six of Married to Medicine. Sound off in the comments below!
"Like" us on Facebook  "Follow" us on Twitter and on Instagram