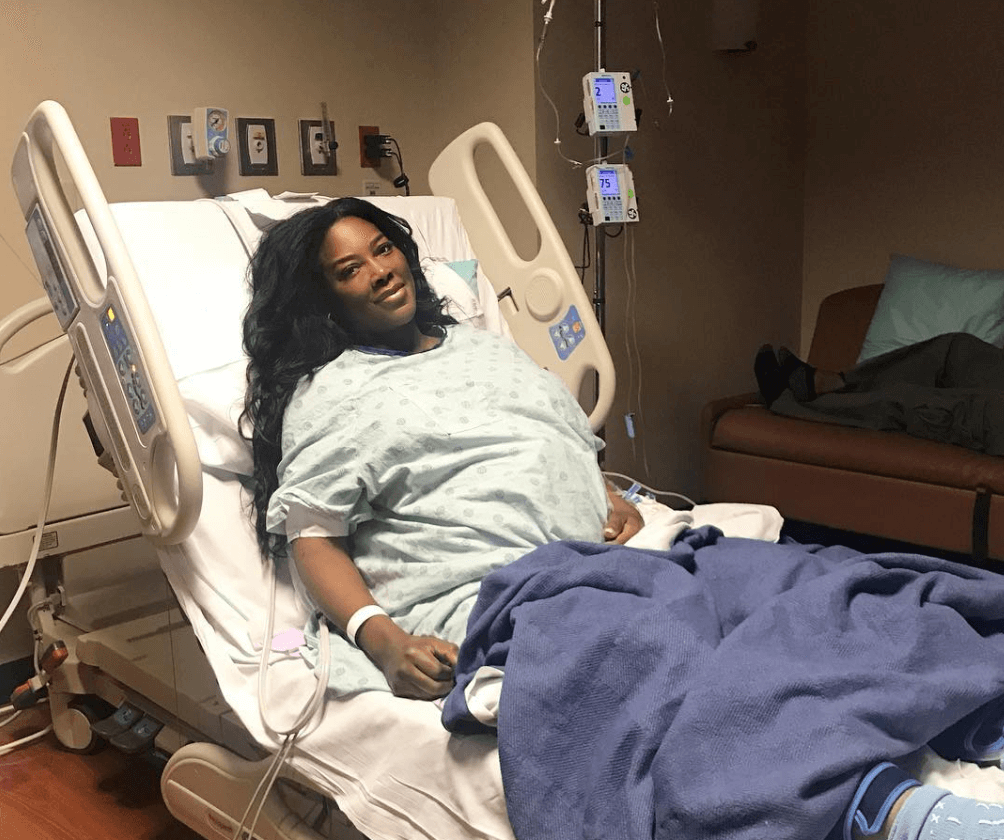 According to People Kenya Moore is a mom!
On the same day of The Real Housewives of Atlanta season 11 premiere —  Kenya gives birth to daughter, Brooklyn Doris Daly, at 9:39 a.m. ET, on Sunday, Nov. 4. The baby girl weighs 5 lbs. and 12 oz.
"Brooklyn because that's where we met and fell in love, and Doris after my grandmother who passed away last year and who raised me," Moore tells PEOPLE.
"Brooklyn is very alert and active," Moore tells People minutes after supposedly giving birth
The former Miss USA, who conceived through in vitro fertilization, gave birth via emergency cesarean section after revealing on Oct. 27 that she had tested positive for preeclampsia — a pregnancy complication that caused her to gain "17 lbs. in ONE week due to severe swelling and water retention, high blood pressure, and excess protein in urine."
Preeclampsia develops suddenly in women who previously had normal blood pressure after the 20-week pregnancy mark. Left untreated, preeclampsia can have fatal consequences. The most effective form of treatment is emergency c-section — something Kenya said she was considering but decided to wait 8 days to give birth.
"This is NOT normal," Kenya wrote on Instagram. "Baby is fine but if [test] come back higher #babydaly will have to come same day."
"Staying positive," Kenya added. "To my pregnant sisters please go to your visits and tell the doctor of any drastic changes. Thank God I have great doctors."
"If you want to make God laugh have a plan…" she added on Saturday night, captioning a hospital bed selfie. "Won't be long now. Pray for us ?? #babydaly #weloveyou #prayers."
Critics have been raising eyebrows since the 47-year-old announced her pregnancy bombshell during The Real Housewives of Atlanta season 10 reunion in April, shocking the cast. She later debunked rumors of a surrogate.
According to Kenya the father is excited about fatherhood, despite already being a dad to few kids of his own.
"He's thrilled! He's just so happy," She raved. "He gave me a big hug and a kiss and then he started to just kind of make jokes. That's just his personality. He's a fun-loving, happy person."
Unfortunately for Kenya Moore, the birth of her baby will not be filmed for season 11 of the Bravo reality series, after the network fired her.  
Share your thoughts on the calculated timing of the birth of Kenya Moore's baby. Sound off in the comments below!
The Real Housewives of Atlanta season 11 premieres on November 4, on Bravo.
"Like" us on Facebook  "Follow" us on Twitter and on Instagram