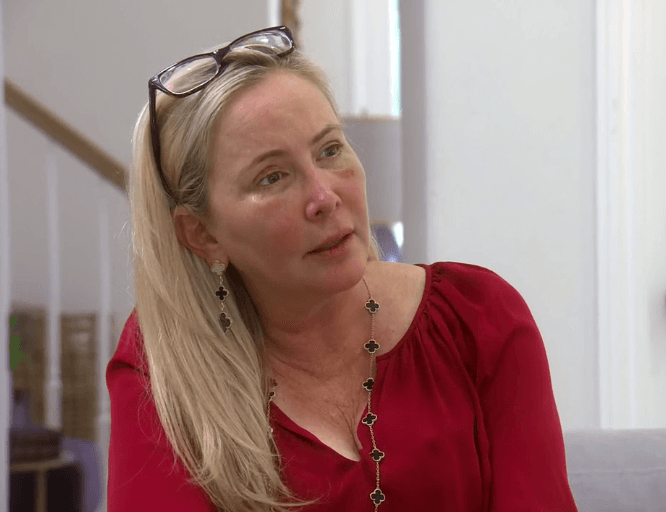 Real Housewives of Orange County Recap!
Welcome to the season finale of The Real Housewives of Orange County! After a season that was at times uneventful and contrived, will the ladies go out in style? Grab the popcorn and pinot and let's find out!
We begin with Shannon who is making her girls sample her new food line. Archie is there, ready to help, but no one thinks to give him a sample. Shannon's daughter Sophie announces she wants to go on birth control for her "cramps" and "acne." Shannon nearly flips out and tells her no. Let Sophie ask David, won't that be fun.
Next up, we join Emily, Kelly and Tamra at an S & M boutique for the femme-fatale finale party. Kelly is excited because she wants to dress like a hooker. Emily explains that femme fatale means sexy and confident and to inspire other women. Umm…I think Kelly's definition is more accurate. Emily shares that her mom is coming to the OC. She hasn't been to visit in five years and has never met her boys. Gina calls and wants to tawlk to Tamra. Tamra puts on a horse head and agrees to go to Gina's casita to tawlk it out.
VIDEO: Vicki Gunvalson Accuses Kelly Dodd of Cocaine Use And More — Go Inside The 'RHOC' Season 13 Reunion!
The following day, Tamra arrives at Gina's casita. Gina explains she was disappointed Tamra was a no-show for her birthday dinner because it was her first birthday without her husband. Tamra says at the time she was being petty upset with Gina for telling Shannon things she had said about her in private. Gina explains that if she really wanted to be a bitch she could have told Shannon all the other stuff Tamra said about her. Gina asks if they are good and Tamra says yes…for now.
Emily is at the airport picking up her mother, Carolyn. Apparently Carolyn is fresh from two weeks of therapy. You can tell Carolyn is trying really hard, but Emily is hell bent on reminding her mom that she missed out on an entire year on account of not being able to leave her house. Carolyn says she has met the boys, but it was when they were just babies. That's not what Emily said earlier. When they arrive home, Shane doesn't seem very welcoming, but that's just Shane being Shane. Emily tells her mom she won't be around much the next day because she has a party to plan.
Over at Kelly's house she has a team helping her get ready for the party while her young date Alex watches. Dressed to kill, Kelly asks if she looks like a hooker, and seems disappointed when Alex says no. They agree Kelly looks like a high-priced hooker.
Gina is getting ready for the party, too. Her mom is in town to watch the kids because her soon-to-be-ex is always MIA. Her son Nicholas knows something's up with his parents. He asks if Gina will be spending the night at her little house. Gina tells him his daddy will be home tomorrow and they get to spend the day together. Nicholas doesn't want to, even if he gets to choose the activity. So sad.
Shannon and Tamra are getting ready together. Dressing like a hooker is right up Tamra's alley, but she's concerned because everyone's moms will be at the party. Tamra tells Shannon about her chat with Gina. They deduce that it was all Kelly's fault and Emily has no business giving medical labels since she threatened to kill Kelly twice.
In the car ride over, Eddie looks to be in pain – and not from his A-fib – from being stuck in the back seat with Shannon who is already complaining. And she totally missed the mark on the femme-fatale clothing. Shannon's dressed like she's going to Sunday brunch.
Guests start arriving, and Emily's mother-in-law Pary mistakes Eddie for Tamra's son, which is awkward because her real son is also there. Vicki shows up with Steve, Steve's mom and Steve's daughter and Steve's daughter's boyfriend, after regaling stories of her face lift. Can I just say this party is kind of lackluster? Besides the girl in the giant martini glass, where's the entertainment. Where's the femme fatal band? Where's the cabaret show? Something more than people standing around a flower wall.
Outside, Tamra and Shannon sit down with Gina. Shannon tells Gina she may be a lot of things (and she is) but she is not a liar. Gina explains that like it or not, there was a lot of tawlk about her mental health in Jamaica. Shannon assures Gina she is crazier than a loon mentally sane, aside from a few meltdowns here and there. Gina says don't shoot the messenger, tawlk to your friends. Shannon calls Gina a pot-stirrer, all the while Tamra is just sitting there.
On the other side of the patio, Vicki tells Steve's mom that she has proposed to Steve several times and hasn't gotten a yes. She says when he's ready, he's ready. Vicki explains that she may not be ready then. Later, Steve agrees to premarital counseling as long as Vicki doesn't blow it. WTF?
Emily is tentative about joining the ladies mid-fight, but she and Kelly sit down to listen to Shannon's complaints. Kelly says she thinks Shannon should take medication so she doesn't have a stroke. Shannon insists this will never happen to her. Emily tries to speak up, but is cut off by Shannon telling Emily how dare she give a diagnosis comparing her to her mentally ill mom. Emily denies this even though she did this, apologizes, but good luck getting another word in. Even poor Gina tries to say something and Shannon cuts her off, too. She's totally sane, y'all. Totally.
Meanwhile, Kelly is bragging about her date, Alex. She compares him to JFK Jr, tells people he has a Ph.D – pretty huge dick, and calls him Big Dick Daddy from Cincinnati.
Vicki finally joins the ladies. Gina says she looks great – now that she no longer has a gobble wobble. All of the sudden Shannon announces, OMG I have to leave. I have a date with Brett Michaels and I need to change. Why the hell didn't Shannon dress the part to the femme fatale party? Because Shannon always makes everything difficult! Shannon comes back out in head to toe black with a red scarf on her head and leaves.
Season 13 Comes to an end. Yay! Bring on the reunion shows. Here are the Updates: *Warning – None of these will make you feel updated.
Shannon has lost over 25 lbs and is 10 lbs away from her goal weight. And, for now, she in fine with Archie being the man of the house.
Gina is in the process of finalizing her divorce. Which means no more sex with Matt…at least for now.
Vicki and Steve have not yet gone to premarital counseling…and she's still waiting for a ring.
Kelly has started dating a new guy she met through Shannon…but she's keeping her "bench" full just in case.
Emily still wants another daughter, but Shane does not. She paid the embryo storage fees for 2019…in case she changes his mind.
Tamra and Eddie sold their home and are moving into a gated community. No need for a housewarming party…since their new neighbors are Vicki and Gina.
Tune into The Real Housewives of Orange County next week for part one of the reunion showdown!
"Like" us on Facebook  "Follow" us on Twitter and on Instagram