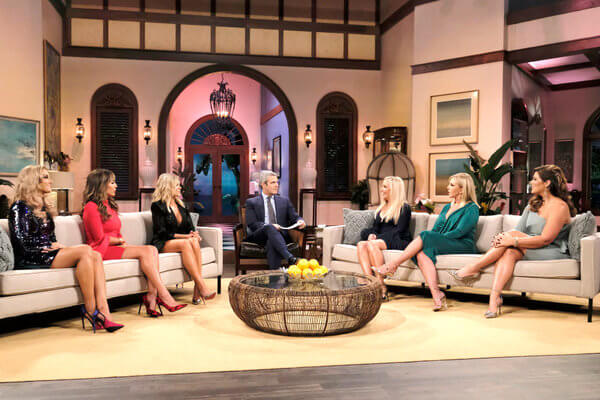 Here's your first look at The Real Housewives of Orange County season 13 reunion!
Well, season 13 of The Real Housewives of Orange County comes to its bitter end tonight, and after watching a trailer for the reunion, it's a wonder how any of these people can stand being around each other!
Gina Kirschenheiter, Kelly Dodd, and Tamra Judge are seated on the right side of the couch — while Shannon Beador, Vicki Gunvalson and Emily Simpson are seated across from them.
Leftover drama between Shannon Beador and Tamra Judge from their crazy trip to Jamaica will resurface during the post season sit-down.
Kelly and Vicki  also get into a dirty catfight during the reunion and Vicki accuses Kelly of using cocaine.
As exclusively reported by AllAboutTheTEA.com, Kelly's alleged coke delaer's name is Frank Ultimo. Read all about it here.
EXCLUSIVE: Kelly Dodd's 'Out of Control' Cocaine Habit & Family Drama Revealed!
Their falling out stems from Vicki Gunvalson, 56, and her boyfriend, Steve Lodge, introducing Kelly's ex, Michael Dodd to a woman he met at Vicki's home, in addition, the couples went on a double-date. Steve clarified misconceptions about the matchmaking with a tabloid — and his statements had Kelly Dodd seeing red.
Emily Simpson brought a "revenge" binder filled with notes on all the women and had her sights set on Tamra Judge and Kelly Dodd. Emily and Kelly rehashed their epic fight where Emily threatened to kill Kelly.

No reunion would be complete without a hyperventilating walkout, and Vicki's claim that Kelly abuses drugs, is the trigger that pushes Kelly to storm off from the set.
We've seen nasty fights erupt amongst these women in the past, but there was something about this season that feels particularly irreparable — at least as far as Kelly Dodd and Vicki Gunvalson are concerned. 
The good news is that the ladies' style is evolving, and bedazzled prom dress  getups appear to be a thing of the past. What do you hope to see hashed out, as we give a final wave to Season 13?
Watch The Real Housewives of Orange County Season 13 finale tonight, on Bravo, at 9:00 p.m. ET.
"Like" us on Facebook  "Follow" us on Twitter and on Instagram