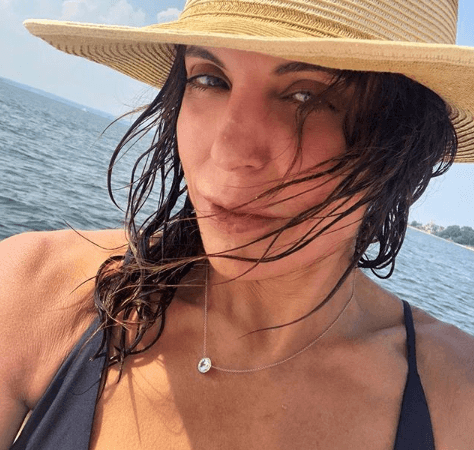 Bethenny Frankel remembered her deceased ex Dennis Shields this week, while on vacation in the Bahamas.

On Saturday, the Real Housewives of New York City star sang "Sail On" by Lionel Richie on her Instagram Stories as a tribute to Dennis Shields.
"Dennis would like this right now, he'd be happy," the reality star says in the clip of her boyfriend, who died on August 10 at the age of 51. "He would appreciate this. He didn't care what we did," she adds with a laugh."This one's for Dennis. He's sailing on."
Frankel, 47, also shared a video of herself singing another Richie classic "Stuck on You." "Are we ever going to have sex again?" she asks her best friend Sarah, who is vacationing in the Caribbean with the reality star. "Not with each other, just with anyone," Frankel jokes. Press play below to watch. 

Shields was found dead in his Trump Tower apartment on August 10,  after ingesting an unknown number of prescription oxycodone pills, according to police. Shields, evidently concerned about a possible overdose, asked his housekeeper to administer Narcan, which is used to block dangerous opiod levels. The housekeeper did so and called 911, but it was too late.
The cause of death of Shields, the on-again off-again boyfriend of  Real Housewives of New York star, Bethenny Frankel, was ruled undetermined because an autopsy was not performed.
 "If you can't laugh, you [cry]," she captioned a subsequent Story with a sad face emoji. "In bed, we've been in bed since 9:30 on vacation, listening to Lionel," she says.
The Skinnygirl entrepreneur revealed that she has been on a "#griefdiet" after the passing of her on-again, off-again boyfriend.
The Chief Medical Examiner of NYC confirmed that there was a religious objection to the procedure. Additionally, unless law enforcement suspects foul play, an autopsy can be rejected in New York, if religious objections come into play.
Share your thoughts on Bethenny Frankel publicly serenading her ex Dennis Shields. Sound off in the comments!
"Like" us on Facebook  "Follow" us on Twitter and on Instagram