Celebrity News
'Let A Bish Know!' Fired Kenya Moore Begs For #RHOA Job In Cryptic Farewell Post!
Kenya Moore is not going away quietly after being fired from The Real Housewives of Atlanta.
On Tuesday, the 47-year-old washed up beauty queen took to Instagram to announce several things. For starters, she has not been asked back to the hit Bravo reality series as a "Housewife" or a "Friend of a housewife."
"#FAKERHOANEWS No one has EVER asked me to be a friend to show," Moore wrote in a lengthy Instagram post.
Moore continued her tirade by praising herself as, "THE housewife that has had THE highest rated episodes the past 3 seasons… even last year having missed 3 episodes."
Kenya ends her desperate rant by promising her devoted Team Twirl followers that they'll see her life as a "wife" and "mother-to-be," come hook or crook.
"Don't worry #teamtwirl you will get to see #babytwirl and all that I'm experiencing as a new wife and mother-to-be one way or another .You will see my raw truth… the good the bad."
Read the entire post below.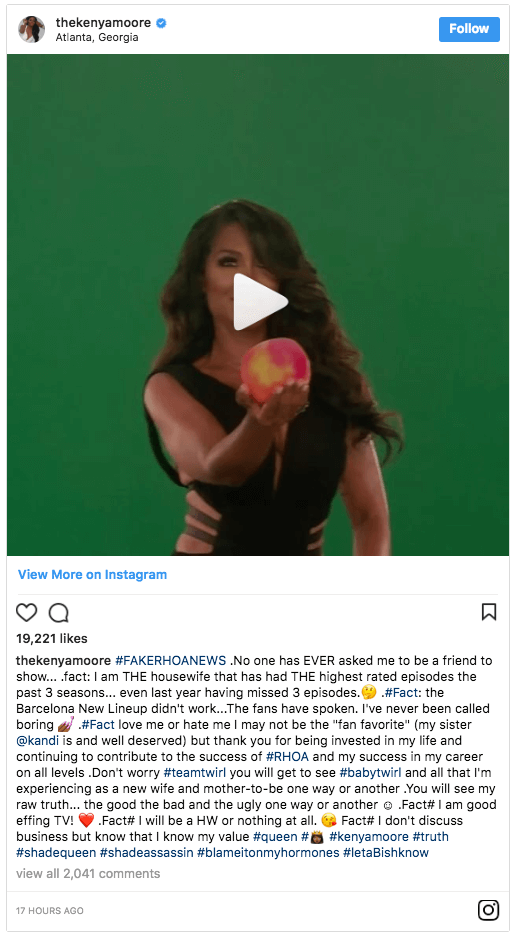 In another blow to Moore's ginormous ego, the RHOA production company has not officially informed the reality diva that she's been fired. Instead, production is carrying on business as usual  — they sent out pick up letters to: NeNe Leakes, Porsha Williams, Cynthia Bailey and Kandi Burruss, and began filming the upcoming season last week.
Producers want storylines rooted in truth and have replaced Moore with newcomer Eva Marcille, who is getting married to her fiancé, Michael Sterling and a new woman is expected to join the cast.

As reported, Kenya Moore's peach was revoked as a full-time Housewife on The Real Housewives of Atlanta, after Moore's June 2017 wedding stunt caused major headaches for RHOA producers. Moore's reluctance to build a post-married storyline cost her $125,000 in RHOA penalties. And despite allegations of a fake marriage, Moore has yet to furnish a marriage certificate to prove she's actually married.
Share your thoughts on Kenya Moore's farewell and sad attempt to win her RHOA job back. Sound off in the comments below!
"Like" us on Facebook  "Follow" us on Twitter and on Instagram