RECAP: 'Married To Medicine' Quad Webb Crashes Lateasha's Bachelorette Party and Gets Kicked Out!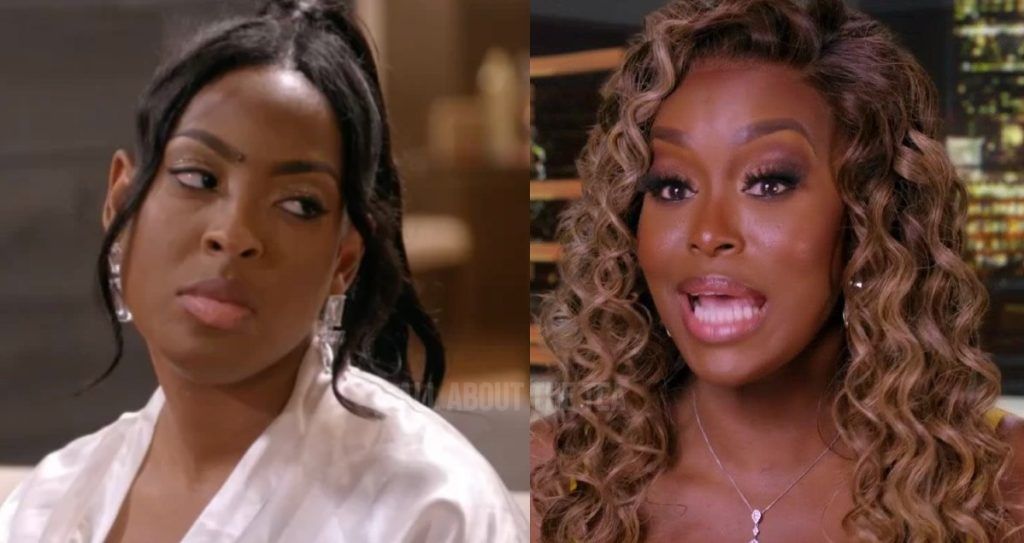 RECAP: 'Married To Medicine' Quad Webb Crashes Lateasha's Bachelorette Party and Gets Kicked Out!
Welcome to an explosive episode of Married to Medicine! We begin as Toya Bush-Harris invites Lateasha Lunceford to a pamper party! Toya wants Sweet Tea to come dressed sexy and ready to have a good time, as Toya's son side-eyes her as he leaves the kitchen. Quad Webb is cooking with her assistant as Phaedra Parks watches her sons play soccer.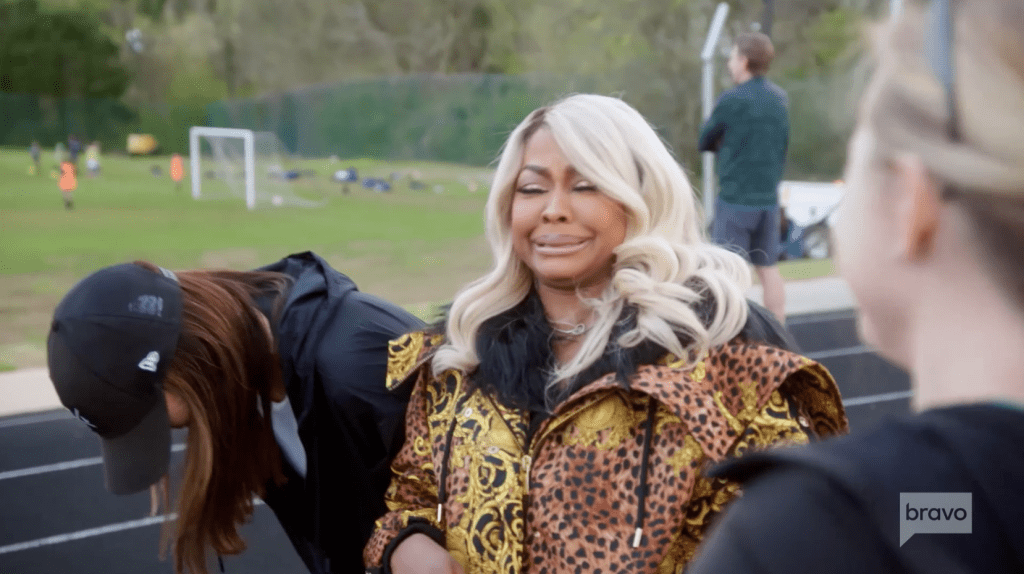 Dr. Jackie Walters and Dr. Simone Whitmore are having lunch outside and catch up on their patients. Jackie tells Simone about her patient being upset at a diagnosis, as Jackie educates us on STI's in her confessional. Jackie moves onto Sweet Tea and Simone admits Lateasha is struggling. Jackie thinks Lateasha has turned into neutral tea as Simone explains Lateasha's overwhelmed with the wedding planning.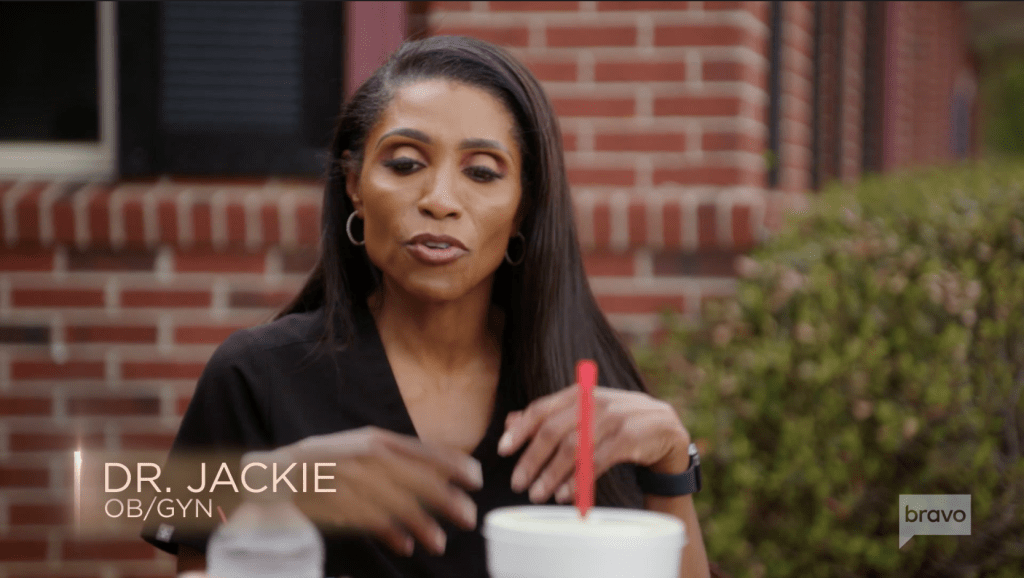 Simone referred Lateasha to an assistant and Jackie is shocked by the way this new generation operates. Simone tells Jackie that Sweet Tea needs someone to help so that she can make sure Dr. Gregory Lunceford has a meal when he gets home. Simone recognizes when she was Lateasha's age, she had to do it all and nowadays the kids expect life to just happen. Simone wants Lateasha to step up to the plate and due to the rain, Jackie and Simone take their lunch inside.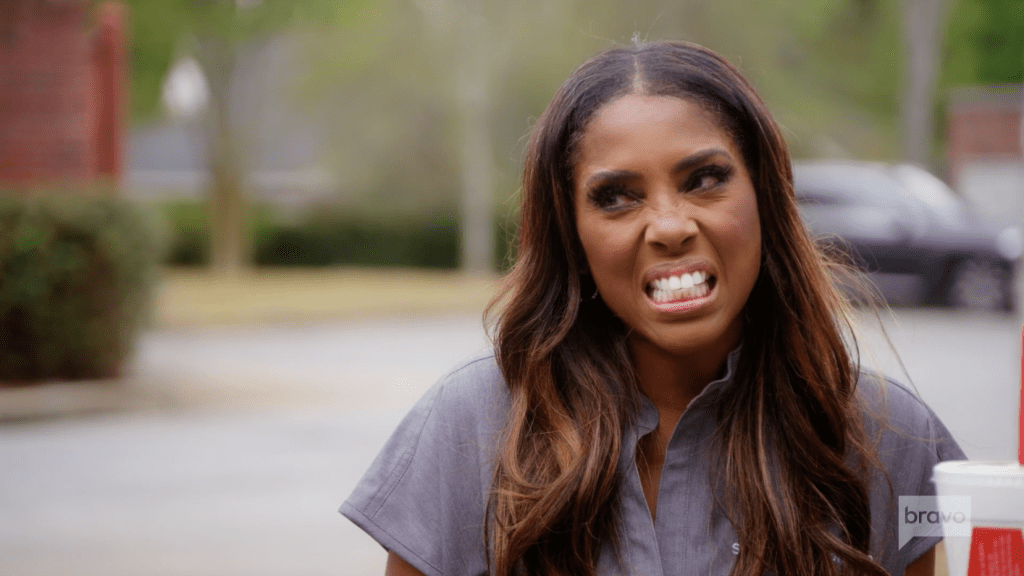 Later, Dr. Heavenly Kimes is meeting up with Lateasha for dinner and to catch up! Heavenly likes Lateasha today and greets her with a big hug before ordering a shot of Patron. 
Heavenly's excited for Lateasha's big day but Lateasha admits she had to get in her wedding planner's a** about what needs to be done. Lateasha thought she would have more help from Greg but since that's not the case, Lateasha's beginning to get overwhelmed with her to-do list.  Unfortunately, Lateasha had to change venues at the last minute due to the rain forecast on her wedding day. Lateasha wants everything to be perfect as they take another shot before diving into marriage talk. Heavenly encourages Lateasha to save her money and to have her own. Lateasha wants to learn how to manage her money and claims she doesn't ask Greg for money. Heavenly ask if Greg ever throws his money in Lateasha's face and Lateasha says sometimes she does.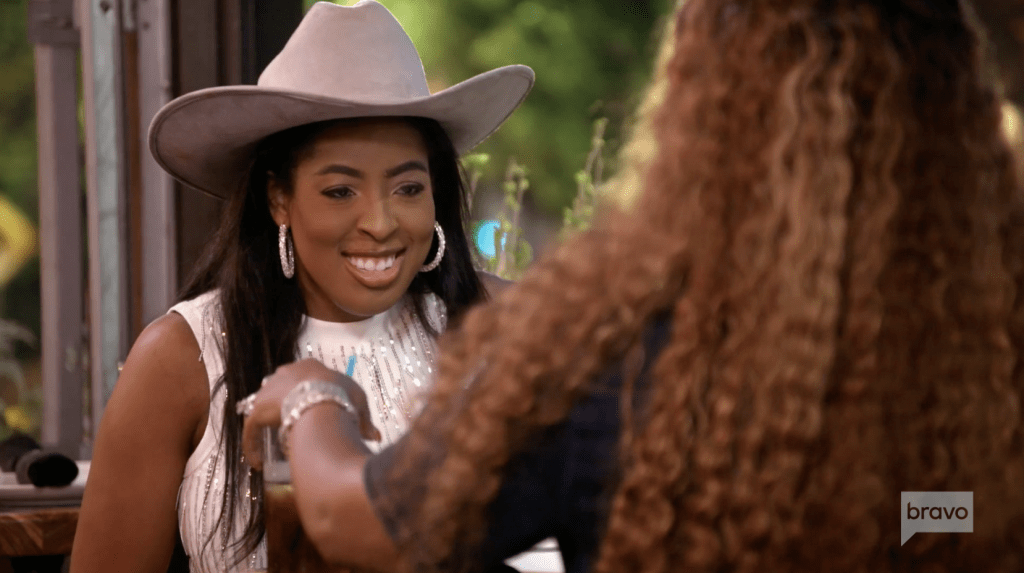 Lateasha begins running her mouth and tells Heavenly that Quad was right about some things in regards to Gregory. Lateasha says Greg is controlling and tried to teach her a lesson by pretending intruders were in the house. Heavenly doesn't like the joke and Lateasha explains Greg doesn't have to teach her a lesson. Greg told Lateasha that she's beginning to say the same things Quad said and Lateasha's beginning to see similarities in her and Quad's experience. Heavenly sees the comparisons and wonders what Lateasha said to Gregory. We get a flashback of Gregory and Quad arguing and Heavenly wonders what's going to happen after they get married. Lateasha hopes to figure things out once they get married, but we all know how that goes.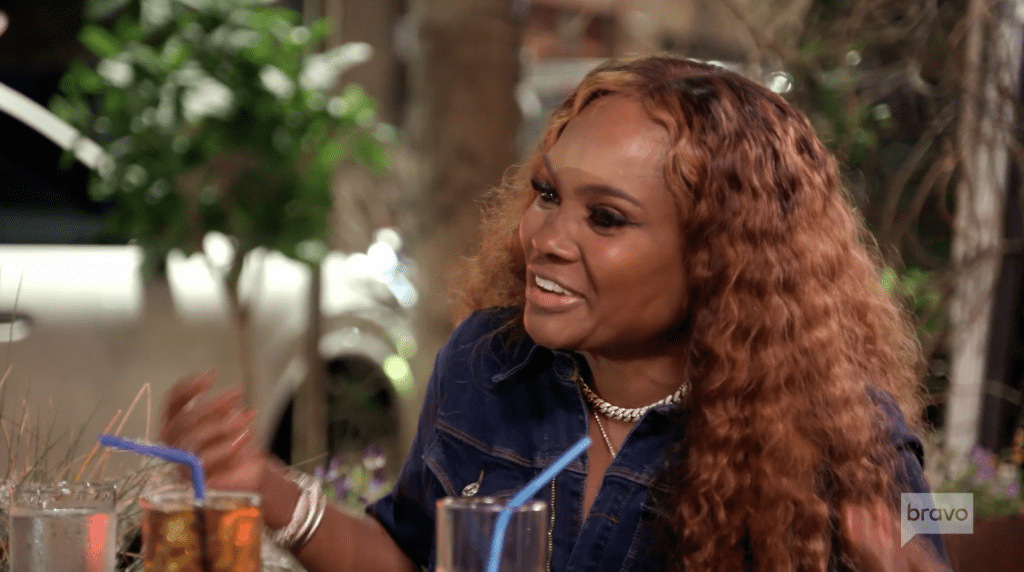 That evening, Simone and Cecil are having dinner with their sons Micheal and Miles. Simone inquires about their spring break trip and Micheal explains his trip to Cabo. Micheal's playing basketball at Holmes College as Miles discusses his trip to Nashville, as we find out Miles still lives at home. Simone ask about their schoolwork and of course Michael failed a test because he forgot about it. Simone's getting fed up but wants to support them until they figure it out. Cecil ask what their mindset is, and Michael's plan is to come home after college. Simone doesn't like that but Michael's not ready to fly on his own. Simone knows she and Cecil are spoiling her boys but won't stop pushing them to maintain their own. 
Cecil brings up the possibility of Michael going to Georgetown with Miles and soon Simone and Cecil begin bickering about being on different pages. Simone feels that Cecil will continue to give to their boys but Simone's trying to tighten the purse strings. Simone tells the boys they're entitled and instead of taking her seriously, Michael thanks Simone for entitling them. Meanwhile, Heavenly's cooking dinner as Alaura comes out to help. Heavenly teaches Alaura about cooking spaghetti for her future husband and almost slips and tells Alaura about adding a special ingredient in the sauce. 
Dr. Damon Kimes comes home and greets his girls as Heavenly tells Damon about Alaura finding her future husband. Heavenly wants Damon to tell Alaura about his time in college as Damon tries to discourage Alaura from partying, while claiming studying is fun. Alaura ask Heavenly if she partied back in the day and Heavenly slips and mentions her boyfriend at the time. Alaura thought her dad was the first man Heavenly's been with and Heavenly had to play it off. Alaura wonders if Damon had a girlfriend and he didn't the first year. Damon encourages Alaura to connect with different people as Heavenly and Damon encourages Alaura to stay close.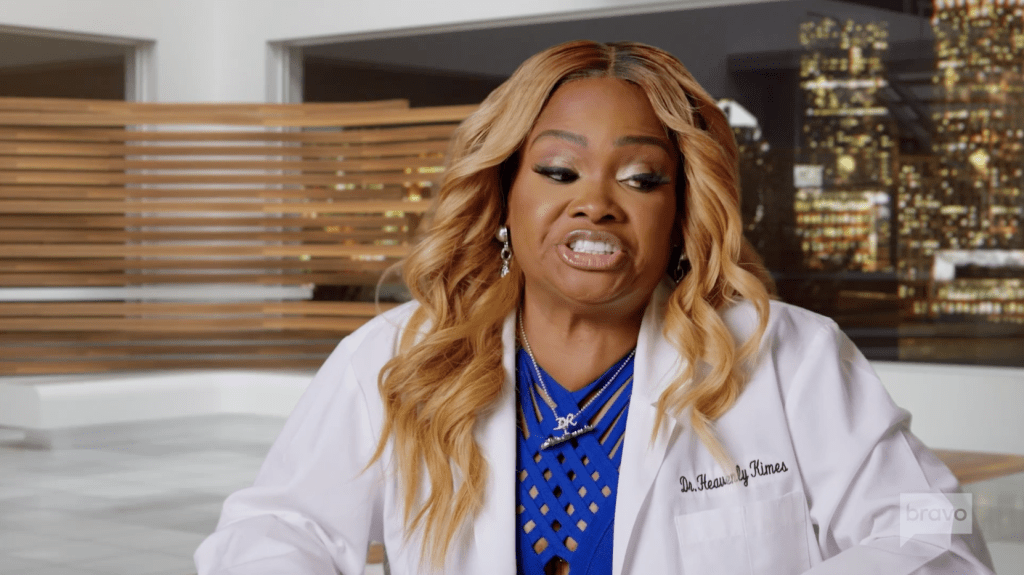 Alaura mentions Damon and Heavenly going away for school and wonder why they want her to attend college in-state. Although Damon doesn't want to sound sexist, he tells Alaura that he wants to be able to get to her; in case she needs him. Damon and Heavenly continue trying to persuade Alaura but sis isn't listening to her parents. The next day, Dr. Eugene Harris is going shopping with his boys to get some items for school. Eugene explains that even though his dad was "no nonsense," he still remembers spending time with his dad and wants to make sure he gives his sons the same experience. Eugene ask the boys about school before inquiring about the previous sex-talk. Eugene wants to make sure they don't have any lingering questions and the oldest asks what a period is.
Eugene breaks it down for them in the best way and of course the boys think it's disgusting. The boys talk about tampons and Eugene's glad the boys ask the important questions. Eugene enjoys spending time with his family and loves that they're growing together as a family. At Simone's, she and Cecil are discussing the upcoming night in celebrating Gregory and Lateasha. Cecil's nervous about strip clubs since Mexico but insist they only live once. Toya's setting out rose petals and making sure everything's in place for a sexy night. Male models come in looking good as Phaedra and Toya greet them. 
Toya notice one model looks like Damon as Jackie and Heavenly arrive shortly after. Heavenly has her thighs out and ready to get pampered for the night. Heavenly checks out Phaedra's nipples as Simone and Dr. Alicia come through. Toya tells the ladies the night isn't about sex but about pampering as one man begins massaging Heavenly's back as one of the ladies sprays whipped cream on Heavenly's chest. Meanwhile, Cecil and Eugene are toasting to the night ahead as the rest of the men begin to arrive. Dr. G arrives ready to be celebrated as he's officially welcomed back into the group. Gregory's ready to get back in the game as Cecil tells Gregroy to live it up for the night.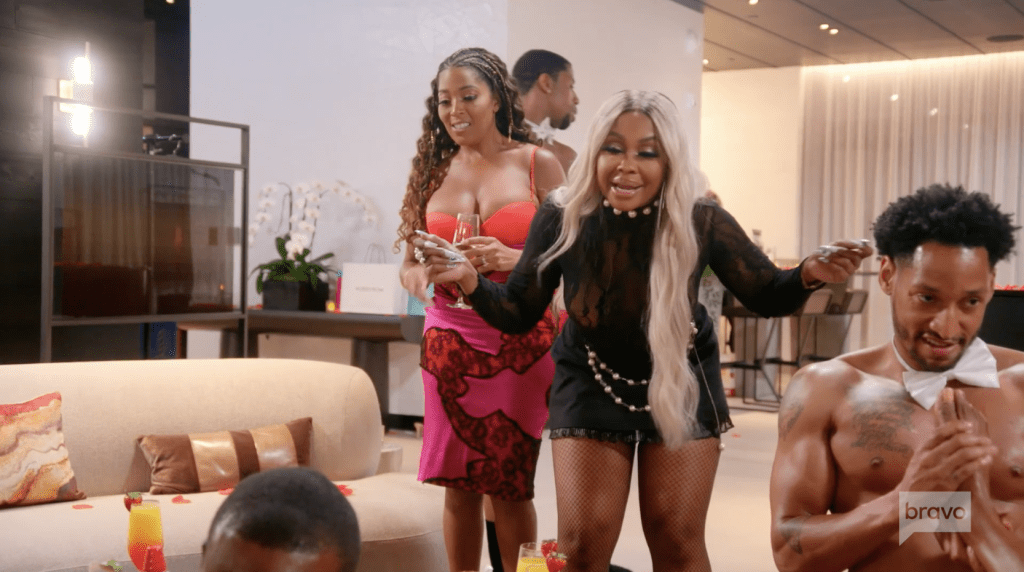 The fellas toast to brotherhood, marriage, and family as the ladies continue turning up at the hotel. Cecil has the sprinter van decked out with two strippers already shaking it on board! The men are definitely getting in trouble tonight but so are the ladies as they get rubbed down and licked by these models. Lateasha and her sister finally arrive as the men pick Sweet Tea up and begin rubbing her down! The model carry Lateasha to the couch and Simone ask Lateasha if Greg will be able to carry her on their wedding night. Lateasha says they've practiced as she wonders what the men are doing. Lateasha mentions that Gregory is conservative, and the ladies look at her in disbelief as we get a peak of Gregory receiving a lap dance.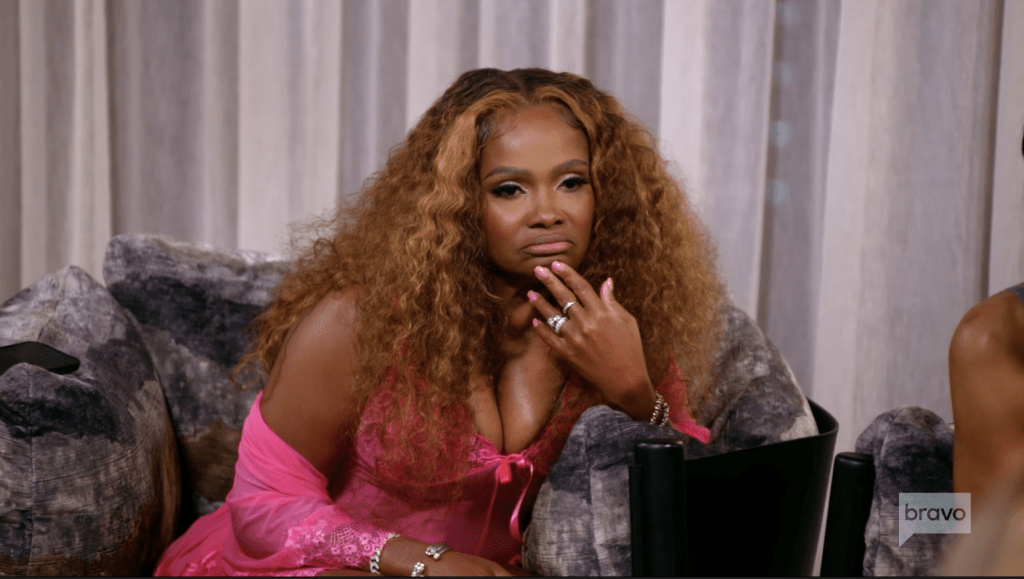 I mean booty is everywhere as the fellas are lost in a land of lust. Cecil and Eugene reminisce on their bachelorette party as Gregory proclaims if his pants come down, he's not pulling them back up! The ladies ask Lateasha's friends if Sweet Tea is turning into a Bridezilla and soon Lateasha's party planner calls her to tell her what she wants at the wedding is going to cause an extra fourteen-thousand! The ladies begin shading Sweet Tea in her confessional as Phaedra attempts to calm Lateasha down. 
Lateasha even snatches away from her sister and soon the twins begin cussing each other, as Lateasha throws her phone and storms away. Lateasha yells at her twin that she's not f***ing with her, as she's escorted to the bathroom to calm down. Toya calls for an intermission as the fellas make it to the strip club for the real party. The men are having the time of his life as Jackie tells Curtis not to touch, as we see the stripper sit on his lap. Curtis tells Jackie she has nothing to worry about as Tequila flashes Gregory as he invites the stripper to the wedding. Eugene checks him as the fellas shake their heads at Gregory. Gregory wants to get Damon in trouble before Greg jumps on stage and dances with the strippers.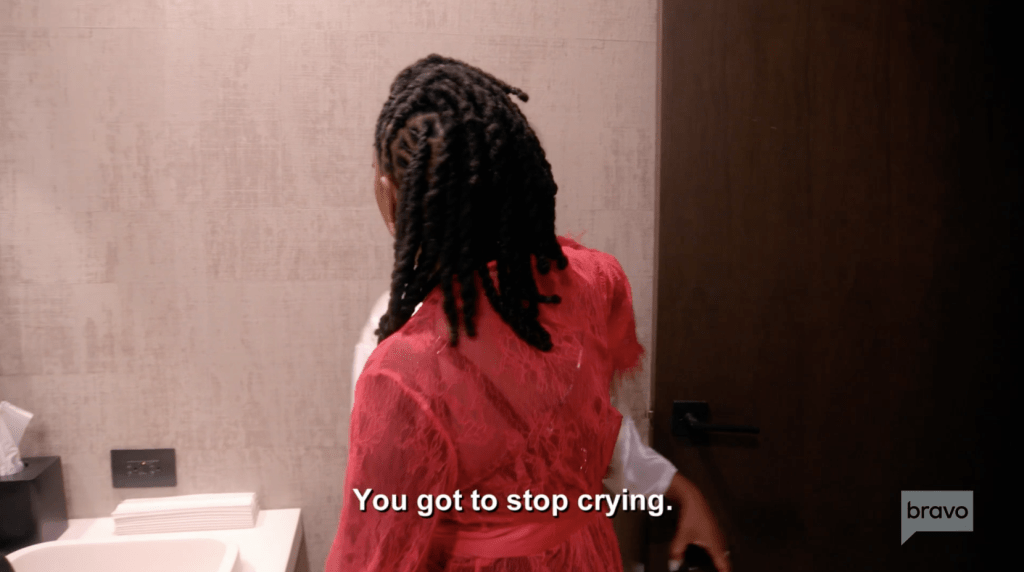 At the hotel, the twins apologize to each other as Heavenly claims she thinks the wedding is rushed and they're not ready. With Lateasha's friend sitting nearby, Heavenly continues spilling the tea by repeating what Lateasha said about Gregory being controlling. Heavenly feels like the communication isn't there as the rest of the ladies sit back in silence. As Lateasha rejoins her party and the ladies are getting a massage; Quad text Phaedra to let her know she's outside. Phaedra quietly gets up to let Quad in and the ladies are SHOOK! Heavenly begins laughing as the rest of the women look around speechless.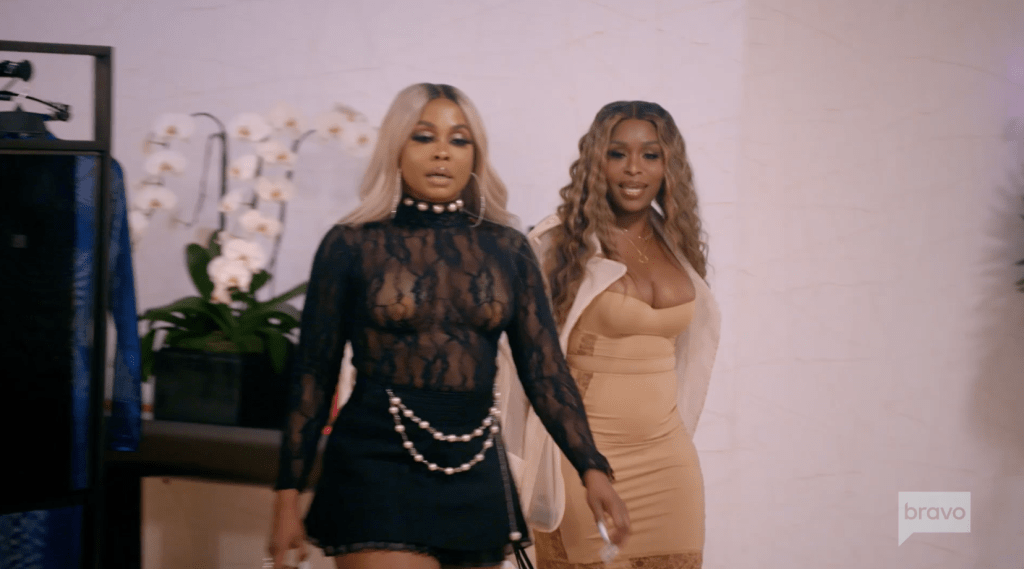 Heavenly greets Quad as Toya wonders who invited Quad, while questioning Heavenly about their new friendship. Phaedra introduces Quad to everyone and surprisingly Lateasha and Quad shake hands. Toya ask again how Quad is there and Quad admits Phaedra invited her.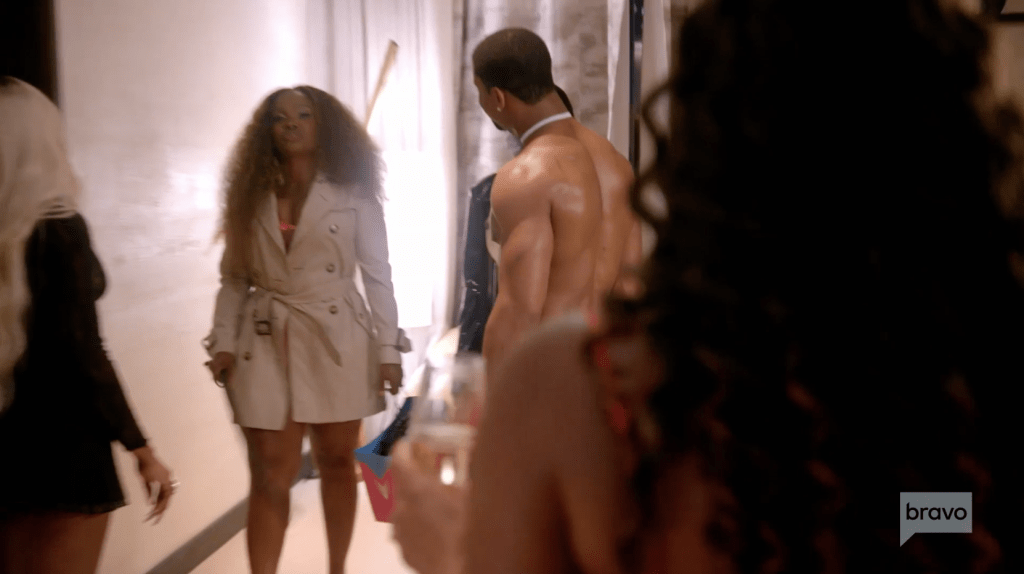 Phaedra speaks up that since the ladies wondered where Quad was, she brought the girl back. Lateasha tells Quad to sit next to her as Quad hands Lateasha a gift. Quad congratulates Lateasha and tells her that she has no animosity towards her and the two hug. Toya being real, ask Lateasha what's going on since originally Lateasha didn't want the ladies to speak Quad's name.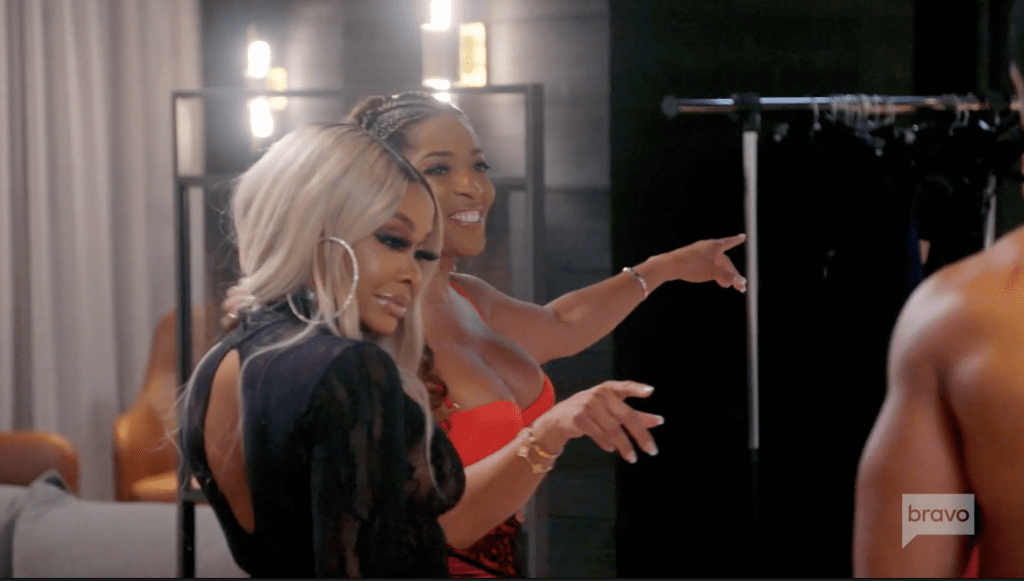 Lateasha claims it was because it was her engagement party but Toya wonders if this event is any better. Heavenly's tired of the feud between Toya and Quad as a stripper ask Toya to calm down. Toya's not coming up off Quad's neck and tells the room how awkward this is and although this is Lateasha's event; it's really Toya's and Toya ask Phaedra to walk her friend out! Quad ask Lateasha if she wants her to leave and Lateasha thinks it's best for Quad to exit stage left!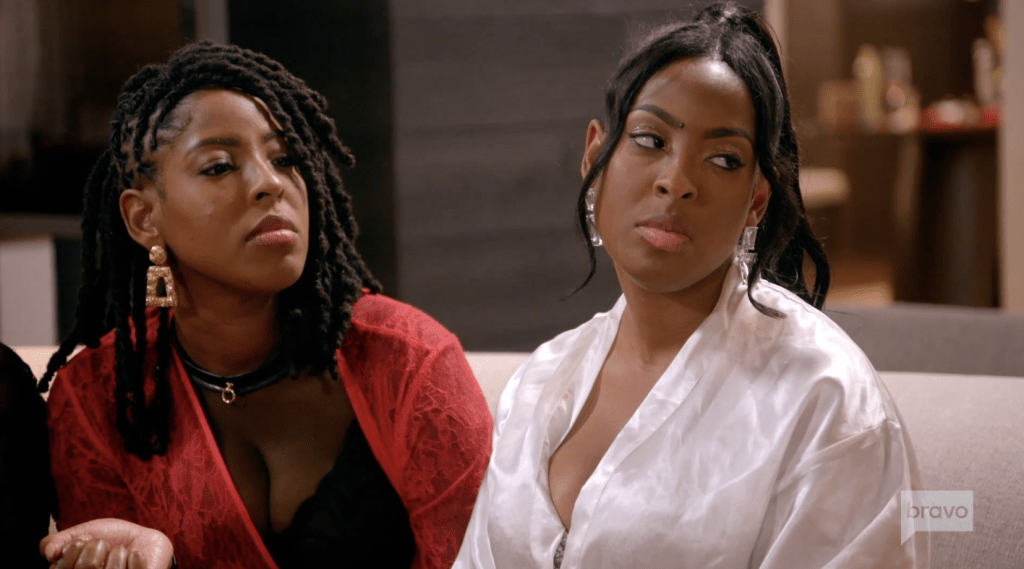 Quad says bye to everyone as Toya waves goodbye to Quad as Heavenly and Phaedra walk her out. Now Toya's mad at Phaedra and tells Phaedra not to bring Quad to the wedding before heading out. Whew! Be sure to come back next week for the next episode of Married to Medicine! 
Stay Connected With All About The Tea: Twitter Ι Instagram Ι YouTube Ι Facebook Ι Send Us Tips
LeAndra Williams is a content contributor at All About The Tea. She's a social worker and (super) mom by day, and a reality T.V. junkie by night.