'RHOBH' RECAP: Garcelle Beauvais Doesn't Trust The Ladies with Her Kids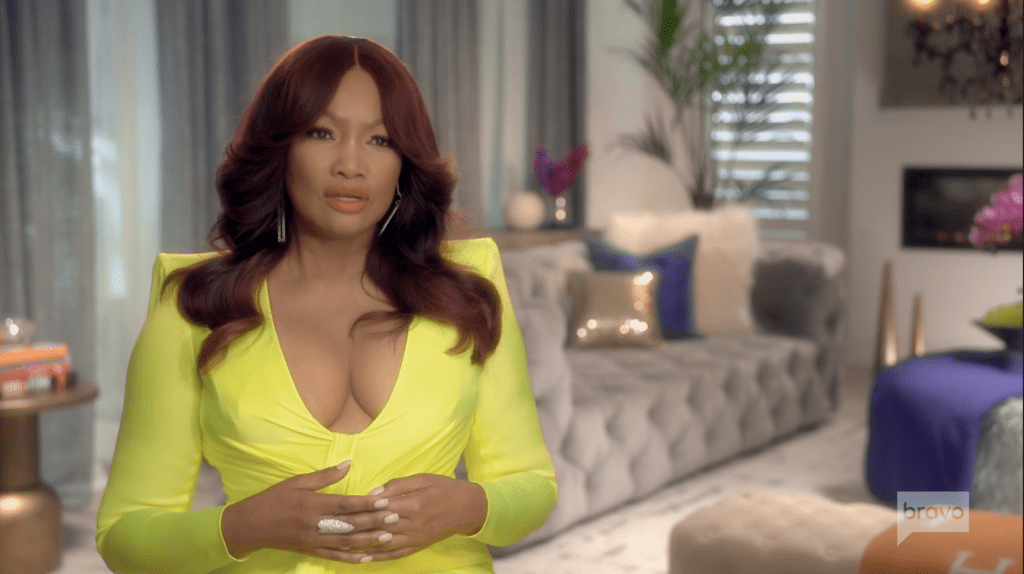 'RHOBH' RECAP: Garcelle Beauvais Doesn't Trust The Ladies with Her Kids
Welcome back to a new episode of The Real Housewives of Beverly Hills. The ladies are in Las Vegas celebrating Crystal Minkoff's 40th birthday and surprisingly no one's had their wig snatched off, yet. We begin with Dorit Kemsley, Kyle Richards, and Crystal eating lunch as Garcelle Beaauvais joins ready to meet the men! Before the fun can begin, once Erika Jayne joins the group, Garcelle launches an intervention for Sutton Strake. Sutton's struggling in the dating world and Garcelle wants to help Sutton land a second date. Sutton wants Garcelle to get a first date before chiming in on her second date, while Dorit asks Sutton to explain what went wrong.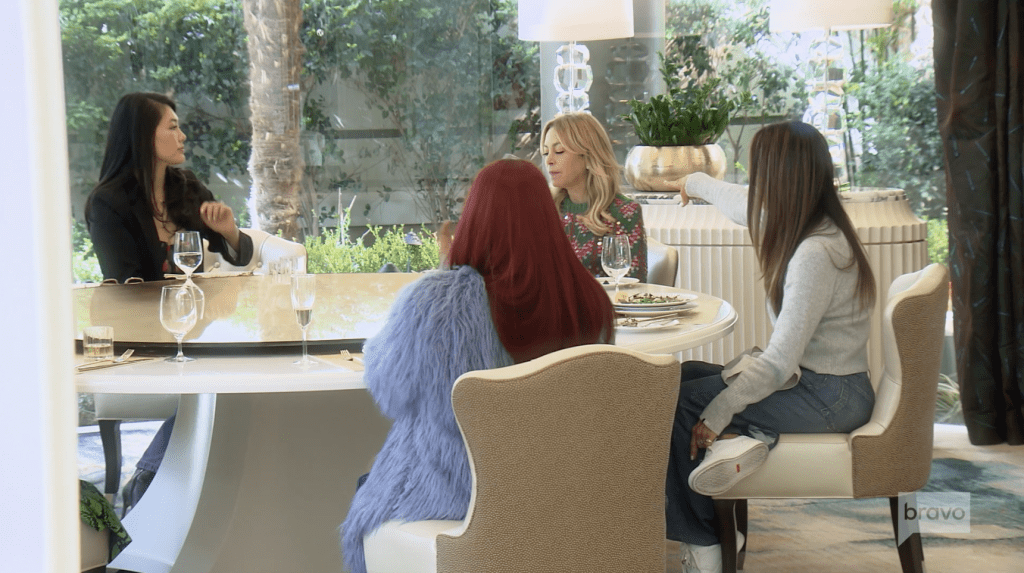 We find out Sutton went on one date and then asked this man to fly to New York for a black tie event! Even Dorit told Sutton to have a third and fourth date before asking a man to fly across the country. Sutton pulls out her phone to read the messages, but Kyle snatches the phone to embarrass Sutton further. Sutton compliments the guys triceps and now the girls know why Sutton's so bad at dating. Kyle pretends to FaceTime Sutton's date and Sutton squeals like a pig trying to get her phone back. Kyle compliments Sutton on her beauty and fun personality, while clarifying that if a man doesn't want to date Sutton; that it's his loss. Garcelle dismisses the ladies to rest and get ready, before meeting up for Magic Mike.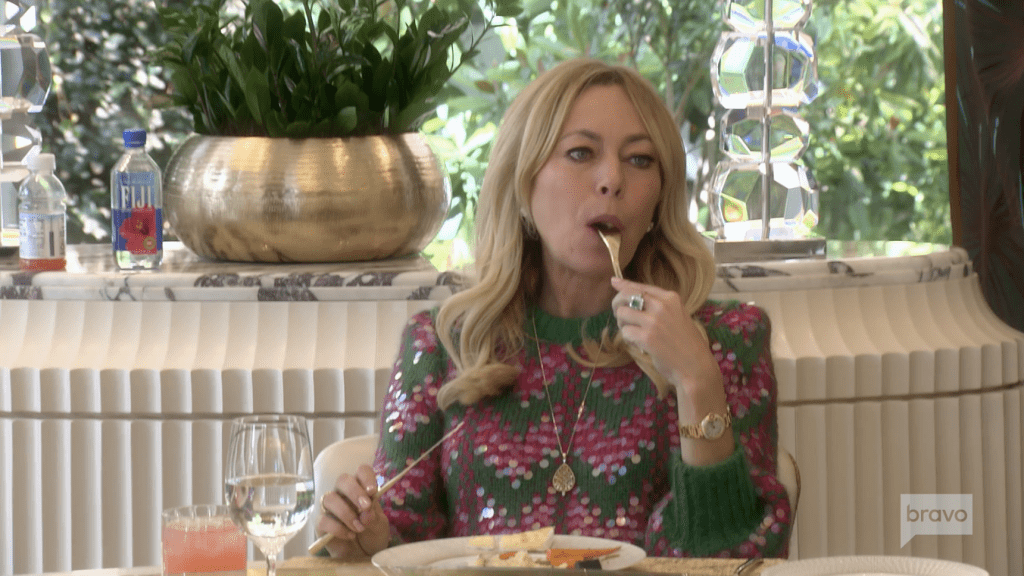 Dorit and Kyle are surprised Crystal brought her glam team with her, while Sutton's going off on Avi (Sutton's property manager) about some pants she can't find. Good thing Avi found what Sutton was looking for and the crisis was averted. Avi apologizes for the inconvenience and Sutton dismisses him. Crystal, Erika, and Garcelle's glam team arrives, and we find out Sutton likes to keep Ocean Spray Grapefruit juice in her bag. So random, but the ladies are looking good and ready to paint Vegas red.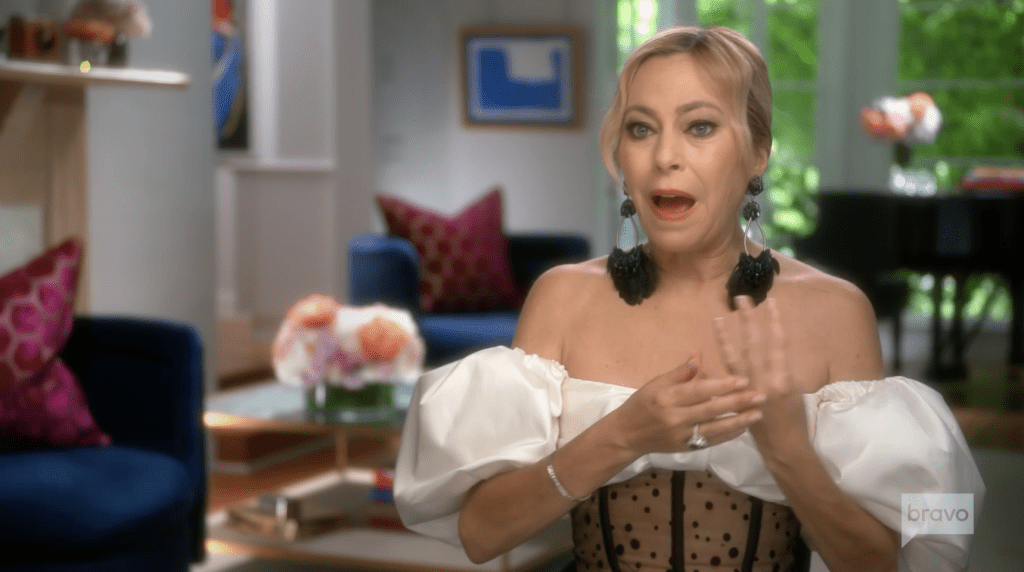 Once downstairs, Crystal and Garcelle grab a drink as the rest of the ladies join the group. Everyone is surprised at the latex outfit Erika walked out in. Sutton has the singles in hand and Erika doesn't want to touch any cash in fear Uncle Sam will come and collect. The ladies arrive at Magic Mike Live and meet the hostess, and we find out Erika set up for all the ladies to get their taste on stage. This should be fun! After being seated, the show begins with a bang and Erika's ready to get Crystal out of her shell! The host warns the ladies of getting wet and soon the fellas hit the stage ready to show it all.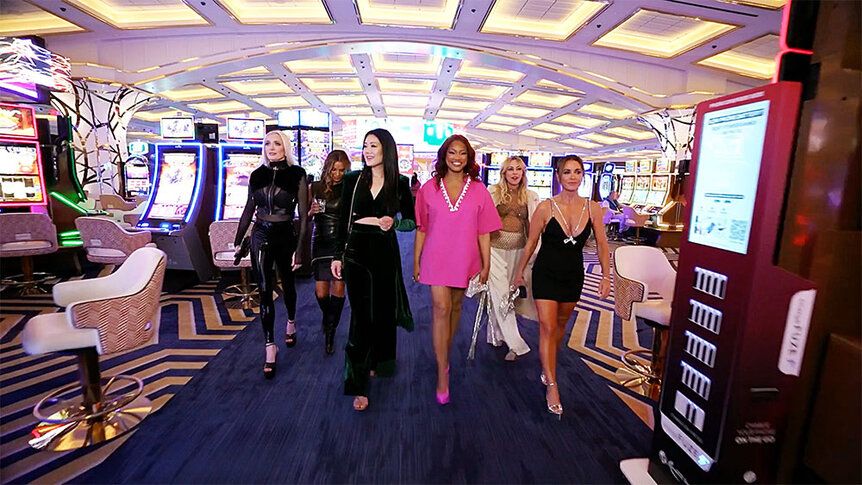 The night's going well, and the group is genuinely having a great time. Dorit's filming as the men take off their clothes and this is exactly what the women needed. One of the strippers collects Crystal to go onstage while Garcelle gets a lap dance from another gentlemen. Crystal and Erika are center stage and living it up as the sexy men bump and grind on them. Erika's having a great time and in her element as Crystal pretends to be innocent. One man picked Erika up and put her on her back, while pretending to lick that cat! Whew, this is hot, but Sutton is becoming increasingly uncomfortable. Sutton's energy changes and Garcelle mention she should've wore pants in order to go onstage.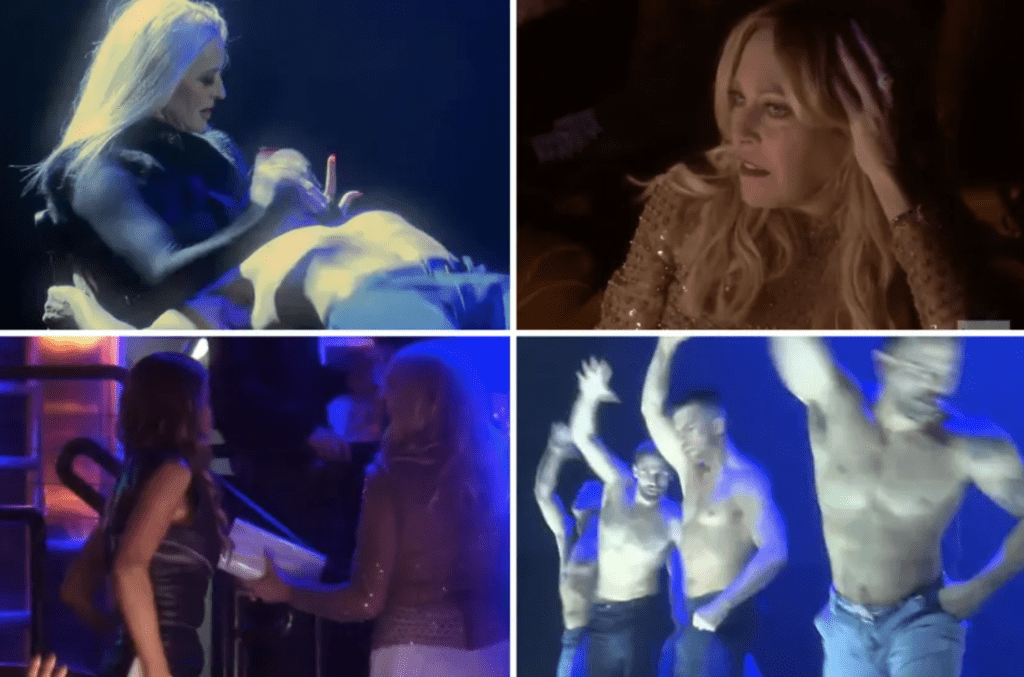 Sutton suddenly exits her chair, swearing and declaring, "I'm on the American Ballet Foundation, I don't do that sh**!" Meanwhile, Garcelle suspects that Sutton had hoped to be chosen like one of the cool girls. Dorit notices Sutton's childish behavior as Garcelle runs after her friend. In the bathroom, Garcelle begs Sutton to come outside to figure out what's wrong. Inside, Kyle's preparing to hit the stage as Sutton complains that she doesn't have friends that allow men to put their heads near their privates. After Kyle's good time on stage, she goes to check on Sutton and immediately has no shame in what she just did. Sutton doesn't mind a man licking whip cream off of Kyle but crosses the line when it comes to Crystal and Erika.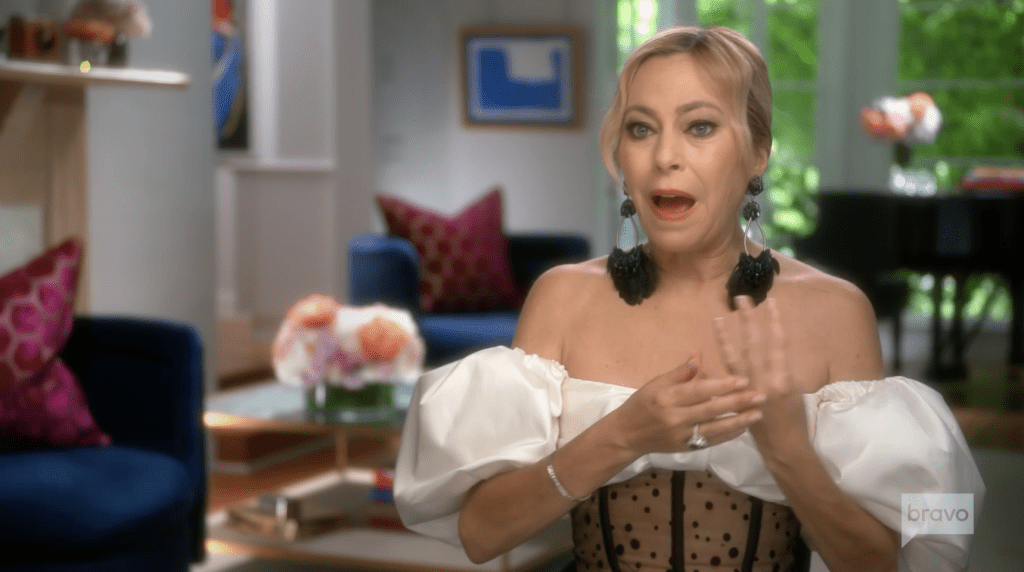 Kyle knows Sutton's real reason for being upset but Sutton defends her POV but production shows Sutton preparing for her spotlight, that she never got LOL. Sutton walks away to get a drink and even Garcelle doesn't know what's going on. Kyle and Garcelle continue trying to calm Sutton down as she discusses wearing a kitty sweater and being weird. Kyle's trying to talk some sense into Sutton, but the liquid courage has disengaged Sutton's brain. Sutton tells Kyle to shut up and Kyle kindly tells Sutton to not be a b****. Sutton's not getting the bigger picture as Garcelle leads her to the sprinter as Kyle texts Crystal that it's time to go. 
Crystal relays the message and unfortunately Dorit and Erika tell Crystal to let Sutton go, in order to enjoy the night. While walking to the sprinter, Sutton calls Garcelle a b**** and Kyle goes off! Kyle tells Sutton she's the one being a b**** and Sutton willfully apologizes as Erika and Dorit hang with the strippers backstage. Crystal gets caught up on the drama and Garcelle's nervous what's about to go down after Erika finds out what's wrong. Erika already know what's up and calls Sutton "Judge Judy" as she procrastinates boarding the bus. Dorit spills it that Sutton was offended, and Erika explains the guy was her former DWTS partner. 
Erika brushes off Sutton's issue and reiterates that she's grown and can do what she wants. Dorit tells Sutton to toughen up in her confessional as Sutton tries to explain why she's upset. Crystal speaks up and wonders how Sutton feels that they're not upset and Dorit chimes in that PK wouldn't care. 
Kyle seconds that thought and laughs at Sutton's reaction as Sutton continues apologizing for her drunken outburst. Garcelle's feet is screaming as they exit the sprinter and Erika checks in with Garcelle on Stripper-gate. Garcelle wasn't offended and all seems to be forgotten as the ladies order drinks in preparation for dinner. After ordering, Sutton apologizes to Erika and Erika accepts it without hesitating. The ladies are surprised at Erika's restraints and soon Sutton brings up Garcelle's journey with her sons. A flashback shows Garcelle's journey with Oliver and Dorit gives Garcelle props for having Oliver's back, but Garcelle reveals she doesn't feel comfortable discussing her kids around the group.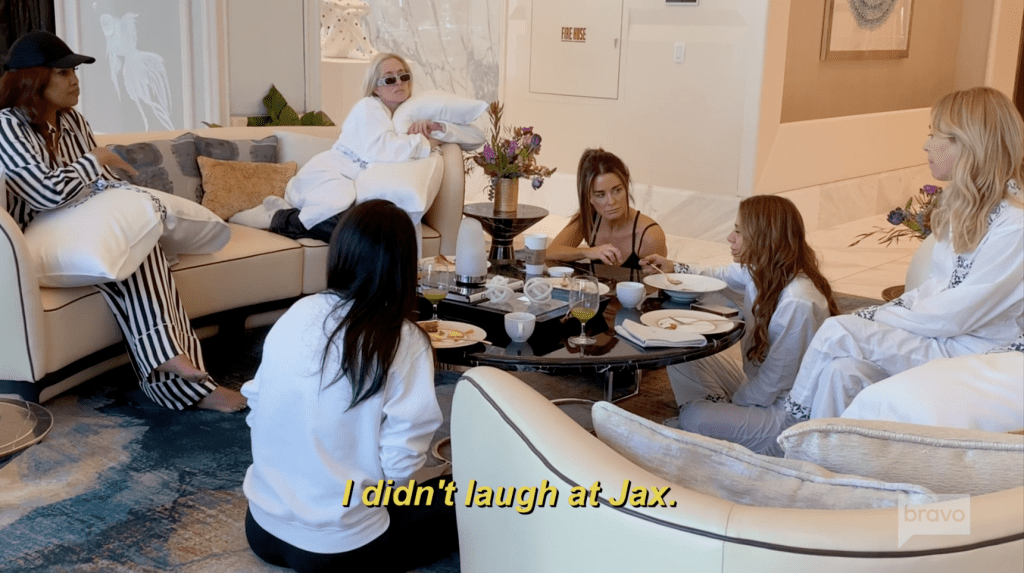 After last year, Garcelle doesn't feel that the group is a safe space, and luckily Sutton's strange eating habits changed the conversation completely. Now we know why Sutton doesn't get a second date. Kyle bust out a card game and Dorit volunteers to go first and asks the ladies what's their favorite song to have sex to and Kyle's surprised at Sutton's answer. We find out Garcelle likes to watch others have sex and would also like for someone to watch her have sex. Freaky. The next question wonders how many times they'd like to have sex a day and Sutton says she would do it twice a day. Erika pictures Sutton being the worse lay ever as Crystal mentions her greatest compliment, is her nipples. *Slaps face*.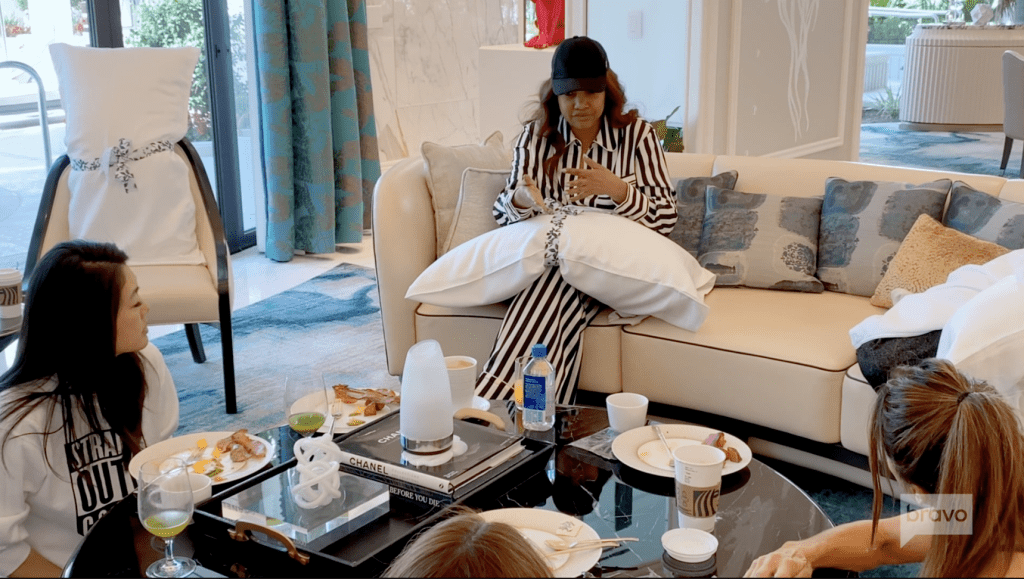 Ice cream and cake arrive for the table as Sutton claims to have a lot of sex toys at home. The ladies aren't buying it but continue humoring Sutton for giggles. After dinner, the ladies return to the hotel and go their separate ways to undress. Dorit thinks Sutton's actions were BS, while Kyle thinks Sutton's embarrassed. Kyle and Dorit jump into bed together as Sutton tells Garcelle that using vibrators too much can mess up your pearl. Garcelle's begging Sutton to go to bed but Sutton's wide awake while playing on her phone.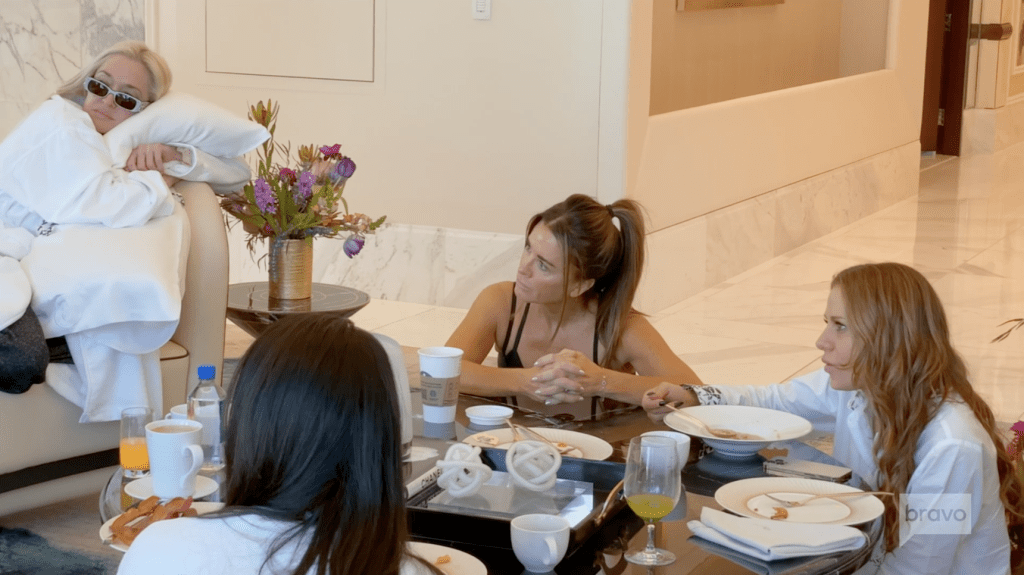 The next morning at 6:00 AM, Kyle heads to the gym to work out on vacation. At 7:00 AM, the rest of the ladies wake up and Erika and Dorit chat about Kyle's workout routine. Erika compliments Kyle for not drinking but Dorit doesn't think Kyle's new lifestyle is sustainable. Garcelle and Sutton are already eating as the rest of the group sits to eat. Garcelle reveals to the group that she doesn't trust them in regards to her family and Garcelle's not over adults laughing at Jax being cursed out. Garcelle accepts the apology, but she hasn't forgiven the girls yet.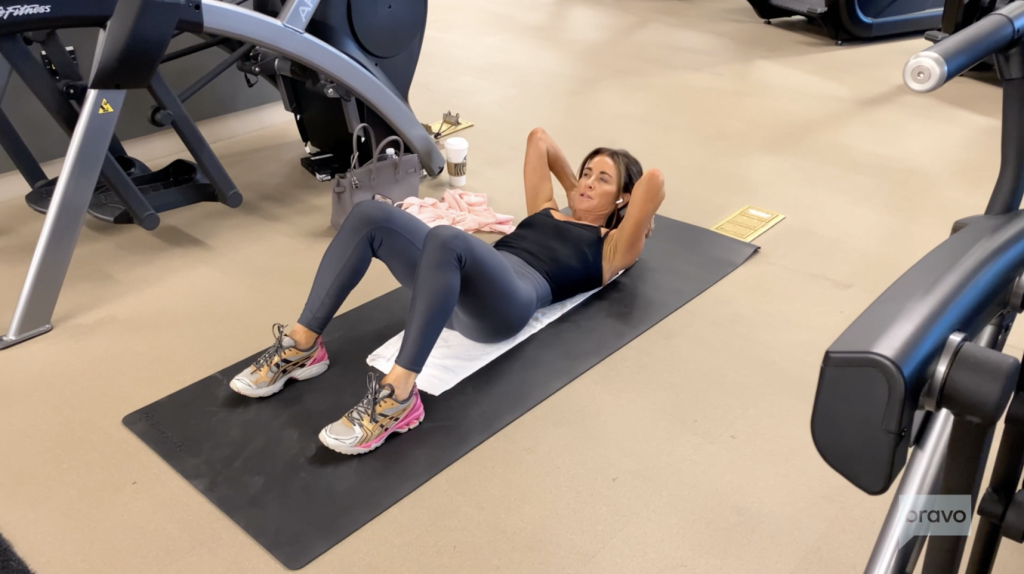 Dorit's hurt and speaks up and doesn't understand why Garcelle's still hanging onto the past. Garcelle only wants to protect her kids and Dorit wants to know how long it'll take for Garcelle to feel better. Garcelle doesn't question why Dorit isn't over her break-in, but Dorit doesn't see the comparison. Sutton understands why Garcelle's taking a step back and soon Garcelle begins getting emotional, due to feeling that Dorit isn't listening. Dorit claims she will keep her mouth shut from here on out and Garcelle goes to take a shower, without a resolution in sight. That's it for tonight's episode, be sure to come back next week for more of The Real Housewives of Beverly Hills. 
The Real Housewives of Beverly Hills airs on Bravo, every Wednesday, at 8pm ET.
Stay Connected With All About The Tea: Twitter Ι Instagram Ι YouTube Ι Facebook Ι Send Us Tips
LeAndra Williams is a content contributor at All About The Tea. She's a social worker and (super) mom by day, and a reality T.V. junkie by night.